Photos by Benjamin Clasen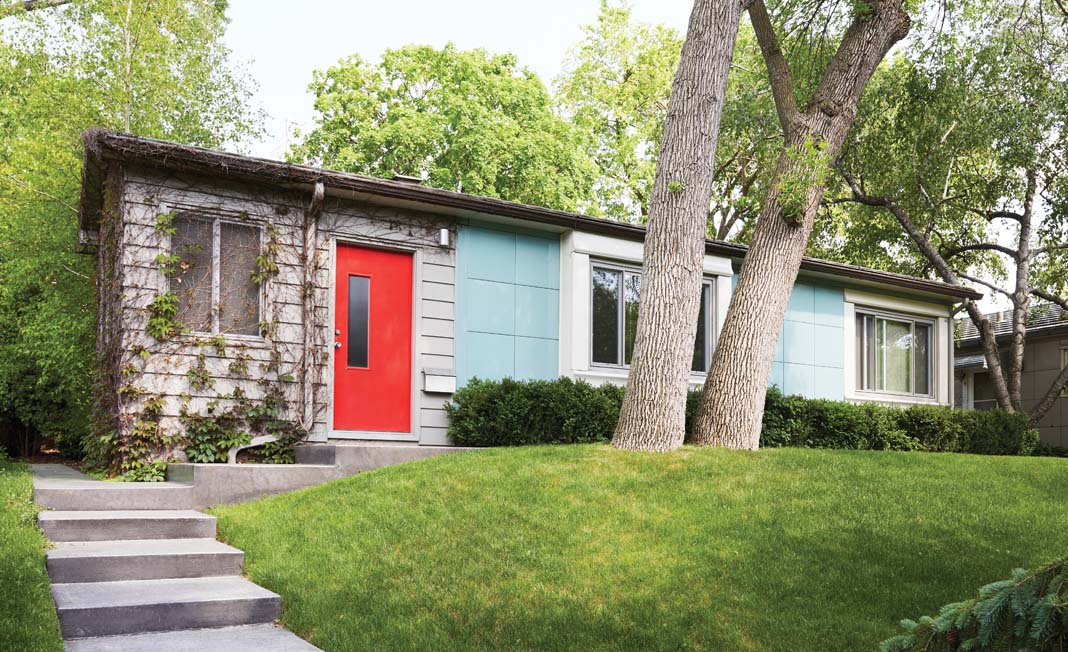 Laura Nobles was bungalow shopping. It was 1993, and the cofounder of Hanson Nobles Wunderlich Interior Design in Minneapolis, along with her then-partner, an architect, weren't even considering another style of home. Then they saw an open house—for a Lustron home. "It was odd and intriguing," Nobles recalls of the porcelain-enameled steel home built by the Lustron Corporation.
The couple had been collecting mid-century furnishings, so they quickly decided the 1,153-square-foot, two-bedroom Westchester Deluxe model would perfectly suit their modernist sensibilities. The steel structure—vertical steel studs and roof-ceiling trusses to which the interior and exterior panels are attached—was in excellent condition, as was the original insulation. The original steel roof was also intact. Envisioning an interior that would restore the Lustron to its mid-century glory, however, took some imagination, Nobles says.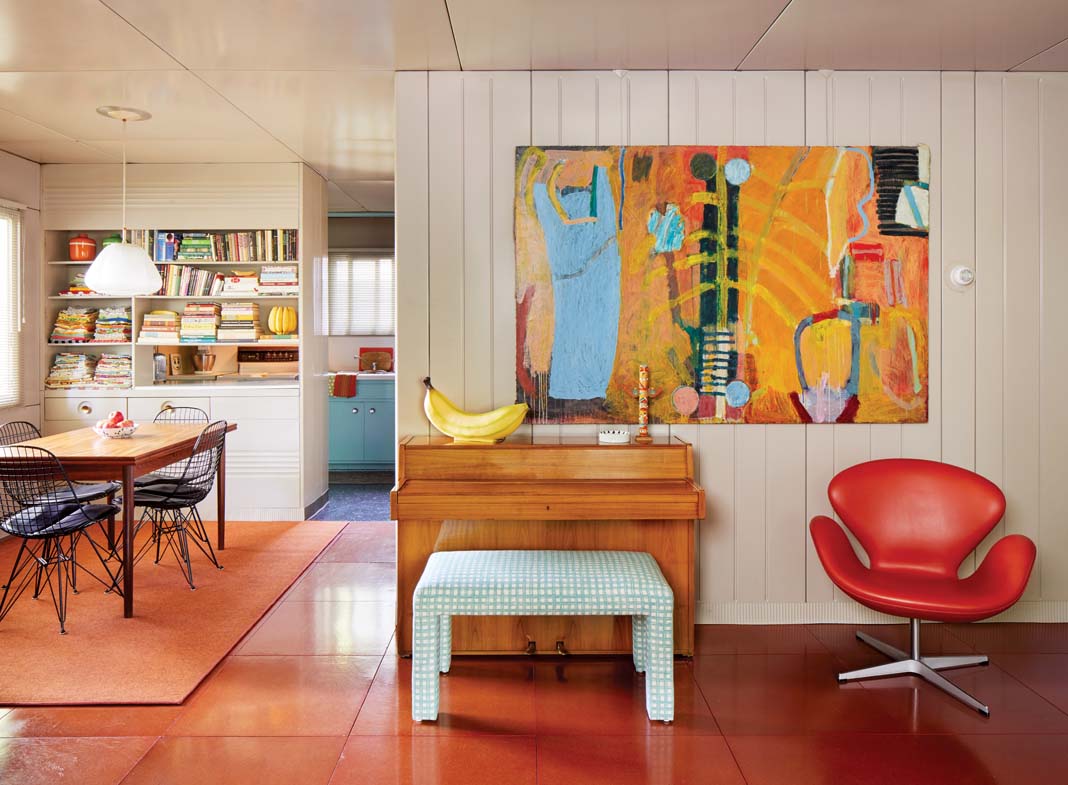 "The house had hideous gold carpet, a 1970's dark wood kitchen, early American light fixtures, and La-Z-Boy recliners," she says. Not for long. Nobles kept the metal bathroom vanity and toilet, the closets, and the 'spaceship' doors (which her nieces would later "dramatically open and close as if they were starring in a science-fiction film," she says). In the living and dining areas, she replaced the carpet with red-dyed Masonite tile floor. Elsewhere, she covered floors with a Swedish tight wool loop carpet.
Mid-century-style blue cabinets and a stainless-steel sink pepped up the kitchen. She added period-perfect light fixtures like a George Nelson Cigar bubble light and Philippe Starck Luci Fair wall sconce. One bedroom has a Poul Cadovius Danish Teak floating wall unit. The backyard patio, with landscaping that enhances the mid-century aesthetic, added lounging and entertaining space.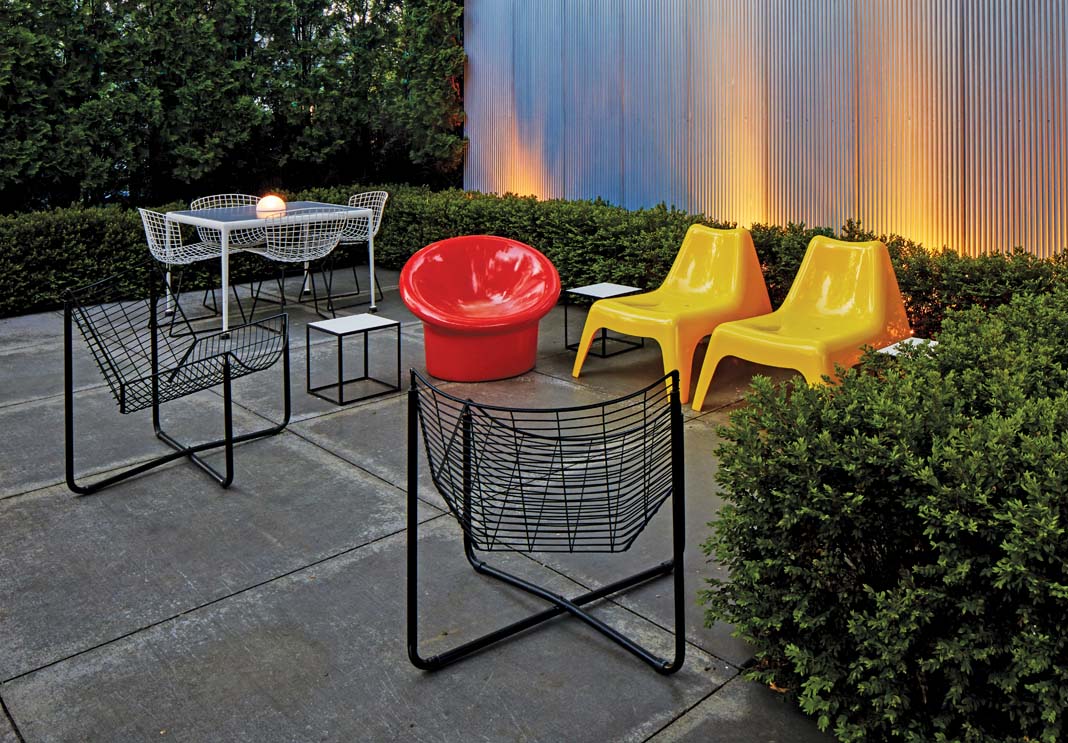 By the time Nobles sold the Lustron 26 years later, her partner had become
"a walking encyclopedia of Lustron maintenance," she says. The couple had also visited about 30 Lustron homes around the country and even attended a Lustron symposium in Columbus, Ohio. Moreover, Nobles had lovingly recreated a perfect time capsule of mid-century design, which inspired Docomomo US/MN (the local chapter of an organization dedicated to "the documentation and conservation of buildings, sites, and neighborhoods of the modern movement," according to its website), to invite members to visit the singular home while it was for sale.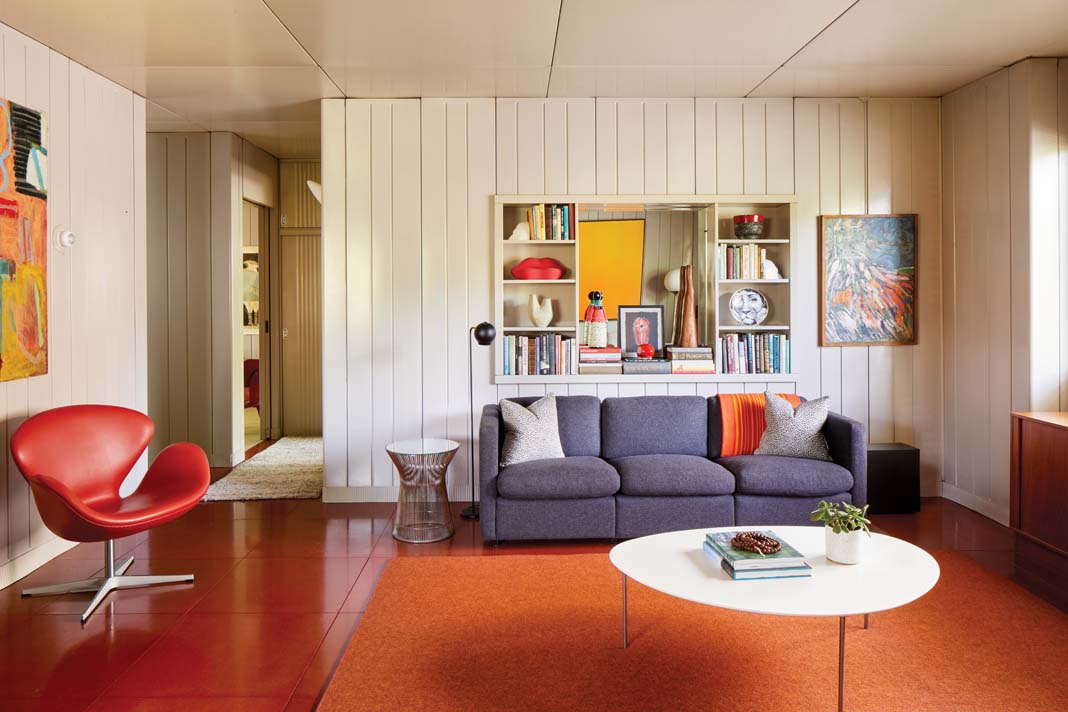 "Our goal is to make sure the public respects, cares for, and retains the architectural icons we have from the mid-century era, because no one is replicating the use of superior materials and construction methods used then," explains Karen Rue, a Docomomo US/MN board member and realtor specializing in mid-century homes with Edina Realty.
"The further back we go in history, the more we gain a historical perspective on architecture," Rue adds. "Just like the Arts and Crafts and Victorians that were saved, we now need to save mid-century homes, including the Lustrons. The Lustron Corporation was doing pre-fab in the 1940s and, with proper maintenance, those homes are still here. These were pre-fabs that last."
A Historic Home…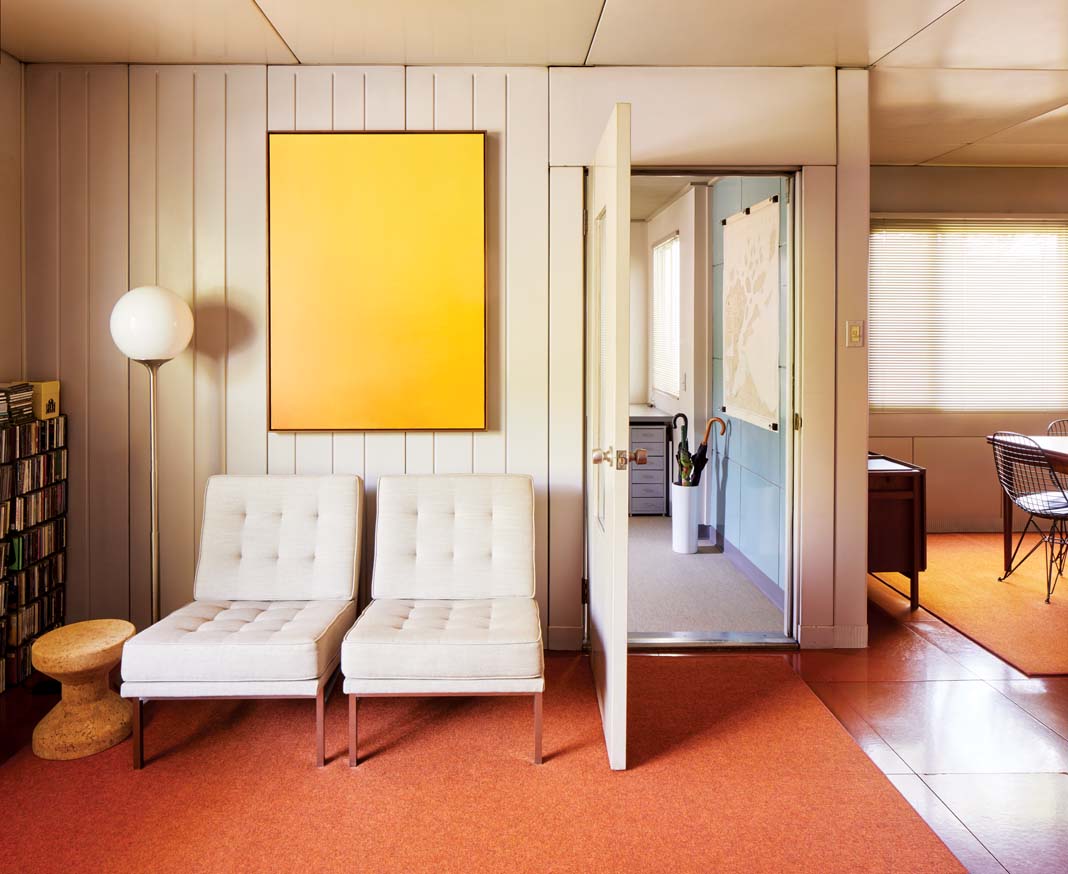 Chicago industrialist Carl Strandlund invented the prefabricated enameled steel Lustron house in response to a housing shortage following World War II. Returning GIs needed homes in which to start and raise families. The Lustron also promised a concept new to American life: leisure time. Because the low-maintenance steel home would "defy weather, wear, and time," according to a company brochure, the Lustron would create a "new and richer experience for the entire family."
In 1948, Life called the Lustrons "The House America Has Been Waiting For." From 1948 to 1950, Lustron Corporation built thousands of these unique homes before going bankrupt. Today, 22 Lustrons still exist in Minnesota. Now, Stephen Griesgraber owns one of them: Nobles' former home.
…For a New Owner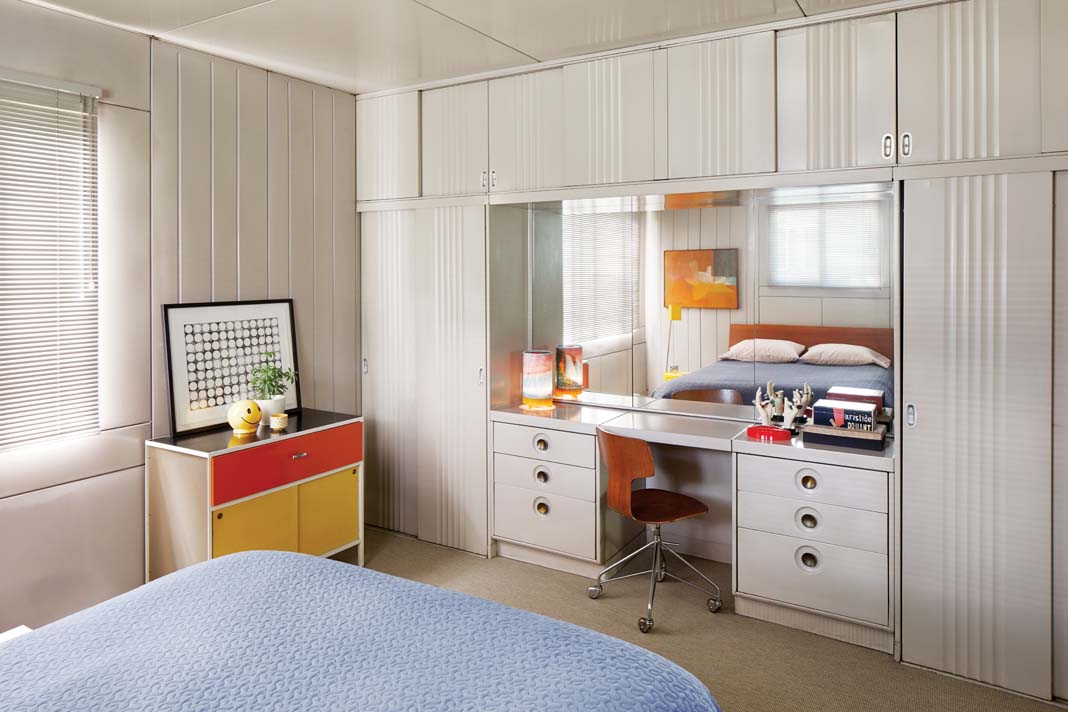 A Minnesota native who lives in New York City, Griesgraber had been saving for a beach property in the Hamptons. Then he saw a writeup on Nobles' for-sale Lustron in Dwell. "I visit my family in Minneapolis about 15 times a year," he says, so on his next trip he walked through the Lustron. "It was so beautifully maintained and decorated," he adds. "I thought, 'Why not buy it?' It'll be a once-in-a-lifetime thing—the perfect place to stay when I'm in town. I've really enjoyed it so far."
Nobles' attention to mid-century detail is really a bonus, Griesgraber says, but it's the preservation of the few remaining Lustrons that's critical. He continues, "They're a unique piece of American architectural history. What's less obvious is that the Lustron was very well-designed."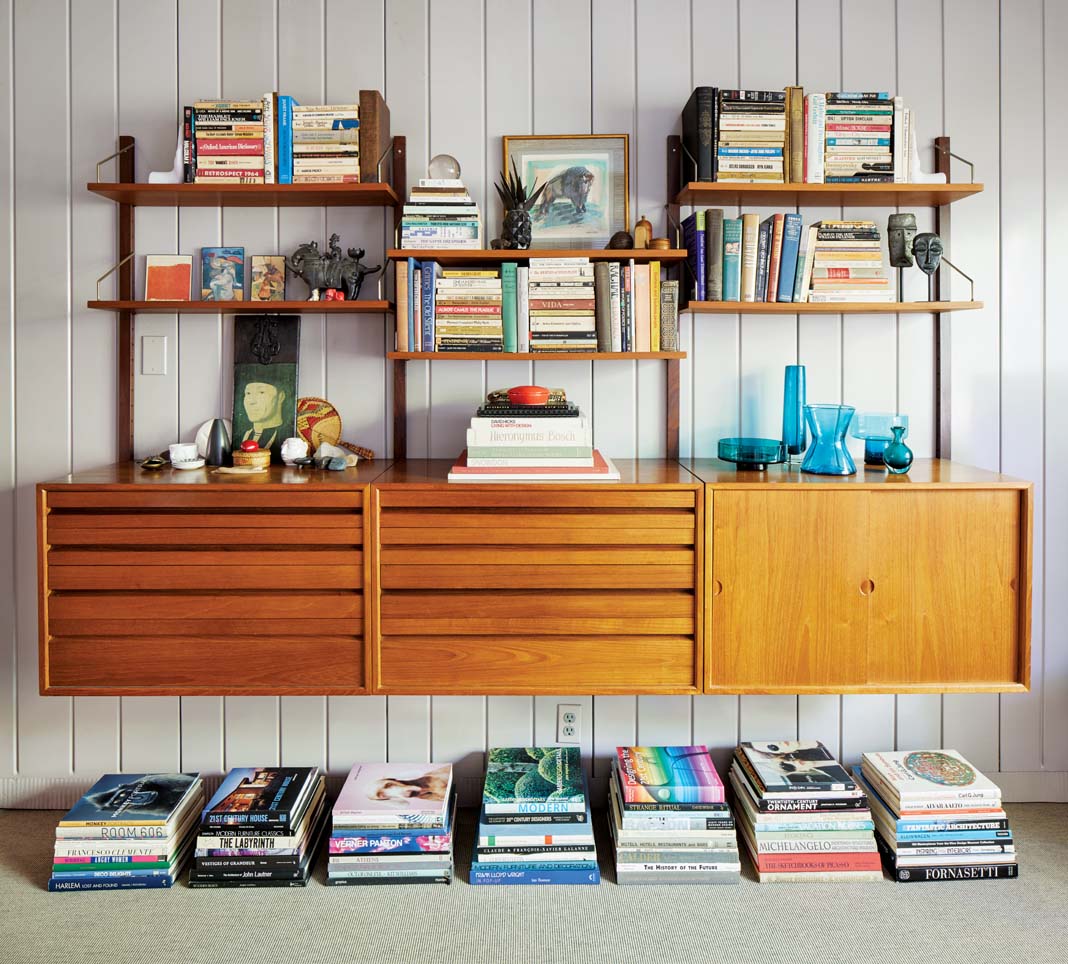 "The scale and proportion of the rooms really feels right. The dining area, for four to six people, is perfect; the living room is generous but comfortable; there's a remarkable amount of built-in storage; and contrary to what people might think, it's a warm, homey environment, not cold and loud." Even when he feels "like we kind of live in a lunchbox," he says with a laugh, the Lustron's novel idea of never having to paint or worry about termites or fire drives his appreciation of the home.
From the architectural and preservation perspectives, Nobles adds, "The Lustron was far ahead of its time. The unique and durable concept, the small footprint, the integrity of the design and functionality, the low maintenance—the Lustron was built to last." From a sustainability aspect, as the effects of climate change are experienced around the world, she adds, "It's clear the Lustron was an idea too far ahead of its time. Now, we need to catch up."
Facebook Comments