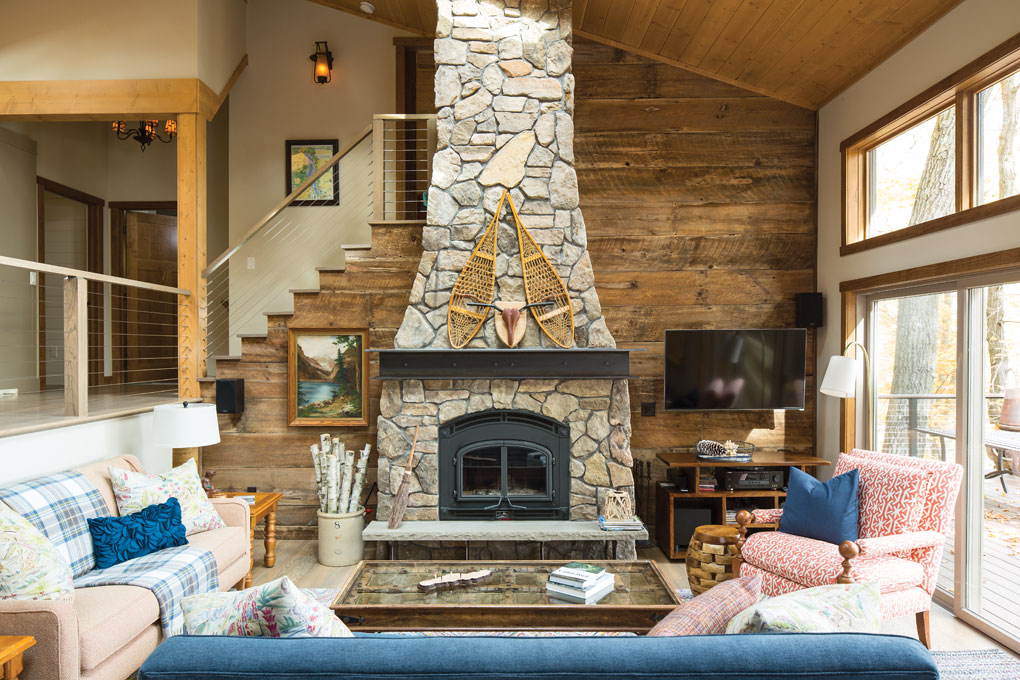 The remodeled living room showcases the view of the lake. The barn wood accent wall and flagstone fireplace add texture.
It seemed a "sweet little thing on the lake" to Keri and Cary Olson when they stumbled onto it 15 years ago. Built in the 1970s, the 900-square-foot split-level near Luck, Wisconsin, was what they wanted: a place where kids could be "rough and tumble" and where Keri, principal of KOR Interior Design, could relax. "I didn't want to have to worry about how people behaved," she says. They kept the plaid sofa that came with it (quite a concession, she admits), filled one of its two bedrooms with bunk beds, and for the next decade just enjoyed it.
After their children left home, however, they began to feel differently about the cabin. They wanted to entertain adults there, but with only one extra bedroom and, worse—one bathroom—doing so was awkward. The cedar walls that once made the place so "cabiny" seemed oppressive. "I started to feel like I had my sunglasses on all the time," Keri says. "It just wasn't a happy place anymore."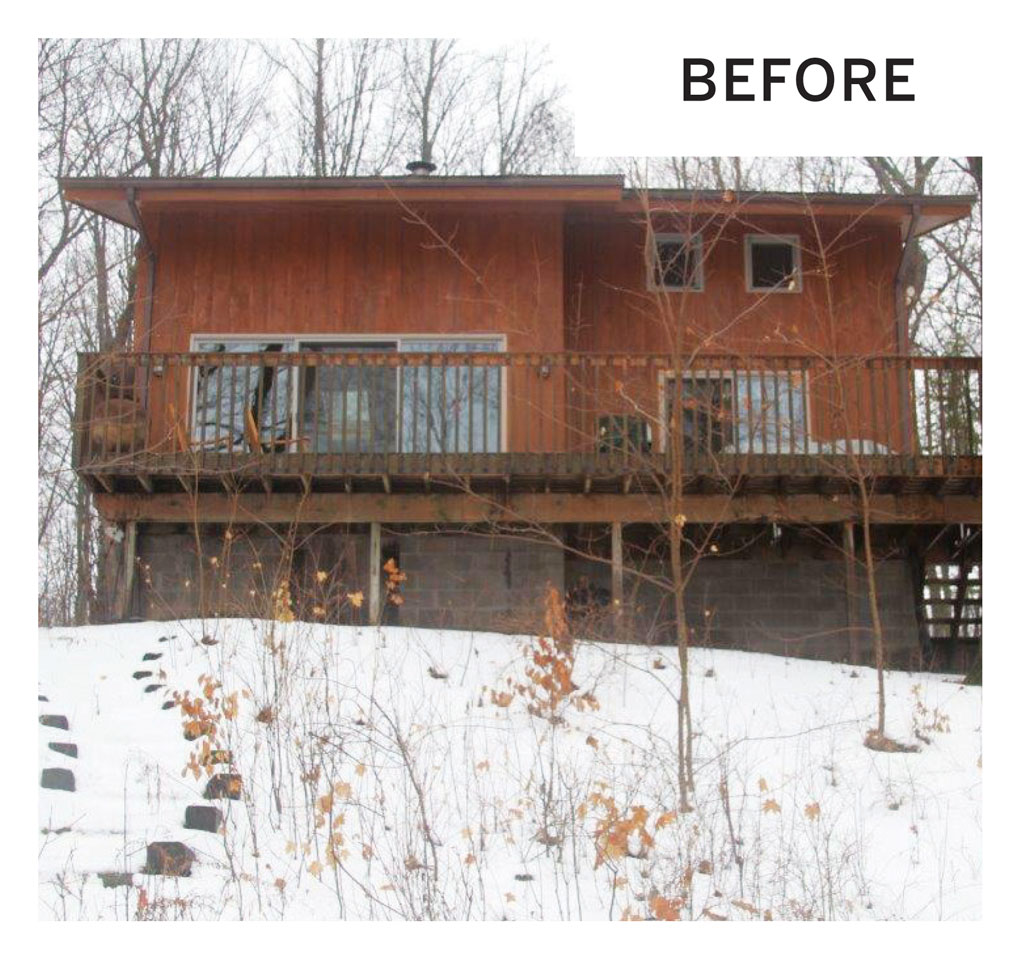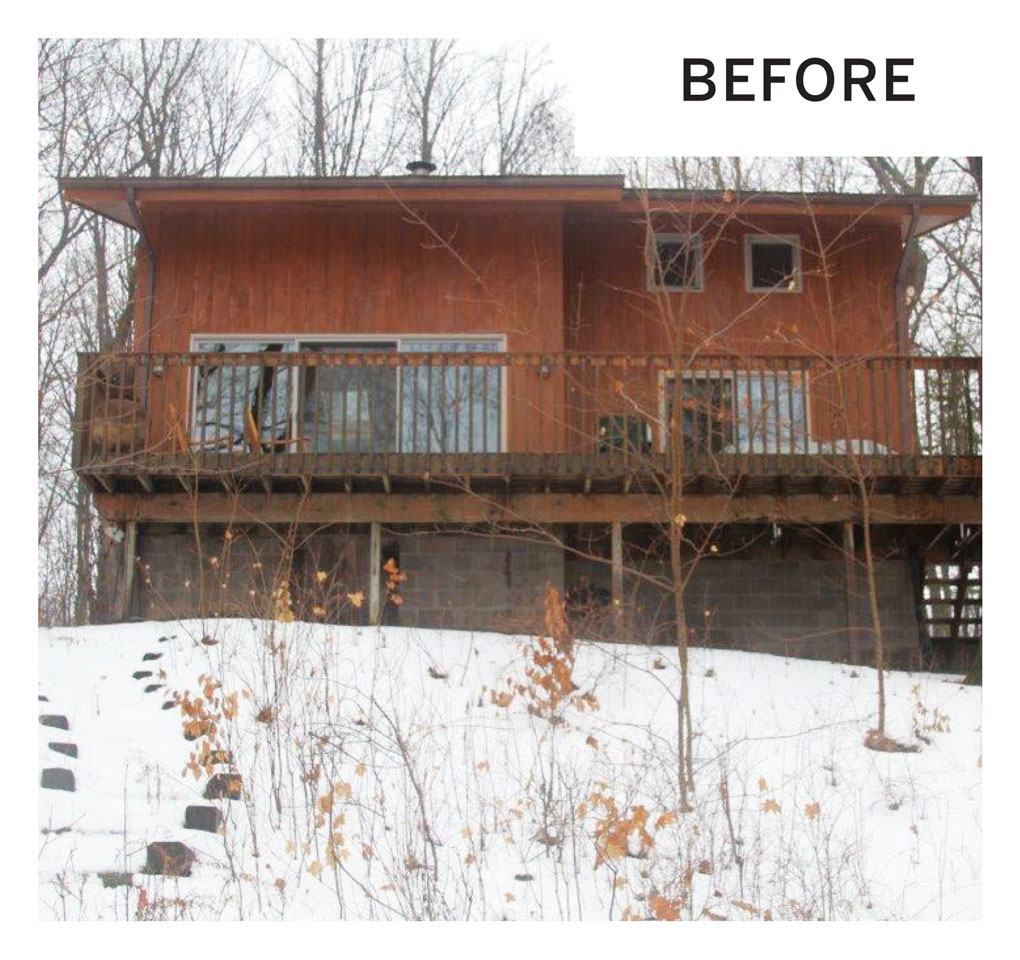 The couple looked for other properties but soon realized they didn't want to give up their wooded lot with outbuildings, the morning sun on their deck, and, most of all, their bi-level main living space with a great view. They decided to expand.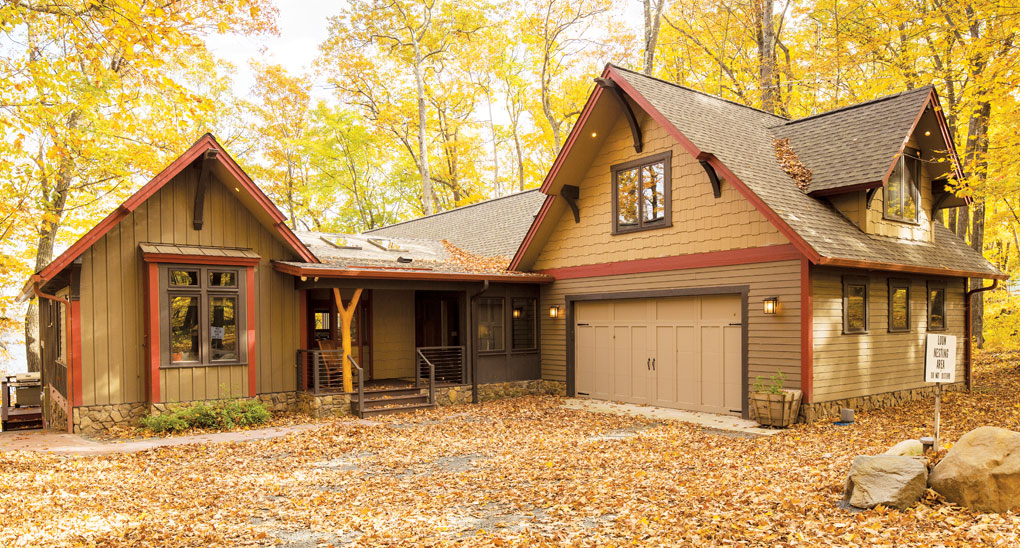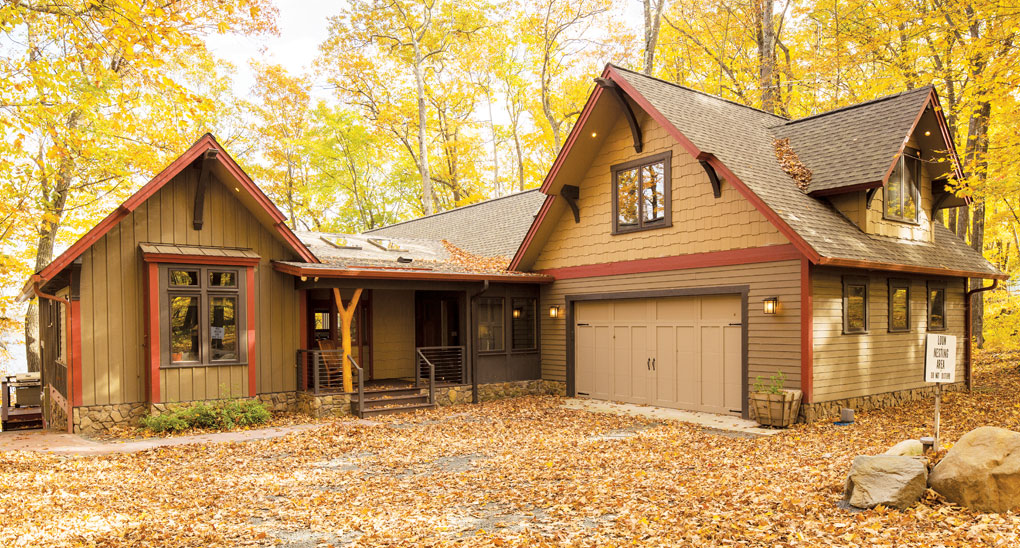 The remodel infused the cabin's exterior with a Craftsman/storybook feel.
Keri reached out to Peterssen/Keller Architecture. She had seen Lars Peterssen's own cabin and knew he'd understand they didn't want a palace. They wanted to add a garage, master bedroom, full bath, powder room, and laundry room, and to preserve the existing cabin. "We really wanted to take what we had and to make it better," Keri says.
Peterssen talked them into a basement for safety, and the design team, including associate Andrew Edwins set to work. The challenge: "We didn't want it to feel too much that the addition was an afterthought or make the addition dominate the existing living space," Edwins says.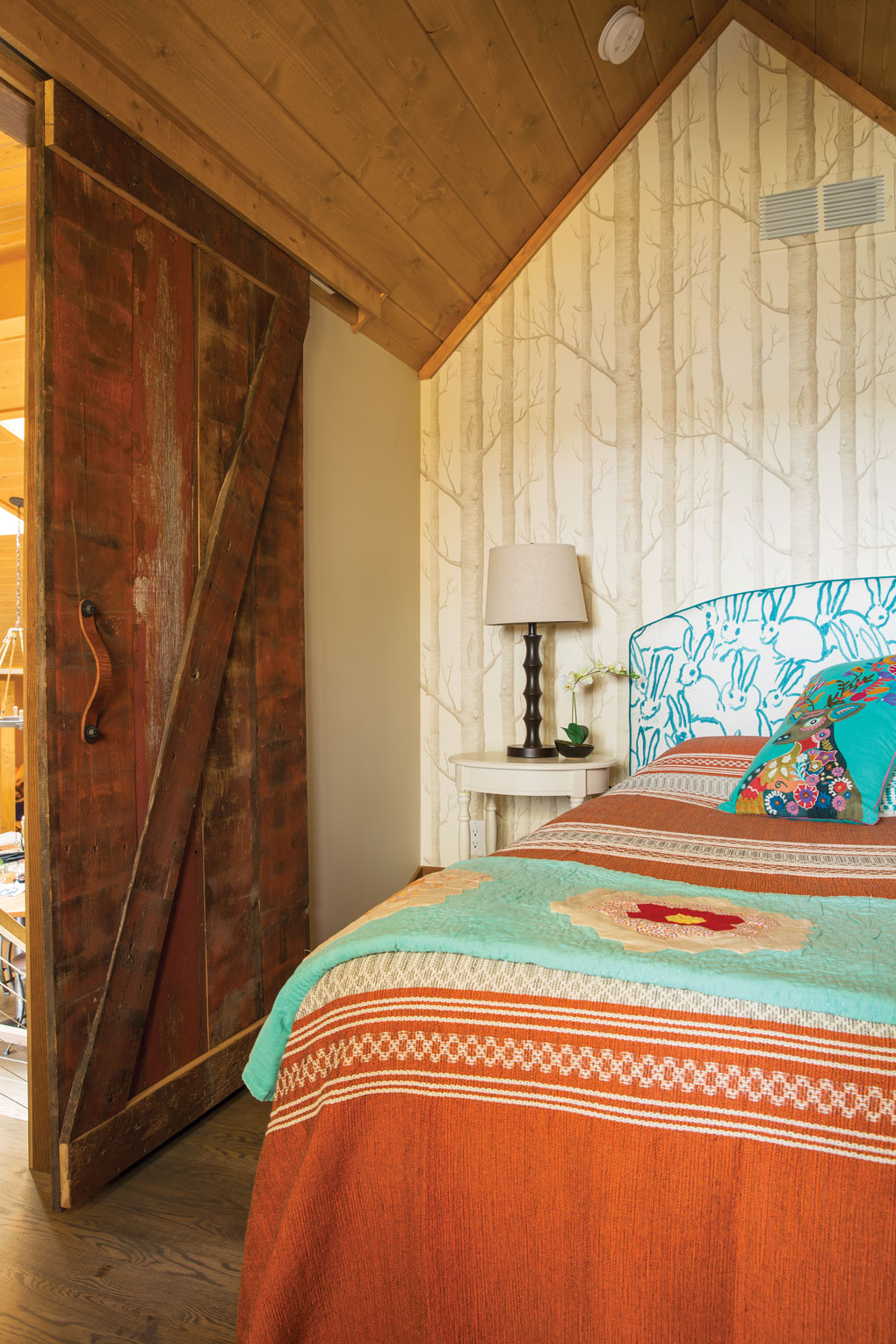 The loft bedroom combines vintage items with modern whimsy, thanks to Keri Olson's designer's eye.
They widened the cabin but situated the new garage so that the structure appears to be L-shaped. They topped the addition with steep-pitched gables and dormers, and added the gable on one end of the original structure for balance. With stepped-back eaves, corbels, stonework, a mix of vertical and horizontal siding and shakes, the exterior appears a little Craftsman, a little storybook cottage.
Inside, structure (and cares) seems to melt away as you take in the breathtaking view of the water through new transom windows. Keri's interior design choices reference the natural beauty outside: the marine blue entryway; the green subway tile in the kitchen; the bark-brown flooring, milled from oaks taken down during construction. Materials lend subtle texture. A flagstone fireplace extending from floor to vaulted ceiling has a steel I-beam for a mantel. Barn wood is used on an accent wall, for doors and in a built-in bookcase. Cable railings separate the levels without obstructing views. The overall effect is serene, understated, contemporary.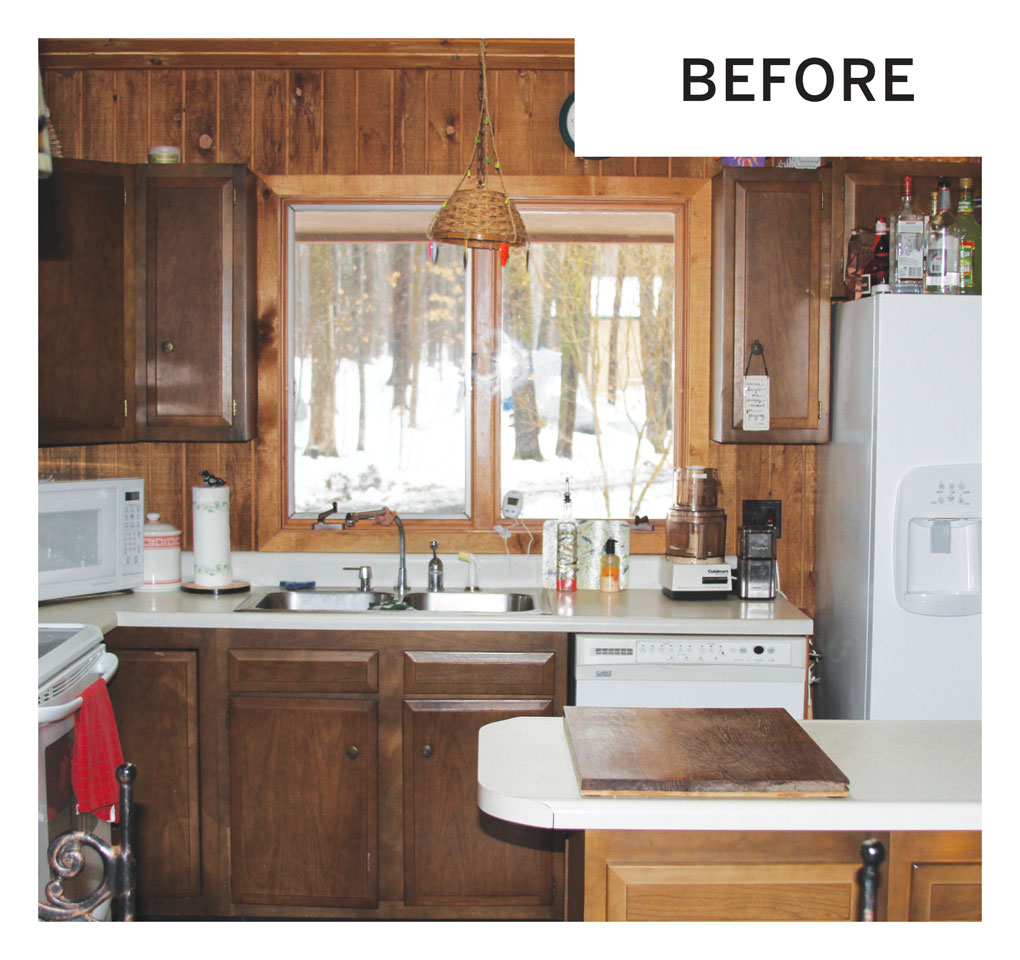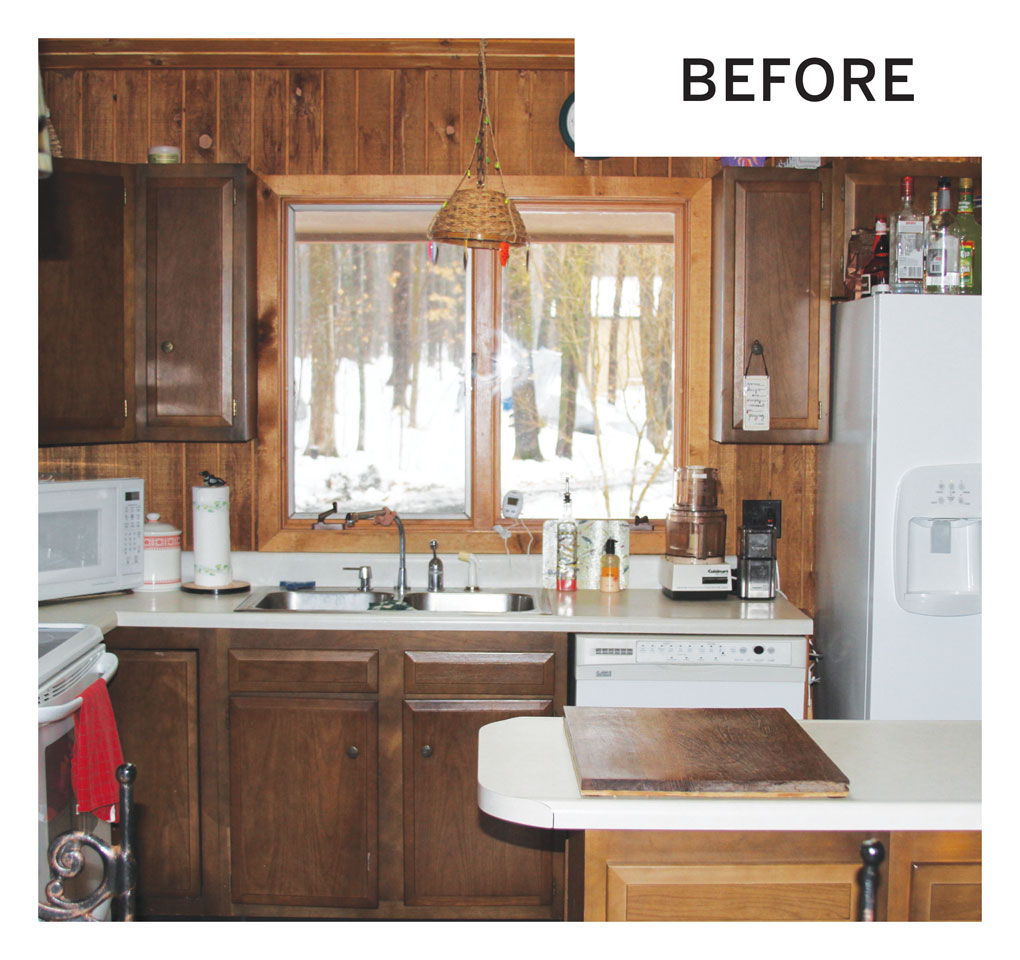 Keri's choices also reveal her understanding of cabin living. There are hooks and shelves—"No one uses [closets] at a cabin," she says. The kitchen accommodates many cooks and has cabinets with glass fronts, so items can easily be found. Many furnishings are found, repurposed, and invented items. The butternut kitchen tabletop was found at the local mill and its base at a machine shop.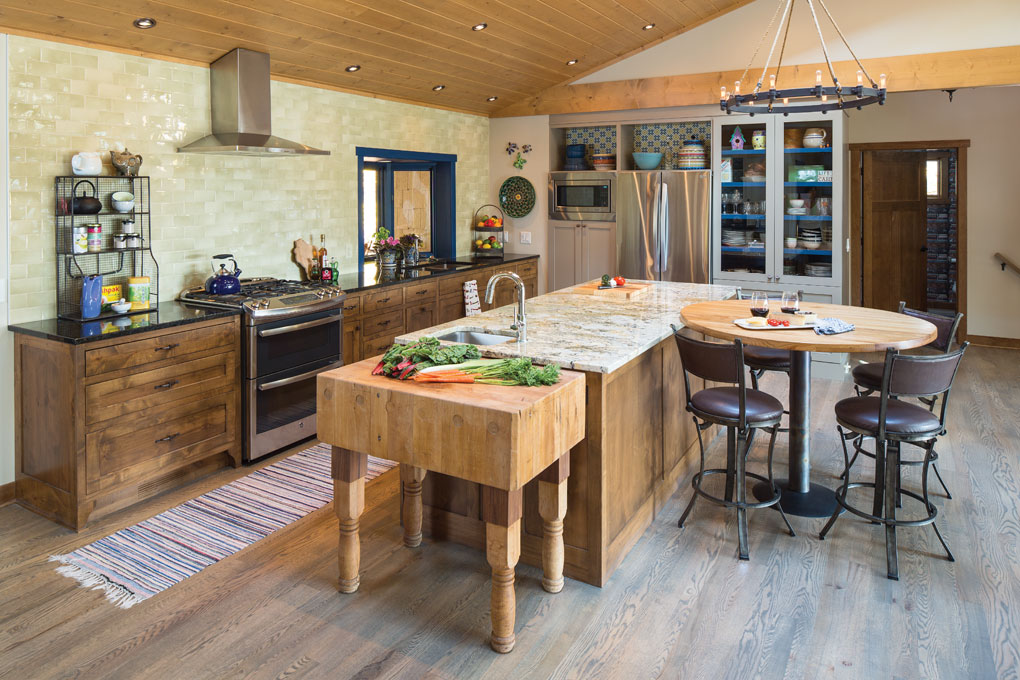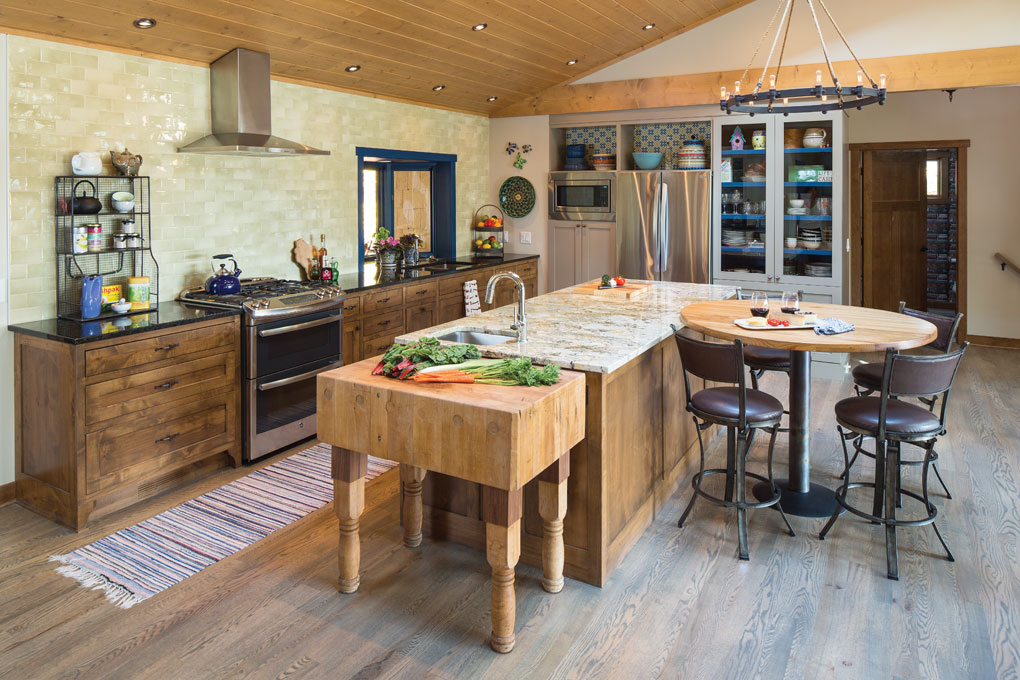 Interior designer Keri Olson chose materials that reference the natural surroundings.
With 2,400 square feet, the cabin is no longer a "sweet little thing." Yet the original is still visible within the new space. "What we got was exactly what we set out to do," says Keri.
By Carmen Peota. Photos by Troy Thies