Photos by Spacecrafting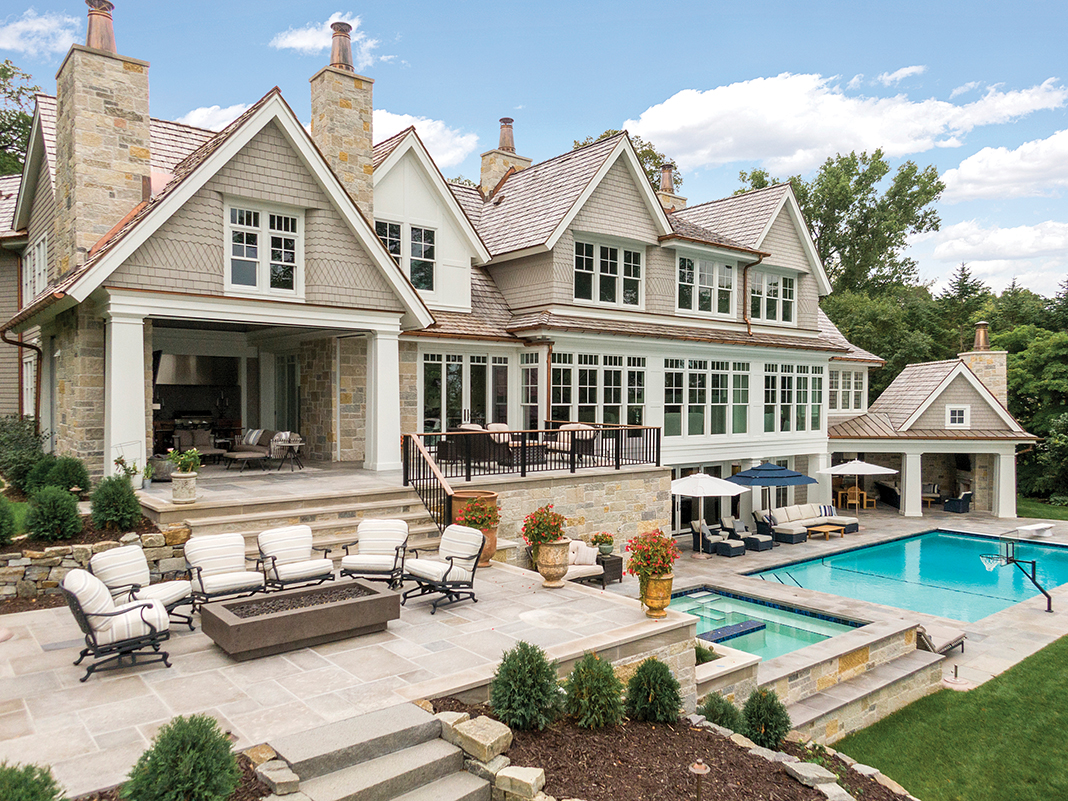 At the time of discovery, this massive 3.6-acre Deephaven property featured a quaint, old fashioned-looking cottage house, main family home, detached garage, and an undeniable beauty of a boathouse. But despite the Lake Minnetonka lot's impressive size and existing amenities, Kathryn Alexander, founder of Alexander Design Group Inc., and the new owners (a husband-and-wife duo with six sons) had other plans in mind: The accessory structures would stay, they decided, but the family residence, albeit functional and with its own distinctive flair, would not.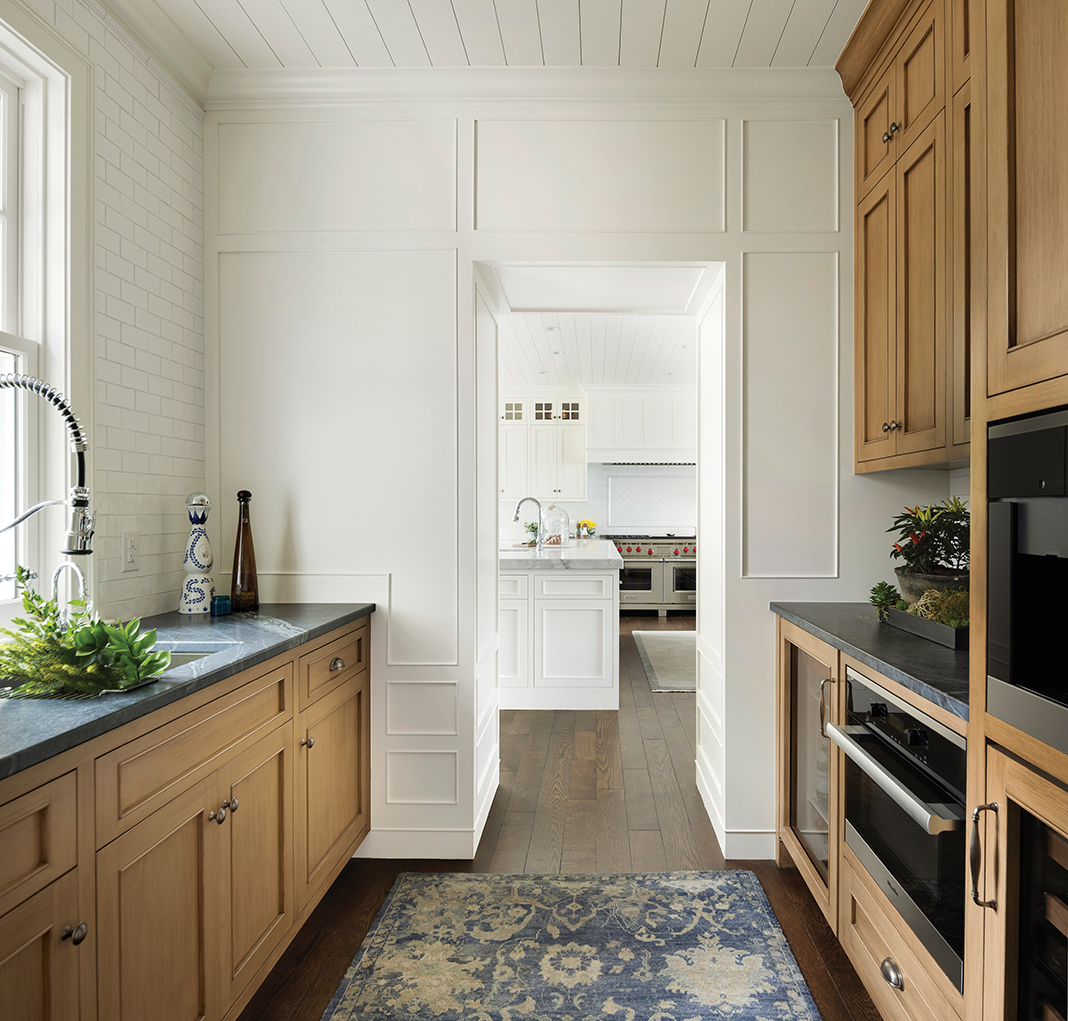 To reimagine and rebuild was a decision easy in nature but far more challenging in execution. A variance was needed, the lake's setback presented obstacles, and sand—lots of it—called for large retaining walls. Still, the property's perks were hard to ignore, and the design-build team, rounded out by John Kraemer & Sons, Redpath Constable Interior Design, and Yardscapes Inc., knew it to be true.
All parties were eager to tackle the clients' twofold mission: "They were thinking short term—having space for everybody—but then long term, too," says Tom Flint, AIA, Alexander Design Group Inc. architect and partner. "They said, 'If the boys go out and start having families of their own, we want to have space for them in the house, and we want to be able to entertain when everybody is home.' But when it's just the two of them, which it's going to be here in the coming years, they didn't want a home that was going to feel empty when nobody was in it," Flint continues. "They wanted a cozy and comfortable feeling."
These requests were flawlessly executed in what is now a seven-bed, 10-bath masterpiece situated on Wayzata Bay. A circular driveway with pretty pavers and a heated auto court leads the eye to the home's copper accents, uniquely shaped cedar shake shingles, and custom-made mahogany front door. Once inside, Katie Constable's interior selections both impress and inspire. The goal? To achieve a timeless aesthetic that kept durability and maintenance top of mind. "I always approach projects with a strong design concept," says Constable, who owns and leads design direction at Redpath Constable Interior Design in Wayzata. "This house was an East Coast, traditional-transitional lake home. It's a house that shows phenomenal today, and 10 years from now, will show equally as phenomenal. It's easy to live in, and you don't have to really worry about things."
That ease is effortlessly on display in the main gathering space, where an expansive spread of windows overlooks the lake. Dark wood floors ground clean, white walls and a coffered grid of ceiling beams overhead, while glass-paneled cabinets show-casing family photos and antiques flank a stone-surround fireplace and painting that depicts an open-sea voyage. A banquette affords ample seating in the adjacent kitchen, and soapstone counters top a beverage fridge and pullout microwave in the nearby butler's pantry. Bathrooms adorned with floral motifs and patterned wallcoverings (including a grayscale nature-inspired pick, delicate light-pink selection, and plaid-paneled option that exudes a quintessential lake home vibe) take on personalities of their own. Other details include a convenient water dispenser for on-the-go refills outside an office nook and a set of double islands in the kitchen—perfect for displays of assorted baked goods, homemade dishes, and sparkling mimosas for Sunday morning brunches.
The main-floor primary suite's sleeping quarters is unpretentious and unassuming, while the bath is defined by silver hardware, a neutral color palette, and plentiful storage. Five bedrooms, plus a bunkroom (with two sets of bunk beds and two queen beds), compose much of the upper level.
The lower level, though, which was not to be treated as second best or the "forgotten child," Constable says, offers a stark juxtaposition. Rustic and masculine in appearance and warm and welcoming in feel, it's easier to list what this entertainers' oasis doesn't include: "They have everything," says John Kraemer, vice president of John Kraemer & Sons. "They have a big entertainment area with a TV, a bar, billiards table, golf simulator, exercise room, sauna, and more." (More indeed, including a full kitchen, ping pong table, game table, an arcade game, a fireplace nook ideal for cozy conversation or cuddling up with a book, and nautical-themed locker rooms that lead to endless backyard fun.) The outdoor attractions, which include a pool with a basketball hoop, two screened porches, a custom-designed concrete spa, and a patio, overlook 250-plus feet of west-facing lakeshore. "[The owners] built this home for themselves and their family, and they wanted to live here for the rest of their lives," Kraemer adds. "You can only imagine the sunsets they get out there."
The surrounding landscaping is equally as impressive. Kindred spirit oaks tier down from the driveway to the side yard like a staircase, crab apple trees near the auto court lend texture and a tasty touch of color, flowering velvet pillar adds a fragrant whiff of sweet summertime, and a "living green wall" of large Norway spruce provides privacy from neighbors. A paved grid system allows vehicles to drive down to the dock to fuel boats, Jet Skis, and other water toys. "It looks like lawn, acts like lawn, and you mow and water it," says Lincoln Danforth, landscape designer at Yardscapes Inc. "It's stable enough to drive a heavy piece of equipment or a truck over the top of it."
But above all, Flint says, "The collaboration between everyone, including the subcontractors, is really what made the house what it is. There's a lot of talent that went into this house."
Maybe the home's 2022 Midwest Home Design Awards' Best in Show win, which was exciting, yet unexpected, Alexander says, is evidence. "We were surprised because it's not contemporary," she admits. "There's such a trend toward the contemporary [projects] winning the best awards." But style aside, perhaps this award-winning legacy project—with its elegant entertainment spaces, classic-to-the-core flair, and exterior ingenuity—proves exceptional design is just that.