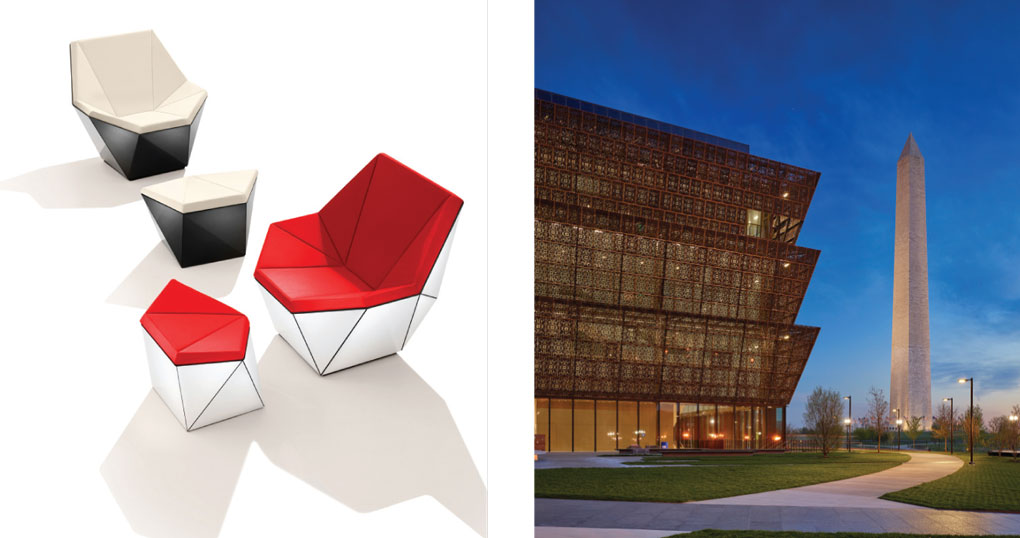 Above: David Adjaye's Washington Prism lounge chair and ottoman for Knoll; the National Museum of African American History in Washington, D.C.
If you're not familiar with the work of internationally renowned British-Ghanaian architect David Adjaye, you will be soon: His singular design for the National Museum of African American History and Culture on the National Mall in Washington, D.C., will capture the national spotlight when the museum opens September 24. The building's zigzag silhouette and latticed aluminum panels painted dark bronze are striking, especially in contrast with its limestone neoclassical neighbors.
Even before you visit the dramatic new addition to D.C., you can own one of his designs. Adjaye captured echoes of his architectural and sculptural vision, based on Yoruba tribal motifs, in a furniture collection for Knoll. The Washington Collection includes two cantilevered side chairs, a lounge chair and ottoman, a side table, and a coffee table. The two cantilevered chairs, the die-cast aluminum Washington Skeleton and the reinforced nylon Washington Skin, are complementary inversions of each other: The aluminum chair is reduced to a fine geometric lattice while the nylon chair is an envelope of the same form.
By Chris Lee
Product photo courtesy of Knoll, Museum photo by Alan Karchmer