Renée LeJeune Hallberg has been an interior designer for more than 25 years, but until last year, she'd never designed and built a new house of her own. "I do it for everyone else, but not myself," she says. "That was my dream: to just do it once."
The principal of RLH Studio in Minneapolis sits at the generous island in her new Wayzata kitchen, the creamy marble countertop and glass-wrapped white cabinetry gleaming in the winter light even on this overcast day. Her joy in her new home is palpable as she tells the tale of bringing her dream to fruition: "We've always had beautiful homes, but I wanted the new appliances and plumbing. I wanted the natural light. And I really wanted rooms that live smart with correct proportions for the windows and millwork."
For two years, she kept a Pinterest board of ideas, products, and inspirations for her built-from-scratch house. At last, with both kids in college, Renée and husband John decided the time was right. After a few false starts, she spotted a Wayzata lot for sale by L. Cramer Designers + Builders, an Edina custom homebuilder that her parents have worked with. It was exactly right.
When the couple met with architect Kurt Baum, principal of Kurt Baum & Associates in Edina, the pieces rapidly fell into place. "I showed my dream house Pinterest board to Kurt, and we told him what we wanted—the openness, the light, the millwork—and he came back a week later with our house," says Renée. "Now, that's a good listener."
The 4,500-square-foot house has a Hamptons vibe with classic bones, and a fresh, modern twist. The millwork, in Renée's estimation, is exactly right—coffered ceilings, moldings, baseboards, and cabinetry that are crisp and clean. Baum managed a wonderful balance of rich architectural detailing with simple, elegant execution, adds Jennifer Cramer-Miller of  L. Cramer.
The team of homeowner/interior designer, architect, and builder worked well together, Cramer-Miller says. "Renée knew what she wanted, but she was open to collaborating." She also knew where to splurge and where she could economize. Case in point: the beautiful slab of marble for the island and porcelain tile for the backsplash.
"It was a fabulous collaboration," says Renée. "Greg [Jurvakainen, owner and president of Cramer] and Chris Adams [the day-to-day project manager] were so good to work with. Chris made sure everything was perfect. I really appreciated that kind of eye and sense of quality."
White enameled woodwork throughout reflects the abundant natural light, and keeps the home fresh, alive, and elegant. The clean lines give cohesion and harmony to spaces that lend themselves to more modern furnishings. "I wanted a home that I could mix in contemporary furnishings and art," says Renée. "I've always had more traditional, but I'm really enjoying the contemporary."
She's thrilled with the Saarinen tulip table in the breakfast room, which she mixed with more traditional fretwork chairs. The fresh, summery palette continues through the first floor, energized by white, warmed by shades of light taupe and ivory, and punctuated by raspberry, green, and blue. "Those are colors I've loved forever," she says of her accents.
Demonstrating the staying power of classic furnishings, she also updated longtime possessions to reinforce the airy elegance of the new house: The tuxedo sofa in the living room was reupholstered in linen, the once brown-black iron base of the glass-topped dining room table was silver-leafed, and the formerly distressed chairs were enameled white and recovered in Stratford Stone by Clarence House. The drop-dead gorgeous de Gournay wallcovering, hand-painted on silk and customized for the space, adds a lovely traditional backdrop to the dining room.
The vintage wall sconces (look closely and you'll see marauding monkeys in pirate hats) have found a spot in three of the Hallbergs' homes, albeit dressed differently over time. Renée wasn't sure she could make them work here, but decided to repaint them white and silver with a touch of gold. "They're cheeky and sophisticated at the same time," she says. "Just right with this wallpaper."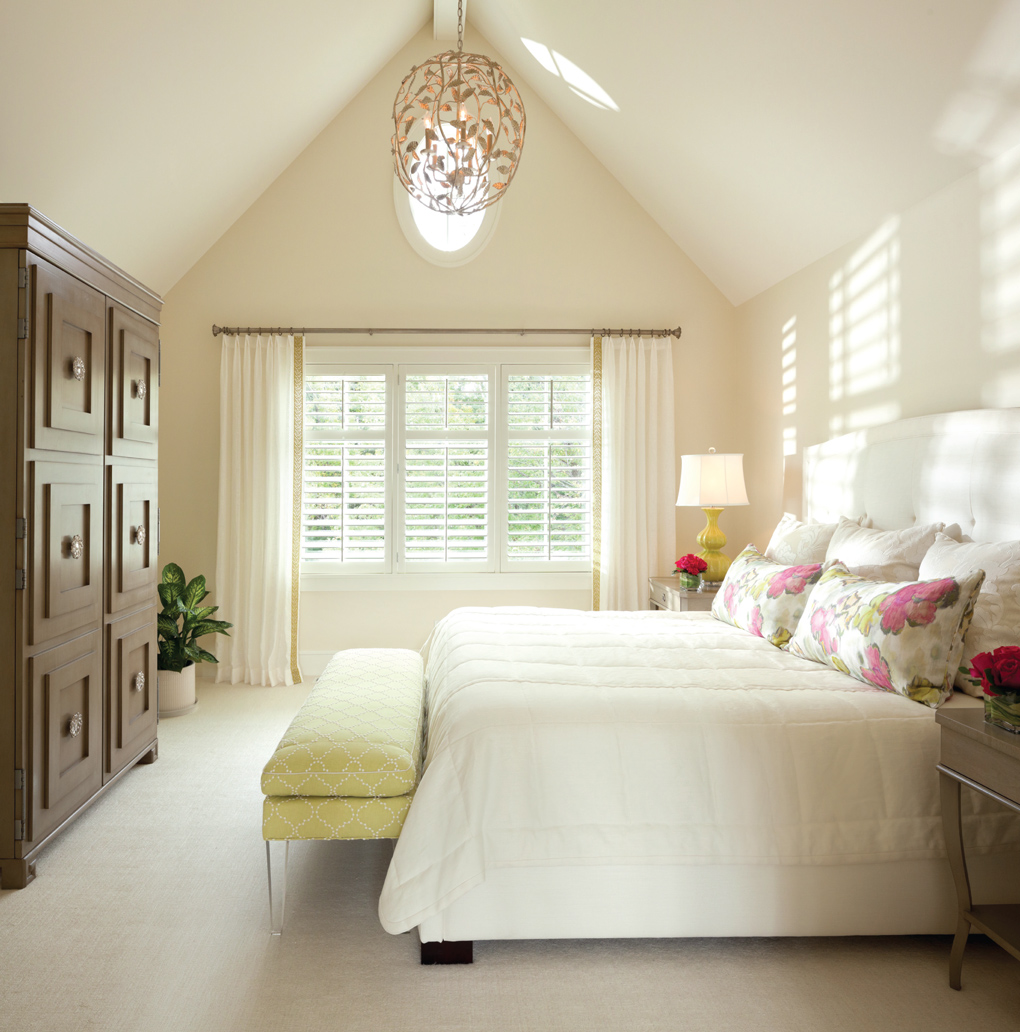 In addition to beauty, the Hallbergs got the spaces they wanted and more. Renée knew she wanted a formal dining room—it's a necessity, she says, when she entertains her extended family of 35, all of whom live in the area. She also added a window seat to the bump out along the living room's north wall—additional seating when a crowd gathers. The second-level master suite boasts a lovely bath, a walk-in closet, and a bonus: an alcove outside the bedroom that makes a handy sitting area.
The walkout lower level includes a family room and John's office, complete with a custom sliding barn door, and an exercise room. Daughter Greta and son Peter have their own suites on the lower level as well. "I wanted each child to have a queen-size bed—to get out of those twins—so each can come home as college kids, as married couples, and with children," says Renée.
All evidence that some dreams do come true. "This is a happy place for us," says Renée. "It's a summer house—light, bright, and airy. We're staying here till they take us out feet first. That's our goal."
Interior Design: RLH Studio
Builder: L. Cramer Designers + Builders
Architect: Kurt Baum & Associates