Photos by Spacecrafting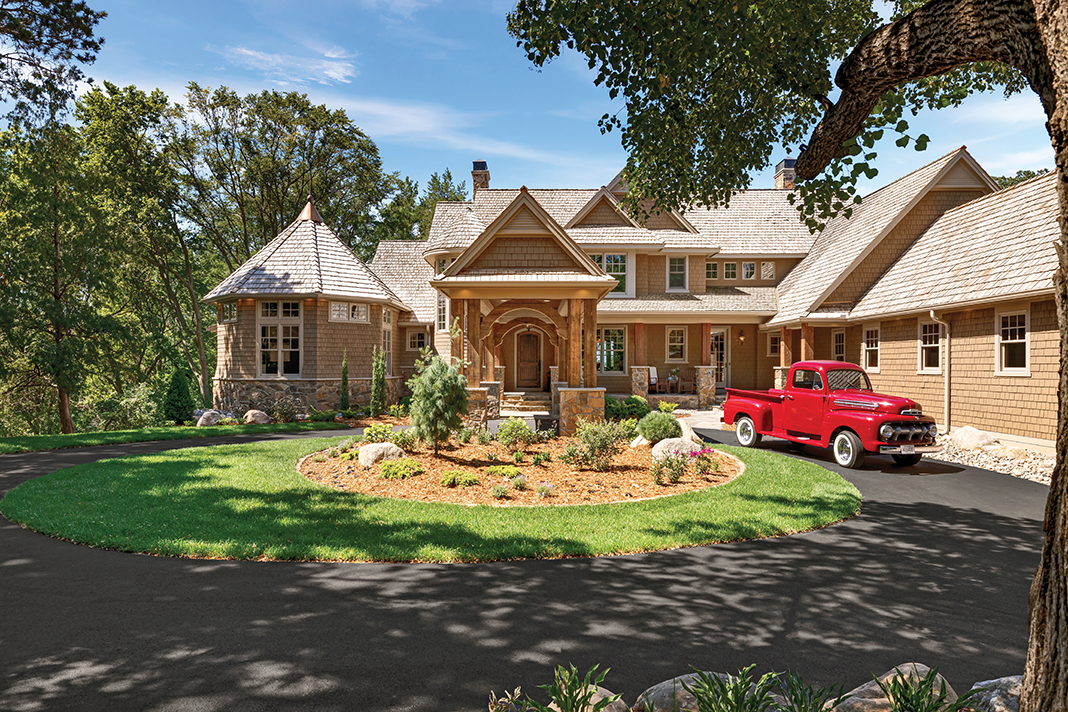 Kyle and Paige Halvorson are both medical professionals who take calls at all hours of the day and night. Moreover, they have twin boys with lots of energy. Two years ago, they realized their 7,000-square-foot home overlooking the Mississippi River could use additional amenities to make their lives more manageable—and more fun. In collaboration with Hendel Homes and James McNeal Architecture & Design, the family built a new sport court, created a new play room above, and added private spaces to their primary suite.
The new 1,200-square-foot addition provides the family with two levels of entertainment. Sport Court North implemented the court, which features a checkerboard maple and walnut floor inlayed with a custom family crest Kyle designed. "It's a room you can do anything in," says Kyle, from basketball to pickleball, badminton to volleyball. The climbing wall has three stations with automatic belay devices. A full bar lets parents and grandparents relax and watch the kids over cocktails. In addition to a full sound system, the sport court has a movie projector with a motorized screen. "It's our hangout," he adds.
Above the sport court, in a new 600-square-foot space painted gray-green and with artificial turf, are bean bags for relaxing in while streaming movies, a hidden bookcase, and a half bath.
While working on the addition, "we ended up touching all three floors of the house," Kyle adds. A former den was transformed into a cozy living area with a gas fireplace, custom octagonal barn-wood ceilings and beams, and a wine and coffee bar. The mudroom received a redo with new cabinets. A new scullery or butler's pantry off the kitchen has a copper-penny sink, arched pass-through window, and Cambria countertops. The house also has a new side entrance and a porte-cochere with reclaimed beams.
"This project was truly a design-build," says Hendel Homes' Principal Amy Hendel. "We worked closely with the homeowner and JMAD in creating every detail along the way. Kyle and Paige thought of things, and we made them happen. It was a labor of love throughout the whole process."