Above: The new space is just what the homeowners wanted: A light-filled room where the family gathers.
Brigitt Orfield and Scott Johnston knew when they bought their house that one day they'd renovate it. Although there was much to love about the stately Georgian, including its location on a rise overlooking Minnehaha Creek in Minneapolis, the 1927 home had its problems. Among them were a couple of ill-conceived additions on its back side, the strangest of which was a second-story wood-sided appendage that looked a bit like a suspended shed. Also, parts of the house felt "chopped up" to the couple. To get from the kitchen to the family and play rooms, for example, they had to walk down a hallway. Whoever was cooking—the parents of five are always cooking, says Orfield—felt isolated.
For many years, the family simply lived in the home, enjoying its better features such as its stunning open staircase. But thoughts about renovating resurfaced a few years ago when Orfield's parents added a sleek solarium onto their nearby Tudor. Her father, a lighting and acoustics consultant for commercial builders, worked with a Colorado company to build three-pane soundproof windows to keep the room comfortable year-round. Orfield and Johnston fell in love with the way light flooded the space.    
Slowly, their remodeling priorities came into focus: First and foremost, they wanted a space where their family could gather. Moreover, they wanted it to be big enough for their kids' friends. "We wanted to be the house where everyone hung out," Orfield says. Finally, they wanted modern design and the high-tech windows her parents had used. She sketched up a plan.

Above: The addition—part two-story, brick-clad, and gable-roofed and part modern glass box—includes an upper deck accessed from the bedrooms.
The search for an architect led to Wynne Yelland, of Locus Architecture, who quickly gained the couple's confidence when he didn't balk at their ideas. "I've never had a problem with mashing things together and collaging stuff," he says, pointing out that that is commonly done in Europe. "In the United States, people are a lot more beholden to tradition and history than in Europe, and their buildings are a lot older than ours."
Yelland's design did "mash" styles. Half of the addition is a two-story, brick-clad, gable-roofed structure with details like dentils and curved eave brackets that match those of the original structure. The other half is a one-story box of glass, aluminum, and ipe. Holding it all together is a 25-foot, 1,500-pound steel beam inserted into the corner where old and new, bricks and glass, all come together.
For Yelland, the project's biggest challenges weren't aesthetic, they were technical—for example, ensuring the flat-topped roof didn't leak and hiding its drainage system. And because such things as the aluminum sun shades had to be custom-fabricated, he pored over shop drawings and went back and forth with manufacturers, doing everything he could to avoid what he calls an "oops moment."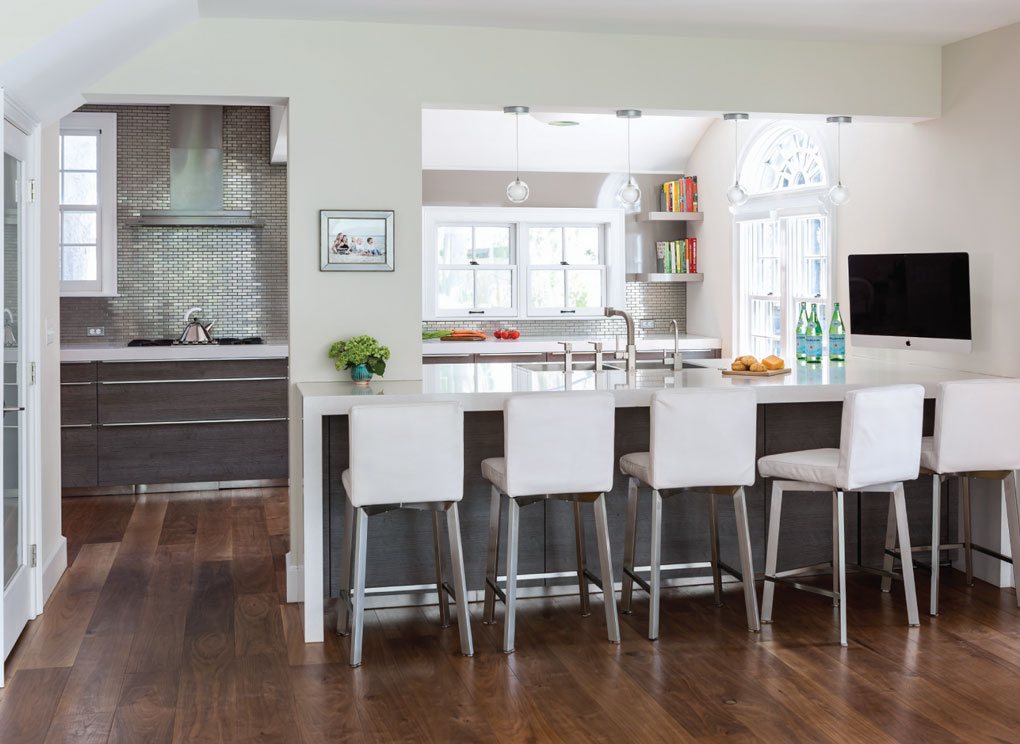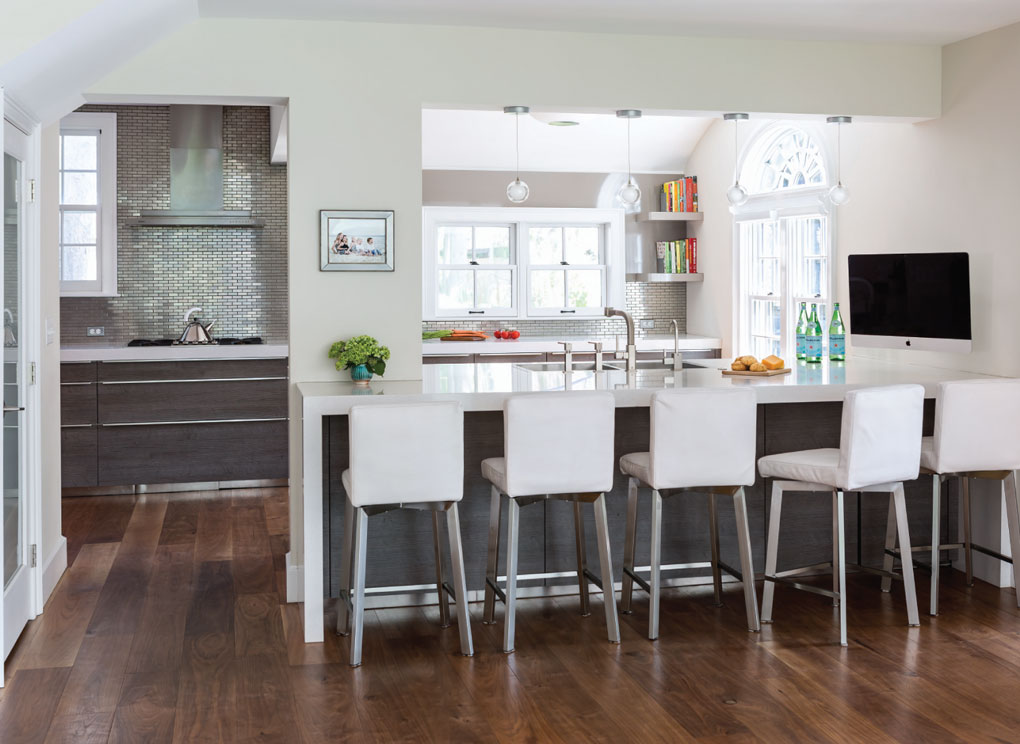 Above: In the new kitchen, open to the family room, the cook is part of the action.
For the homeowners, the challenge was simply surviving construction. At one low point early on, their builder uncovered a semitrailer-sized tank containing heating oil under one corner of the house. At another, the retaining wall in their backyard collapsed. "The problems were so huge and so significant that we spent an absolutely ridiculous amount of time [building this]," Orfield says.
Yet in the end, the Orfield and Johnston got exactly what they wanted. The new kitchen is connected to a large, modern hangout space with multiple seating areas and two spots for informal dining—bar seating for five and a Saarinen table in the window-surrounded corner. During the day, light pours into the room and the family can look out on the new landscaping. At night, with the push of a button, they lower Lutron shades for privacy.
Most important, the addition is serving its purpose: It's the place where the whole family gathers. That is beginning to happen on a Friday after school, when 7-year-old Oliver and a friend are making toast in the kitchen, while 10-year-old Sofia is curled up on a sun-soaked couch against a far wall. Orfield takes it all in. "We definitely spend more time together," she says. "It's a room that draws everybody."

Above: With help from kitchen designer Jean Claude Desjardins, then of Belle Design Build and now of Maison Kitchen + Bath, Brigitt Orfield chose Leicht cabinetry and Gaggenau appliances. Her favorite: the steam oven the family uses daily.
By Carmen Peota
Photos by Andrea Rugg
Designed by Brigitt Orfield, built by Locus Architecture