Photos by Elizabeth Ries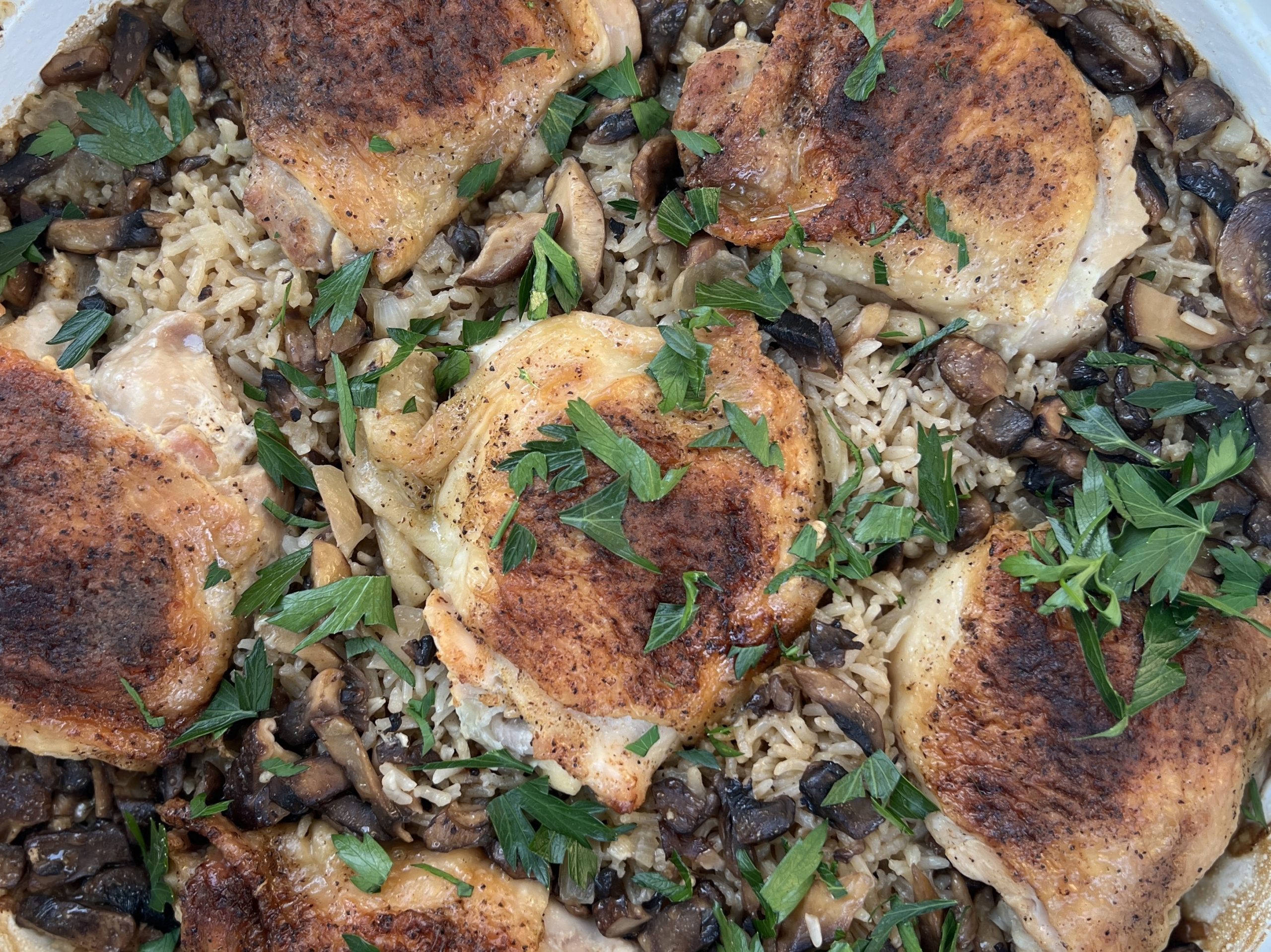 Growing up, I attended countless church potlucks featuring lots of 9-by-13-inch pans containing cream of mushroom soup. This dish gives me the same cozy feeling but without the can. Chicken thighs are the best—they are so forgiving—and using the half-coconut oil, half-butter trick makes for amazing flavor.
Chicken Thighs & Mushroom Rice (makes six servings)
1 teaspoon butter
1 teaspoon coconut oil
6 large or 8 small chicken thighs, bone in and skin on
2 cups mushrooms, chopped
½ cup yellow onion, chopped
3 large garlic cloves, minced
1½ cups jasmine rice
2½ cups chicken stock
4 tablespoons fresh parsley, chopped
1. Preheat oven to 350°F.
2. Heat a large dutch oven or an oven-safe skillet over medium heat. Add the butter and coconut oil.
3. Pat the chicken thighs dry with a paper towel and season with favorite seasoning blend.
4. When the oil is hot, add the chicken thighs to the skillet skin side down and cook until the skin is golden brown. Remove from the pan and set aside to rest.
5. Add the mushrooms, onion, and garlic to the pan and saute for about five minutes.
6. Add the rice and stir.
7. Pour in the chicken stock and use a spoon to incorporate everything together, scraping the bottom of the pan as you go.
8. Place the chicken thighs on top of the rice mixture skin side up. Cover and bake for 40 minutes.
9. Garnish with fresh parsley and serve.