For almost a decade, the owner of a traditional home in Northeast Minneapolis has indulged her collector's passion. "There's a very specific look I collect," she explains. "Vintage glamour, with a little sparkle." Her collection began with a rhinestone bracelet purchased at a garage sale. It grew to encompass quirky mannequin heads and a dress form, rolls of fantastical wallpaper purchased online, French doors from an antique store, a medical cabinet her mother gave her, and lots of jewelry—including enamel brooches bursting with color and texture.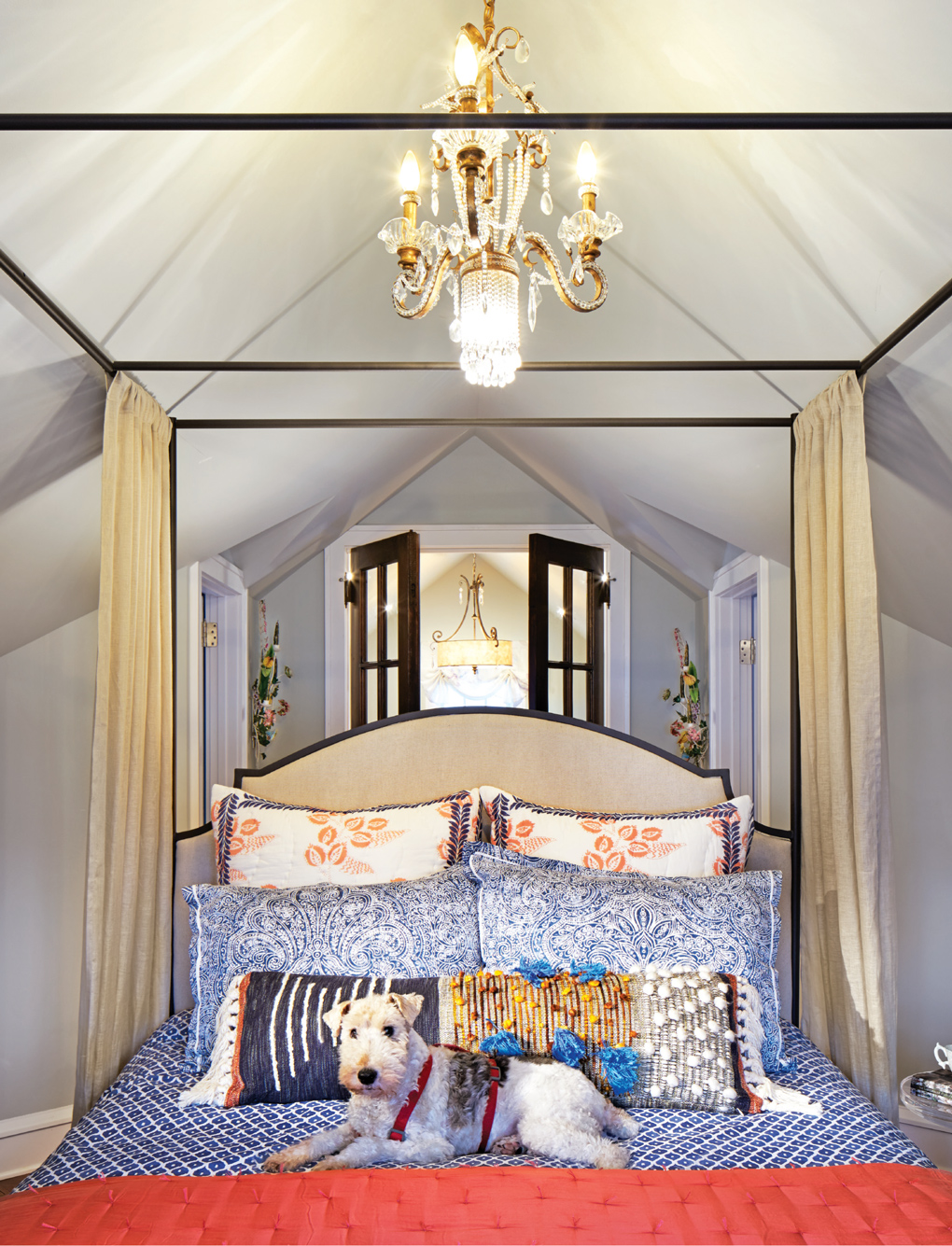 One day, she'd had enough of her "super ugly" master bedroom upstairs. She called Lisa Peck and LuAnne Silvia at LiLu Interiors, who were immediately intrigued. "We quickly realized she has a real sensibility about having her surroundings be visually intriguing," Peck says. "Our job was to figure out a space plan that would allow her to use and display the things she had collected, and to design a backdrop that would support and show off her wonderful, funky things."
The designers helped their client select key pieces from her collection, a winnowing that was "necessary as the amount of items was rather overwhelming," the homeowner says. Then they began thinking about built-ins and walls where the items could be displayed. A key component of the new en-suite space plan was a boutique-like walk-in closet, where the homeowner's jewelry is arrayed in custom-designed cabinets with glass doors and tops.
"I wanted to feel like I was shopping in my own house," the homeowner explains. "I love going into shops and picking things out. That's also how I like to dress myself in the morning. I don't have to think about what I'm going to wear if it's on display, and I can easily select the right necklace, bracelet, or earrings."
To maximize display and storage space, the designers created built-ins by the cozy window seat and shelves next to the tub in the bathroom. Pinned to the homeowner's vintage dress form is her growing collection of floral brooches. Selected walls are covered in her beloved blue wallpaper festooned with coppery and gold medallions and shapes that closer inspection reveals to be ghostly jellyfish. The wallpaper, she says, is "mysterious, retro, glamorous and textural. It was my insistent contribution. We had to work the wallpaper in."
In the bathroom, the painted angled ceiling and porcelain floor tiles in a chevron pattern subtly contrast with the glass mosaic of chrysanthemum-like blooms shimmering across another wall. "The bathroom is small, so the patterns allow the eye to move through and experience more spaciousness," Silvia explains.
With the help of New Country Remodeling, the design retained the rooflines and angles throughout the space. Peck and Silvia carefully balanced finishes, patterns, textures, and colors in the new suite, and collaborated with the client to create interesting focal points where the eye could rest.
"In this vintage, eclectic project, a sense of artistry was important throughout," Peck says. "The age of the items in the homeowner's collection lent a lot of intrigue and provided us with the kind of creative challenge we love to embrace."
To the homeowner, "the transformation has been pretty remarkable." As with most remodeling jobs, the process began with images she gave to the designers that reflected the look she was after, but they didn't simply reproduce those images.
"Lisa and LuAnne took the feel of the images and created something wholly unique and new that suits me and my husband perfectly," she says. "That's really what you want in a designer, along with a design that blends form and function; design you can use while it adds beauty to your house."
Design: LiLu Interiors
Facebook Comments