Photos by Alyssa Lee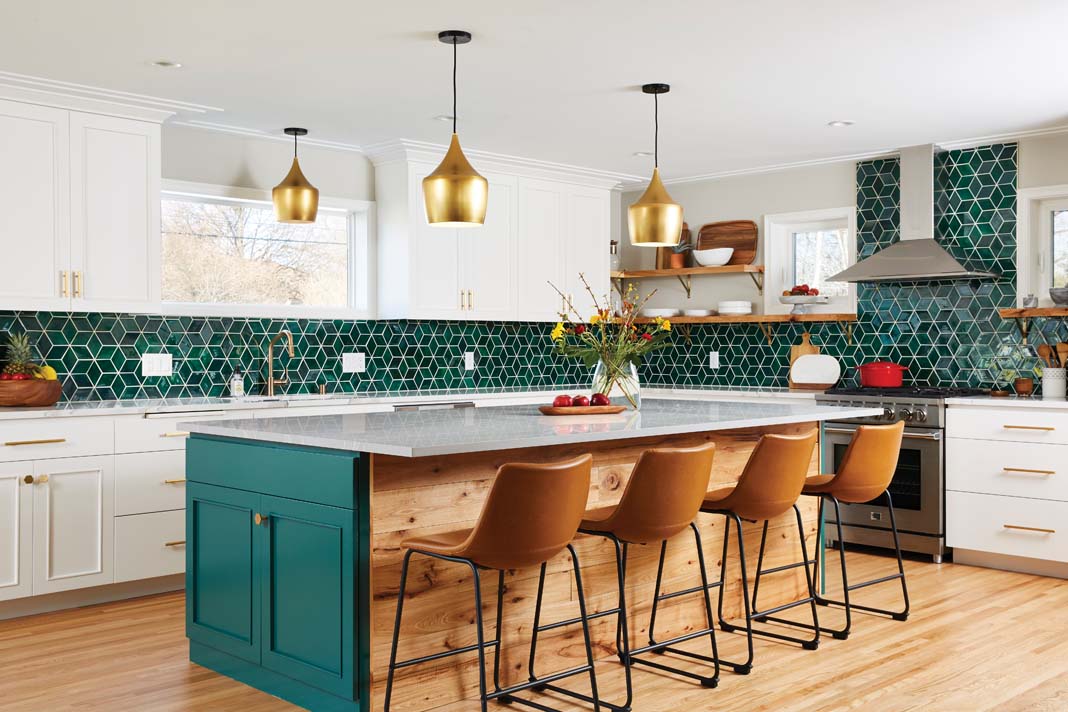 With a baby on the way, Francis and Whitney Madden knew the timing was right for a long-awaited renovation of their 1957 ranch-style Edina home. And for the entertaining-loving couple, the choice was obvious: their cramped galley kitchen, which lacked space, storage, and style.
After hosting a too-crowded-for-comfort birthday party last winter, the two began planning their remodel in earnest. "We knew we wanted something that would blend in with the rest of the house and still look good 10 years from now," Francis says, "but we also wanted something fun."
After discovering—and admiring—local tile company Mercury Mosaics on Instagram, the vision for their new space started to become clearer, and the couple felt ready to bring on Kent Tsui, co-owner of Minneapolis-based remodeling firm Quality Cut Design | Remodel, to head the renovation. To give the Maddens the space they wanted, Tsui and his team combined the kitchen and formal dining room into one large space and created a 14-foot addition as well.
"The addition opened up the space so they not only have a nice large kitchen, but it also gave them room for a mudroom," says Tsui.
Next came the interior design. The Maddens told senior designer Emily Pueringer they wanted color, tile, and an island. Pueringer met her clients' requests in high style, installing a glossy, emerald-green geometric tile backsplash and an island that features complementary teal paint on both ends and custom wood paneling on the face.
"When we went to Mercury Mosaics and saw the green tiles, we really loved the variation in them," Whitney says. "Each one is a little different, so the wall doesn't look like one big solid block of color. Plus, it's so cheerful when you walk in!"
Crisp white cabinetry, sparkling Cambria countertops, and warm touches of brass complete the new open-concept space. A small bar area continues the green tile backsplash motif, and for an extra-thoughtful touch, hex-shaped ceramic floor tiles lead from the entryway into the kitchen, blending seamlessly into the kitchen's light wood floors.
"Our carpenter came up with the idea of adding metal edging between the tile and wood, so we have a little brass transition piece that ties in with the other brass accents in the kitchen and creates a really nice custom detail finish," Pueringer says.
While Quality Cut Design | Remodel won a recent Contractor of the Year award from the National Association of the Remodeling Industry for the project, the Maddens ended up having their new daughter just one week after the kitchen was completed—a win-win for all parties involved. And now, the couple has another little one on the way, "so it's great the kitchen is already remodeled and ready!" Francis laughs.