Photos by Alyssa Lee  
People become emotionally attached to their homes for good reasons. A house might hold happy and meaningful family memories. Maybe the structure has historic or stylistic significance. Or, perhaps, the location or setting is ideal. For Shayna and Rhett Sweeney, all three reasons apply—especially for Shayna, who grew up in the couple's 1968 midcentury home on Sunfish Lake.
The couple purchased the home from Shayna's parents in 2017, who bought it in 1988. "When Shayna and her parents moved in, they did extensive remodeling in a soft contemporary style," Rhett says. "We immediately remodeled the lower level, adding a walkout and windows. We also added a retaining wall out back to accommodate the pool, patio, bar, and fireplace."
The Sweeneys wanted a full kitchen remodel from the get-go but initially did only a few updates. After two years in the home, which they share with one child, a nephew, and three dogs (their three oldest kids are in college and graduate school), they enlisted architect Andy Campbell, founder of Andy Campbell Design Company, to lead the way. "Our challenge was to design a bright, functional kitchen that could handle Thanksgiving dinner while keeping clutter at a minimum in order to function as an everyday entertaining space," Campbell says.
The couple also wanted the foyer and entrance opened up, plus the entire home brought back to its midcentury-modern style. Shayna asked that the fireplace and hearth be the focus of the family room and remodeled kitchen, and requested concrete floors because of the dogs. Rhett requested curtain doors to the pool area.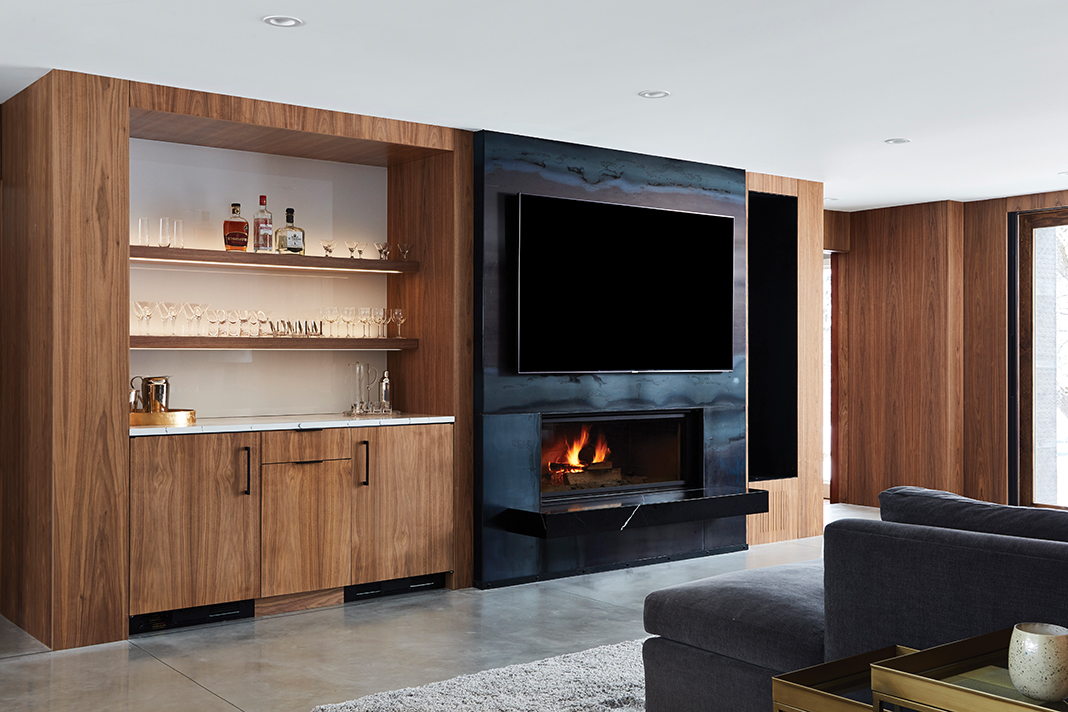 Campbell and his team replaced the painted faux-brick walls, brick island, and original cabinets with book-matched walnut-paneled walls and precision-made cabinetry exquisitely detailed by Nic Frost. "The walnut warms the space and conceals several hidden doors, one to an adjacent guest suite or mother-in-law apartment," Campbell says. The sleek walnut paneling contrasts beautifully with ruggedly textured walnut cabinetry and a parquet floor in the formal living room, where the middle section of cabinets was removed so that, when entering the glass front door, the view is through the home out into the woods.
The Sweeneys also requested two kitchens. One is for entertaining and opens to the family room—featuring a cooktop and minimalist ventilation hood, walnut island, and secret wall compartments for a coffee maker, toaster, and other small appliances. The other is an adjacent butler's kitchen "where all the messy stuff happens," Campbell says, with floating shelves, a prep sink, ovens, and a door to hide it all away. Richly veined, white-and-black manufactured stone backsplashes and countertops brighten the dark walnut walls. Many cabinets have glass fronts to keep the space airy. Before installing the polished concrete floor, Campbell and his team reinforced the wood floor structure.
The family room's fireplace surround, floor-to-ceiling stone, and walnut bar cabinet were all suggested by Dan Schaefer at Schaefco Development. "Dan also shared his vision for what bringing the home back to its midcentury-modern roots might look like," Rhett says.
New, 18-foot bifold glass doors, which Campbell pushed out 6 feet to add space, create a seamless indoor-outdoor connection between the spacious family room/kitchen and the outdoor living areas that feature a pool and patio for entertaining. The entire renovation, with a spacious L-shaped kitchen, cozy family room, hardworking butler's kitchen, and mudroom, totals about 1,000 square feet. Campbell and his team also renovated a powder room, which features a custom-made, curved floating wood vanity.
The family's biggest challenge during the remodel, Rhett says, "was not having our kitchen for the six months the project lasted. But we're fortunate to have that mother-in-law apartment, which we moved into for most of the time."
The result? "Our favorite outcome from the remodel is the gathering space it created for our large family," Rhett says. "In the winter, when our whole family is home, we can all gather in front of the fire on the extra-large couch and watch movies, eat popcorn, and laugh. In the summer, our outdoor space and indoor space meld seamlessly." The renovated space, returned to its midcentury-modern origins with contemporary flair, he adds, "is the heart of our home."