Photos by Amy Matthews, Chad Holder, and "This Old House"
Amy Matthews is no stranger to the charm older properties often hold for homeowners. As a designer and the host of several remodeling-focused television shows, she knows it's all about location—after all, houses can always be modified. But even she was enchanted by the 4.5-acre farmstead tucked away in the scenic St. Croix River Valley. Once home to a small dairy farm in the late 1800s, it featured an old farmhouse nestled among a classic red barn, a tiny milk house where the farmer would cool and store milk before it was transported to market, and another structure that served as a workshop/storage area. While the buildings themselves were quite dilapidated, Matthews knew there was something special about the picturesque property, which was sheltered in a valley and surrounded by wooded slopes that offered privacy from neighbors.
"There's a little bridge made of railroad ties you have to cross over to get to the property, and the previous owners built a beautiful stream in the backyard that flows through the restored prairie," she says. "It's like this unique little area of conservation just hidden away."
Matthews moved in with her young son, Eli, in the spring of 2017 and spent a few years living in the existing farmhouse, getting a feel for the space and planning the renovation. In 2020, the project was picked up by "This Old House" to be featured as its 2021 Idea House. However, by that point, Matthews had come to the realization that it made more sense to tear down the existing house and start anew.
"It had mold and water damage, and it needed new siding and electrical. Everything from the walls to the roof needed to be rebuilt to code," she explains, admitting it was a difficult decision to abandon her original plan of remodeling. "We would've had to take it down to the foundation, and at that point, it was more cost-effective to just start over. We also realized if we created a new foundation, it would be an opportunity to reorient the home and rotate it slightly for maximum views and light."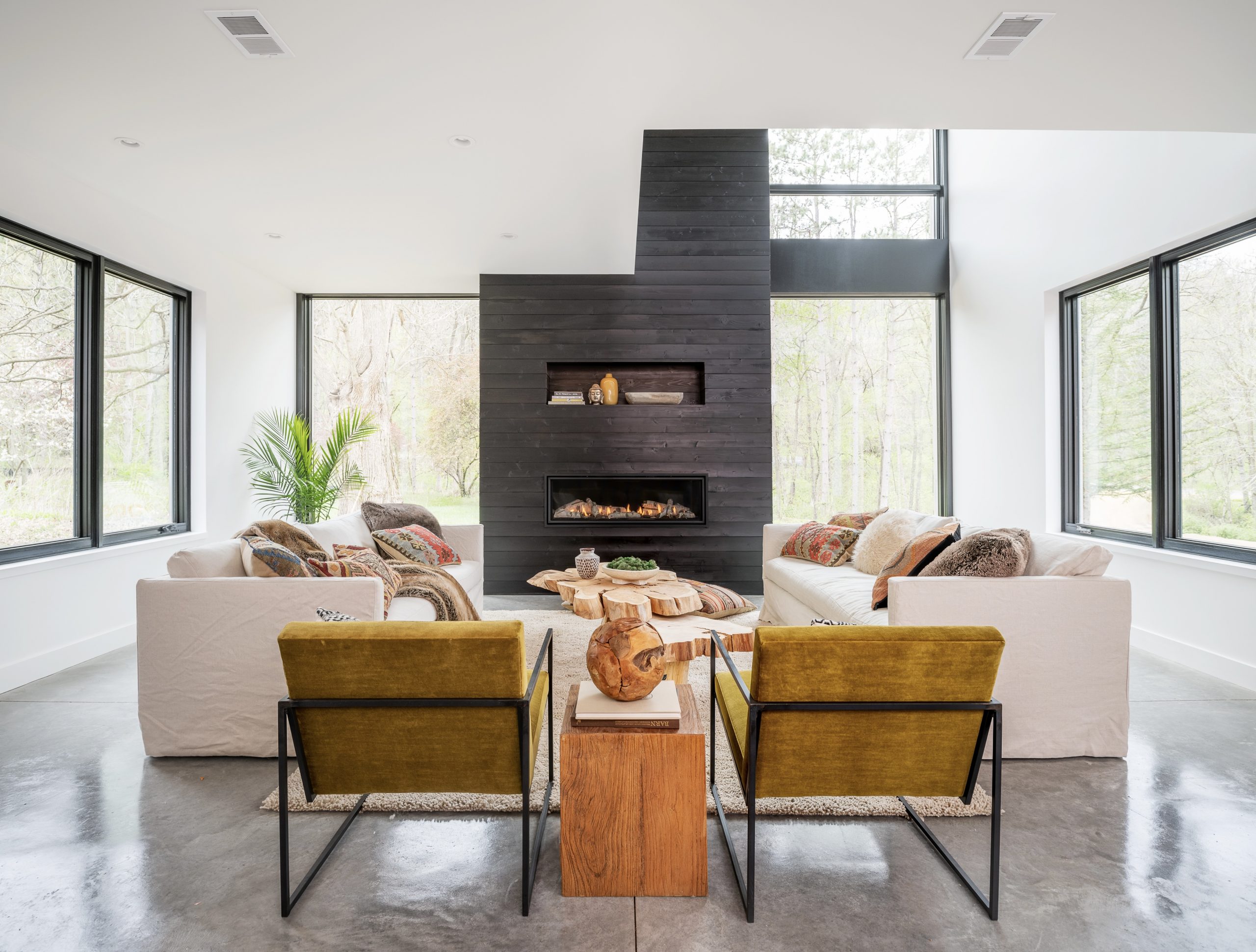 While the plan changed, the goal of honoring the farmstead's historic nature did not. Drawing on her love of Scandinavian style and its simple, organic design elements, Matthews opted for a modern-rustic take for her new home that would work well with the property's outbuildings. Local architecture firm D/O Architects, which specializes in combining clean, contemporary modernism with natural materials, was brought in to collaborate on the design of the new two-story house: a long, linear, gabled formation comprised of two sections connected by a steel-and-glass link that frames the front door on the main level and creates an airy catwalk on the second.
"What's important with these historic farmsteads are the clusters of buildings that create a kind of landscape by themselves," explains Colin Oglesbay, managing principal and founder of D/O Architects. "We didn't want to create a huge house that would overshadow the barn, so we broke it up into separate pieces. Respecting those traditional agrarian forms with the gable design was also a big part of making something that felt like it belonged."
With two sets of double glass doors that create a seamless flow from the entry to the backyard, the new 3,700-square-foot home was designed to have a strong connection with nature—one that will only increase over the years. For example, the galvanized aluminum roof will develop a soft gray patina over time, and the natural cedar siding's Driftwood Gray bleached stain will eventually fade to silver, lending the house a time-worn feel and allowing it to become part of the natural landscape.
Installed vertically, the siding is also a favorite element of Chad Maack, vice president of operations at Hartman Homes, who played a key role in making sure the project was completed by deadline. "The vertical cedar siding helps the house blend in with the tall trees surrounding the property and gives the exterior a very cool look," he says.
Inside, the first thing guests notice when they enter is the dramatic staircase—the pièce de résistance, according to Matthews—made of thick oak treads that float over a center beam of blackened steel, featuring glass railings to allow for unobstructed views. Flanking the house on the north and south sides of the main level are two flat-roofed, glassed-in extensions containing the family room and dining room, and at one end is the open kitchen and vaulted living room, both of which showcase striking focal points. The kitchen is centered on a monolith of natural white oak containing a hidden pantry on one side and a wine bar on the other, while the highlight of the living room is the linear gas fireplace with its massive, 25-foot black-stained chimney.
In keeping with the homey farmstead feel, materials were chosen to be simple, durable, and sustainable. Quartz countertops in subtle shades of white and gray reflect light and complement the concrete floors, which are burnished to add a modern, industrial look and kept warm with in-floor hydronic heat. Windows are dual-glazed and made of high-performing glass, while their black-painted frames offer a crisp contrast with all-white walls. Electronically controlled skylights flood the interiors with natural light while allowing for cool breezes in warmer months, and the home's eco-friendly construction of 8-inch-thick structural insulated panels further maximizes energy efficiency.
Just as the main level is designed for entertaining, the upper level is designed for privacy, featuring two bedrooms (one for Eli and one for guests), a bathroom, laundry room, exercise room, and office space overlooking the living room. Rustic white oak flooring and exposed beams add warmth to the bright white spaces, while matte black pendant lights with gold interiors create a soft glow that leads to the primary suite, located over the garage on the east end of the home and accessed by a glassed-in bridge.
"As you move from the main house to the primary suite, the glass link creates a hotel-like experience—you move through nature to a quiet, peaceful respite," explains Oglesbay.
Double doors open to Matthews' favorite space: her own private suite, inspired by a beloved hotel in Paris. Designed to be open and airy, the long galley closet is tucked behind the headboard wall with the en suite bath located beyond. The king-sized bed is flanked by dramatic pendant lights that hang over floating nightstands made of white oak—which was actually upcyled from leftover flooring throughout the home. A custom cabinet with an undercounter fridge serves as a convenient coffee/wine bar, so Matthews can easily grab a drink to enjoy on her private balcony without having to make the trek back across the house and downstairs.
Overlooking the wooded hillside, the primary bathroom is an organic oasis itself, filled with sunlight and rich wood details. "It's all about the views," says Matthews. "You look out the window and see the pond; you look up through the skylight and see the tops of these 60-foot pine trees. It feels like you're bathing in a treehouse. It's magical."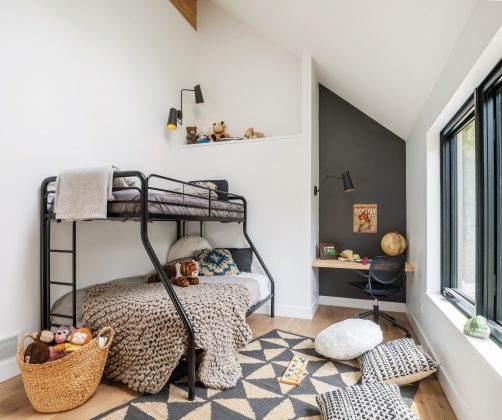 And in the true spirit of traditional farmsteads, the work is never quite finished. While the smaller outbuilding was repurposed into a workshop that contains a cozy office and entertaining space, Matthews is also planning on using it to host workshops for women in the trades and survivors of domestic abuse (she's hoping to begin in spring 2023). The quaint little milk house is slated to find new life as a garden shed, and a larger renovation of the old red barn will eventually transform it into a flex space with room for a couple new additions to the farm—"I'm hoping it'll be home to a rescue horse or two," says Matthews.