Just in time for holiday shopping, Faribault Woolen Mill has opened a pop-up shop at MOA. During the next few months, shoppers can browse Faribault's classic wares for gifts. In anticipation of out-of-state visitors in town for the Super Bowl, searching for Minnesota-made mementos, the storefront will remain open through February.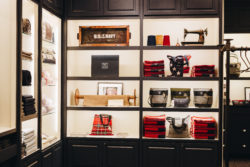 The pop-up shop will carry an assortment of blankets, throws, pillows, scarves, and capes. Alongside original Faribault goods, there will also be items created from partnerships such as the R. Riveter x Faribault Woolen Mill collection, which are bags that are cut and stitched by military spouses using Faribault's wool. The special collaboration also produced a Hamilton-inspired collection, based on the award-winning Broadway musical, that includes a lyrical pillow and a throw covered in the show's signature star logo.
Faribault's Holiday Collection offers entertaining favorites such as table runners and wine sleeves. There are also log carriers, tree skirts, and stockings in classic plaid and buffalo-check colors. You'll find most of these new items, as well as products from their classic line, in the pop-up shop.
The Faribault Woolen Mill store is off the Radisson Blu skyway on the second level of the mall (S222). Shop online at fairbaultmill.com.
Save
Save
by Catherine Guden