Photos by Plant Prefab
Across the U.S. and Canada, cities are increasingly allowing homeowners to construct ADUs, or accessory dwelling units, on their property. ADUs not only add to density, but they can also serve as rental units (providing homeowners with income), mother-in-law apartments (encouraging multi-generational families on a single lot), or—especially when the ADU is modern—sustainable and luxurious as a cool Airbnb.
Alchemy Architects' new lightHouse fulfills all that criteria. For nearly 20 years, since designing the first weeHouse®, the St. Paul-based firm has been refining its design thinking into various iterations on that original prefab modular home. The lightHouse, says principal architect and founder Geoffrey Warner, is an aspirational housing solution that allows residents to "live large with the luxury of less." Pricing for the entry-level lightHouse begins at $170,000.
The super-mod lightHouse comes in a suite of five options—small, medium, large, extra-large, and 2X—that range from 310 to 600 square feet. The lightHouse also has a dozen floor plans, from a one-room studio to a one-bedroom unit above a two-car garage. Warner and his team designed the lightHouse to be delivered to a lot as a prefab modular or panelized solution built in a factory; the lightHouse, Warner adds, can also be built on-site with adequate road access.
A small footprint and factory construction (which eliminates construction waste) aren't the only sustainable aspects. The lightHouse features a high-performance structure or envelope that's thermally broken with a high-quality air and weather barrier. Storage and laundry are located alongside energy-efficient mechanicals in the building's core.
The lightHouse comes with LED lighting, low-flow plumbing, no-VOC paint, Energy Star appliances, and energy-efficient windows. Depending on location, and because the team sites lightHouses to maximize passive solar in the winter and shade in the summer, a mini-split is sufficient to heat and cool the mini-residence.
The interior is fir plywood with built-in oak furnishings. The lightHouse comes with signature exterior "jewelry," says Warner, including a prefabricated steel awning, steps, doorplate, and entry beacon, as "every lightHouse needs a light."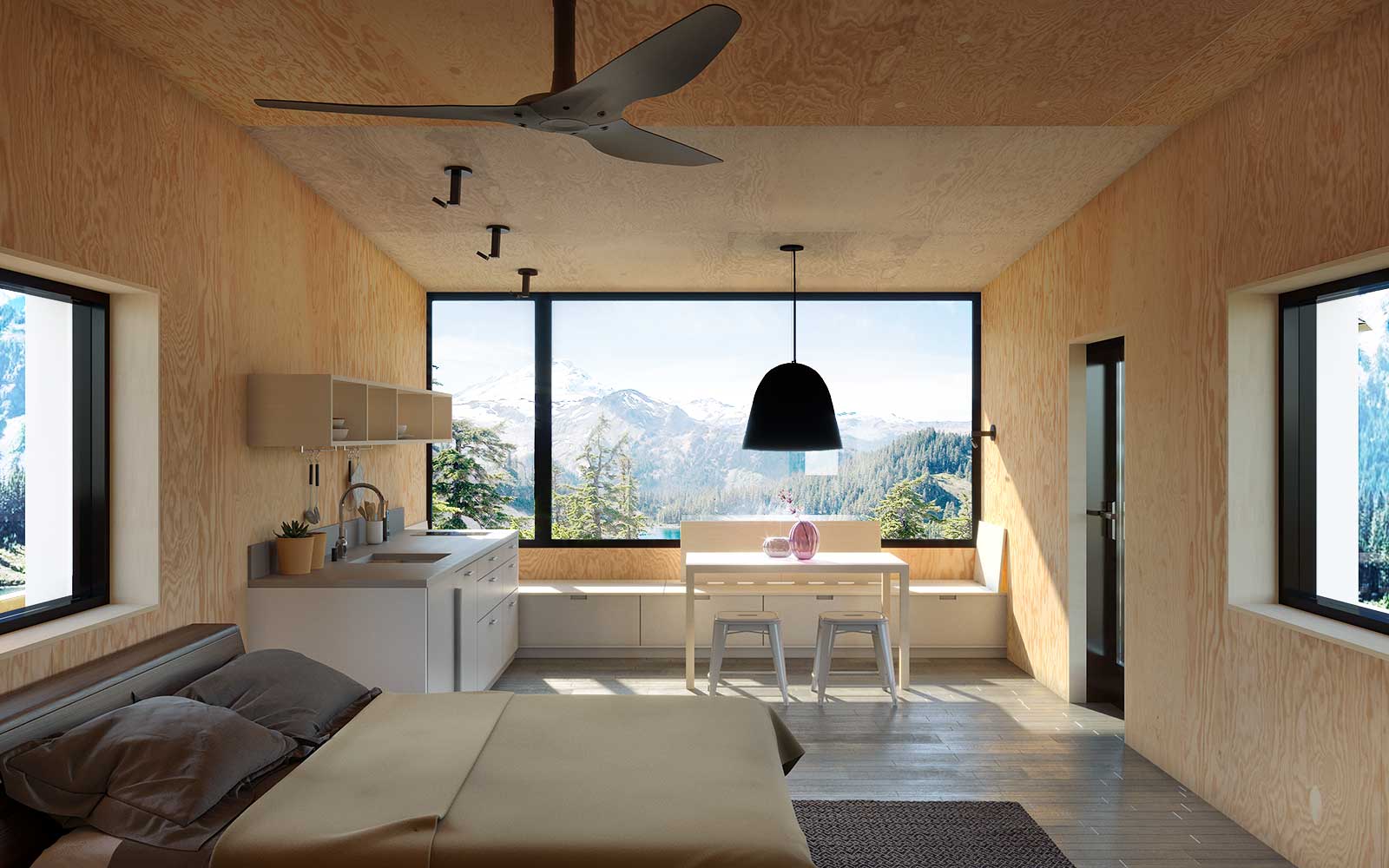 The product of decades of research and design thinking, the first lightHouse was built in Sebastopol, CA, by Plant Prefab. The owners are living in the ADU while Alchemy designs and builds a weeHouse on the property. Alchemy recently joined with Plant Prefab, as the firm's factory partner, to build lightHouses in California, Arizona, and Nevada.