Award-winning projects from members of the Minnesota chapter of the NKBA. 
Above: Kitchen by Rosemary Merrill Design and Kate Roos Design. Photo by Andrea Rugg
Small Kitchen (less than 150 square feet)
First Place
BUNGALOW REWORKED
David Heide and Brad Belka, David Heide Design Studio
The owners of this 1920s bungalow wanted a kitchen that preserved the home's aesthetic, but updated its amenities and improved its connection to the dining and living rooms. The kitchen is now integrated with the rest of the first floor and the stairways have been opened, converting this once compartmentalized house into a more free-flowing living space. A small, cantilevered addition on the south side of the kitchen added storage and work surfaces. New appliances blend with period-appropriate cabinetry to create juxtaposition between old and new. (Photo by Greg Page)
Second Place
CLEAR VIEWS
David M. Ostreim, AIA Partners 4 Design
This luxury condominium in Minneapolis boasted a lakeview, but the owners couldn't see it from their cave-like 1980s kitchen. Working around the constraints inherent in a condo—utilities can't be moved, for example—the designers removed the top halves of two walls to open sight lines to the lake as well as the rest of the living space. The new white cabinetry and a counter with bar stools outside the kitchen maximize the limited square footage. Softer lighting and a brighter palette make the kitchen feel larger and give it a timely, updated feel.
Third Place
Jessica Sybrant, Arrow Cabinet Gallery
Photo by Schultz Photo & Design

---
Medium Kitchen (150 to 350 square feet)
First Place
LAKEFRONT LIVING
David Heide, Mark Nelson, AIA, and Kyle Veldhouse David Heide Design Studio
A previous expansion and remodel of this urban lakefront cottage moved the kitchen to the back corner of the house, leaving it disconnected from the great view and the rest of the living space. Moved back to its original location, the kitchen is now the hub of the home, surrounded by the dining, breakfast, and family rooms. Every inch of the new kitchen is designed to make the most of the space: Cleverly concealed appliances and beautiful detailing in the cabinetry, backsplash, and countertops evoke the owners' artistic sensibilities, while the view of the lake and flow from one room to the other make it perfect for entertaining. (Photo by Susan Gilmore)
Second Place
RUSTIC ELEGANCE
Mary Maney, CKD, ASID, Crystal Kitchen Center
The homeowners' goal for this contemporary farmhouse kitchen was to create an open and interactive space between the cooking and dining areas. At the same time, they hoped to reuse elements of the old kitchen that worked, including the refrigerator and maple floors. They also wanted a larger island and a stovetop hood vented to the outside. The new design removed a wall between the kitchen and back hallway to accommodate a larger island with a sink and seating for four. The Wolf hood, which vents outside, serves as a focal point. Drawer inserts and a coat closet add storage, while taking advantage of existing spaces. The sleek yet rustic finishes in crisp white and gray make the entire living space more cohesive.
Third Place
Rosemary Merrill, Rosemary Merrill Design, AKBD / Jen Seeger, Kate Roos, Kate Roos Design
Photo by Andrea Rugg
---
Large Kitchens (more than 350 square feet)
First Place
COLONIAL COHERENCE
Rosemary Merrill, AKBD, Rosemary Merrill Design, and Kate Roos, Kate Roos Design
The kitchen of this 1930s Colonial, with its dark cherry cabinetry and ceiling beams, was gloomy and disconnected from the white millwork in the rest of the house. To deliver the light and bright space with state-of-the-art appliances the homeowners desired, the designers painted the dark wood white, added windows on either side of the stove to bring in more natural light, and eliminated the cabinets between the kitchen and breakfast nook to improve the flow. Gray-stained, quarter-sawn white oak gives the side-by-side refrigerator and freezer the look of an armoire, adding a touch of elegance to the newly cohesive space. (Photo by Andrea Rugg)
Second Place
FUN AND FUNCTIONAL
Sarah Maly, CKD, Sawhill Custom Kitchens
These homeowners wanted their kitchen to be reconfigured so that the room was no longer a thoroughfare for their children and guests. The designer's solution was to create a prep triangle on one side of the island, cordoned off by a long eating/activity peninsula, and place cleanup and storage on the opposite side of the room. To accommodate the owners' numerous cooking gadgets and collection of copper, the designer also incorporated organized food pantries, many drawers, a utility pantry, a hidden coffee center, a magic corner, and a mixer shelf. The '80s-era kitchen also gained granite countertops and new cream and red walnut cabinetry, adding a pop of color to a previously one-note aesthetic.
Third Place

Jolynn Johnson, CKD, Crystal Kitchen Center
Photo by JH Peterson
---
Large/Master Bathrooms (more than 55 square feet)
First Place
FOURSQUARE REVIVAL
Steven Ptaszek, CKD, Imagine That Kitchens + Baths
A 1960s addition to this turn-of-the-century home that was poorly designed and constructed made for a master bathroom that was always cold. Although certain elements had to remain fixed because of outdoor architectural details, the remodeled bathroom includes a widened passage, improved storage and organization, and in-floor heat with a better-insulated subfloor. Arched doors throughout the house inspired the curved glass shower door, arched medicine cabinet, and curved cabinetry. The homeowner, on a quest to find lighting in keeping with the era of the house, purchased the Steuben glass sconces. But the pièce de résistance is the Carrara marble and basket-weave flooring. (Photo by Jill Greer)
Second Place
ELEGANT UPDATE
Tami Holsten, AKBD, Bear Trap Design
The cramped, dated, and worn bathroom in this 1970s Colonial required major reorganization and updating to meet today's standards. Custom-designed cabinetry increases storage and organizational flow, while classic finishes and period details add individuality. Trim-less French glass doors and updated fixtures give the shower an elegant makeover, and subtle geometric wallpaper softens severe ceiling lines. A freestanding soaking tub replaced the dated whirlpool tub, freeing up space for a custom towel-storage cabinet. A once awkward and outdated space is now functional and sophisticated.
Third Place

Kate Roos, Kate Roos Design
Photo by Andrea Rugg
---
Utilization of Residential Cabinetry in Other Areas
First Place
CURVED CENTERPIECE
Tricia Tidemann, Mingle LLC
Looking for a way to showcase their 2,500-bottle wine collection, the homeowners wanted a contemporary wine cellar that would be visible from the entertainment areas outside the room. A curved glass entryway leads into the space to reveal curved wooden racks that evoke the home's similarly curved architectural features. A lighted row in the center of each concave rack illuminates special bottles. The back wall further accentuates the right and left curved racks, making a focal point of the owners' antique cross and most prestigious bottles of wine. Other features include a countertop for wine pouring and storage for corkscrews, napkins, coasters, and wine glasses. (Photo by Scott Amundson)
Second Place
MULTIPURPOSE MAKEOVER
Barbara Bircher, CKD, Crystal Kitchen Center
The owner of this lakeside home wanted to turn a closet into a multipurpose walk-in pantry. The designer created a pantry with separate counter space to ease entertaining a large family and loads of storage designed for bulk food, small appliances, cleaning supplies, and linens. Special features include wide drawers, pullout wicker baskets, a space for plugging in crockpots, a hidden message center, filing drawers for organizing mail and paperwork, and glass cabinets that display family heirlooms. The warm cherry cabinetry and colorful displays give the room a cozy and inviting feel.
---
Artisan Materials (Handcrafted, local materials)
First Place
UNEXPECTED FLAIR
Jolynn Johnson, CKD, Crystal Kitchen Center, Inc., and Mercury Austin, Mercury Mosaics
This credenza desk needed some flair—something like a tile backsplash that didn't evoke a kitchen. The designer worked with a local custom tile maker to execute this multicolored bubble tile mosaic that travels up a backdrop of handmade field tiles in an antique pewter color. Varying in size and color, the bubble tiles complement the overhead light fixture and run parallel to an arched beam passing through the shelving. The locally sourced and designed tiles include shades of olive green, espresso with wood grain, amber, black, roasted pepper, and jewel brown.
Second Place
SMALL SPACE, BIG IMPACT
Josh Blanc, Clay Squared to Infinity
Originally a pantry, this 3-by-8-foot space had been turned into a bathroom by the previous owners. The current homeowners found the room too small to be functional and wanted to find a way to maximize the available space while making it vibrant and enjoyable to use. A new pocket door, double sliding mirrors, and an in-floor heating system in the place of a radiator give the space a sense of depth and increase the usable square footage. Custom-made tiles create fewer grout lines and avoid discoloration, and decorative circular tiles placed strategically around the room provide pops of color at various levels. A previously drab and cramped space is now functional and pleasing to use.
Third Place

Stephany S. Eaton, PureAlchemyDesign
Photo by Stephen Voegeli Photography
---
Specialty Categories
Budget Friendly + Green Design/Products
STRATEGIC REUSE
Lynn Monson, CMKBD, Dreammaker Bath + Kitchen; and Gordon Huser, Gordon Interior Design
The homeowners of this 1960s rambler wanted a kitchen more in step with the contemporary style of their remodeled home. Because the update came on the heels of a full remodel, the budget was a major consideration. The designers reused nearly all of the original cabinet boxes, painted them, and refaced them with durable laminate doors and drawer fronts with new hinges, drawer boxes, slides and handles. Energy-saving LED and under-cabinet lighting throws light above and below. Sheets of finely corrugated aluminum laminate make a stylish and inexpensive backsplash. All these savings allowed splurging on recycled glass countertops on the sink wall and engineered quartz on the cooking wall. (Photo by Mark Ehlen)
SUSTAINABLE BY DESIGN
Sarah Maly, CKD, Sawhill Custom Kitchens
In keeping with their eco-conscious lifestyle, these homeowners wanted to reuse as many materials as possible while they remodeled their townhome kitchen. The designer reused the existing wood floors (sanded and sealed with a water-based finish), recessed lighting (switched to LED bulbs), kept venting and plumbing locations intact, and specified Energy Star appliances and water-saving fixtures. The old cabinetry was donated for use in a non-profit housing project. Each element of the space is well thought-out, creating a sustainable and functional space for cooking, entertaining, and living.
Third Place

Tami Holsten, AKBD, Bear Trap Design
Photo by Agency Models and Talent
By Nina Hagen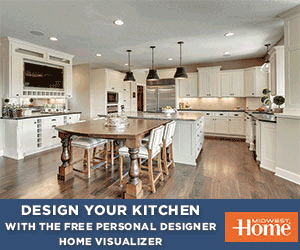 Facebook Comments