Photos by Scott Amundson
"Growing up, I was always inspired by the old, rustic hunting cabins in Terry Redlin's paintings," says the owner of a discreet, yet classic lodge in western Minnesota. Having worked with Mark Larson of Rehkamp Larson Architects on his family's home, the owner, an avid waterfowler, asked Larson to fulfill a dream: a hunting lodge in which to pursue a passion "that's more of a lifestyle than a hobby," and which would also serve as a sanctuary for family and friends.
From the outside, the structure is "simple and quiet," Larson explains. The galvanized steel siding, gambrel roof, and traditional barn shape convey a utilitarian aesthetic, "and when the building is closed up and nobody's there, it looks like a barn," Larson adds. Inside, however, the lodge features traditional timbers in the form of  reclaimed wood beams, flooring, ceiling, and trim provided by Mike Nicklaus of Big Wood Timber Frames.
"Mike was awesome in finding all these reclaimed materials, including an amazing big barn door with hound hardware," says interior designer Brooke Voss of Brooke Voss Design. "He helped us create a palette, and from there, we layered in a cool, masculine lodge vibe with lots of leather, plaid, and houndstooth—materials and patterns that are rustic and time-honored."
The palette extended into the kitchen, where nothing is white. The cabinetry, painted in deep earthy hues, surrounds a center island (also designed by Big Wood) that resembles a piece of found furniture. Above the island is burnished-metal lighting. Antler fixtures by Fish Fisher out of Bozeman, Montana; taxidermy; artwork the owner collected over the years; and a gas fireplace with a limestone surround and chimney complete the interior decor.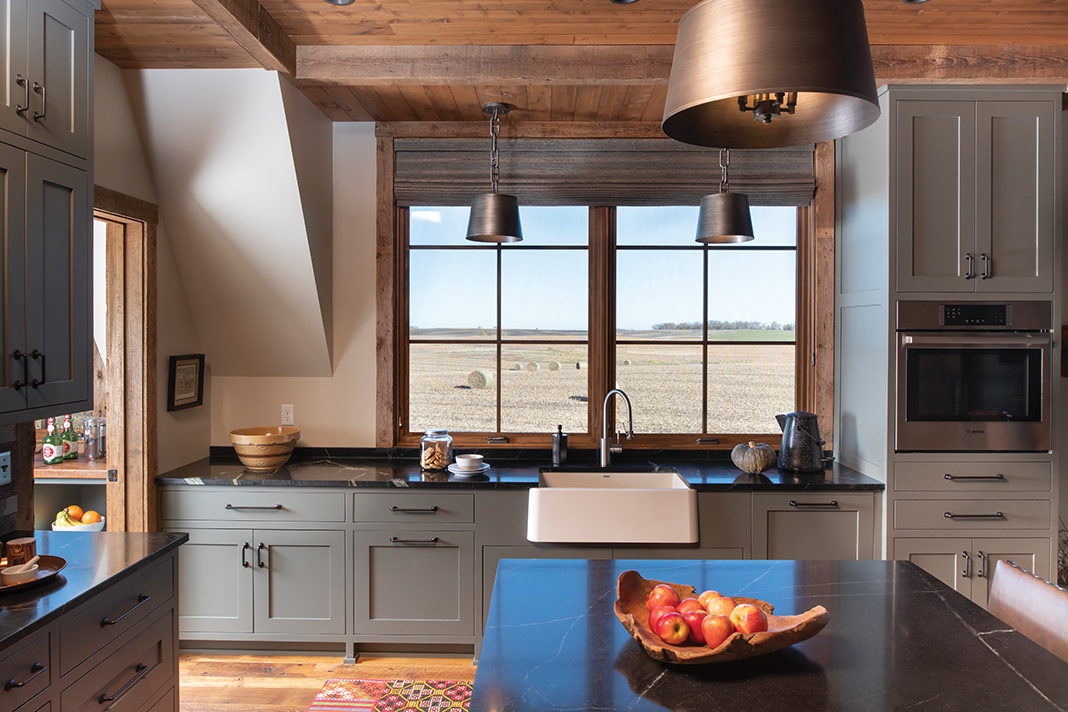 A small entrance near the garage leads to a game-cleaning area and mudroom on the first level, while the second level opens into the living, dining, and kitchen area. Two bedrooms and a bath are also on this floor. A guest bathroom has metal wainscoting and a tartan wallcovering, and a loft with a small office area includes bunk beds.
"We've done a lot of timber-frame cabin-like structures, and we've even designed some barns—but [we've] never combined the two," says Larson, who worked on the project with associates John Kirk and Corey Pederson, plus Robbie Hyland of HBRE. "This project is an intriguing blend of agricultural and cabin." Exploring the "healthy tension" between utility and comfort meant "finding the sweet spot" where the lodge could compatibly function as both a hunting cabin and family retreat. "That required coordination between three-dimensional form and space planning," Larson adds.
The owner, however, is the lodge's primary occupant. "From September through December, I'm out there almost every weekend," he says. "Once or twice a month in winter, and in spring and summer a couple times a month." Having grown up gazing at Redlin's rustic paintings and artworks, he adds, "I realized a lot of his scenes are what the lodge setting is all about. I wanted that. Something really rustic, but elegant—my own sanctuary—where nothing [is] precious, and everything can be used."