Photos by Andrea Rugg || Styling by Rene Hari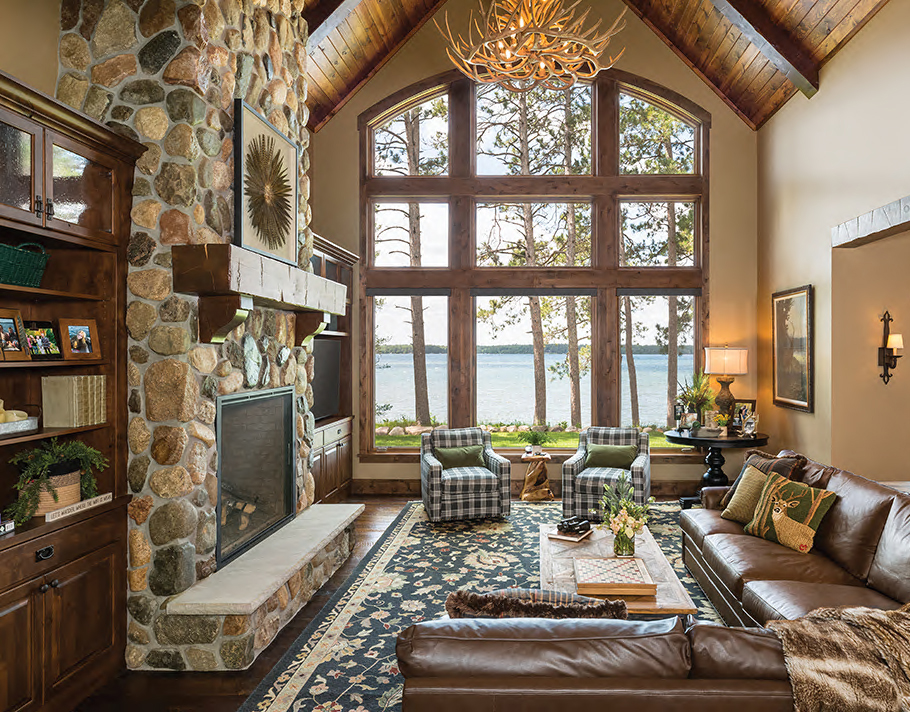 Shannon and Mike, the husband-and-wife owners of this rustic-inspired lake home, say they always wanted a cabin, but until recently, life was too hectic. "We have four kids, and their activities kept us so busy," explains Shannon. "But when our oldest started high school, we decided to get serious about finding a place." 
They began their two-year search and found just the right spot in 2016—an 11-acre property with two log cabins located on a quiet lake outside Nisswa. The larger cabin was updated and had a few bedrooms, a sleeping loft, and a porch with just enough room for the family. Guests could stay in the smaller cabin, they figured. Although it worked, it wasn't an ideal long-term plan for what they hoped would become a legacy property. 
They enjoyed the cabin as is for the first few years, a time Shannon calls "the dreaming phase" when they began to envision what they would want out of a new lake home. It also gave the family the opportunity to discover how they used the property. The flat area between the cabin and lake was popular for yard games and watching sunsets, for instance, and the older kids enjoyed the independence of having a separate cabin when they had friends up. And they all loved the long, winding tree-lined driveway and how it created a sense of anticipation.
Their vision was a year-round home with plenty of beds and space for big gatherings, so "if one of our children wanted to bring 10 friends up, everyone would have a place to sleep," says Shannon. 
Equally important to the family was maintaining the heritage of the property—a pristine wooded setting with west-facing views and gentle elevation. Shannon and Mike also wanted to pay homage to the cabin's original design, especially after finding its hand-drawn blueprints from 1937.
The couple worked with Nor-Son Custom Builders and architect Travis Miller, AIA, to design and build the new main house, using the property's old cabins as inspiration for the design. Shannon adds, "We wanted our lake home to have stories and look like it has been there for a while." 
When they demolished the smaller cabin (they kept the larger one—which once was the main house—to serve as a guest cabin), Nor-Son saved many of the wood timbers, along with a few doors and windows, and used them in the new house to create a connection between the past and future. 
The classic "up-North" design includes a vaulted main room and open kitchen that faces the lake. Lots of dark wood throughout adds a warm feeling to the 4,000-square-foot home—knotty alder on trim and doors, hand-hewn white pine beams, and tongue-and-groove ceilings. Reclaimed wood from a barn in Wisconsin was used on floors and a few accent walls to give the house depth and history. 
Nan Sloan, senior interior designer at The Sitting Room, was brought in early to help realize the couple's vision for a traditional, slightly nostalgic family retreat. One of her contributions is a lakeside mudroom she designed with Shannon—an ingenious area that serves as a transition zone between the outdoors and main living area. "We thought about everything someone spending a day on the lake would need," says Shannon. It has a slate floor, bathroom with a full-length mirror, washer and dryer, towel cubbies, lockers, a beverage center, and a pantry with snacks. It's convenient for grab-and-go and eliminates wet, sandy foot traffic in the main part of the house. The room also features a chalkboard Shannon uses to denote special days and bring late sleepers up to speed on daily activities. 
Sloan incorporated Shannon's favorite shade of green throughout the home and added wall
paper with lake-inspired motifs in smaller rooms. Everything needed to be no-fuss—durable and comfortable—so she chose leather, wool, and indoor/outdoor fabrics in darker colors.
A giant dining table was on the family's must-have list, and a 7-foot double pedestal table fit the bill. With two optional leaves, it can seat 12 comfortably. Sloan chose a combination of benches and chairs for flexible seating, adding, "You can fit more people on a bench, especially kids." It has a stained, wire-brushed finish that will stand up to a lifetime of meals, card games, jigsaw puzzles, and those who may be coaster-averse.
There's a relationship between the main house and original cabin—they're within sight of each other with a grassy space in between, and the house has a patio with an outdoor fireplace that lures guest cabin residents over for gatherings. On the other side of the patio is Mike's favorite spot to unwind: a screened porch with a fireplace and TV to watch baseball games in the summer and football in the fall. 
Shannon and Mike tried to preserve as many trees as possible on the property, and Nor-Son took steps—such as bringing in trusses vertically—to avoid damaging trees along the narrow driveway. However, they did have to remove some to accommodate the new house. "We lost one beautiful white pine in particular," says Shannon. "We used it to build our fireplace mantels and have a picture of it on our hallway."  
One of Shannon's favorite spaces is the upstairs bunk room, which features salvaged doors, adorably decorated storage nooks for overnight bags, and windows from the original guest cabin. It has custom bunk beds made by a local craftsperson and sleeps 11. The upstairs bathroom is made for groups, too. With a separate toilet room, shower room, and large trough sink with three faucets, it's designed so more than one person can use it simultaneously. 
Shannon says the kids don't have designated bedrooms, and they can choose to sleep in whichever one they want—except for her and Mike's. Located on the main floor, it's on the quieter end of the house and has a fireplace and big sliding glass doors that open to the lake view. The elegant en suite features an earthy wood wall and soaking tub. "At the end of the day, it's a peaceful place to go," says Shannon. 
Since finishing the project, the family has used it for themselves and to host groups (including 30 college kids)—performing just as Shannon and Mike hoped it would. Shannon adds, "We want to create memories here and knew, if we did this right, the property would stay in the family forever."