Photos by Spacecrafting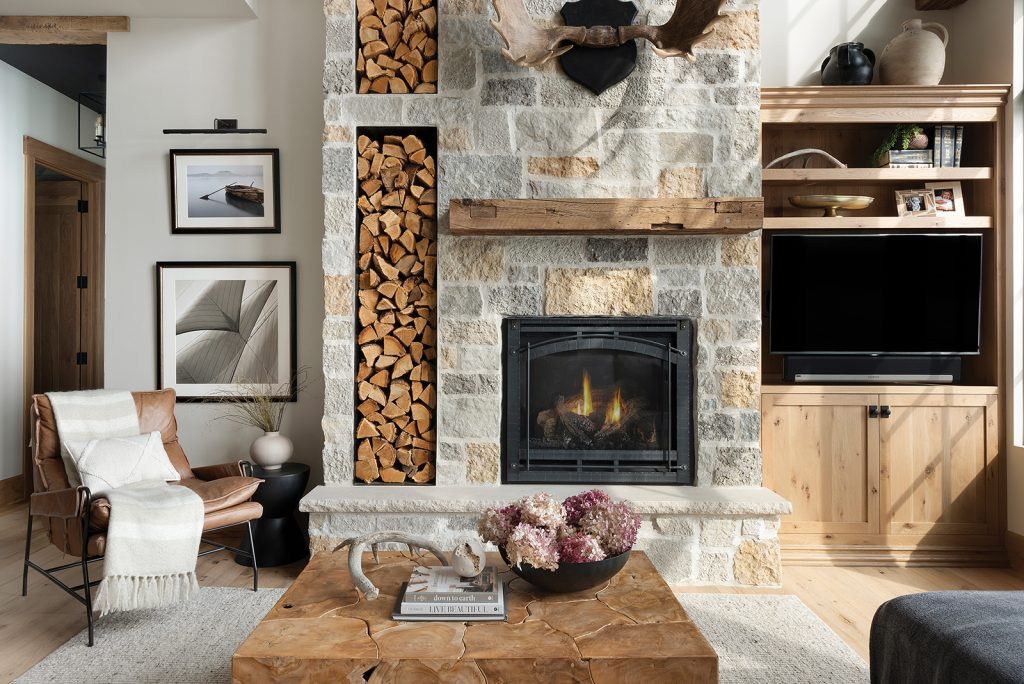 For four days straight, a thick layer of cardboard concealed the windows of Mary and Bob Dimke's new cabin. During that time, Tays & Co. CEO and chief designer Laura Tays had no moment to spare as she and her husband/technical director, Josh, prepared for the homeowner reveal of their first-ever large-scale project. After toasting to the occasion, the Tays welcomed the empty nesters (hand-in-hand with their four adult children) into the fully furnished summer escape on Upper Gull Lake in Nisswa.
The family was greeted by not only delicately stacked dishes and perfectly placed furniture, but also thoughtful personal touches and treasured family photos that lined the hallways—striking an emotional chord to which no one was immune. "After being inside only a few short minutes, Mary came over to me with tears in her eyes," recalls Tays, who carefully planned every detail—from the floral arrangements and toppling bowls of fruit to the fresh-cut bread and music swirling overhead. "Later, her family told me, 'Mary never cries,' and one of her kids even joked, saying, 'She didn't even cry at my wedding!'"
This memorable Friday afternoon last summer circles back to late 2018—the day the Dimkes formally decided to build this cabin getaway a short trek from their Twin Cities home. "We've owned the property since 2012, but we weren't exactly sure what we were going to do with it," says Mary. "It was a beautiful property, but we wanted to stick around and see what our children wanted to do. We didn't want to go through with all of this if none of them were going to stay in Minnesota, but when they decided they would, we wanted to move forward."
And move forward they did, but not without first collecting referrals and vetting various firms. Ultimately, the couple landed on architect Collin Jacobs, who completed the project as owner of NewHeritage Architecture & Design, and the team at Wes Hanson Builders to craft a four-bed, three-bath abode that would cater to their vision: a rustic yet modern retreat with a cozy, inviting feel and plenty of modern-day amenities. To accommodate their goal, Jacobs strategically situated the guest bedrooms on one side of the upper level, flowed together the kitchen and great room for an open-concept feel, and designed the sunroom to encourage conversation between those cooking, cleaning, or making coffee in the kitchen. "Bob and Mary also didn't want a formal dining space," Jacobs says. "They viewed this as a relaxed atmosphere to entertain or be with family."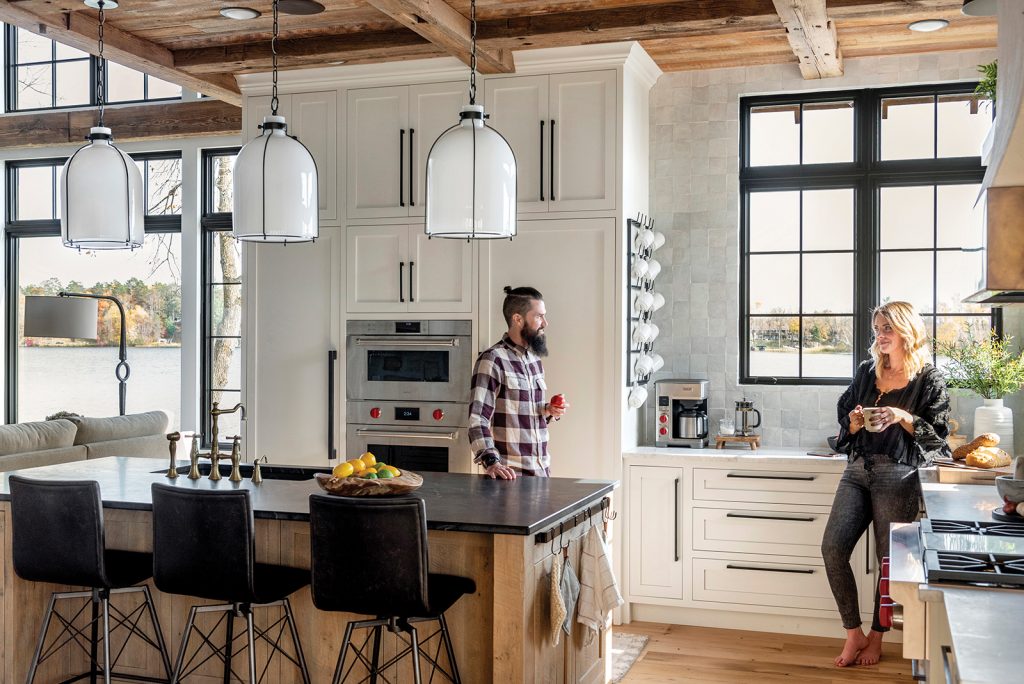 With Jacobs' plan approved, the team leveled the property's existing rambler and started to rebuild within myriad restrictions. "The square footage was quite tight, which was all directed by the buildable footprint the local jurisdiction allowed us to work with," Jacobs explains. "We had site limitations, so we could only have a certain-size project." To make the most of what they had, Jacobs built up—using every last inch to pack as much square footage into the space as possible. Deceivingly enough, the house is just shy of 3,000 square feet. "It feels much, much bigger," Jacobs continues, "and I think that has to do with the openness of the spaces. The main level has 10-foot ceilings, plus there's a big physical connection to the natural light, windows, and exterior."
Although the restrictions proved difficult, perhaps the biggest challenge was churning out a cabin both homeowners would approve of. Their design preferences pulled in drastically different directions—making the process feel at times like a mighty game of Tug of War. Mary required neutral colors, limited patterns, rich textures, and a modern feel, while Bob envisioned a true rustic cabin with heavy woods, bearskin rugs, dark tones, and antler chandeliers. "We always refer to his look as a 'mountain look,' and mine as more Nantucket, Cape Cod—light and airy," Mary explains. "I also don't like anything with a curve or arch. I'm really attracted to simple and straight."
Specializing in bespoke spaces that use organic materials (which can skew either modern or rustic), it was only fitting that Tays would work natural elements, like wood, into the interiors. "We definitely used wood everywhere in this house," laughs Tays. "We used reclaimed paneling on the super-high ceilings over the great room, in the entryway, and what you see on the 'catwalk' upstairs. The wood beams and paneling are from Manomin Resawn Timbers, including the wood floors in the house. They have natural weathering and age you only get with authentic reclaimed wood. It brings the home to life when you're there in person." More of that material consumes the kitchen, where the self-taught designer integrated a coffered ceiling with a series of sunken three-dimensional panels in a grid-like pattern. A fully stocked wet bar and open shelving keep the design aligned with the decade, while hand-cut iridescent backsplash tiles add both class and character.
Eventually, Tays posed a question: "How else can I make this feel like it isn't a brand-new house?" Her answer awaits through an adjacent archway (one of the only curves in the home, Mary points out), where a limestone-wrapped pantry "cave" features light-colored grout for a seamless, always-there look and custom cabinetry awash in Sherwin-Williams' Grays Harbor. But to ensure Mary's more modern tastes were also intertwined, "all the walls, ceilings, and cabinetry in the space are the exact same color," Tays says. "I really don't prefer traditional transitions, so I didn't do standard white ceilings with a different wall color and another transition with an accent trim color. Instead, the ceilings and walls are all the same."
The simplicity and timelessness of the home's canvas allows Tays' selections to be as striking yet unadorned as the sunsets that glisten on the lake. A marble basketweave-patterned tile adds texture to the master bathroom backsplash, while upstairs, a charred shou sugi ban cedar accent wall creates interest in the bonus space. In the laundry room, a Capital Granite custom soapstone sink with an old-school wall-mounted faucet makes washing laundry feel a little more luxurious, while tartan plaid floor tiles impart a nod to the North. "The pattern feels kind of rustic, like it should be in a cabin, yet there's something modern and fresh about it," Tays says. "The interiors are a reflection of both their tastes. It was all a balance."
That balance extends to the exterior, which Jacobs describes as a "rustic refinement" that successfully bridges the homeowners' wishes. "We did pull in a little bit of urban flair," he explains. "The exterior materials are a little cooler. The edges, the roof profiles—they have a light flare to them. We married those rustic materials with a more clean, refined form. I recall the initial iteration [of the cabin] was a very quaint, cozy single-level home that leaned a little too heavily on Bob's wants and desires," Jacobs continues, "but it gave us the springboard that got us to where we are today."
Believe it or not, this completed cabin is only one of four structures on the property, all of which were designed and built by the same team of industry professionals. There's a kids' house next door, an Airbnb, and even a freestanding pub. Up next for the Dimkes? Project No. 5—a new full-time residence in Medina.