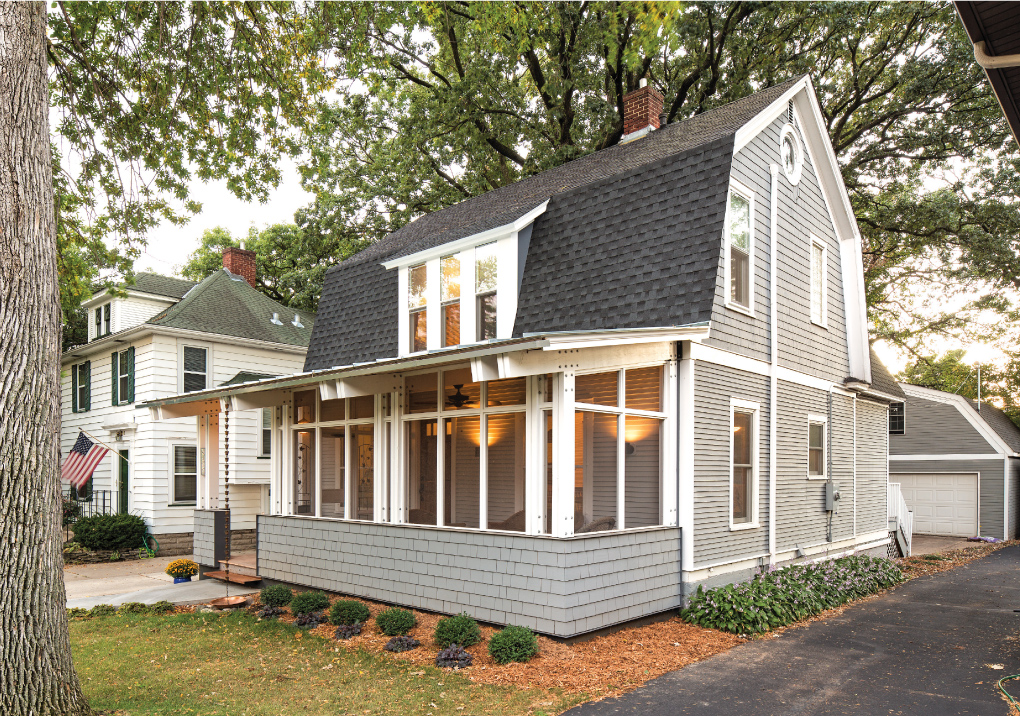 Above: Same footprint, delightful new details: perfect proportions, crown molding, Corten steel steps, and standing-seam metal roof. 
The century-old dutch colonial on Emerson Avenue in south Minneapolis had a semi-enclosed front porch that had gone to the dogs. Literally. The homeowners' beagle was the only family member willing to tolerate it.
Left: The porch, before.
Never mind that the perpetually dark porch had no lights or electrical outlets. The real problems began with a leaking roof and climaxed with an eroded foundation that left the porch actually pulling away from the house. "The only thing holding it up was a couple of tree stumps," says homeowner Nancy Lewis.
Even the dog much prefers the sightlines from the replacement porch designed by architect David Wagner, she says. She and her husband, Patrick, now enjoy not just using it but also looking at it from the street.
Wagner, of Sala Architects in Minneapolis, says that when the owners began consulting with him about replacing the porch, they were concerned not only with the structural problems but also with boosting their house's curb appeal. The deteriorating porch "was detracting from the beauty of the home," he says with diplomatic understatement. "They wanted a new take on the living space, but they also wanted to improve the look of the house."
Above: The new porch interior.
Mission accomplished. The new porch, well-lit and inviting, boasts dramatic beams of Douglas fir as both uprights and roof supports. The former single doorway centered on the house has been replaced by two open entries, one on the southern driveway side and one off-center facing the street. Both feature Corten steel stairs. The entry side of the porch is unscreened, allowing more light to penetrate the screened portion.
Yet for all the differences, the new porch still seems to belong to the old house. Remodeler Stephen Roche of Showcase Renovation Inc. in Corcoran is especially proud of its subtle details, such as the traditional crown moldings that now flow gracefully from the house's roofline to that of the porch.
Wagner and Roche "definitely nailed it on the curb appeal," Nancy says. "Every time I come home I just couldn't be happier.
By Jack Gordon Photos by Troy Thies
Architect: SALA Architects
Builder: Showcase Renovation Inc.
Facebook Comments