LARGE KITCHEN (> 350 SQUARE FEET)
1st Place
Bouts of Blue
Laurie Butler, CKD, and Becca Hall | Ispiri Design-Build
Not many people are hesitant to give a big thumbs-down to outdated appliances, dark backsplashes, meager lighting, and far-too-tight cooking quarters. Unsurprisingly, the clients of this lake home wanted to revamp and revive their rustic kitchen into a space with a calm, cool, and coastal vibe. The solution was simple: A bright, clean kitchen with bouts of bold blue and beautiful amenities. The open-concept design and removal of arched soffits and posts created room for a large, central island, dining table, integrated appliances, and even a built-in coffee maker and beverage center. But be sure to look closer because the design is in the details: A glass backsplash, pot filler, blue range knobs, "X" patterned glass cabinet fronts, and clean, white finishes give this renovated space a coveted Cape Cod feel.
---
2nd Place
Enduring Ornament
Sarah Maly, CKD | Sawhill Custom Kitchens
When this family of four found their forever home, all they needed was a kitchen to match. The original space (though flaunting a lovely lake view) was plagued with inadequate prep surfaces, meager appliances, and nonexistent eat-in area. Beyond these must-fix features, the client desired separate his-and-hers sinks, a beverage/serving area, and the maximum amount of seating the space could hold. To accommodate, the designer strategically remodeled the kitchen by turning potential problems into blossoming opportunity. By incorporating a new pantry, wider hallways, and built-in cabinetry (while also honing in on details of the tracery ceiling, custom corbels, and top-notch tiles), what began as a dark and monotone kitchen is now the heart of the home.
---
3rd Place
Under the Sea
Laurie Butler, CKD, and Sara Martin | Ispiri Design-Build
This family of five was faced with two options: Sell their current home or renovate the one they knew and loved but had begun to outgrow. The chose the latter and began the renovations that would take their cramped, undersized kitchen and make it usable and unique. The kitchen was completely redone; the only aspect that remained untouched in the same space was their sink. The designer incorporated dark knotty alder and soft white cabinetry while taking on a series of ambitious facelifts that resulted in wall reconfigurations, a built-in wall oven and microwave, a beverage center, and a large island with seating. Some of the most prominent features include a shimmery, mermaid-reminiscent backsplash that pops against the light blue walls and wood accents that turn what was once an outdated, mismatched kitchen into a brand-new space.
---
MEDIUM KITCHEN (150-350 SQUARE FEET)
1st Place
Victorian Nerve
Kate Roos | Kate Roos Design
This family of six had an extensive list of wants, needs, and requirements for their new kitchen: a baking station; a six-person island; high-capacity appliances; and sufficient storage. At the same time, they didn't want to sacrifice the feel and flow of their Victorian-style home. To meet these desires, the designer removed the low-sitting soffits to add height, raised the cabinets to the ceiling, created dedicated work zones, incorporated open shelving, purchased a prep sink, installed red oak floors, and managed to maintain the Victorian design throughout the far-reaching process. The strokes of color and accents of wood that seamlessly combine with the Carrara marble counters, birch shelves, and matching vent hood create a welcoming, modern aesthetic.
---
2nd Place
From '90s to Novel
Laurie Butler, CKD, and Becca Hall | Ispiri Design-Build
These clients had a full plate: Between renovating their '90s kitchen and simultaneously adding a three-season porch and new patio door, what originally had the potential to be a devastating disaster turned out to ensure a well-thought out, traffic-approved remodel. The homeowners wanted a large island with ample seating, an open floor plan that extended into the family room, and updated kitchen features. In response, the designer removed soffits and walls, incorporated a new island (that provided seating, storage, and a sink), installed a gorgeous wood hood over the range, and replaced an old broom closet with one of the client's requirements—a butler's pantry. The result? A glamorous, open-concept kitchen with a complementary (and brand new) porch and patio to match.
---
3rd Place
Fresh & Clean
Michael J. Palkowitsch, CMKBD | Mingle
When you reside in an upscale Minneapolis neighborhood, you know in your heart the 1970s kitchen in your home probably deserves a little TLC. The client of this kitchen remodel was well aware of that fact, and had already started to modernize her home by installing a grand stone fireplace in the adjoining family room. This project led her to focus on her kitchen next, and combining her newfound inspiration with quality materials and a superb mix of textures, the architectural details and contemporary feel of the new space came out strong against the opaque gray, brown maple, and mauve throughout the room. The client (who wasn't looking to break the bank), utilized the room's pre-existing soffits and black glass appliances, and kept the existing oak floors, simply revamping them with a fresh coat of light gray-brown stain. New two-tone cabinets complement and tie in the chrome elements throughout the space, evident in plumbing fixtures, soffit lights, the island, and a dangling crystal chandelier.
---
Honorable Mention
Gray-Blue Gorgeous
Kate Roos | Kate Roos Design
There are some things you come across in a home that you can't ignore, and in this renovation, it happens to be the dazzling, gray-blue Sonoma tiles that add color, invoke interest, and act as far more than just a pretty backsplash—it covers the entire wall, becoming a strong, can't-miss focal point that ties the entire room together. The client of this kitchen wanted a more open, expansive feel with updated fixtures and appliances that still managed to stay true to the Craftsman history of the home. To accomplish these goals, the designer incorporated the existing windows and doors into the new design while opening up the entry into the dining room. They made room for a 30-inch Wolf range, built an eat-in counter, added sconces and flush mount lights to illuminate the room, and went above and beyond with white oak cabinetry and custom stain. Another brag-worthy feature tucked into this pretty place? A floor-to-ceiling wine bar.
---
SMALL KITCHEN (<150 SQUARE FEET)
1st Place
Reconfigured Reno
Anne Newman, ASID | Partners 4, Design
The clients of this small kitchen knew exactly what they didn't want incorporated in the revamp of their 1950s suburban rambler: white. What they did want was a welcoming, dog-friendly kitchen that sported a gray and glossy taupe color palette. To create the perfect pet-approved space for this veterinarian, the kitchen was stripped to near nothing to prep for the installation of new appliances and up-to-date electronics. The designer created better flow throughout the room by relocating the sink and opening up an interior wall that led to the dining room. By pulling in additional light with a glass backsplash, installing maintenance-free porcelain tile floors, building a breakfast bar, transforming the fireplace, and throwing in custom cabinetry for additional storage, what was once outdated is now outstanding.
---
2nd Place
Small Space Success
Kate Roos | Kate Roos Design
When a lack of light combines with a lack of both counter space and storage, you need a solution, stat. The clients of this small kitchen knew it, and that's exactly why they traded in their crammed, poorly functioning kitchen for an upbeat space that could entertain guests in their bungalow-style home. One of the client's wishes was to remove the wall between the kitchen and dining room, but this request was met with a considerable challenge: How could they increase storage and counter space while losing a wall? The designer's innovative solutions included raising the remaining cabinets up to the ceiling, installing floating shelves across the top of the wall, and mounting a magnetic steel panel to hang pans and other cookware.
---
3rd Place (Tie)
Balanced Blue
Tami Holsten, AKBD | Bear Trap Design; Tammy Johnson, CKD | Arrow Cabinet Gallery
The bold and vibrant blue of this small kitchen has the power to make anyone stop and stare. The client of this statement kitchen wanted a functional space to entertain that presented a lighthearted and utilitarian aesthetic. To do so, white subway tiles were installed with a complimentary Carrera quartz countertop, dark-stained floating shelves, refinished floors, chrome accents, and a creative, handmade, bubbly backsplash. Though the look of this space is classic and clean, it couldn't be possible without the remodel that accompanied it. The designers removed a wall between the dining and living areas and maximized storage space by adding a series of storage elements to the peninsula, including cool dual-side cabinets and pull-out shelves. The result? A balanced, cohesive, and textured interior that makes this standout space even more sensational.
---
3rd Place (Tie)
Lovely Light
Laurie Butler, CKD, and Sara Martin | Ispiri Design-Build
Every square foot of this small kitchen is utilized to the max with loads of natural light, ample prep space for cooking and baking, and impressive sight lines throughout the entire open-concept main floor. The client dreamed of space for a large dining table, plenty of seating at the island, and updated appliances. After the removal of some walls and re-routing of plumbing and vents, the designers installed a series of impressive appliances and a full-view swing door that led to the patio. The designers took the previous U-shape and flipped it into a gorgeous galley kitchen with lovely light fixtures, tile backsplash, and a spacious feel that makes the well-lit main floor perfect for the entire family to enjoy.
---
BUDGET-FRIENDLY KITCHEN
1st Place
Bungalow on a Budget
Kate Roos | Kate Roos Design
As first-time homeowners, the newlywed clients of this remodel knew their kitchen needed an out-of-this-world renovation. In order to adhere to their limited budget of $40,000, they took it upon themselves to get down and dirty, performing a partial demolition and tackling the painting themselves. With the help of their designer, they pulled off an upscale look and custom design—sans hefty price tag—by purchasing a floor-model fridge, installing economical quartz countertops, refinishing the existing wood floors, and opting for budget-friendly appliances. The small scale of the kitchen kept the price down without sacrificing the quality, look, or feel of a high-end home.
---
2nd Place
Labor of Love
Tammy Johnson, CKD | Arrow Cabinet Gallery
The architecture of this couple's townhome was practical and functional, but after the husband suffered a debilitating stroke, it no longer served them. They sought to change their outdated and uninviting kitchen by converting it into a bright and happy open floor plan—safe and usable for both husband and wife. To stay within their tight budget (and follow association rules), the clients took on the demolition work, preserved the existing floor, transformed the standing walls into half walls, and recruited the help of friends who offered their services at reduced rates. The new and improved space is distinguished by its soft, baby blue and seafoam green aesthetic, a multicolored backsplash, scroll work appliques, and glossy, marble countertops.
---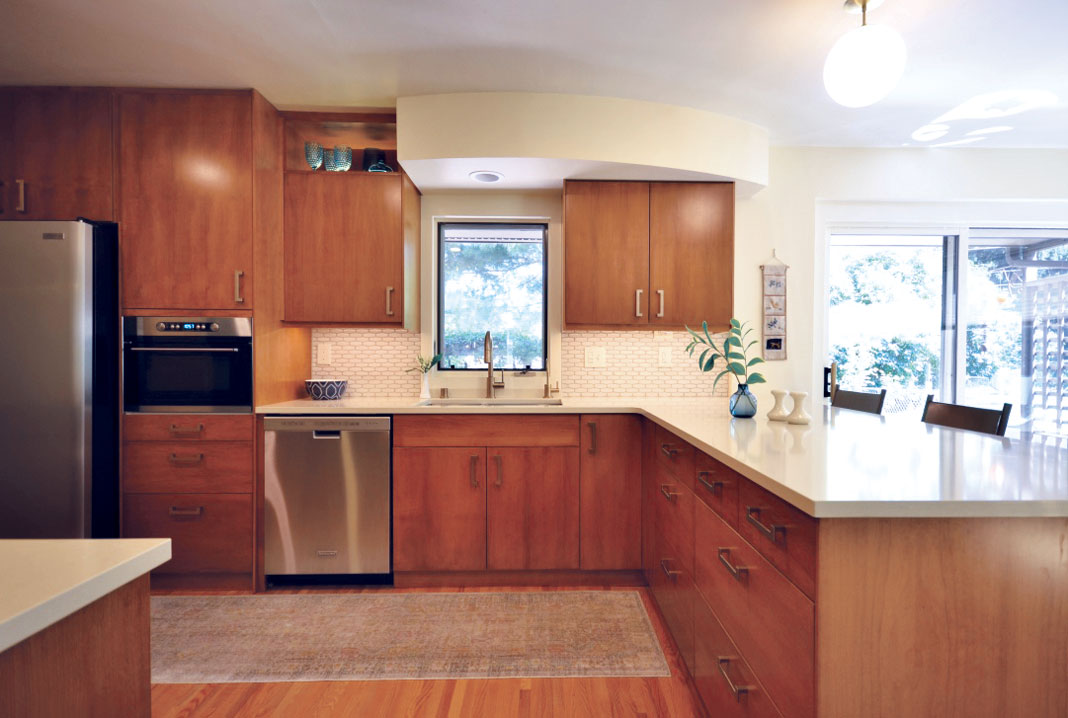 3rd Place
Green Has Gotta Go
Beth Vono | Beth Vono Interior Design
Really—just ask the client of this impressive kitchen remodel yourself—the ugly green tile desperately needed to go. But luckily, they had a great space to begin with: A large footprint, good structure, and surprisingly roomy with loads of natural light. Despite the great features this kitchen already had, it lacked quality materials, and it didn't match the mid-century modern style and feel of the rest of the home. To conquer the complications (while working within a tight budget), the designer added a cooktop vent, removed the green tile wall (whew!), and brightened up the space with fabulous finishes. Because the client took on some of the dirty work on their own, they had extra finances to dial in on the details—custom display cubbies, lots of lighting, and quartz countertops. The cream tones, combined with the warmth and texture of the natural wood, brought together an airy, light space with the mod mid-century look the client hoped for.
---
MOST DRAMATIC KITCHEN MAKEOVER: EDITOR'S PICK
Michael J. Palkowitsch, CMKBD | Mingle
Before: A 1970s, never-before-updated, dark, and unappealing space. After: A one-of-a-kind, jaw-dropping kitchen that will have everyone wishing it was their own. The designer departed from the typical trend of white, white, and more white—and we're sure glad they did. This dramatic kitchen makeover (a favorite chosen by our editors) took traditional and ordinary and transformed it into an unrecognizable kitchen escape. Some standout elements of the remodel include "floating" wall ovens surrounded by open glass shelves that create the illusion of the ovens defying gravity. We also take strong note of the unique, four-sided, mitered box, quartz countertop used for the island. Considering the countless changes, would you believe the golden oak trim, black glass appliances, horizontal soffits, flooring, and the entire footprint of the space remained unchanged? This designer managed to work through the pleasant and not-so-pleasant elements this room had to offer by successfully and creatively blending contemporary components into the traditional home.
---
LARGE/MASTER BATHROOM (>55 SQUARE FEET)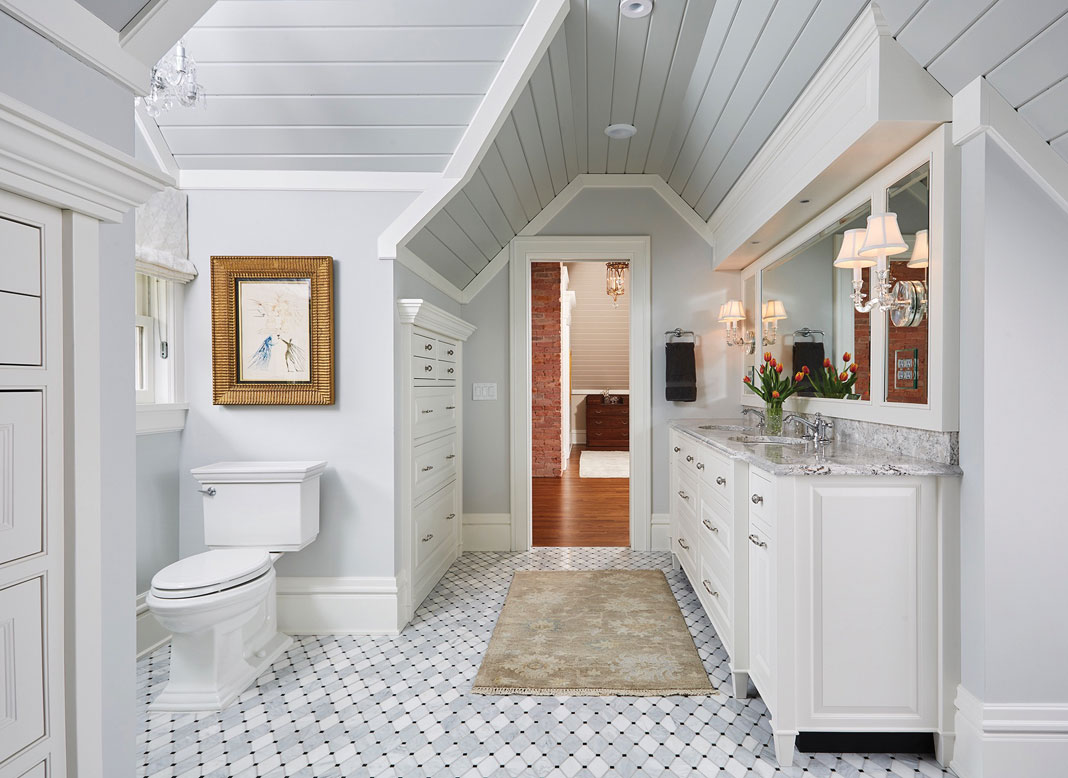 1st Place
Attic Revival
Sara E. Carstens, AKBD | Adler-Allyn Interior Design, LLC
As a prominent and professional citizen famous for hosting colleagues as well as family at their home, this client was ready to say au revoir to the awkward layout of their attic bath in exchange for something a little more glam. Their goals for the remodel: add function (as in, a double sink vanity, separate shower, and comfortable toilet height); install adequate lighting; create more storage; reuse the historic clawfoot tub; introduce a marble shower and mosaic flooring; and invest in heated floors. Faced with challenges around every corner, the designer strategically played off ceiling heights, added LED fixtures, and built a narrow soffit with delicate and decorative sconces. Covered in crystal, white, and gray detail, this top-floor transformation lends an updated, traditional feel that keeps the home's historical charm firmly intact.
---
2nd Place
Sleek and Chic
Laurie Butler, CKD, and Becca Hall | Ispiri Design-Build
Grand. Luxury. Bling. Three simple words, yet a perfect description of what the client envisioned for their new master bath. Ready to leave their dark, rather heavy bathroom behind, the clients hoped to introduce a stylish, trendy feel with a double bowl vanity, a roomy, frameless shower, and loads of storage space. The designers promptly went to work, reconfiguring part of the walk-in closet to make space for the new shower, creating separate his-and-hers vanities, and installing clean cabinetry around a large vanity mirror. The marble floors reflect the dazzling chandelier, sparkling crystal sconces, and shiny chrome fixtures, while soft pink accents lend the perfect glamorous-yet-refined finishing touch.
---
3rd Place
Serenity Central
Lisa Pope, AKBD | Partners 4, Design
This master bath wasn't a place you'd necessarily want to start off your day. The clients of the remodel (a busy, on-the-go couple) were over the outdated, poorly functioning large bath in their home. They wanted to improve circulation, add a second vanity, and simply update the design of the space to align with the look and style of their Hampton-esque abode. The designer seamlessly blended the renovations with the remainder of the home by integrating traditional design elements while constructing a new entry, installing a gorgeous, free-standing bath tub, adding a walk-in shower, and even creating separate his-and-hers closets. What began as a dark and hard-to-navigate bathroom is now filled with cream and white tones that encourage a sense of serenity.
---
Honorable Mention
Patterned Parallelograms
Calie Pierce and Tracy Hains | Che Bella Interiors
The designers of this large bathroom dove headfirst into this client's wish list: Increased storage, a steam shower, and a bigger, more functional layout. To change the footprint of the room, an adjoining walk-in closet was opened up to relocate the toilet, while other obstacles like transite heat and ductwork forced them to get creative. By using the setbacks as part of the design solution, an entire wall of cabinets was installed and the designers used dark shades and drawer knobs to create stark contrast. A standout feature of the room is the geometric quirks and shapes of the tile used throughout the bath—sandy, neutral, squares in the frameless shower, multicolored hexagons on the floor, and parallelograms-turned-arrows on the vanity backsplash. The client traded in a gutted, underutilized space for one with tons of storage and splendor.
---
SMALL BATHROOM (<55 SQUARE FEET)
1st Place
Mod Makeover
Anne Newman, ASID | Partners 4, Design
The goal aesthetic: a modern, industrial bath with natural wood, black accents, and splashes of brilliant white that nodded to a classic color palette. The current aesthetic: a warehouse-converted-condominium with dated "flair" that offered zero natural light and sported low ceilings, and dark, dated features that needed to go. Gracing the top of the client's must-have list was access from the bathroom to the bedroom, the removal of the dropped drywall ceiling, and the addition of LED lights, storage, and a frameless shower (and, of course, a way to welcome natural light into the space). The designer cut a frosted-glass door into the adjacent bedroom wall to let light in, removed the ceiling to expose historic wooden beams, installed a recessed, LED-lit mirror/medicine cabinet, and even added a floating vanity to create room for more storage space.
---
2nd Place
Victorian Overhaul
Kate Roos | Kate Roos Design
The empty nesters of this small bathroom space knew it was time to reconsider the original bathroom of their Victorian-style home. The clients were well aware of the room's many problems: the clawfoot tub was worn and clunky; the pipes were leaking; and the storage just wasn't enough to provide the modern, spa-like feel they desired. Envisioning an updated look that still embraced the Victorian-era elements they loved, they wanted to install a floor-to-ceiling corner shower, a series of space-creating cabinets and vanities, and polished chrome fixtures. In response, the designer morphed drab and dreary into marvelous and magnetic. The vanity's decorative backsplash, Italian marble hex tile, statement-making wood detail, and pretty pops of bright white give this 19th-century bathroom a dazzling dose of 2018.
---
3rd Place
Royal & Regal
Jolynn Johnson, CKMBD | Crystal Kitchen & Bath
Where fab meets function, you'll find this small bath right around the corner. To make this dream renovation a reality, the designer went above and beyond to create a bathroom equally grand and regal as it is chock-full of upgrades. They removed a closet, installed crown molding, and added a white crystal cabinet, a vessel sink, Cambria countertops, and a metallic-gray tile backsplash to the large, frameless shower. Glass accents and black slate add texture and provide a finishing touch to this tiny but mighty small bath.
---
Honorable Mention
Riverview Redux
Susan Palmquist, CKD | Sawhill Custom Kitchens
This small bath was in dire need of an overhaul—the client couldn't handle another minute of it acting as the sole bathroom for herself and her guests in the entire home. With the exciting opportunity to extend the space into the adjacent garage, the designer was able to make room for a marble and glass shower, move the toilet, and even design a new, more practical and functioning vanity with plentiful storage and counter space. To embrace the integrity and beauty of their traditional, well-built cottage, the designer installed refurbished, antique sconces and a grand, gold-framed mirror above the vanity. The classic, elegant details in the gold hardware and dark wood finishes perfectly accomplished the ultimate renovation goal: to stay true to what the beautiful home originally held.
---
POWDER ROOM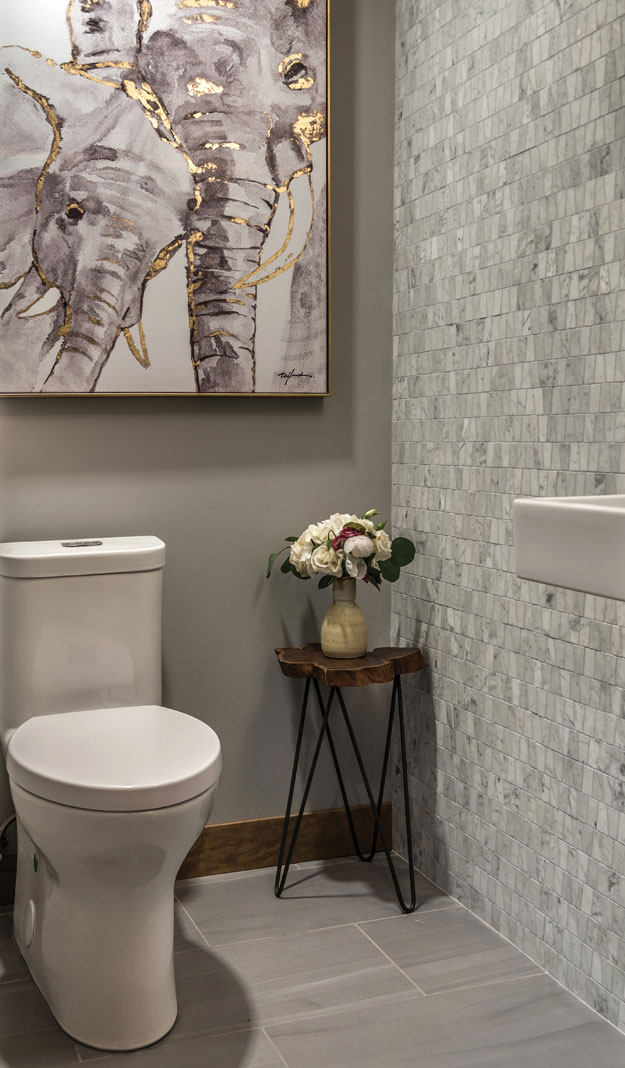 1st Place
A Touch of Delight
Tami Holsten, AKBD | Bear Trap Design
What's less than 19-square-feet and blood-red all over? This client's old powder room. In order to meet building requirements, the designer worked to maximize open space and add visual appeal to the tiny bathroom. By mounting a new wall sink, repositioning the toilet, and creating a gorgeous accent wall (tiled with mosaic Carrara marble) the space now has a clean and modern feel. As they worked diligently to get the bath up to code, a new problem presented itself: There wasn't any room for a door to open. To resolve the issue, the designer implemented a large floor-length mirror to act as a sliding barn door, that, when closed, completely disguised the bathroom behind it. By integrating a glimpse of gold and trace of tile, this overbearing-turned-inviting space adds resourceful and renewed purpose to the client's home.
---
2nd Place
Finishes and Fixtures
Laurie Butler, CKD, and Becca Hall | Ispiri Design-Build
When a once trendy '80s bath turns from shabby chic to just plain shabby, you know it's time for an overhaul. The biggest challenge this space provided was finding a toilet that wouldn't interfere with the proximity of the counter above it. To resolve the dilemma, the designers installed a one-piece, low-tank toilet that allowed the client to fully open the lid without having to sacrifice must-keep, non-negotiable counter space. What was once branded with outdated brass now highlights shimmering pressed cork wallpaper, a crystal light fixture, oversized mirror, and extra long (not to mention useful) bathroom surfaces.
---
MOST DRAMATIC BATHROOM MAKEOVER: EDITOR'S PICK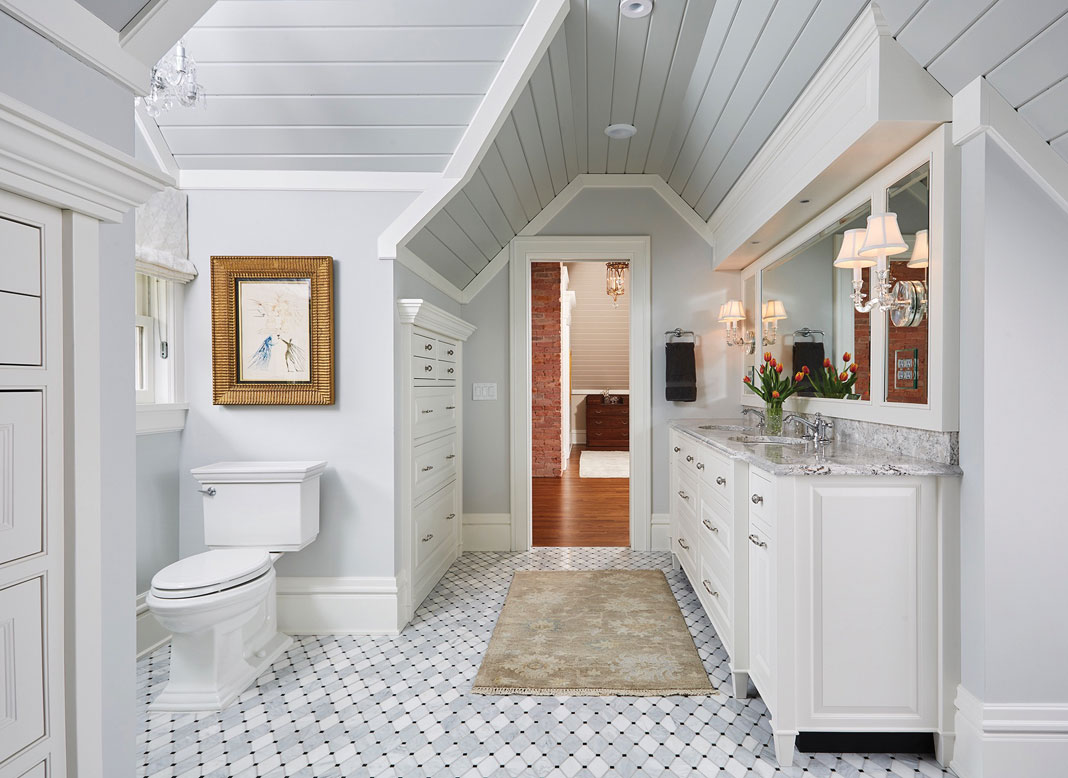 Sara E. Carstens, AKBD | Adler-Allyn Interior Design, LLC
Remove, remodel, repeat—an appropriate mantra for all the many new and improved elements of our editor's pick for "Most Dramatic Bathroom Makeover." This attic bathroom was missing the mark for a client who wanted a space that could better accommodate their guests. What makes this makeover so magnificent (besides the glorious gray, white, and crystal aesthetic) is the structural detail that's implemented throughout the space. The ambitious designer removed a steep, secondary stairway, used a unique, angled door as the entrance, and added sliding egress windows. The ceilings proved problematic with their anticipated attic-esque qualities–traditional and charming, yet inconveniently slanted. Because of the unconventional bathroom space, pulling in enough light proved to be a considerable challenge. Due to ceiling depth, half-inch LED fixtures were installed (they look recessed!), narrow soffits above the vanity house two down lights, and by utilizing the reflection of the mirror, sconces provide an additional glow. That's not all—the designer also incorporated built-in storage units across a previously unusable space to store towels and bedding.
---
SHOWROOM (INSTALLED SHOWROOM DISPLAYS)
1st Place
Outdoor Oasis
Laurie Butler, CKD, and Ami Johannson | Ispiri Design-Build
If you thought mixing Midwest with a twist of West Coast wouldn't work, think again: This outdoor, full service showroom (designed for event hosting, landscape inspo, and highlighting luxurious kitchen selections) pulls it off effortlessly. The client needed a large space—something that was equally intimate and relaxing—that created a fall-inspired, woodsy feel while still managing to leave a bold and modern impression. The result? A large, backyard kitchen patio with mod materials, playful pops of orange, and open-air elements including a towering stone fireplace, fully functional kitchen, brick pizza oven, outdoor cabinetry, and natural wood pergolas. This custom, one-of-a-kind showroom provides a promising slice of paradise.
---
2nd Place
Texture Takeover
Lacey Ahlbrecht | Sawhill Custom Kitchens
This sophisticated showroom display floods the floor with a timeless, textured, and transformative touch of what we know today as the "modern farmhouse." To showcase some of the hottest trends and most popular "musts" of kitchen design, the designer features nothing but the best: Via Lattea granite; black, rustic, patina oak cabinetry; lime-washed, vinyl wood plank floors; and, as the five-star focal point, a custom-designed hood set against glossy, brick-like tile that shines among matte trim and the latest in kitchen appliances. Swarming with splashes of white, black, and antique brass, this unique design carries creative and classic style into a world of wood, wicker, and white-clad wonders.
---
OTHER ROOMS
1st Place
Unfinished to Undeniable
Calie Pierce and Tracy Hains | Che Bella Interiors
When you're starting from scratch, opportunity soars. The client wanted a space fit for function and chock-full of flair, but their requirements were unique. The room needed the ability to fit three separate purposes: a guest bedroom; a work-from-home office; and closed-off storage space. Overcoming structural challenges galore, the designers managed to nail every one of the client's desires by sectioning the area into two hubs—first, a work station backed by gorgeous wood cabinetry, and second, a pullout Murphy bed nestled between more custom, floor-to-ceiling storage areas. What started as an unfinished, insulation-exposed lower level transformed into an elegant, functional space full of rich tones.
---
2nd Place
Cherry and Stone
Laurie Butler, CKD, and Becca Hall | Ispiri Design-Build
The clients' needs were simple: keep the wood floor and windows; minimize the stone and cherry details; and find a better location for the TV and audio-video equipment. In turn, the designers removed a wall-to-wall soffit to install built-ins and remodeled the stairs—generously glazed to match the custom cabinetry and stained cherry floor. The biggest, most notable addition? A two-story, floor-to-ceiling paneled fireplace with "X" patterned cabinetry.
---
3rd Place
Slant with Sunlight
Carrie Harrington, AKBD | i.d. | interior design
The charm of a small 1940s-era home is unmatched. The clients had every intention of maintaining the original style of the home, and to their delight, the designer executed flawlessly. The space had its downsides: The area was swallowed by sloped ceilings of the one-and-a-half story, it was dark, and the homeowners had a big variety (and even bigger quantity of items) that needed to be stored away and hidden from view. By building an entire wall of custom white cabinets, adding two Velux skylights, installing brand new hardwood floors, implementing open shelves for display items, and making space for a small desk area, the designer created the perfect spot to sit, work, and relax.
---
Honorable Mention
Romantic Remodel
Laurie Butler, CKD, and Becca Hall | Ispiri Design-Build
The client had a great space with even greater potential—their family room had lofty ceilings, plenty of natural light, and a fireplace—but what it didn't have was charm, style, or warmth. The designers went to work and started by removing windows near the fireplace, a small move that resulted in big opportunity: Now, they could add quarter-sawn oak cabinetry and floating shelves. Next, a long stairway wall was removed to open up the entire main area to allow focus on the new (and stunning), wood-clad fireplace wall that extends up to the two-story ceiling—not only accentuating the room, but also giving off a spacious, romantic feel. All the client wanted was a better location for their TV and electronics, built-ins for décor and storage, and a new fireplace, but they walked away with so much more.
---
ARTISAN MATERIALS
1st Place
Bold and Bubbly
Tami Holsten, AKBD, | Bear Trap Design; Tammy Johnson, CKD | Arrow Cabinet Gallery
One tile, two tile, gray tile, blue tile. Inspired by Dr. Seuss and his whimsical ways, this once dark and drab kitchen space was transformed into a lighthearted and playful place that now boasts a beautiful backsplash. After the design was hand-drawn on a set of elevation drawings, a color palette was chosen, pieces were placed, and the design took on a rhythm and rhyme of its own. Hand-crafted tiles by local artisans at Mercury Mosaics set the scene for the daring, organic, blue-gray design. The round tiles, which simulate floating bubbles, rise above the range in an eccentric and quirky fashion.