Photos by Alyssa Lee
For Jyoti Ghugale, founder and principal designer of Homes & Such, functionality lies at the core of design. "The aesthetic part is an assured outcome, but making the home functional for your lifestyle is what I'm most passionate about," she says.
Such was one of the tasks at hand in remodeling this 1980s brick-front Tudor in Minnetonka, where the separated and closed-off main level wasn't meeting the needs of its new owners—a family of four. "It was really important that the spaces felt connected, felt as if they flowed into each other," Ghugale adds.
After six months of working on the project, Ghugale and her team completely transformed the home into something that better suits the lifestyle of their clients. The newly reimagined space knows no bounds, combining modern and traditional styles for a unique look that will stand the test of time.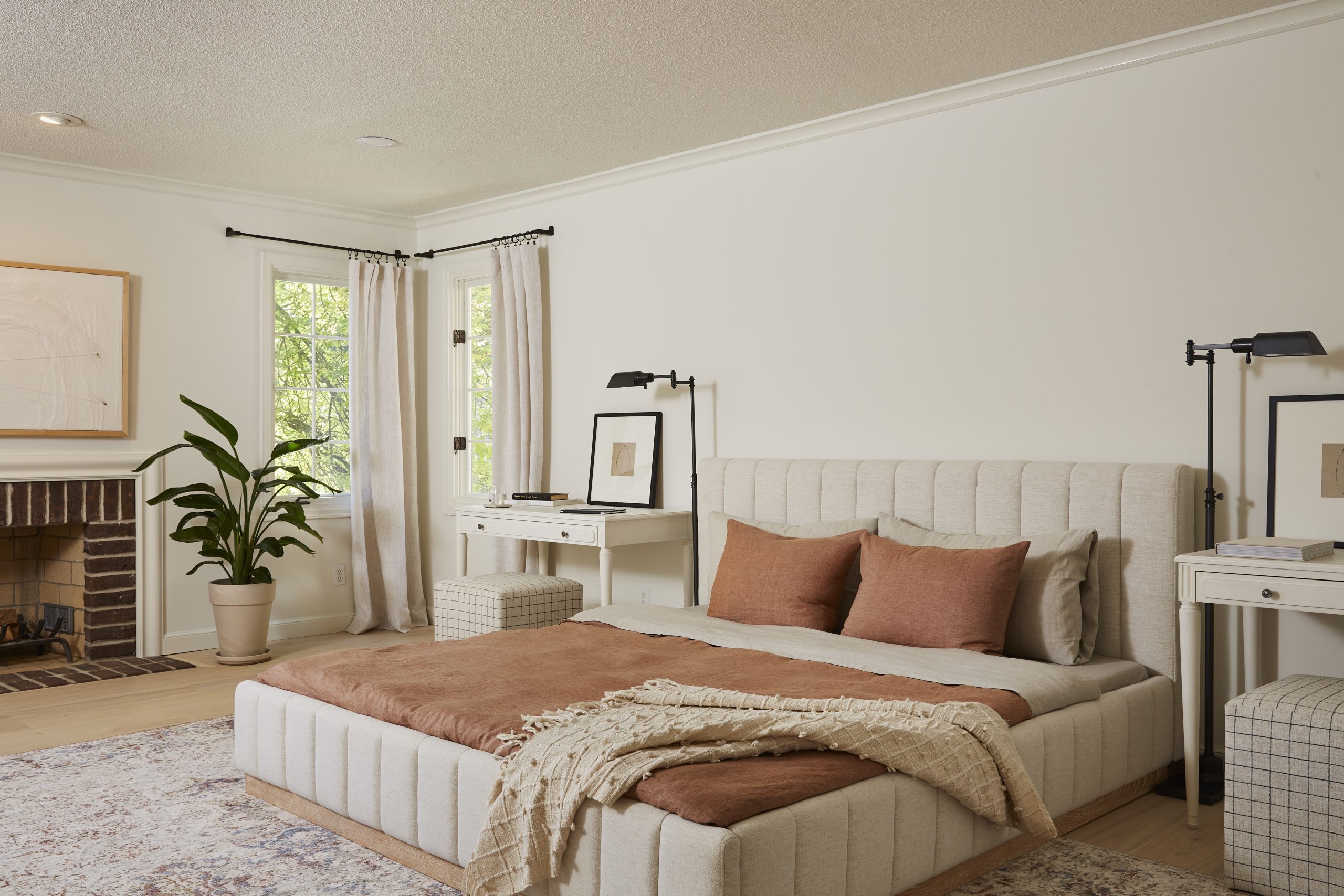 Just beyond the entryway, the reimagined main living spaces showcase Ghugale's vision. Before, the area consisted of four rooms that were small, compartmentalized, and lacking connectivity between one another, but the spaces were combined into one bigger free-flowing area that would better fit the clients' needs. The new L-shaped space has since become the heart of the home, perfect for gathering friends and family. "This is where the family functions day to day," Ghugale says. "Understanding the client's lifestyle and coming back with a design that fits that lifestyle is key to every project for Homes & Such, and for this particular client, it was all about creating connection and flow between spaces."
The family room, which was previously filled with outdated furniture, now boasts a modern, minimalist aesthetic. The white-on-white color scheme of the walls, couch, and chairs works to effortlessly freshen the space, while the new flooring offers a certain warmth. Natural light fills the new-and-improved area via a large south-facing bay window original to the home. "I wanted the space to feel fresh, open, and calming by letting the outdoors in," Ghugale says. 
Many of these design elements remain constant throughout the open floor plan, allowing for a seamless transition into the conjoined dining space and kitchen, which share a similar modern style. Here, white oak cabinetry meets brushed brass hardware and accents to elevate its look and feel. Another traditional bay window welcomes sunlight into the room and provides a beautiful creekside view.
The clients knew they wanted a modern kitchen with an island where they could gather, eat, and work as a family. Ghugale says the width of the space was not equipped to accommodate a run-of-the-mill rectangular island, so she came up with a unique solution: a custom, circular island that now serves as the room's main focal point.
The piece acts as a counter-height dining table that seats 10 to 12 people while also being a perfect point of connection for the clients. It's topped with a natural marble slab, which emphasizes Ghugale's mission to showcase materials in their original form whenever possible. "It's sustainable, and I truly believe that any material is most beautiful when it's in its true form," she says. (This goes for the home's ash wood floors as well, which Ghugale says were sourced from a local Wisconsin mill.)
The kitchen's large cooktop commands attention, showcasing a unique marble backsplash and more bronze accents. Other notable features include floating shelves, a pocket door/cocktail bar, and an integrated fridge and freezer. The last area in the main living space is the cozy breakfast nook, which Ghugale and her team completely reimagined. The addition of a swing provides a fun seating option for the homeowners' daughters.
But entering the formal living room off the breakfast nook feels as if you've stepped into a whole new world, one meant for cocktails and hors d'oeuvres rather than pancakes and orange juice. This dark, sophisticated room marks a strong contrast from the rest of the brightly colored main level. Its minimal light fixtures and dark color palette set the atmosphere for a more adult gathering space. "It's a very dramatic but calming space," Ghugale says. "It's a space to relax, get a drink, and have friends over."
Because another priority was preserving original features of the home to keep its historical charm intact, Ghugale decided to keep the existing brick fireplace and oak mantel as the centerpiece of the room—creating an eye-catching juxtaposition against its dark, modern aesthetic. 
In front of the fireplace sits a traditional charpoy bench, which Ghugale says is a quintessential piece of Indian countryside seating. "My designs are influenced by the global cultures I have lived in, including India, Mexico, and England," Ghugale explains. "I love to bring those influences into my designs when there is an opportunity—be it through art, furniture, décor, or the feel itself."
The adjoining home office also brings dark features to the forefront. Modern yet moody, functional yet minimalist, this space combines a variety of styles to create a curated, collected look and feel. Dated wallpaper was replaced with dark paint, but an existing built-in oak desk was kept exactly as is, exemplifying the beauty of blending the modern and the traditional that can be seen all throughout the home. Ghugale adds, "One of the things I enjoy doing is juxtaposing modern with old, mixing them together in a way that they can coexist happily."