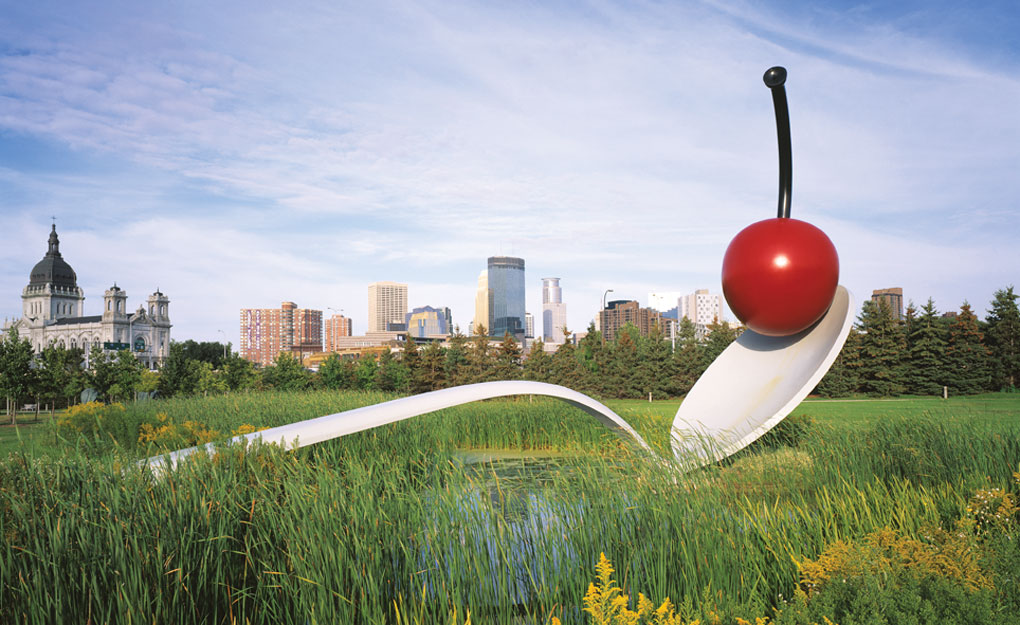 Brower Hatcher's "Prophecy of the Ancients," which crowned many wedding ceremonies, can be found currently in Gold Medal Park. Frank Gehry's "Standing Glass Fish," long the sea-green centerpiece of the Cowles Conservatory, now flips its tail inside the Gehry-designed Weisman Art Museum. But Deborah Butterfield's "Woodrow," a favorite of nesting birds, and Claes Oldenburg and Coosje van Bruggen's "Spoonbridge and Cherry," a Minneapolis icon, will be back. So will almost 40 of the Minneapolis Sculpture Garden's beloved sculptures and 18 new artworks, when the public space reopens with celebration Saturday, June 3.
Phase one of the garden and the Walker Art Center's 19-acre expansion finished up last year. Architects Joan Soranno and John Cook of HGA led the museum's sparkling, more open and accessible renovation, which includes a new plaza, a reoriented main entrance, an expanded lobby and the new restaurant Esker Grove. Phase two includes the Minneapolis Park & Recreation Board's plans, in partnership with the Walker, for the reconstructed Minneapolis Sculpture Garden, designed by Oslund and Associates.
The re-imagined garden includes new irrigation, drainage and innovative storm-water systems, along with new walkways and retaining walls; a native-plant meadow; more than 300 trees; and an 80,000-gallon underground cistern that will capture rainwater for the pond around "Spoonbridge and Cherry." Throughout the garden visitors can discover new commissioned installations, including Kaharina Fritsch's cheeky, ultramarine-blue "Hahn/Cock," a 13-foot-tall rooster on a 10-foot-high pedestal.
The grand opening June 3 includes art-making activities, garden tours, and outdoor performances. Thursday evening, June 8, the Walker will celebrate the end of construction with cocktails on the terrace.
By Camille Lefevre. Photo courtesy of Walker Art Center