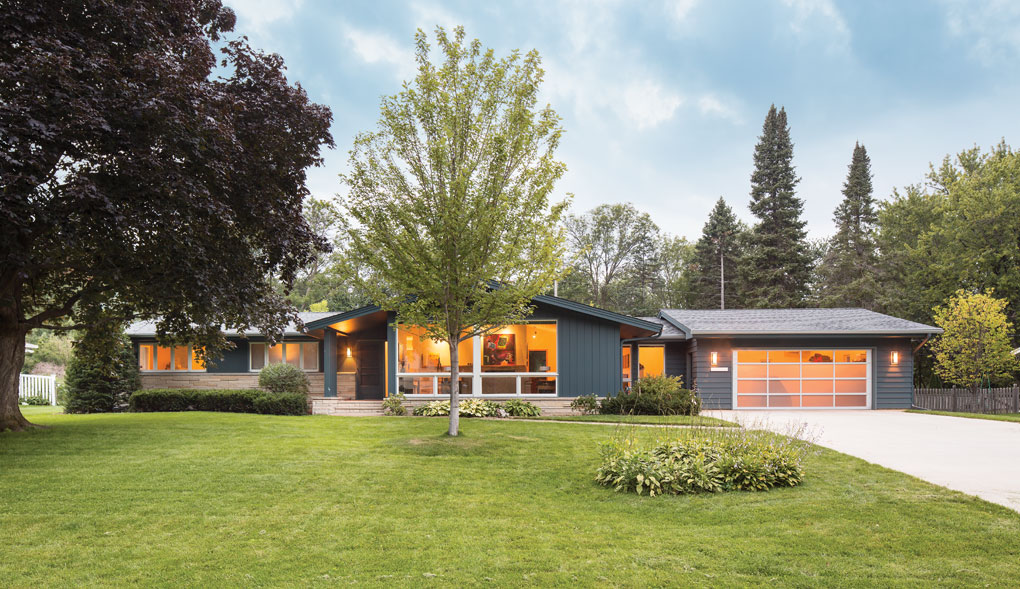 The new owners of this Edina rambler hired SALA architect Paul Buum to design needed updates. With an expanded kitchen, remodeled baths, and new mudroom, the house is more liveable, yet maintains its distinctive midcentury character. Photo by Troy Thies
On a tree-lined parkway in an area of Edina known for long, low, lovely midcentury homes was a 1958 treasure. Oak floors, floor-to-ceiling glass in the living and dining rooms, and an open plan throughout the single-story house drew the couple—who were contemplating a remodel of their existing home—to purchase this one instead.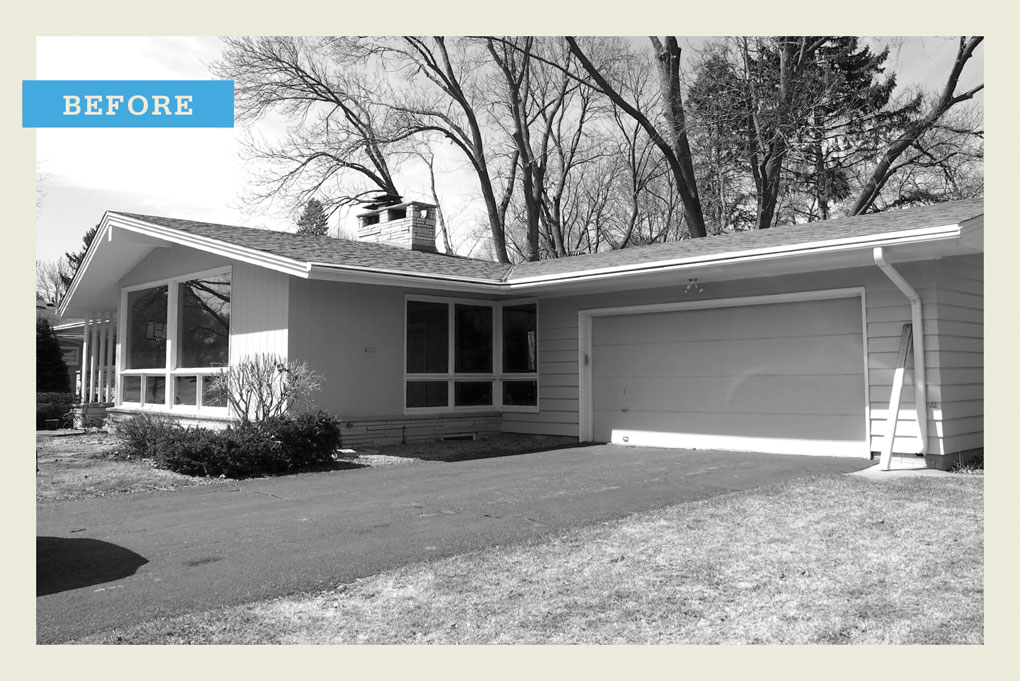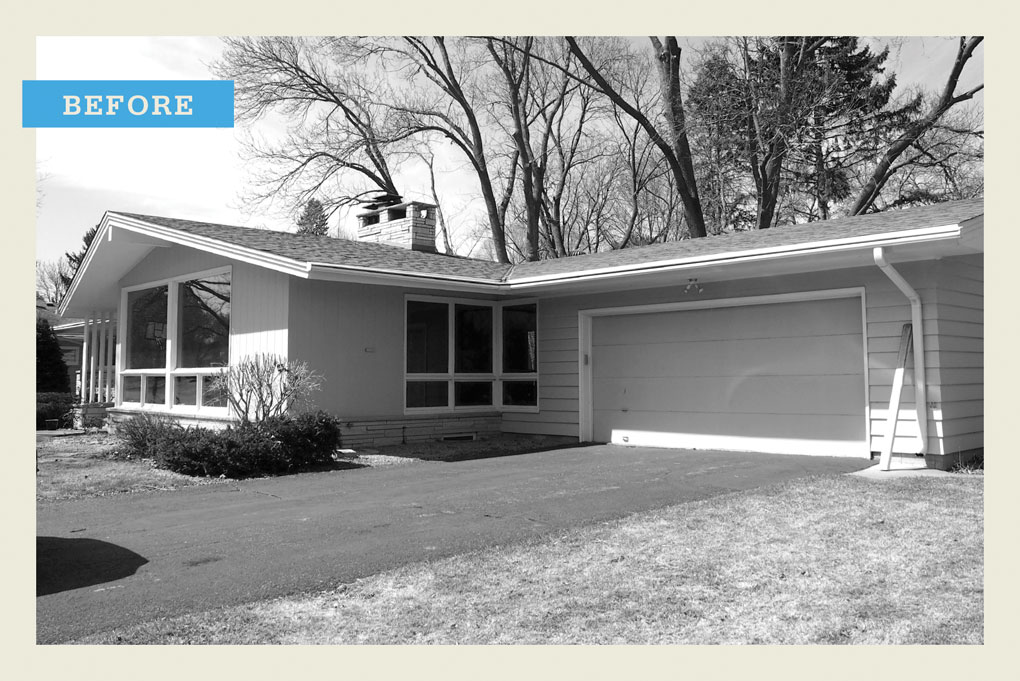 They asked Paul Buum, an architect with SALA Architects, Minneapolis, to work with the existing style of the house, keeping its positive attributes and adding on respectfully, he says. "We wanted to intrude as little as possible, because the house was big enough and didn't need to be any more open." But it also needed work.
"The kitchen was awful, with dark wood cabinets and one little window," Buum recalls. The owners were also used to having a kitchen island—and weren't willing to give that up. The bathrooms needed updating; the house needed an everyday entrance with a mudroom; and the redwood siding needed to be repaired and painted.
All were easy fixes. By adding a two-foot bump-out off the kitchen—demarcated in a contemporary style with a steel beam and column, and new glass doors opening to the new outdoor terrace with fire pit and hot tub—the island could be inserted. Beneath the kitchen, in the basement, Buum tucked a new bar and family area with larger windows.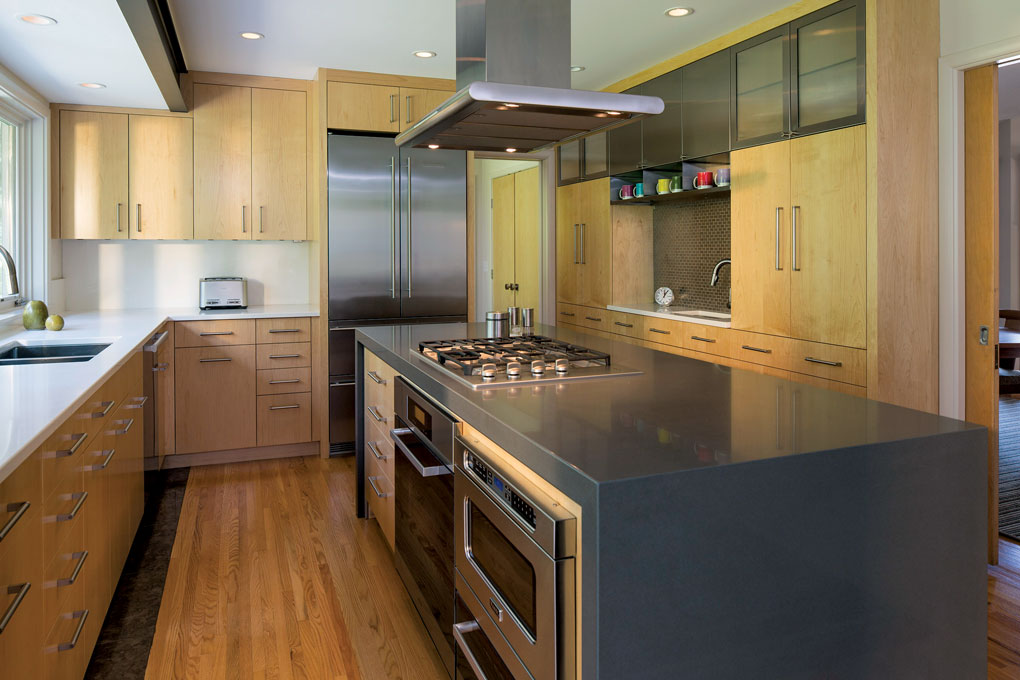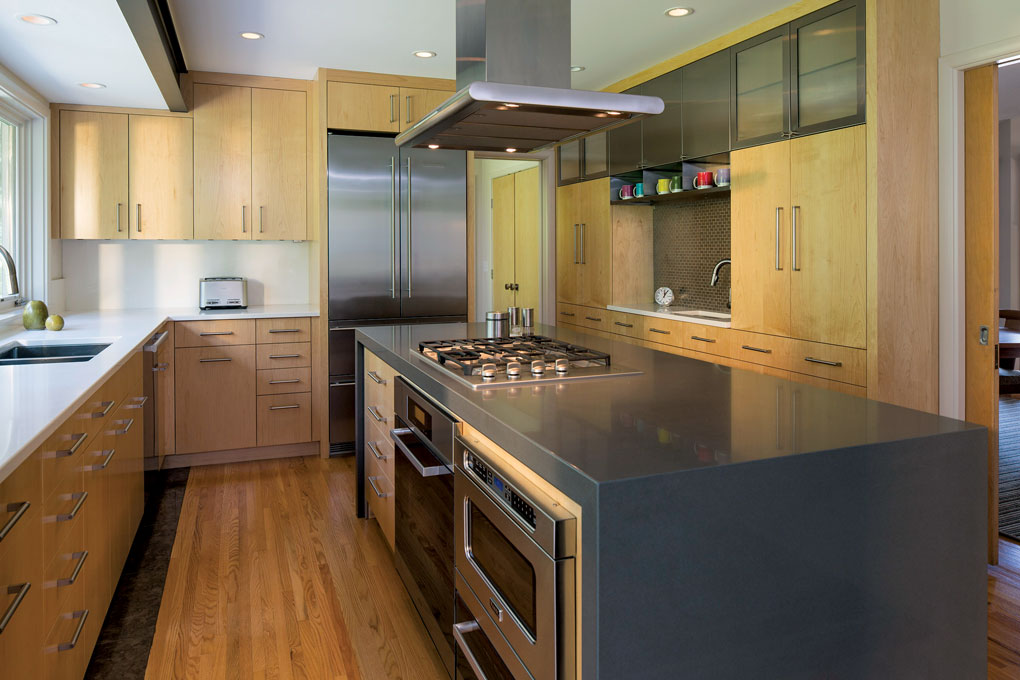 Buum added to the kitchen of the Edina rambler to accommodate an island and glass doors to the new terrace. Photo by Troy Thies
By expanding the garage to the north and east, Buum created a mudroom. Not only does the new space serve as a transition between garage and kitchen, Buum says, "today's families need a place to dump their stuff before they get into the house." The bathrooms were gutted, but the footprints stayed the same. Buum also kept plumbing in place for cost reasons; turned a closet into a walk-in shower; and inserted a panel of ribbed glass that echoes the 1950s window that was removed.
In all, the project perfectly encapsulates the ways in which Minnesota architects, designers, and builders are collaborating with owners of midcentury homes. The goal, in most cases, is to keep the unique character of these architectural gems intact while modernizing them to meet the needs of today's families. Fortunately for the growing number of midcentury enthusiasts, homes built in the mid-20th century are largely conducive to our 21st-century lifestyle—with modifications.
A small and dark kitchen in a St. Paul rambler.
"These proto-modern homes were conceived with fairly open floor plans, which is how we like to live and what we look for in houses today," says Paul Udris, principal, U+B Architecture & Design, Minneapolis, who has renovated more than five midcentury homes throughout the metro area. Midcentury houses are "fairly easy to open up further with some creative engineering,"  he says.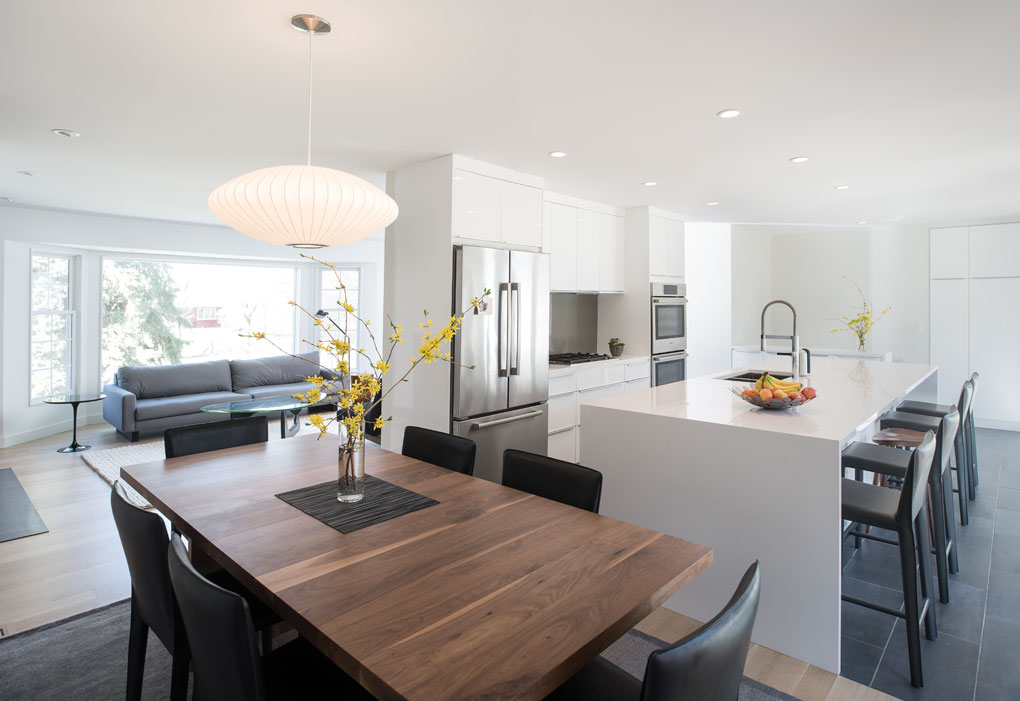 Dean opened up the small, dark kitchen of this St. Paul rambler to the dining and living rooms, and added new floor-to-ceiling windows along one wall to open the entire space to the backyard. Photo by Chad Holder
Whether ranch homes, ramblers, or sleek architect-designed homes, "the construction was generally good," Udris adds. "The framing lumber was solid, and the structure has integrity." The large windows are also a plus. But with these features come challenges. Those large single-glaze windows aren't energy efficient, have broken seals, and leak. "Actually, the windows tend to be pretty shot," says Tommy Everson, architect, Peterssen/Keller Architecture, Minneapolis.
The houses tend to have low-pitched roofs, which are also prone to ice dams. "Back then builders and architects didn't have access to the flat-roof systems we have now," Everson explains. Because midcentury homes were built with two-by-four framing, "there isn't enough insulation in the walls to make them energy efficient," he continues. Or, during the energy crisis of the late '70s and early '80s, homeowners might have added insulation, but didn't correctly install vapor barriers, resulting in a building envelope that's been compromised over time.
As a result, many midcentury homes need to be brought up to date with today's energy-efficiency standards. "With spray-foam insulation, we can usually get enough insulation into the walls that they become relatively efficient," Everson says. As for windows, adds Christian Dean, principal, Christian Dean Architecture, Minneapolis, "A lot of residential window manufacturers offer lines with low profiles, without the need for steps or bumps or glazing stops, so they match up with early modern windows and provide a nice, clean line."
Open up the walls of a midcentury house and you may find other surprises. They can harbor some vintage nastiness, such as lead paint and asbestos, which needs to be remediated before any renovations begin. And how about those mechanical systems? "We encounter a lot of ductwork buried under the slab," says Dean. One of his first midcentury remodels involved the Shepherd House in University Grove designed by iconic Minnesota architect Ralph Rapson. "That project really challenged me to respect the significance of the architecture while respecting the needs of today's homeowner," he says.
In the 1950s and '60s, Dean continues, the heating systems' "roof and floor assemblies were thin, so they could bury the ductwork underneath the house. As a result, those parts became mildewed or water damaged. So we have to replace them with new technologies and find creative places to thread the ductwork through the house, sometimes through soffits."
The exterior renovation features composite cement board siding, cypress siding, and new railings and soffits. Photo by Chad Holder
Kitchens in midcentury houses often need redoing, as well. The midcentury lifestyle isolated the homemaker in a small kitchen, sandwiched between cabinets and appliances, and behind walls—perhaps with a pass-through into the dining room. "The kitchen was not part of the living space, which is counter to the way we live today," Dean says, referring to our preference for kitchen, dining, and living spaces all open to each other. In the homes Dean has worked on, the kitchen often become a hybrid, merging the legacy of the original kitchen's small footprint with new openings to the living and dining spaces.
"Fortunately, the character of these homes is more malleable than other traditional styles," Udris says. "Unlike an Arts and Crafts home with all the detailing and trim, for instance, ramblers tend to be a bit ambiguous in terms of style and detailing. And that lack of preciousness is refreshing. They're meant to be played with and modernized, and they sing when it's done well."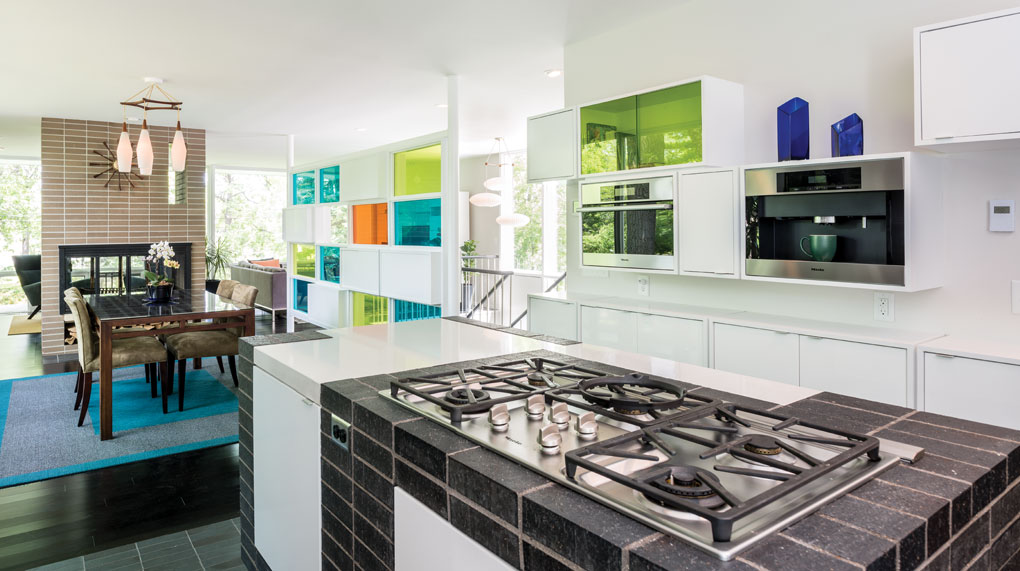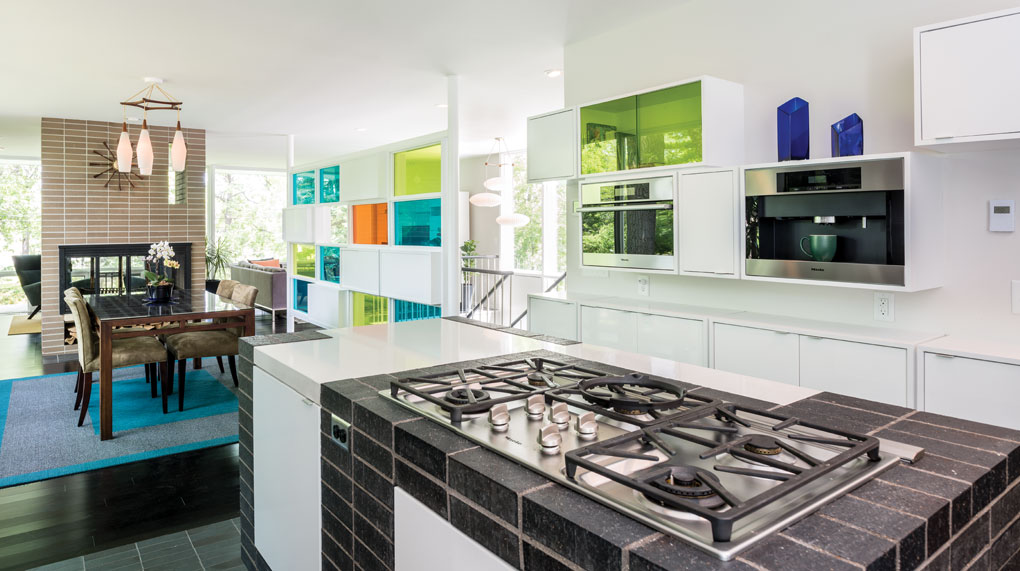 Dean helped the new owner of this iconic 1957 Ralph Rapson-designed home refurbish and update by removing a wall between the kitchen and dining room. The remodeled kitchen features stacked brick on the island that echoes the original fireplace surround. Photo by Chad Holder
A house designed by architect Don D. Davies that Peterssen/Keller renovated is a good example. Inspired by the original colors—yellow and teal—of the ranch home, the design team transformed the original breezeway connecting house and garage into an entryway with yellow front door, a mud room, and a screen porch. The kitchen was updated with new appliances and sight lines that connect it to the living room. New lighting in the mudroom, living room, and hallway complements daylight from the transom windows. A renovated laundry room on the lower level brings modern day functionality to the home.
Front exterior of red mid-century split level rambler at dusk. Photo by Andrea Rugg
"As architects, we owe a debt of gratitude to the midcentury movement with its open planning, large windows, flat roofs, and the tendency to turn everyday aspects into free-standing, three-dimensional objects—like fireplaces in the round and decorative screen walls that became dividers," Dean says. "Midcentury was the first foray into contemporary architecture and continues to inspire people to build new and renew modern homes."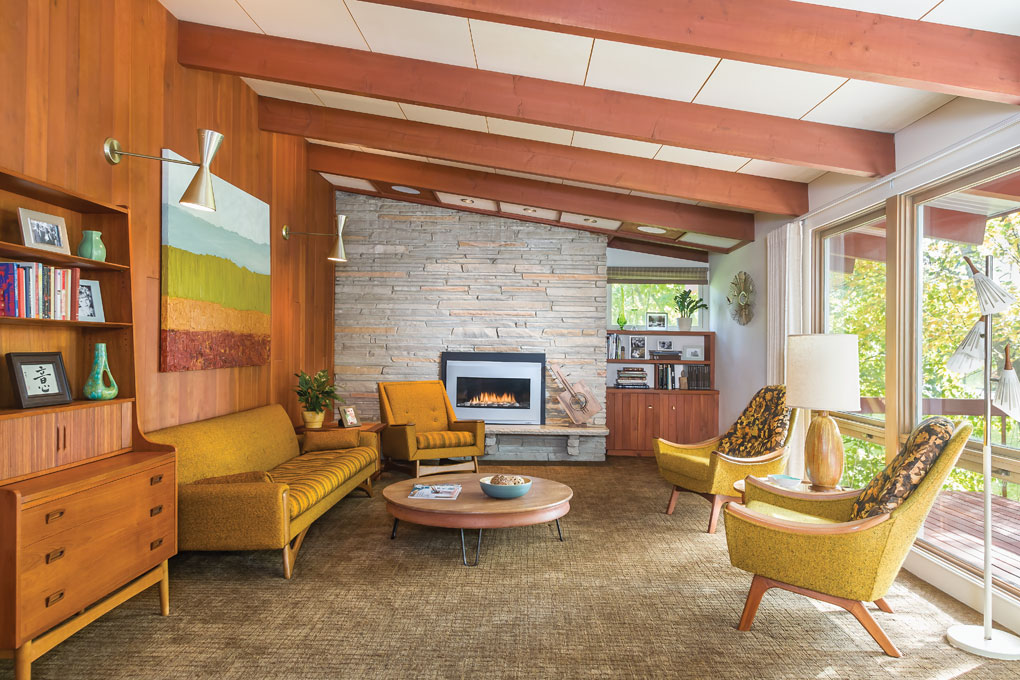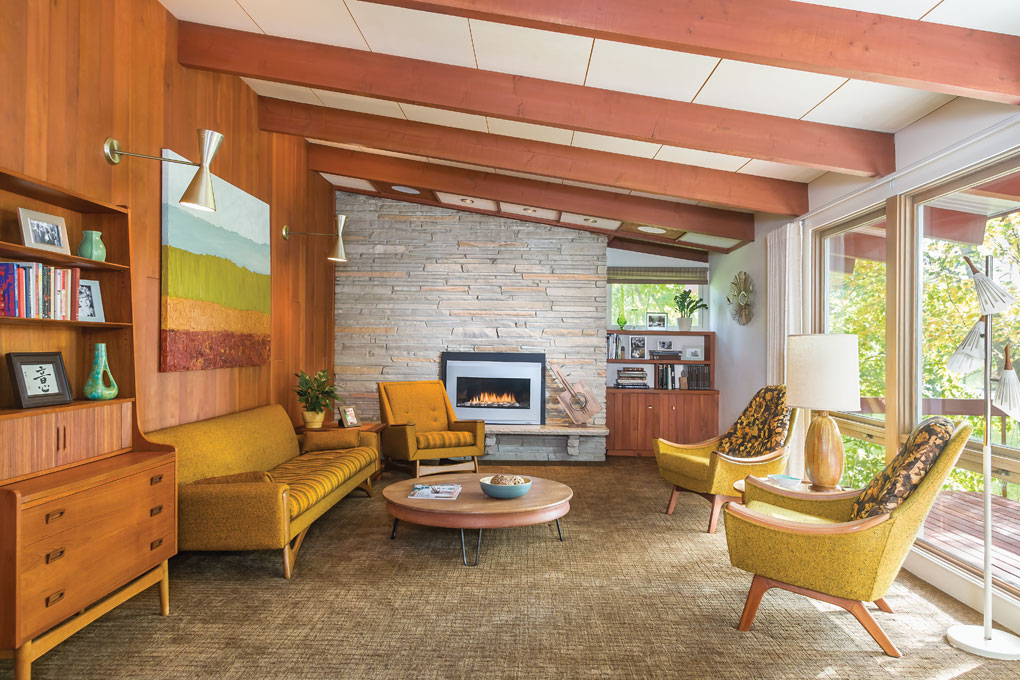 Living room of mid-century house with cherry paneling and vaulted ceilings and exposed beams.
By Camille Lefevre