Photos by LandMark Photography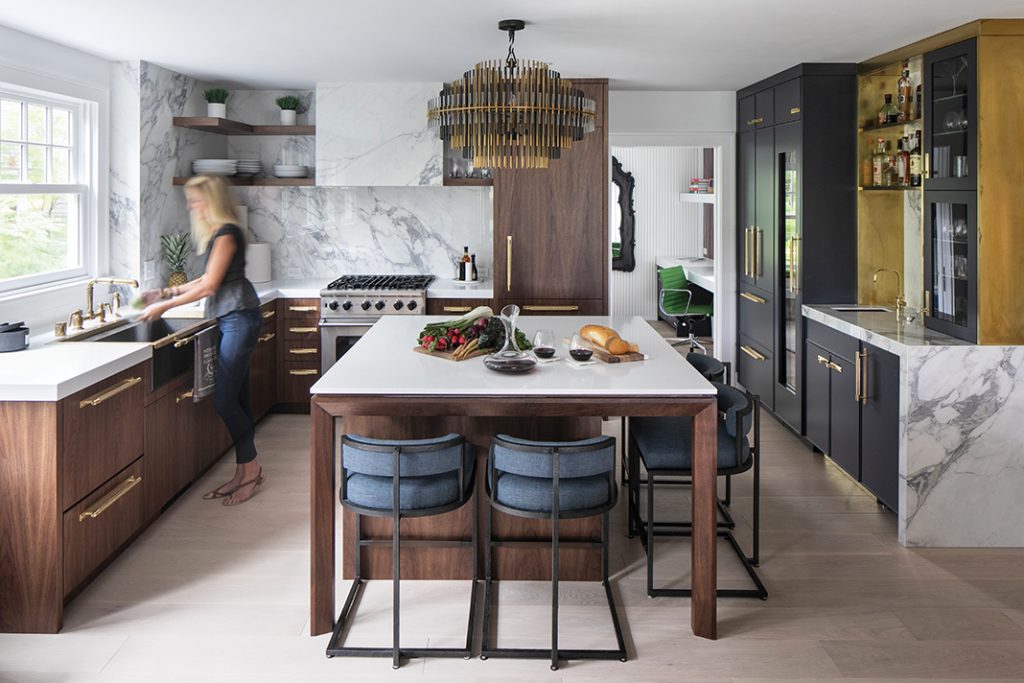 This two-bed, three-bath cottage on the shores of Lake Minnetonka wasn't always as stylish and sophisticated as is it today. In fact, before Hendel Homes got its hands on the historic home in 2010, it was in desperate need of a redo—stuck in its original (and resultingly drab) 1926 state.
"When we went to remodel it, we found it had no footings, which was a big, big deal, and it needed some major reengineering," reflects Amy Hendel, principal of Hendel Homes. In addition to these core foundational fixes, the Wayzata-based company owned by her husband, Rick, added a walkout balcony to the second level and updated the home to reflect the clients' desire for an "eclectic cottage" that, according to Amy, pulled in an "antique, repurposed, and farmhouse-style" aesthetic.
But after a decade, the homeowners (who trek south to their boat off the Florida coast when temperatures turn each year) called Amy—posing the idea of a second remodel that would better reflect their transformed and more refined "grown-up" style. 
Amy didn't hesitate to give the go-ahead, and soon after, Suzanne Kickhaefer, managing director and senior interior designer at MartinPatrick3, joined the team. Despite the 1,600-square-foot getaway's smaller size, the clients didn't want more space—they simply wanted higher functionality, a revamped look, and a reworked floor plan within the home's preexisting bones. "[The clients] are very much into functionality and understand that larger is not better for that," Kickhaefer adds, referencing the tight confines associated with boat living. "We really thought logistically about what we could do to get all the components they wanted, including a much larger kitchen." 
Even post-remodel, the kitchen isn't huge—but its presence in the home is. Previously a 10-foot-long run along one wall, the new kitchen mirrors how the homeowners live on their boat—with each decision and detail catered to purpose, efficiency, and a sense of place. This functionality is further demonstrated through the space's large center island that acts as both a working surface and dining table, deliberately designed to include seating that encourages family conversation and face-to-face connection. 
Because the homeowners (who actually left town and returned to the Sunshine State during the bulk of the remodel) didn't want to worry about durability of the kitchen's surfaces, a gorgeous porcelain sheet backsplash was the perfect solution. The SapienStone product is illuminated by a RH fixture overhead, selected by Kickhaefer for its modern appearance and brass detailing, which the wife was particularly drawn to.
This brass detailing is also on display in the adjacent bar area, where blue-black cabinetry provides contrast and delivers on a client "must" in the kitchen. Custom walnut cabinets, a handmade walnut cutting board that fits seamlessly into the island, and a built-in paper towel holder by Mark Hurley of Hurley Custom Cabinetry add unexpected touches of customized warmth.
The walnut cabinetry and refrigerator are "a little bit more modern and less expected than oak would be," Kickhaefer explains. "The porcelain has warm and cool tones in it, which pull both the wood and the bar together. The finished space is super modern with clean lines, but then some of the materials are traditional, like the sink faucet, which is a little more industrial-style. It's all about the juxtaposition of these things."
That mix and match of stylistic elements ascends to the upper level where, with some strategic maneuvering, Amy managed to move the primary suite to the opposite side of the home. Here, the bathroom saw the biggest transformation. Once a tiny space with only one sink, the spa-like bath now features another stunning SapienStone product, natural marble flooring, and carefully placed custom mirrors. Hurley also crafted a custom vanity with brass bracketing—a modern 2022 take on a classic English bar that flaunts tubular glass details. "All the selections were beautifully appointed, with layering of details and thoughtfulness to it all," Amy adds.
The adjacent bedroom is where the clients' love of all things art and color emerges, featuring a red rug they already owned and large painting of their kids jumping into the lake. Although small, the primary suite's vibrant blues, serene cloudscape, and cozy atmosphere still manage to carry the homeowners to a faraway place. "They didn't care that their actual sleeping room wasn't large," Kickhaefer says. "Their closet is actually almost bigger than their bedroom." 
In fact, making space for a larger closet was important to the clients. "These days, it's becoming more and more important for that closet to be detailed and decked out," the designer adds. "Clothes, your shoes, purses, sunglasses, and jewelry are becoming the art on display."
The clients also requested maximized indoor/outdoor space, which was made possible by taking the back porch area and making it a true extension of the home. Overlooking the lake and landscaping by Katrina Addicks of Katrina's Gardens, the waterfront porch features large sliding accordion doors, Phantom Screens, and an enlarged deck that promises far more space for outdoor entertaining on cool summer nights. "The whole space can open up, and it makes you feel like you're outside even when the screens are down," Amy explains.
But when the clients came back to their completed home in Minnesota, Kickhaefer describes the first look as a TV reveal. "I legitimately opened the door and was like, 'Welcome to your new home!'" Kickhaefer says. "They were floored."
"They loved it, and I think it far exceeded their expectations," Amy says of the homeowners. "When you release [control] to a team of experts, totally trust their design expertise, and say, 'I have the utmost faith in you,' you're going to get a great product in the end." In this case, that final result includes a long-lasting relationship, the loveliest of luxury finishes, and nothing but the very best of lakeside living.