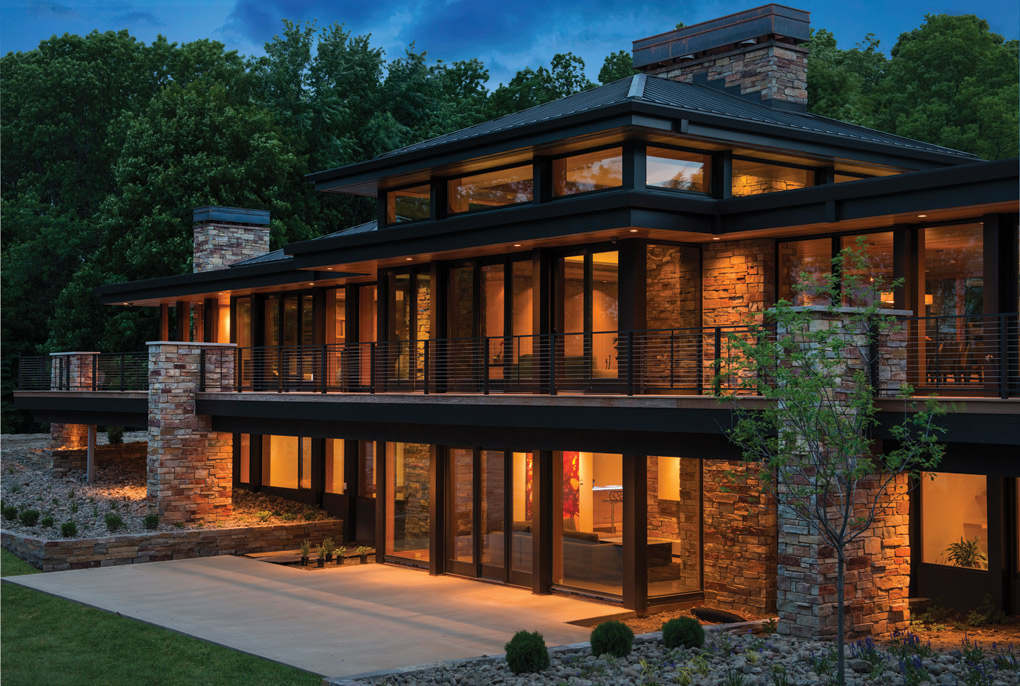 This house is breathtaking—not because it is filled with "wow" features (though it is), but because its simple design is as understated as a sigh. Follow the winding, tree-lined driveway to a European-style courtyard and a view of the horizontal and vertical forms that rest lightly on the wooded site. The tranquil composition continues inside, where the two-story fireplace sculpted of metal and stone gives just a glimpse of what is to come.
And that is the soul of the house: the great room, where a wall of windows brings in a view of Lake Martha that seems to stretch from horizon to horizon. Natural light floods in from all sides, thanks to floor-to-ceiling and clerestory windows throughout. The tongue-and-groove cedar ceilings, hot-water-heated travertine floors, vertical pillars of stone, and broad expanses of sparkling glass all contribute to an organic, modern aesthetic.
It's exactly what the homeowners wanted their dream house to be. Empty nesters who'd long owned this 11-acre parcel across the road from their residence on Lake Charlotte, they have sophisticated tastes and well-developed architectural sensibilities (he has architectural training and an eye for design). Both have an affinity with Frank Lloyd Wright and Prairie School architecture, though he leans more contemporary and she prefers a warmer, organic style.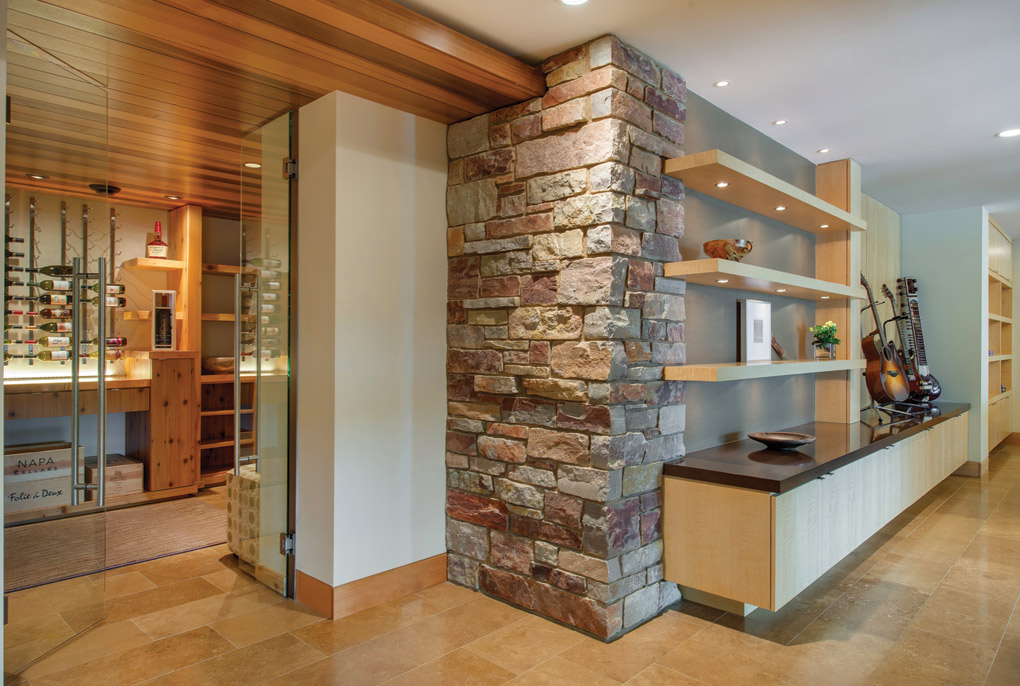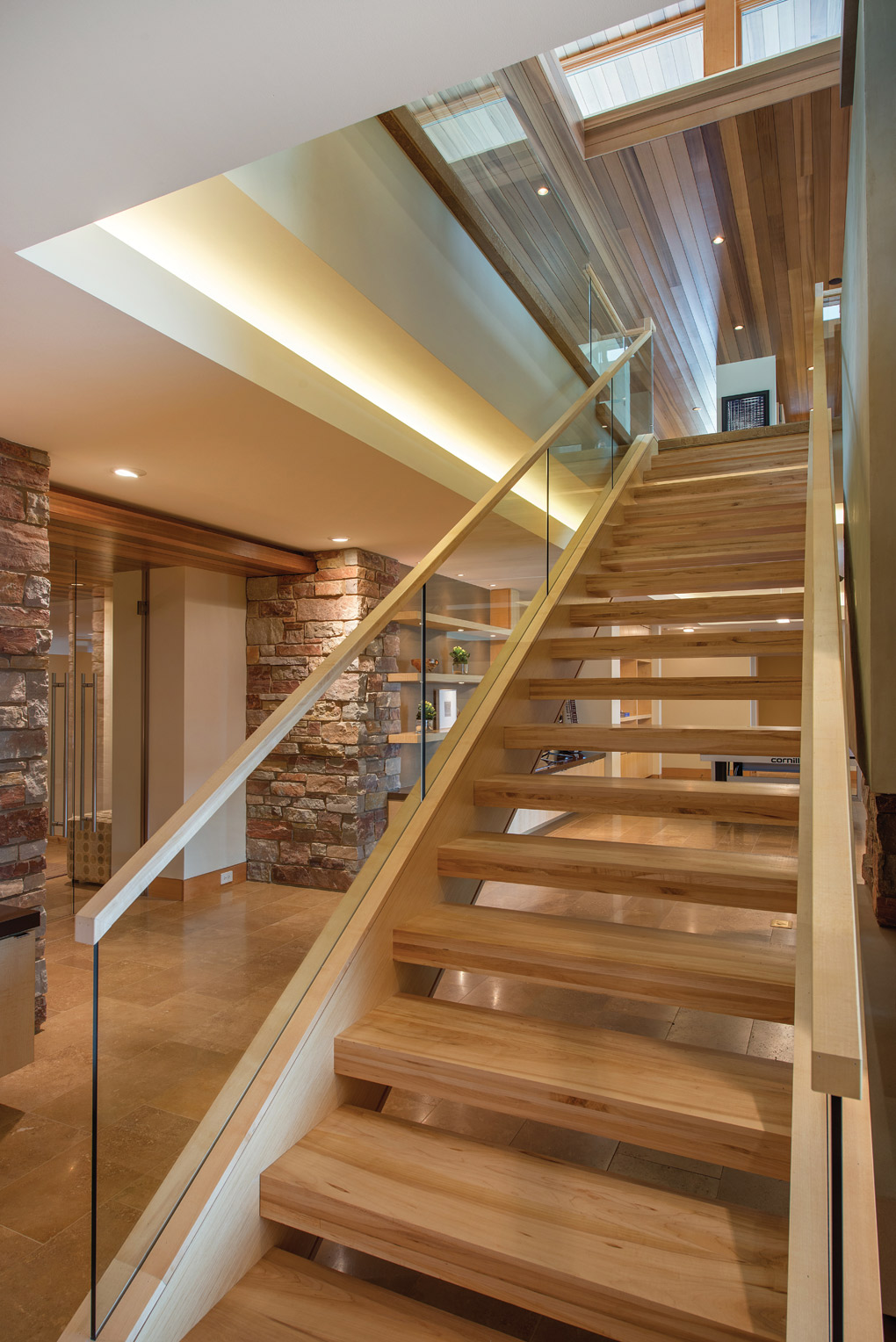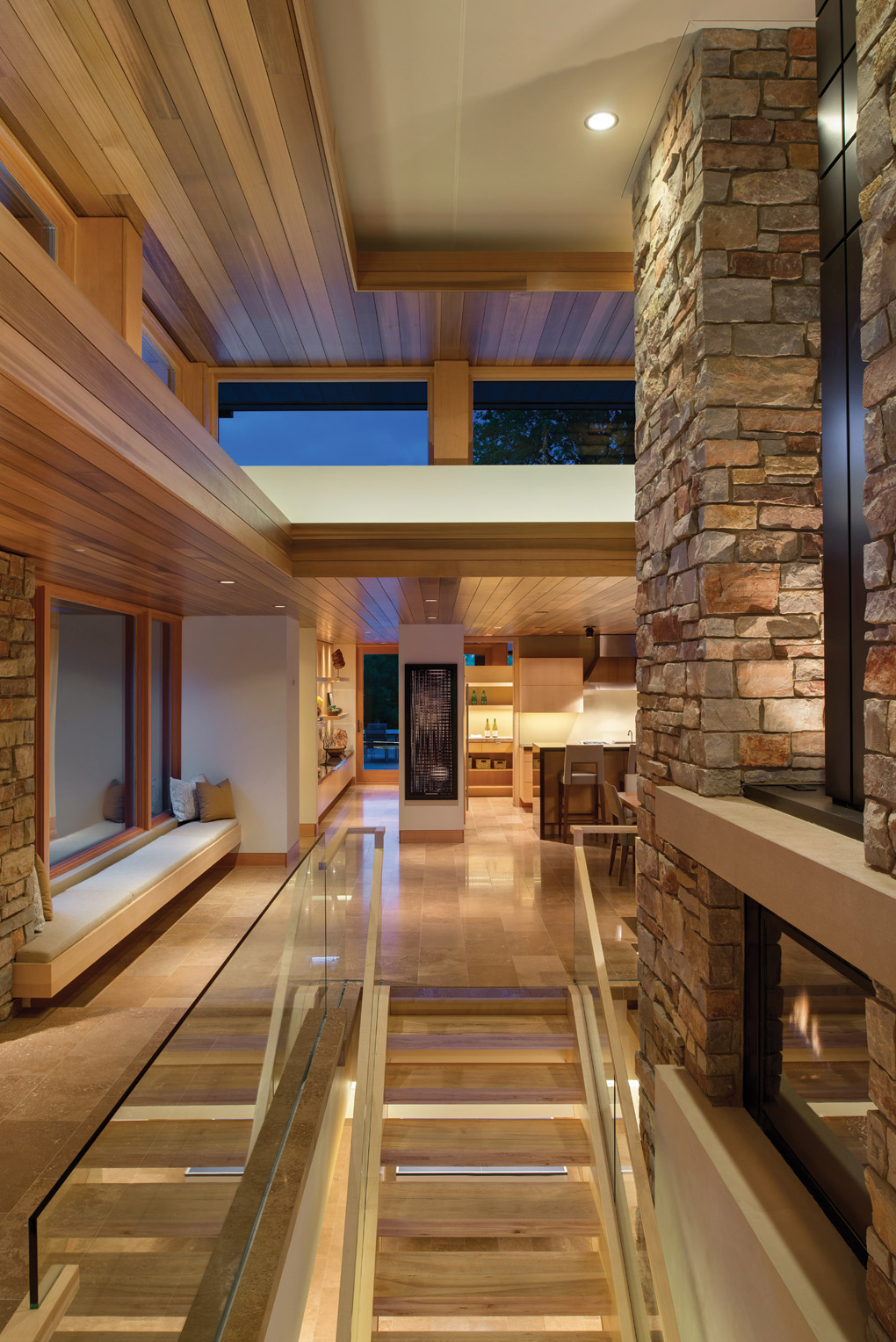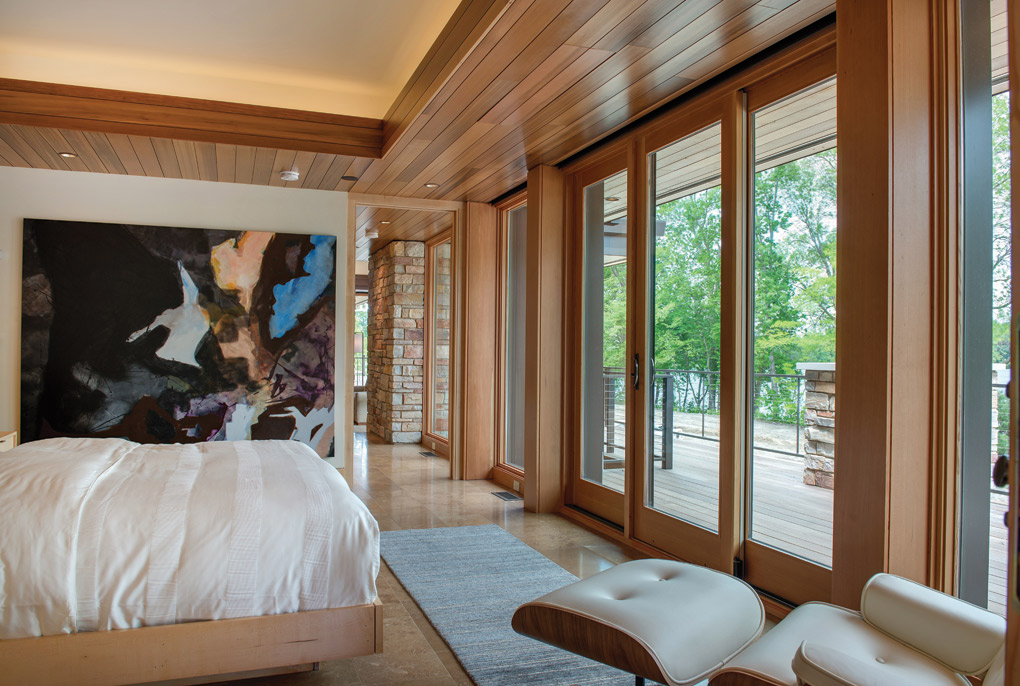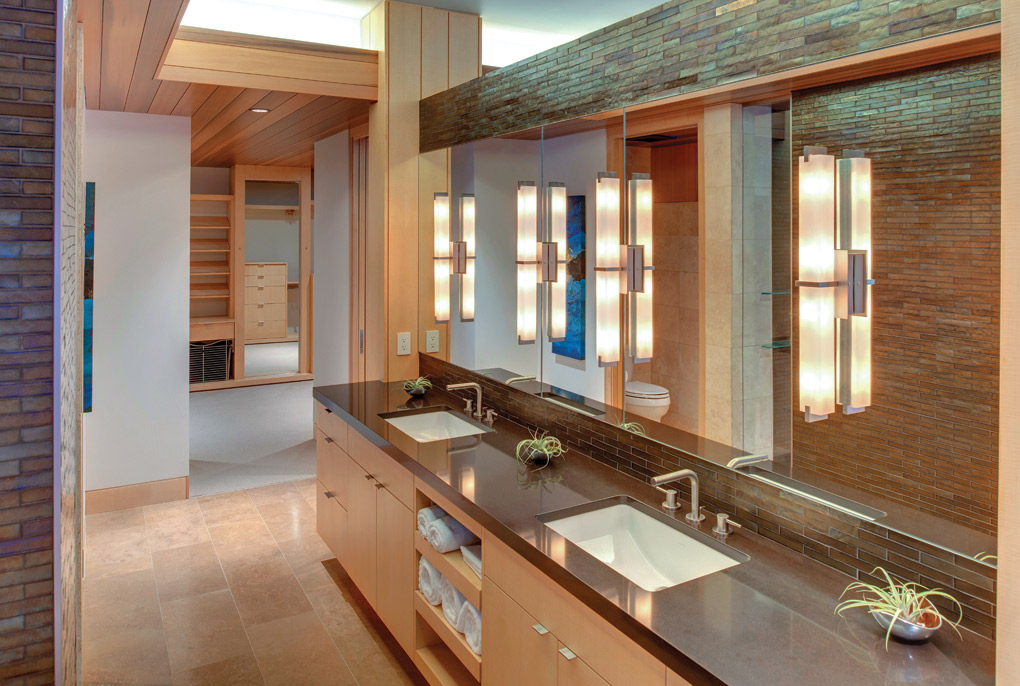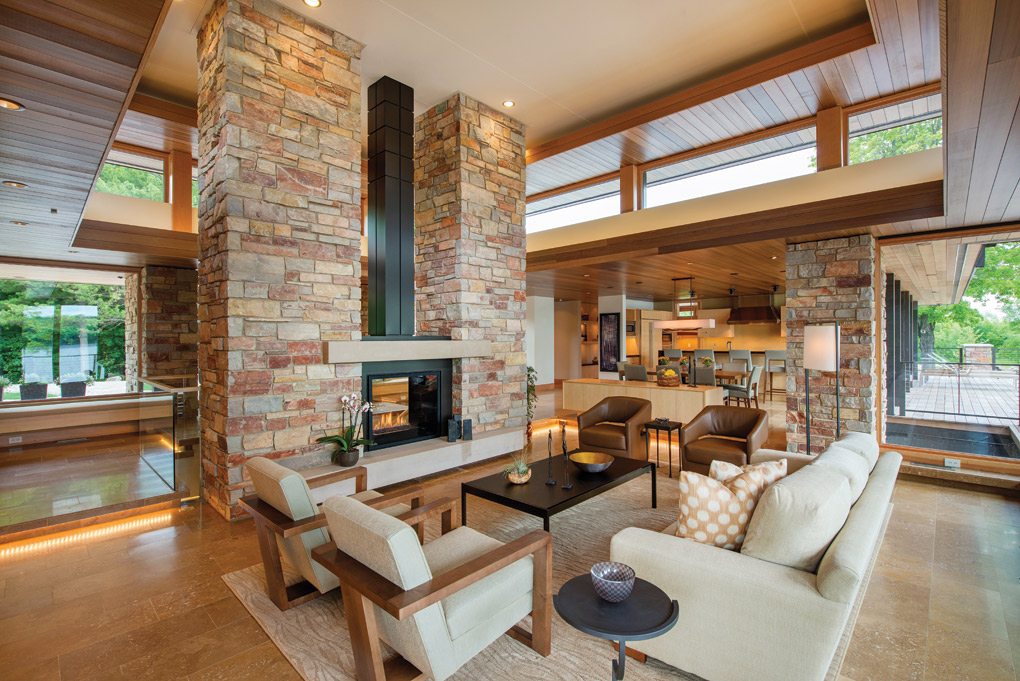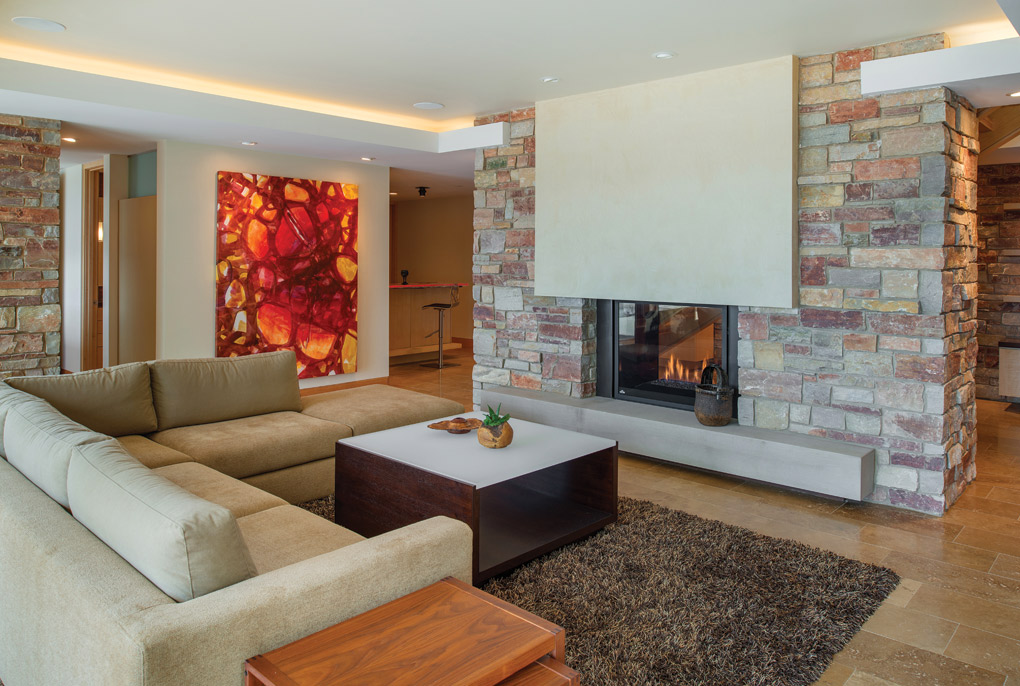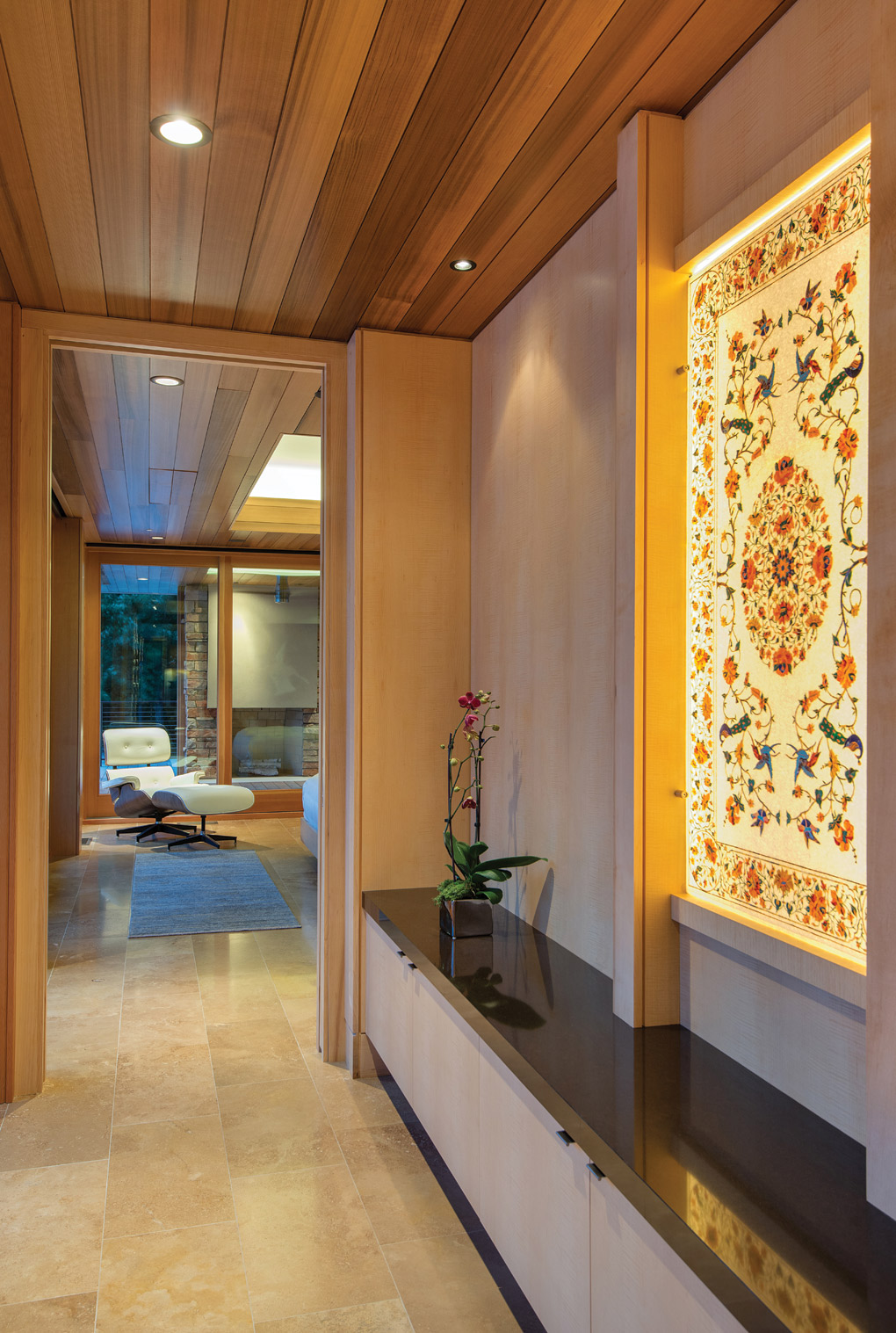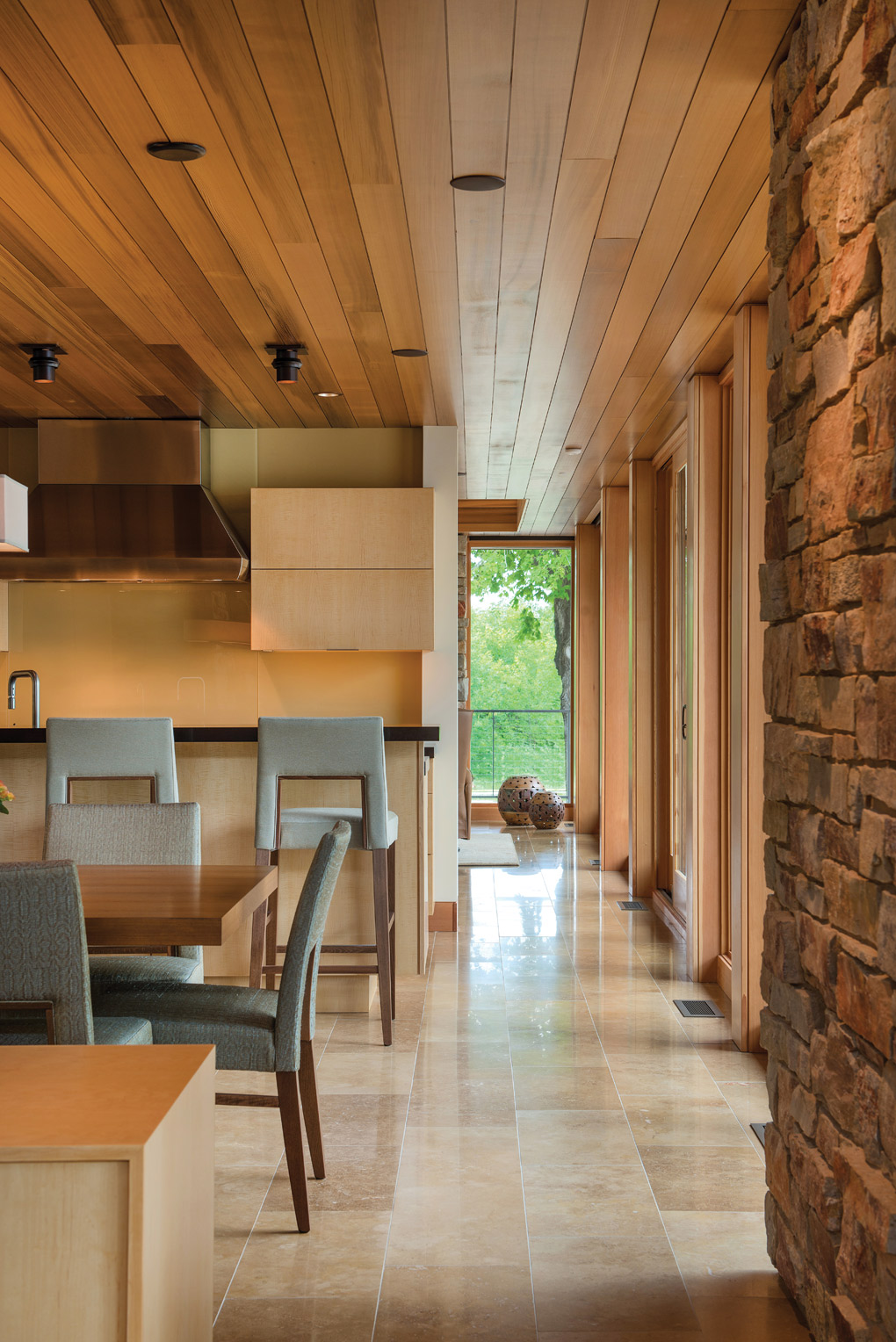 Architect Charles Stinson struck the perfect balance for both and collaborated with them throughout the design and building process. "They wanted a house for the next stage of life, for adult kids and, eventually, grandchildren," he says. The house needed to feel comfortable for two people yet also for many to accommodate their love of entertaining.
Thus the main level includes public, semi-private, and private spaces. The open kitchen, dining area, and sunken great room are at the center, while a sitting area and breakfast room designed for two is at one end. At the other, down a gallery that showcases an antique marble panel the homeowners brought back from India, is the master bedroom. With its view of the lake and horizon plus a private screen porch with a wood-burning fireplace, the room makes the most of its serene surroundings. "It's very special," says CRS interior designer Kim Streeter.
The team, including designer Douglas Fletcher of Charles R. Stinson Architecture and Design and builder Kerry Hage, owner of Hage Homes, worked closely on every detail. The rustic Chilton and Fond du Lac stone of the fireplace and vertical pillars are a good example. As the stones went in, Stinson and Hage were up on the scaffolding with the stonemason, making certain the pattern was just right. "Every piece of stone has to be a work of art," says Stinson. "The exact stone inside lines up with the stone outside."
The seemingly simple style of the house demands that kind of painstaking attention. "It's difficult to do something this simple," says Stinson. "The architect, client, builder, subcontractors, and interior designer really have to work together to pull all the pieces together."  It takes commitment, passion, and precision to bring it to fruition, but you can feel the results within these walls.
By Chris Lee
Photos by Spacecrafting
Builder: Charles R. Stinson Architecture and design with Hage Homes
Home Location: Buffalo
Architect: Charles R. Stinson
Interior Designer: CSR Interiors
Sponsors
Brush Masters
Lampert Lumber
Sub-Zero by Roth
Warners' Stellian Applicances
Western Systems