Elle Décor Associate Editor Sara Tardiff says great aesthetics have the ability to transcend human words. Well? Think about it. We know from experience the most natural, authentic reaction to a stark white, immaculately designed and picture-perfect kitchen is a well-deserved jaw drop. Or that the appropriate response to a 3-foot round, vintage, teakwood-framed mirror is *insert wide-eyes here.*
Your home can warrant that same reaction, too, because interior design isn't just for the pros anymore. Using augmented reality (AR) technology, anyone with a smartphone can design, landscape, and furnish their indoor and outdoor spaces with a quick tap of their touch-screen.
Unsure if you want to try a mono- or multi-colored paint scheme in your den? No problem. It's even okay to wonder if you should fill your front yard with a chunky bark mulch, organic red-dyed shredded wood or something different altogether. And it's especially okay to question if you really want to knock out your living room wall, cough up a hefty and unforgiving amount of cash, and create the open-concept floor plan of your wildest dreams. Really, it's okay. These design and landscape apps will give you the reassurance you need.
ColorSnap Visualizer
Sherwin-William's ColorSnap Visualizer will make you confident in color selections. With their cutting-edge AR feature called Instant Paint, you can visualize any of their 1,500 colors on your walls in real time. If you're looking to match your paint color to something else (like a throw pillow or painting), take a photo of the object, tap the color you like onscreen, and easily enough, the app finds the perfect Sherwin-William's color to match.
Other features include a day and night lighting test and a paint calculator to help you save paint (and money!) by estimating how much you'll really need. Available for iPhone and Android.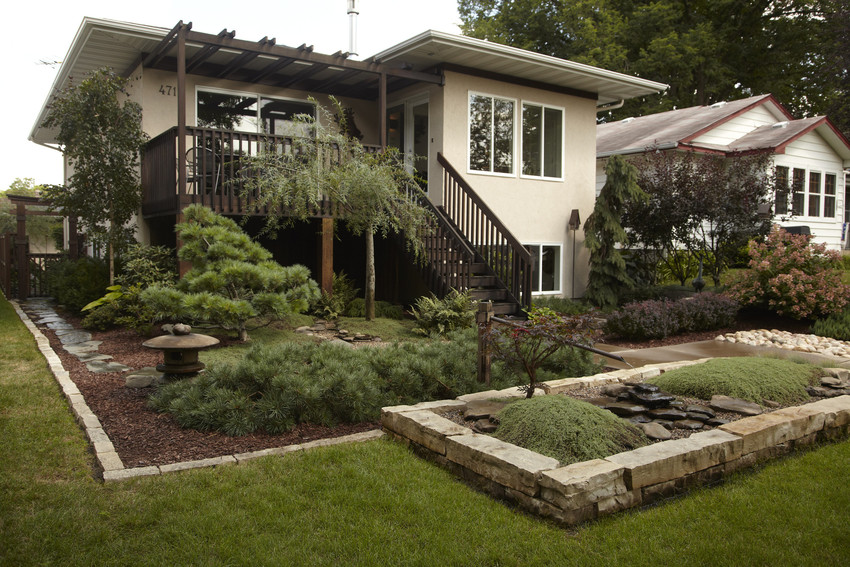 iScape
iScape creatively conceptualizes your space and turns your landscape visions into reality. Before the excavating begins, you can learn how your finished product will look by simply taking a photo of your yard and modifying the space with the app. Change out or add grass, pavers, plants, deck and patio treatments, water and architectural features, and gardens of all sorts. If you're feeling ambitious with your renovations, add outdoor furniture and kitchens, fencing, fireplaces, and other novelty items.
The best part? The app compiles a purchase list of all the items you (and the other 1.6 million users) need to make your plans come to life. Available for iPhone and Android.
Home Design 3D Gold Edition
Build, design, and completely customize your home from the ground up. This app lets you draw detailed floor plans (in 2D or 3D), furnish and decorate the interior with more than 1,000 household items, and even visualize your design in a 3D walk-through. Perfect for imagining future projects, Home Design 3D is easy to learn (they offer dozens of YouTube tutorials), regularly updated with new features, and imports and exports your blueprints. Available for iPhone and Android.
Cambria AR
Find the perfect countertop design for your kitchen countertop, bathroom, island, vanity, floor tile, or wet bar. Scan the surface, select your favorite Cambria natural quartz design, and the watch your space transform before your eyes with Cambria's augmented reality app.
Open the app and slowly move your device around the space to scan the entire surface. Then, mark the corners, explore the 140-plus designs that best suit your style, take the photo, and then it share with your designer. Done. With a high gloss or matte finish, bold and sumptuous, or neutral and subtle qualities, Cambria AR is your first stop to find new, luxurious surfaces. Available for iPhone and Android.
magicplan
Over 15 million downloads and a top-ranked Utilities app in 114 countries doesn't lie. This app creates floor plans from analyzing photos of your space and can even estimate the cost of materials.
magicplan converts your photos to actual measurements and computes its size and shape. You can assemble and adjust the rooms (like a puzzle) and edit them how you wish. To complete the floor plan, add more than 1,000 items to your blueprints and finish by sharing, exporting, or publishing your plans in 2D and 3D. (Note you have to tap each corner of the room when you take photos—including every nook and cranny—this can be time-consuming depending on square footage.) Available for iPhone and Android.