Rocky and Gigi DiGiacomo have lived in the house overlooking a wetland at the end of a wandering lane in Minnetonka for almost a quarter of a century. Their finely crafted home shows off the considerable design savvy of the two, who are also partners in DiGiacomo Homes.
The couple not only love their home, they love its location and their neighbors. They're determined to stay put, come what may—and they know how to do it.
The DiGiacomos have remodeled existing spaces and built new homes using universal design principles that allow people to age in place, living safely and comfortably in their homes for as long as possible. So when they decided their own master bath needed an update, they took a good, hard look at their priorities and redesigned their space accordingly.
Rocky and Gigi  are in their early 50s, seemingly far from needing such accommodations. "I'm still pretty vigorous," says Rocky wryly (mountain biking is a favorite hobby). But the bathtub had an extra-wide lip that required stepping up and over to get in—potentially precarious for anyone in wet, slippery surroundings. After a couple near tumbles, they decided it was time for the tub to go.
Age-in-place conversations are typically more likely with clients around their age, says Rocky. "It feels too sensitive to older people. But when your parents are in their mid-80s, and you're watching them [struggle], you know what you want to avoid."
Their new master bath clearly demonstrates that "universal design" doesn't say "for old people." In fact, many of the products and techniques it employs simply contribute to its streamlined good looks.
The curbless shower, for example, uses a strip drain in the floor along the glass door rather than a central drain in the middle of the shower floor. That means large-format floor tile can run continuously straight into the shower—no need to switch to smaller tiles on a sloping floor around a central drain. "When you combine no curb, no compound pitch, and clean, heavy glass, then the shower is a visually continuous part of the space," says Rocky.
Yes, a strip drain makes the shower more accessible—especially with a 27-inch wide door opening—for a walker or showering wheelchair, but it also makes the bathroom feel larger. "We're using zero-clearance showers with strip drains in a lot more projects, mainly for aesthetics, especially with large format tile," says Gigi.
Their two-person shower, with dual slide-bar showerheads and its movable teak bench, is luxuriously spa-like. Yet behind the tile walls is blocking for grab bars—should the need arise. A nearby changing bench (with towel storage below) provides seating for drying off; lever bathroom and bedroom door handles look sleek now and will come in handy later as well.
Gigi chose organic textures and rich natural colors for the bath and bedroom that complement the rest of the home's finishes. The ivory-painted custom cabinetry has multiple drawers rather than cupboards, which eliminates the need to squat or get down on your knees to see into the back of a deep shelf.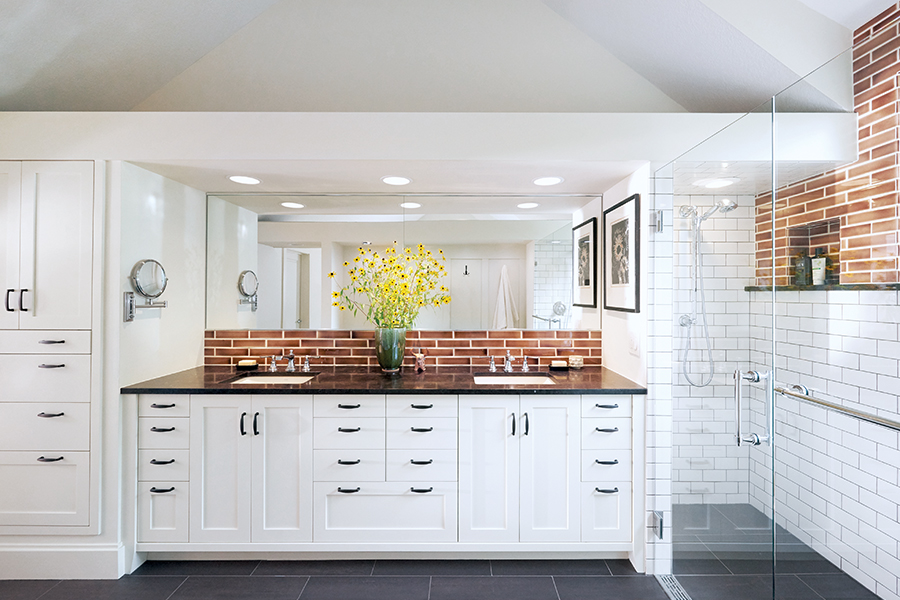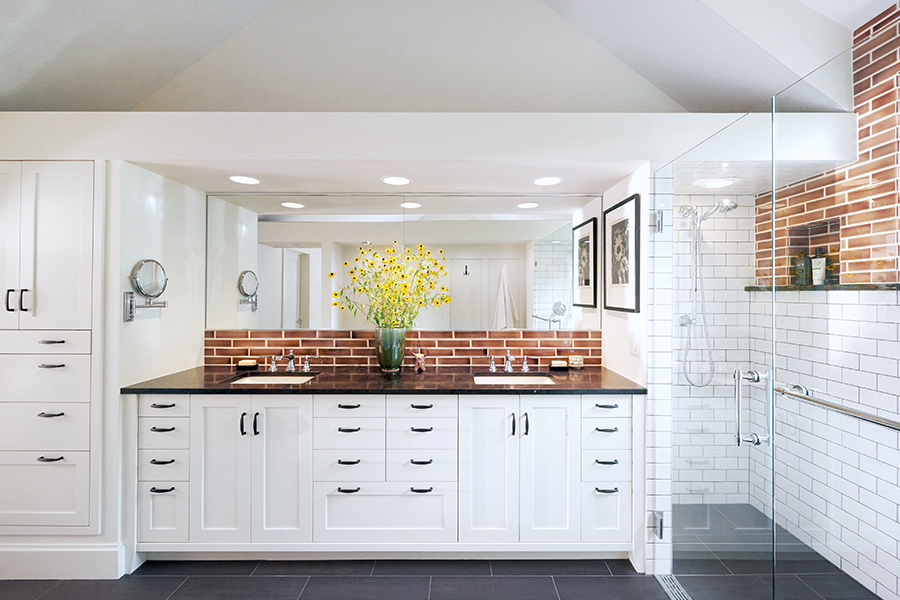 Countertops of flamed cohiba granite, so dark it looks almost black with pearlescent glints of copper, ground the space. The cinnamon–colored backsplash, subway-tile classic at first glance, is an Encore tile with an undulating shape that adds depth and texture. The adjacent bedroom, through the flush-transition doorway, continues the organic feel with its fresh palette and grasscloth wallcovering.
The new ensuite and its universal appeal won Gigi a first-place design award in 2017 from the American Society of Interior Designers Minnesota. But equally important, the Giacomos love it. "It doesn't look like 'universal design,'" says Rocky. "We can't plan for everything. But we could make it more comfortable for us now and more user-friendly down the road."