Photos courtesy Wayzata Historical Society
In mid-August, Cargill's Lake Office, also known as the Still Pond mansion, was demolished. Select artifacts and memorabilia have been removed by the company's archive teams, but the house that was built in 1931 for Rufus Rand Jr.—Wayzata's first mayor and the namesake of Rand Tower in downtown Minneapolis—is no longer standing. Featuring 63 rooms, 13 fireplaces, a marble staircase, a tunnel, and the chateau-inspired architecture that Rand loved when he was an airman in France during World War II, the 25,175-square-foot mansion was designed by McEnary & Larson and built for $400,000.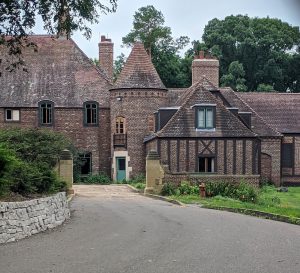 Cargill has owned Still Pond and its 275-acre property since 1944 when the Rand family moved out. For a while, the mansion served as the company's headquarters, even receiving a 15,000-square-foot expansion in 1977. When a new office building was built on the campus in 1975, Still Pond became a space for about the top 40 executives. Then, in 2016, even the executives moved out of it to be closer to the rest of the team.
Although there was some internal discussion on whether the building could become a library or museum, company spokesperson Daniel Sullivan says that to make the structure up to code would have most likely required gutting the whole interior. Tiles, plaster, insulation, and more might contain materials considered toxic now, and the blueprint of the house made it extremely difficult to meet accessibility and safety requirements. According to Cargill's company statement, the mansion's footprint will eventually be turned into green space.
While not many people in the state have been inside the mansion, the Wayzata Historical Society's Facebook post on Still Pond's demolition has ushered forth a wave of comments from current and former Cargill employees.
"I was a Cargill photographer 2011-2016," writes one. "My happiest memory at Cargill occurred in this building: an appreciation lunch held by Bill Buckner." Another says, "So very sad to see this gorgeous piece of history being torn down—I worked at Cargill from 1980 to 2006, and it was always such a privilege to be called over there for meetings." Others talked about people they knew who worked there: "My mom worked there in the early '70s. Her 'office' was formerly a closet. She worked in the molasses department and then went on to be the first woman grain trader on the floor of the Minneapolis Grain Exchange."
And, while the Star Tribune reported that Cargill has discouraged its employees from calling the Lake Office "the Chateau," perhaps this one time the company won't mind a nickname equally as grand: "I was fortunate to office, for a short while, at 'the Cargill Castle' as my kids called it. Sad to see it go."
For a closer look at the difficulties involved in deciding to save historic buildings, check out Chris Lee's feature, "Save or Scrap," originally published March 2019.
Facebook Comments