Photos by Eric Mueller Photography
Every neighborhood has a house that seems to be for sale more often than others. A family moves in, lives there for a few years, and moves on. Then the process repeats. It's a pattern that's usually a sign something needs addressing, and it's big or tricky enough that no one has been willing to take it on.
Architect Joy Martin's house, located in the Fulton neighborhood of Minneapolis, was one of those homes. "It was perfectly fine, but there were some things that didn't work very well," she says. "The bedrooms were odd sizes, there was only one good bathroom, and the kitchen had a very inefficient layout." 
The house needed a champion and found it in Martin and her husband, Ted, who is also an architect. The pair was looking for a not-too-big house with lots of light and "good bones," meaning the structural pieces (like the staircase and windows) were in the right place. With those items checked off the list, the couple knew they could work within the home's existing footprint to fit their family's space needs, style, and budget. 
Martin started drawing schematics right away, but because she was juggling a busy schedule that included her own architectural clients and mothering two school-age children, it took a few years before she and Ted were ready to start the project. During that time, they learned something troubling about their property.
"One summer night, we were sitting out front," Martin recalls. "Some people kept riding their bikes by, looking at our house. We said hello and invited them up for a beer." One of those people was a researcher from the University of Minnesota Mapping Prejudice project, an initiative that studies the history of racial covenants in Minneapolis—covenants that prevented home sales to people of color in the first half of the 20th century. The researcher said Martin's house once belonged to a Black couple, Moses and Mary Burkes, who also had a barn and chicken coop on the property. They lived there from 1900-1913, a time during which the neighborhood became openly hostile to Black residents.
That piece of information changed the way Martin approached the project. "It made me think differently—about how we treat the house with a different level of respect for the history and people who once occupied it," she says, adding that she, Ted, and the researcher discussed having the property be part of a walking tour with plaques noting the homesites of pioneering Black families.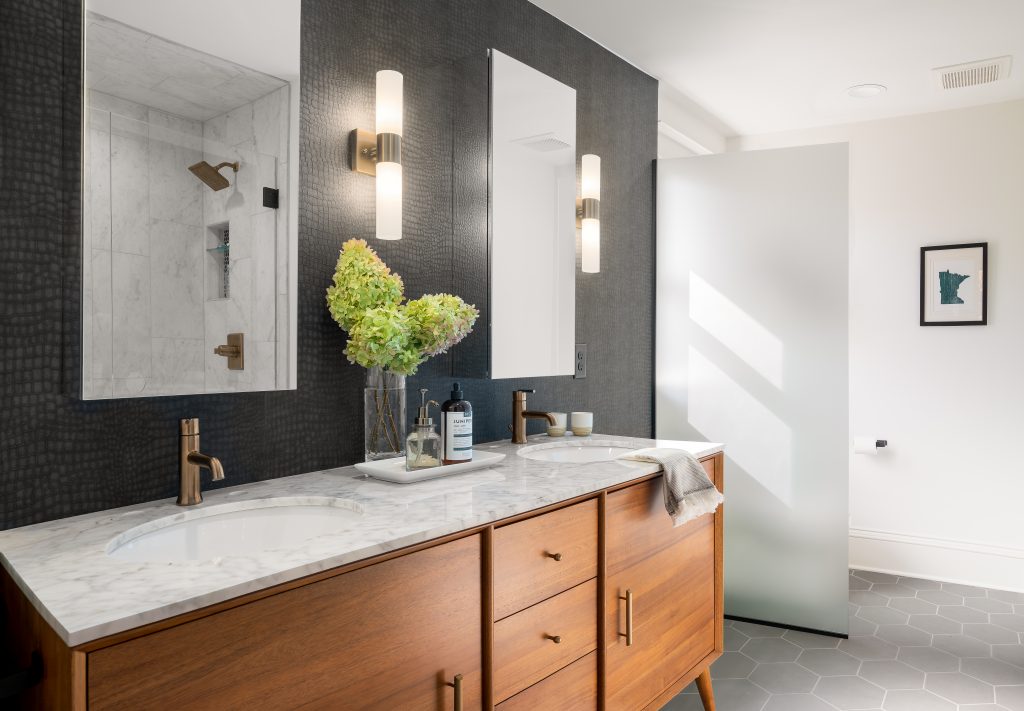 Gutting the entire house to the studs revealed more history, including charred evidence of four different fires, original plumbing in poor condition, and a complete absence of insulation that explained the high energy bills. She took the finding as an opportunity to boost the home's efficiency and had it air-sealed—a process that blows sealant into every crack and crevice, making the house completely airtight. Martin also installed a ventilation system to allow for clean air exchange. 
Appropriating space from a small bedroom was necessary to create a new owners' suite, and another large bedroom was converted into two smaller rooms for the kids. That meant the house went from four bedrooms to three—a decision the couple made following a principle of prioritizing everyday living over the occasional need. Making room for a large, upholstered bench and bookshelves in the upstairs hall was a non-negotiable for Martin, who saw it as a desirable "third space"—an area of the home where family members could retreat without being isolated or gather for impromptu reading sessions. Although the small space required lots of extra hours at the drafting table, she was determined to get it right: "It was fun and challenging to design, and now it's one of our favorite areas of the house," she says.
Martin's taste runs modern, and she wanted to incorporate that aesthetic while also showing respect for the character of the house. She took inspiration from the original millwork—crown moldings, baseboards, casings, and oak floors—and replicated it throughout the home to act as a framework for the open floor plan and sleek, white kitchen. A new built-in banquette with a walnut table takes the place of a formal dining room. Graced with a Louis Poulsen Artichoke pendant that Martin fell in love with 20 years ago and had been waiting to use, the space is polished and inviting.  
The renovation took eight months to complete—eight COVID months—during which the family lived in a nearby apartment where they weathered sheltering in place and distance learning. Now back in their home, they are gratefully using every inch. Martin's experience as ​both ​client and architect ​boosted her empathy for homeowners disrupted by construction. She even confesses to hitting her own wall at one point during the process: "I thought it would be easier," she admits. "I had the anguish of the architect and the client at the same time, but the result is worth it. I know we can be happy here for a very long time."  
Editor's Note: Following the publication of this story in the May/June edition of Midwest Home, Joy Martin's husband, Ted, passed away on May 25, 2021, after a bike accident. We send Joy and her family our deepest condolences.