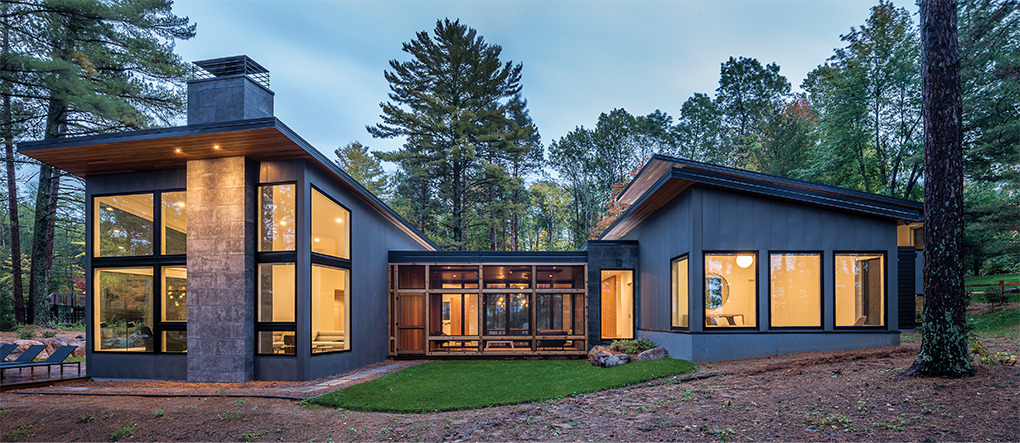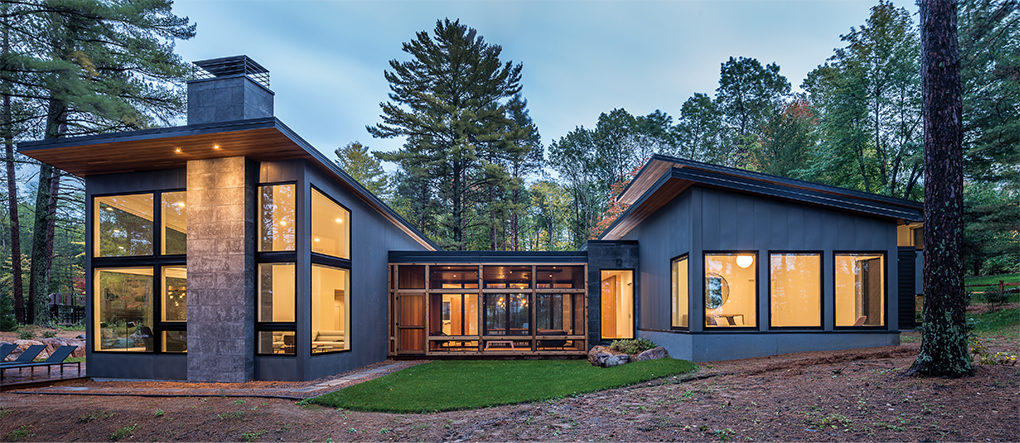 Having a cabin "up North," seemingly a Midwest tradition if not a residency requirement, used to conjure visions of a rather ramshackle structure. Plain and heavy on the outside, dark on the inside, perhaps infused with eau de dust and mildew, "the cabin" might be of split logs or lined with knotty pine, and politely referred to as rustic, quaint, or nostalgic. A place to relax and rough it, albeit with a roof over your head.
Now, what happens when a young active 21st century family, whose taste leans decidedly toward modern Scandinavian architecture, buys a wooded parcel on their dad's property Up North and decides to build a getaway? "Just because you're Up North doesn't mean you're in a dirty old cabin," says David Strand of Strand Design in Minneapolis, laughing. He designed the family's 4,500-square-foot un-cabin with David McKay, senior designer. "They wanted a modern getaway that reflected their crisp, clean aesthetic."
The owner kicked off the design process by proposing an "H" plan: private (bedrooms) and public (social) areas separated by a transparent link that houses the dining area. "David just took that plan and ran with it," the owner says.
On one side of the link are large windows that frame and focus views of the lake from the interior. On the other side is a screen porch, which has a folding glass Nana Wall system that separates the porch from the dining room, offering sheltered views of the woods.
"I really like it when we can stretch homes out and create a sprawling feel," Strand says, "so every room can have a dynamic quality, its own personality, and catch views from everywhere." A natural swale in the ground, which created a ravine that goes down to the lake, allowed Strand and McKay to nestle the house onto its site using slab-on-grade construction and still maintain sightlines. "Being able to sink really low into the ground, yet have the lake way below and still be able to achieve those views of sky, trees, and water in the distance, is really unique," Strand explains.
The nestling also allowed for different levels, including kids' bedrooms upstairs and a living/media room below that can be used as a guest bedroom. Because of its low-maintenance exterior—composed of bonderized steel panels resembling zinc, concrete panels, exposed poured concrete, cedar soffits, and vertical-grain Douglas fir with a black Rubio Monocoat dye and topcoat to mimic the look of shou sugi ban (a Japanese finishing technique that involves charring wood)—the house also blends into its forested environment.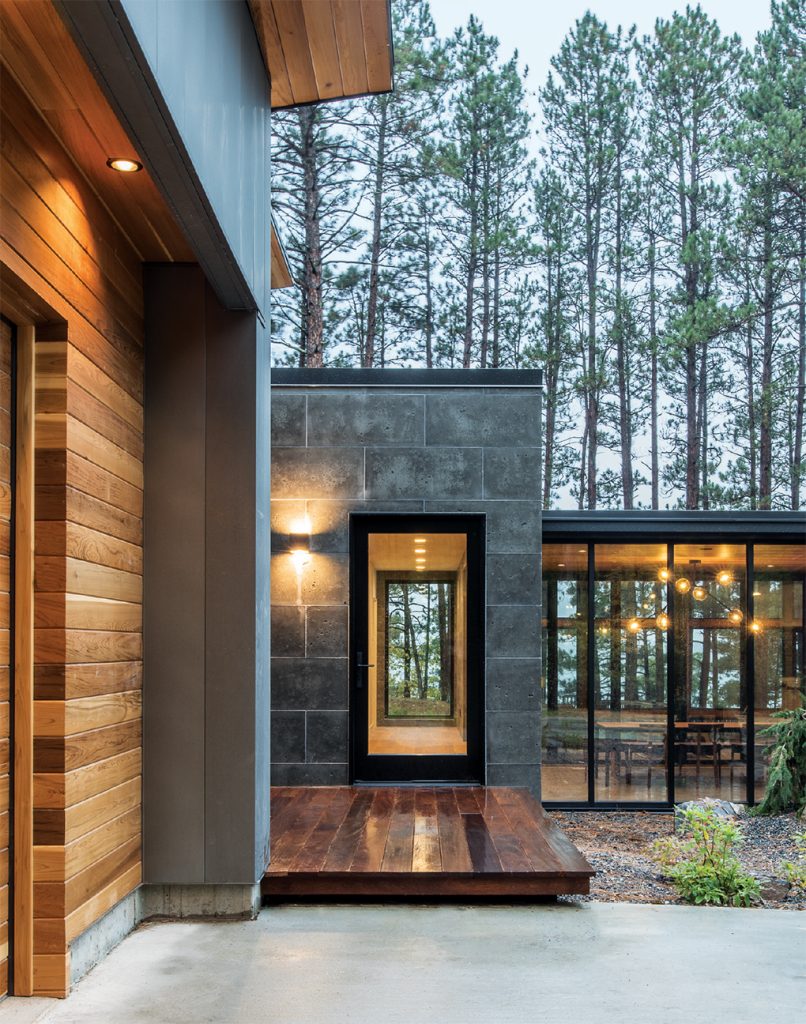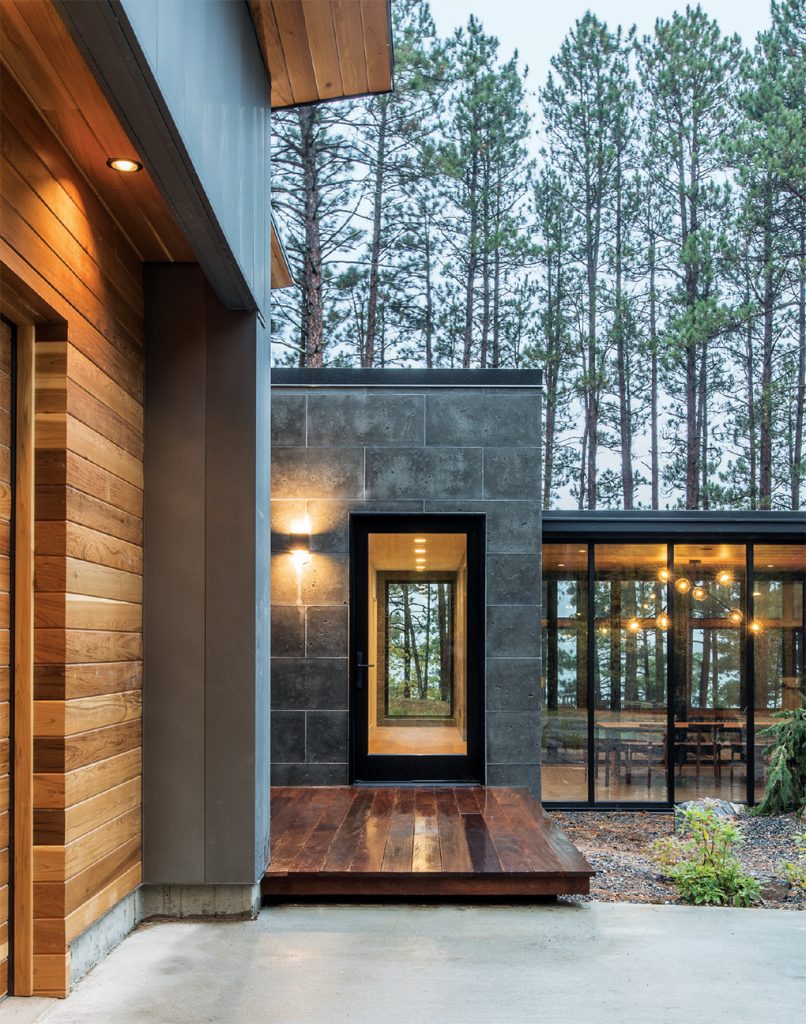 "There's this ominous, protected, fortress-like quality to the exterior," Strand says, "but once you enter the house, it's extremely bright, friendly, and inviting." White-oak floors and trim, and white walls provide a clean, bright contrast to the home's moody, subdued exterior. Elsewhere in the house, concrete highlights the contemporary, Scandinavian-inspired design. Polished concrete floors, impervious to sandy feet and dripping swimsuits, celebrate the home's slab-on grade construction.
2Stone Designer Concrete panels were mitered, screwed, and mortared to the walls to mimic poured-in-place concrete verticals. Hexagonal concrete tiles in the bathrooms and a concrete chimney in the living room continue the rugged, easy-maintenance aesthetic. Large expanses of glass bring in views and light. Even in the powder room, a skylight above the rift-sawn white-oak vanity floods the space with natural light, illuminating the vanity wall covered in black-coated Douglas fir. Lockers and hooks in this bath simplify changing for a dip in the lake or after a quick rinse in the outdoor shower around the corner.
Inspired by the young family's active lifestyle, and their appreciation for modern Scandinavian architecture, the retreat celebrates its natural North Woods landscape. Whether filled with young cousins from the grandparents' house next door or adults having their own weekend, the separate public and private spaces in the house ensure owners and guests have fun and find reprieve.
"We're definitely very active up here," says the homeowner, "with kids running around, wet swimsuits everywhere, lots of sand, making dinner on the grill, and having bonfires." The uncluttered, open and low-maintenance design of the house, he adds, is a just what the family needs. "If you want to retreat, to clear your mind, and you go somewhere enclosed and cluttered, it doesn't help. This is a place to clear out your mind, relax, and be as much a part of the landscape as possible."