Home
Authors
Posts by Camille LeFevre
University of Minnesota student creates a pretty pastry platform.
Rehkamp Larson Architects and Brooke Voss create a sleek loft-inspired home on the lake.
Learn how families are adding more space for multigenerational living.
Dale Mulfinger and Michael Roehr win the 2015 Best Architect awards.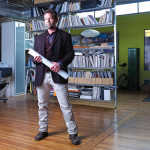 An unorthodox path led to emerging talent Michael Roehl's fresh perspective.
Dale Mulfinger, teacher, mentor, and cabinologist, wins the 2015 Architect of Distinction Award.
For Chris Strom of Tea2 Architects, and winner of the 2014 AIA MN Emerging Talent award, view and daylight are the starting points for every residential project.
Katherine Hillbrand of Sala Architects, and this year's recipient of the AIA MN 2014 Architect of Distinction award, is captivated with the Scandinavian concept of "useful beauty."