Home
Authors
Posts by Amy Carlson Gustafson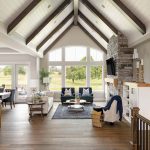 Photos by SpacecraftingSee for yourself: The master bedroom in this chic Lake Elmo home is a stunner. Tiered ceilings and floating dark wood beams...
This Lake Elmo home offers picturesque golf course views and upscale elements without sacrificing warmth
A new build with a chic farmhouse cottage feel makes itself right at home on a popular golf course that serves up serene views
Step inside Shari and Roger Wilsey's Summit Avenue home in St. Paul, expertly decorated for holiday parties and ringing in the season.
This nautical & East Coast-inspired lake home on Lake Minntetonka offers its family all the conveniences of a summer getaway without the 4 1/2 hour drive.