Home
Authors
Posts by AIA MN
Get ready for the Homes by Architects Tour with these handy tips.
Presented by 

Amid growing demand for contemporary design, Marvin Windows and Doors has introduced the Marvin Contemporary Studio.
Presented by 

Reorganizing space and designing for efficiency without adding square footage is what architects do best.
Presented by 

This year's Homes by Architects Tour showcases a handful projects that address downsizing, each in a unique way.
Presented by  

Three projects on the Homes by Architects tour show how architects use design to creatively address many of the challenges that come with older homes.
Presented by  

One of the most important jobs when designing a home is to take into account the scale and context of the surrounding environment.
Presented by  

A misconception many people have about modern design is that it is stark, non-functional, and incapable of blending in with more traditional surroundings.
Presented by  

The relationship you and your architect establish can make a big impact on your project.
Presented by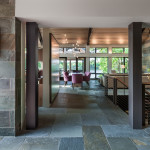 Green technology in residential design is as popular as ever with advances in technologies.
Presented by