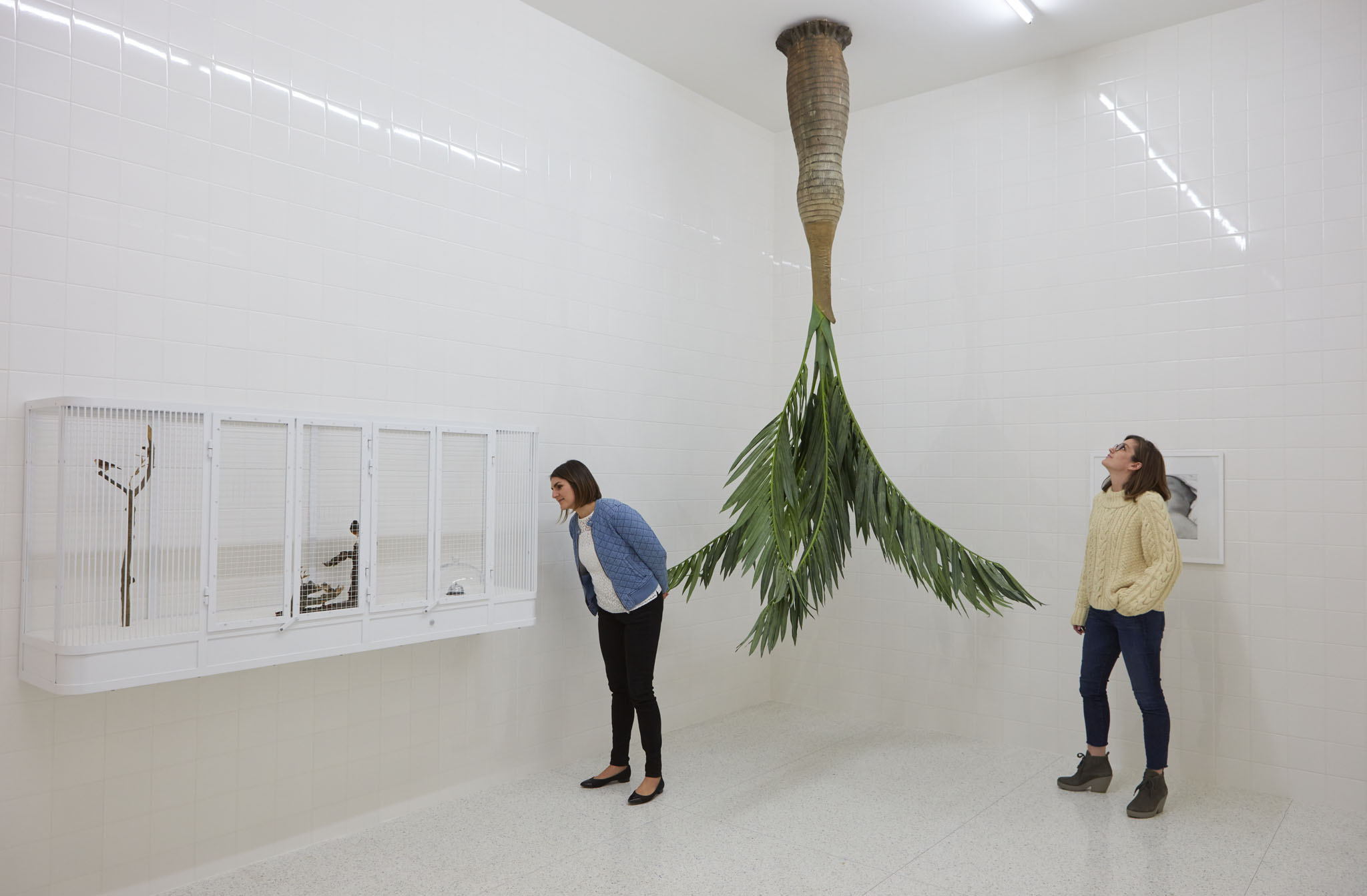 Large, decorative ceramic dogs with big bits chomped out of them. Oil-on-paper paintings of an opulent lavatory enclosed within in a white-walled box. An office chair facing a battered aluminum bulletin board framing a crumpled, torn image of Dr. Martin Luther King (salvaged from a condemned school in Chicago). An antiseptic white-tiled room with mechanized,  taxidermy songbirds and a bell under a bell jar in a white metal cage, along with an upside-down palm tree hanging from the ceiling.
No, you won't be seeing anything of these artworks anytime soon on Houzz or Architectural Digest. They are on view now, however, until May 21, at the Walker Art Center. Part of the exhibition "Question the Wall Itself," these works and the other installations, sculpture, video and photography by 23 artists from around the globe are here to elicit your questions. So ask away. Just don't expect any simple answers.
Throughout the exhibition, traditional ideas of space and structure, design and the decorative are quite literally turned inside out or upside down, deconstructed and reassembled. To say the show is highly conceptual would be an understatement. But look closely. Objects repeat (parrots, mirrors). Ideas repeat (reflection, notions of public and private). There's profundity in the ways in which architectural structure becomes just a notion of itself, but one with resonance and meaning.
Lucy McKenzie's Loos House, for instance, is a shadow structure. The installation uses trompe l'oeil painting and a minimalist sensibility in the creation of a not-to-scale layout of Austrian architect Adolf Loos's 1930 Villa Muller. McKenzie also created Fascist Bathroom (no comment necessary), the bathroom in a box.
Tom Burr's Zog (a series of setbacks) is a sculpture that abstracts the corner offices of the IDS Center in downtown Minneapolis, a landmark skyscraper designed by Philip Johnson. The "public" side of the work has 12 glass-fronted "zogs" that reflect visitors; the "inside" has stainless-steel panels printed with Burr's photos of Johnson's Glass House. In many of these photographic fragments, Burr is reflected.
The spirit of Marcel Broodthaer (a Belgian poet, filmmaker and artist who took a whimsical approach to creating art) guided the curation of the exhibition, which has been described as a critique of ideas about internationalism, national identity, globalization, and institutional space—all through the lens of how interior space is constructed.
"Do not make your way to 'Question the Wall Itself', the Walker Art Center's survey of artists' work with interior architecture and decor, if you are looking for ideas for new curtains in the back bedroom," wrote Jonathon Griffin in Frieze. No kidding. But in our newly topsy-turvy world, which is seemingly more fascistic by the day, the show's disjointed, surreal and fractured installations invite deep thought on just what "thinking outside the box" can really mean.
For a quick preview, with ambient music, go here
Save
by Camille LeFevre