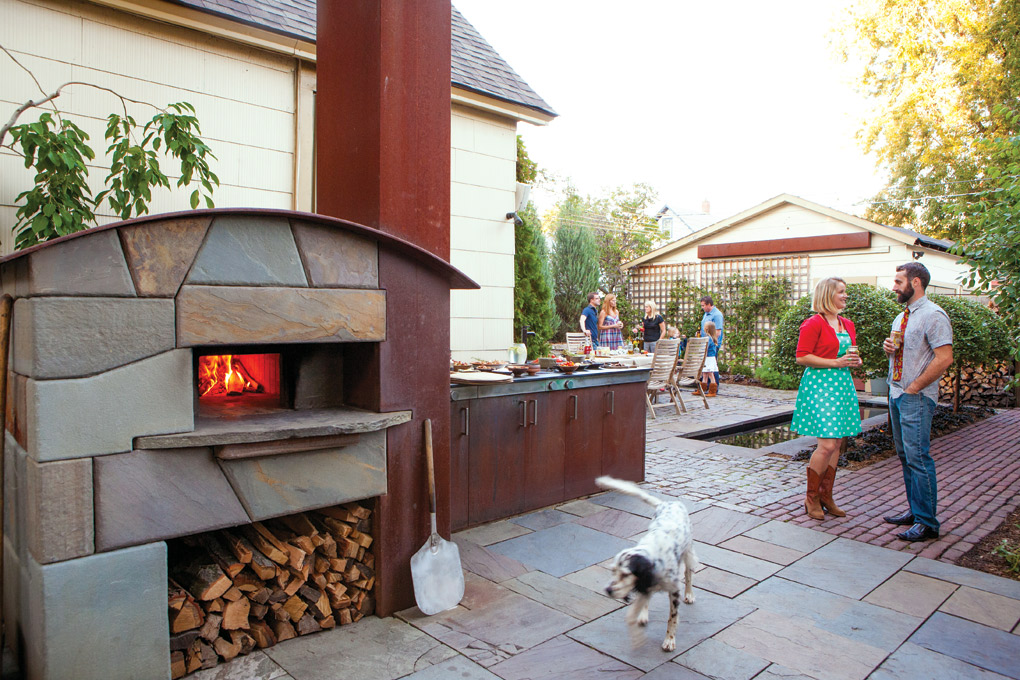 Of all the ways to woo a woman, Eric Baldus put his money on a backyard pizza oven. "Janna's a phenomenal cook, so I figured it would be a great way to win her heart," he says. Owner of Terravista Landscape & Design, Baldus dedicated an entire off-season to the task, grinding stone and welding inside a makeshift shed made of plastic sheeting and two-by-fours to shield him from winter's wind and snow. By the time spring rolled around, the massive, Machu Picchu–inspired beauty stood as the pièce de résistance of Baldus's northeast Minneapolis backyard, an already stunning self-created oasis filled with abundant plants, a salvaged-stone patio, and a swimmable koi pond.
Naturally, the object of Baldus's affection loved the backyard pizza oven. She figured others would, too. "It seemed silly to keep such a special thing all to ourselves," says Janna Schneider. The couple decided to try hosting open-house-style gatherings as a way to share the fruits of Baldus's labor while also enjoying family-friendly, one-size-fits-all face time with neighbors, relatives, clients, and friends. They held their first-ever monthly pizza night that June. The tradition is now in its sixth season.
The recipe for pizza night has stayed roughly the same since the beginning. Baldus and Schneider provide the mountain of single-crust dough balls, the sauce, and the setting. (They ask for RSVPs to their monthly email invite so they know how much to make.) Guests bring their drink of choice plus a topping option or two to help cut down on host stress and cost. Also contributed: a huge variety of offerings raised in a backyard, found at a favorite local market, or even saved from underappreciation in the fridge help make conversation and inspiration flow.
Baldus starts a fire in the pizza oven around 1 p.m. on party day to ensure the oven will reach optimal temperature—about 900 degrees—by the time the first wave of guests start arriving four hours later. Pizza making is strictly DIY. Schneider often gives a brief make-and-bake tutorial at some point, but there are usually enough seasoned regulars happy to help others with the process. Between tip-sharing conversations and a large, loaded-down topping table to consider, assembly is a leisurely, social affair. Actual firing time, however, clocks in at 90 seconds flat.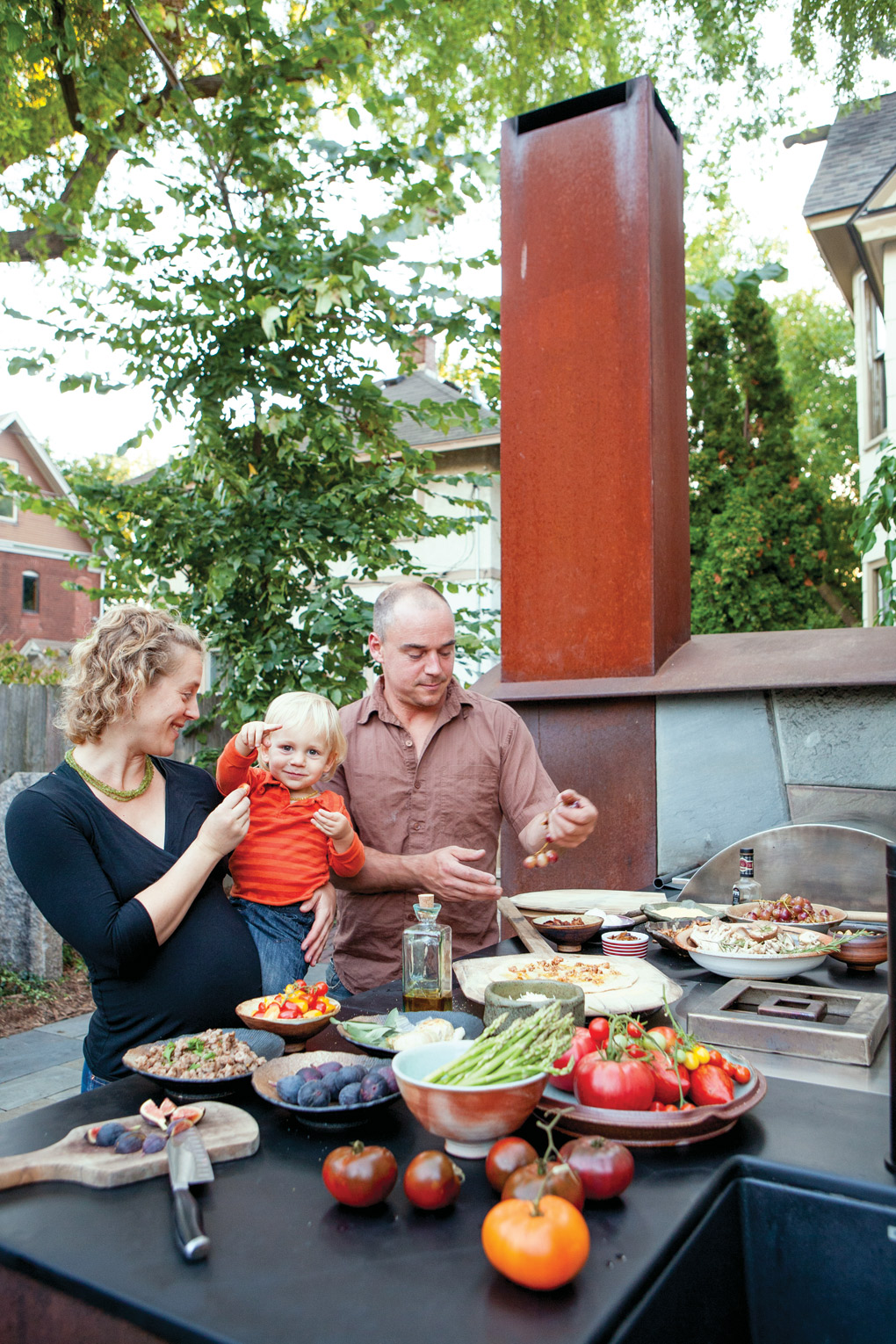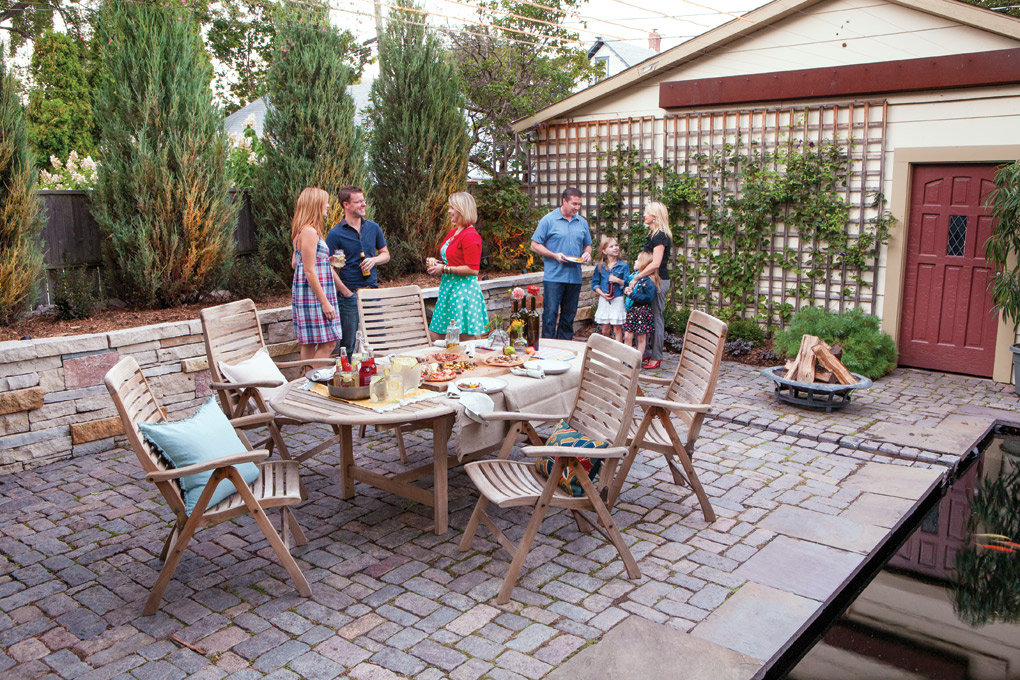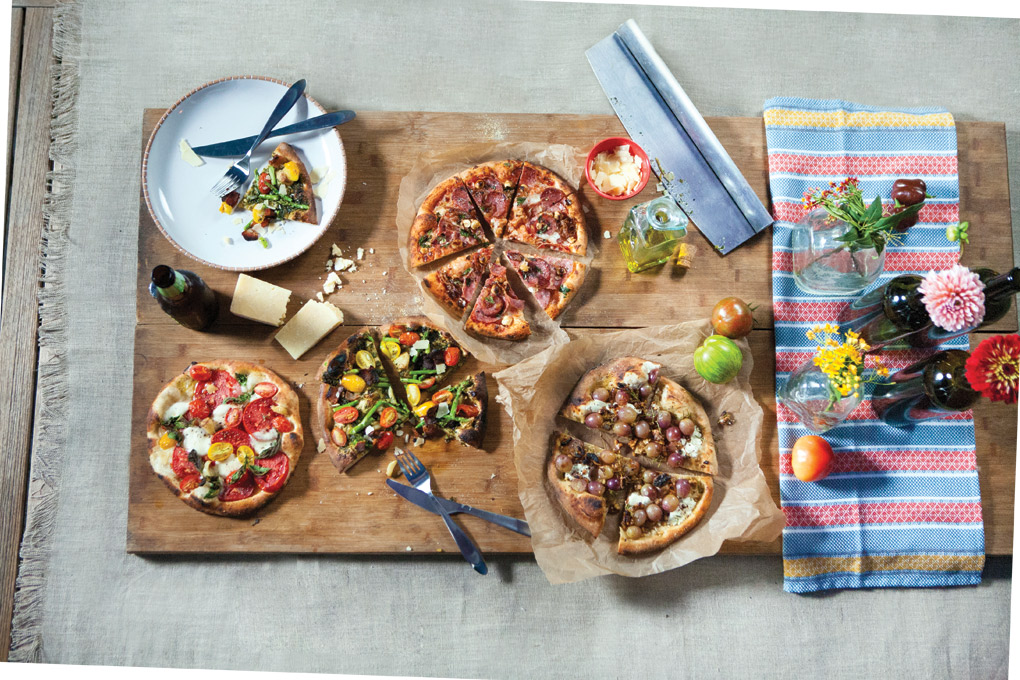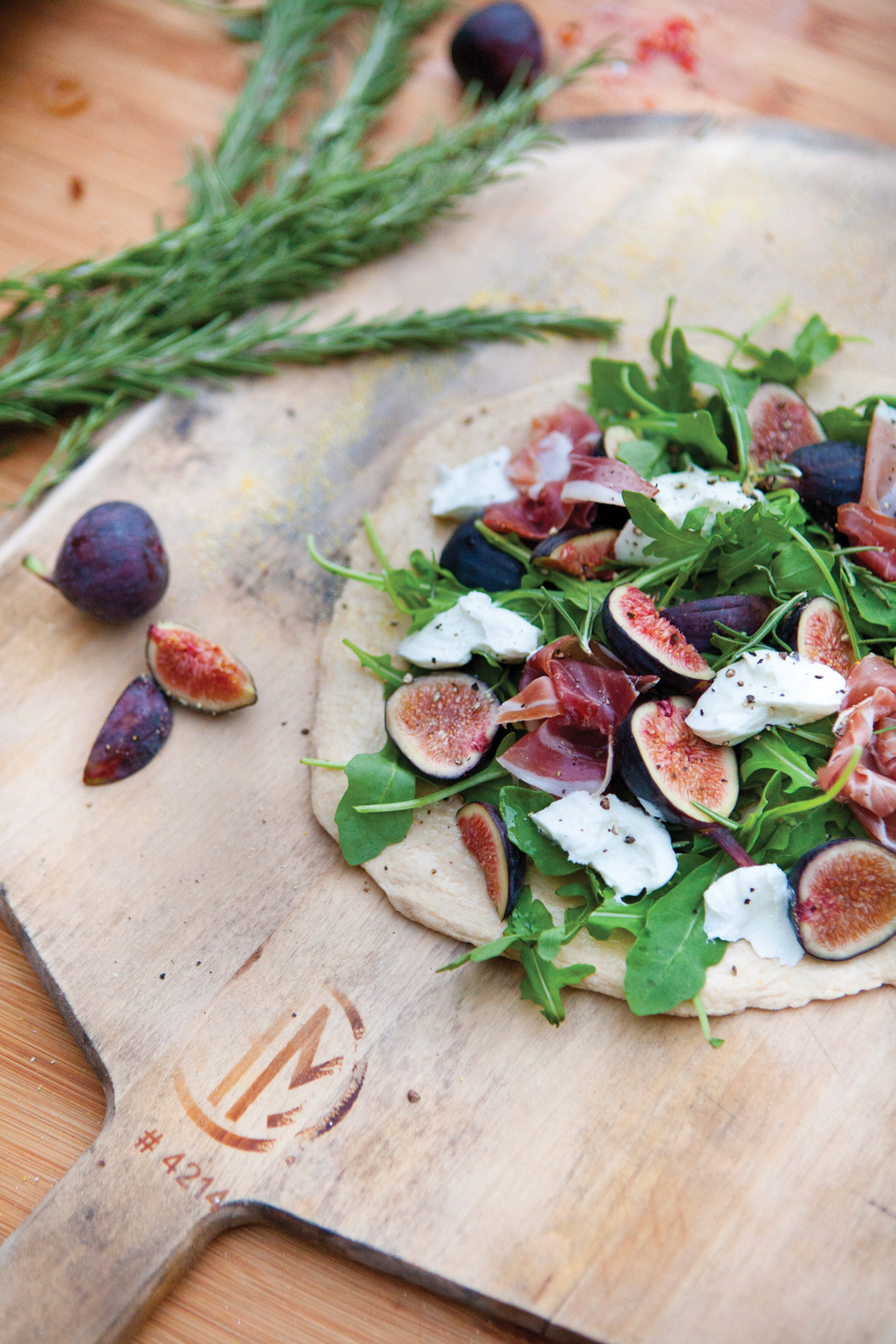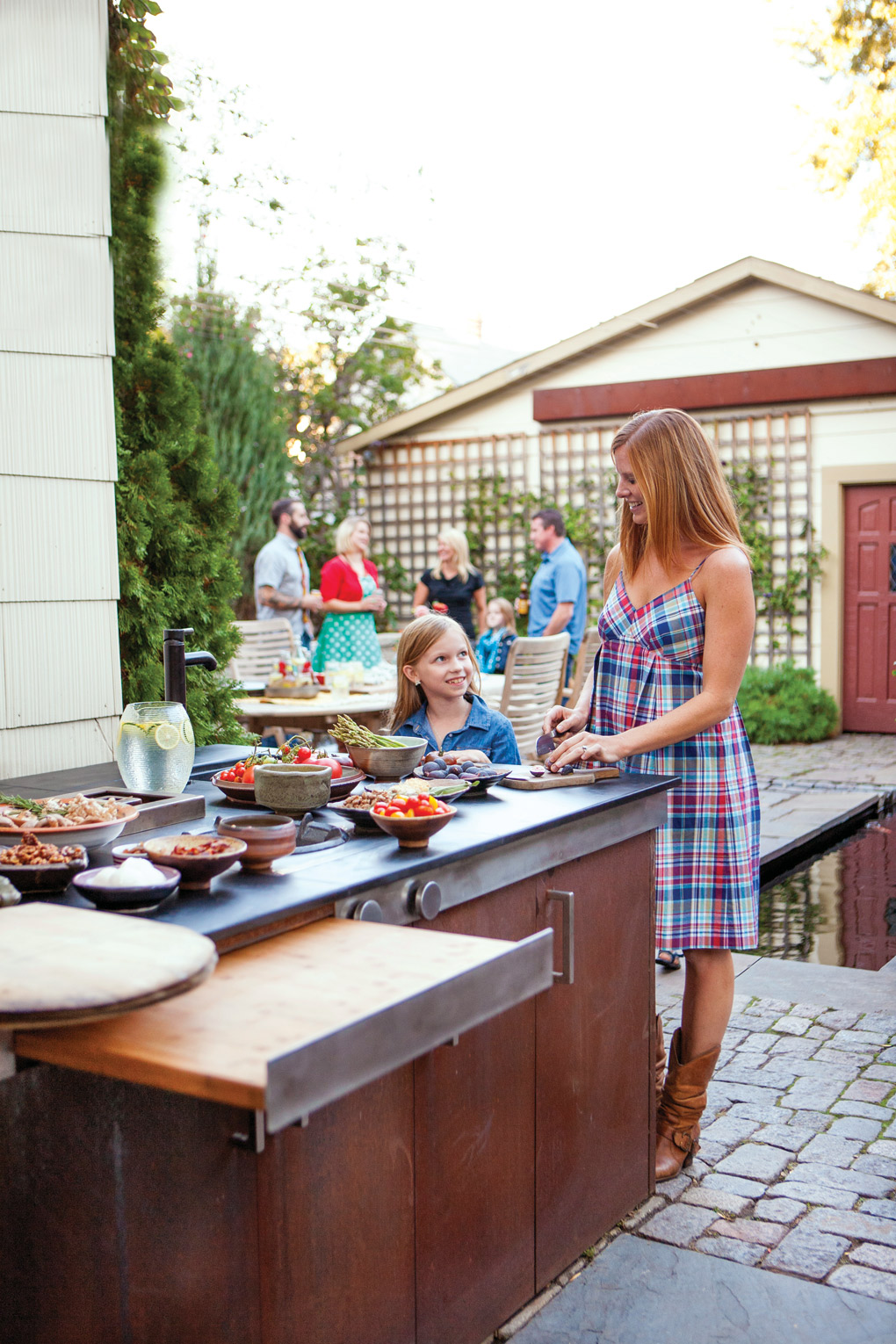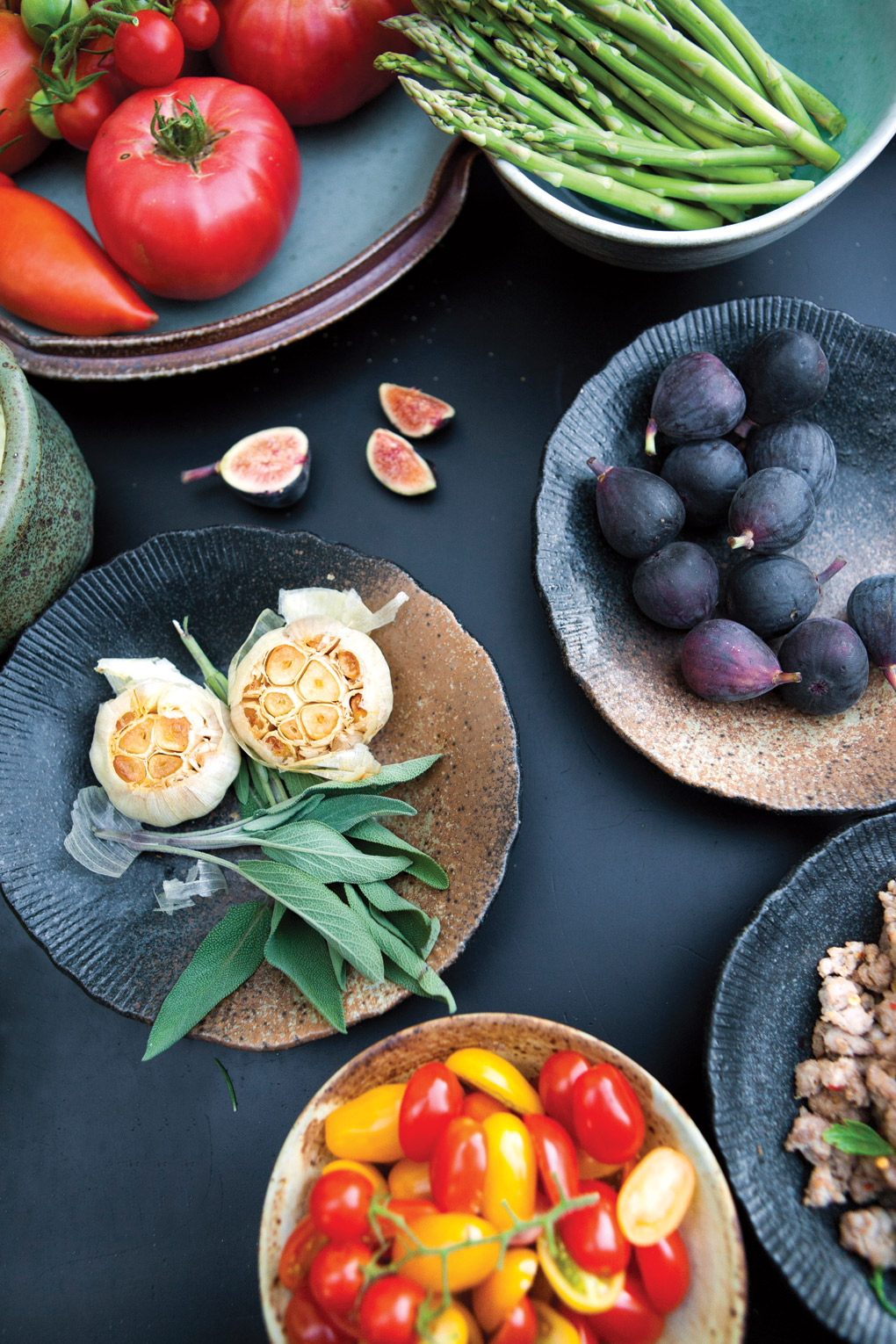 Freshly fired pizzas land on one of two giant communal cutting boards, and plates aren't provided on purpose. Sure, it makes cleanup easier, but more importantly, it encourages slice swapping. "Because it's not on your plate, it's not your territory," Baldus says. "It becomes that much easier to start up a conversation, and say, 'Grapes on a pizza? Mind if I try that?'"
Add it to the list of ways the setup encourages guest interaction, regardless of age or background. Once, a James Beard Award winner showed up and concocted a carbonara pizza with prosciutto, fresh figs, and a homemade, thyme-infused cream sauce that remains a culinary high point of the gatherings. No less memorable, however, was the 6-year-old who cut her creation into bite-sized pieces then made the party rounds offering samples to all. "I love that a recognized chef and a child can both find challenges and commonalities at pizza night," Schneider says.
Lena K. Gardner met Baldus and Schneider when a friend brought her to an early pizza night. She hasn't missed more than a handful of them since. Of course the pizza's delicious, but it's the cultivated community that really has her hooked. "I've met all kinds of people there—artists, construction workers, students, acupuncturists, actors," she says. "Eric and Janna have created this radically welcoming place, where time seems to slow way down and fly by all at the same time. Full bellies and filled hearts abound."
For all the bonds that have developed over the topping table, Schneider says she's surprised none have yet resulted in lasting romance. Except, of course, their own. Besides creating countless connections, hundreds of pizzas, and a beloved tradition over the years, they have a 2-year-old son and baby girl. By many measures, it's safe to call Baldus's "seduction by pizza oven" a success.
---
So You Think You Want a Pizza Oven?
Explore your options with these tips from wood-fired pizza oven veteran Eric Baldus of terravistamn.com.
Research, Research, Research
Baldus's favorite pizza-oven resource for everything from building to recipes is the website fornobravo.com. Check out the forum.
Consider a Kit
Quality prebuilt kits can run you as little as a few thousand dollars—a fraction of the cost of custom-built. Get something with a flue on the outside or else the oven simply won't get hot enough (no matter what the marketing materials say).
Style Smarts
Though there are lots of wood-fired pizza oven designs, there are really just two styles: barrel vault and dome (AKA Neapolitan). Baldus chose barrel vault for maximum heat retention, which makes it excellent for bread baking. Most kits are domes.
Lots of Landing Space
The bigger that little shelf just outside the oven door, the easier it is to monitor the cooking process. Baldus recommends a foot minimum.
Plan on Parties
Remember: It takes two to three hours to heat the oven and just 90 seconds to fire a pizza. "I joke that it's a terrible way to make two pizzas, but the perfect way to make 50," Baldus says.
---
Pizza Rules!
A few wood-fired pizza-making tips that transfer to the kitchen, too:
Respect the Crust
Take your crust as seriously as you do toppings. Get a good recipe and consider amping up your kitchen oven's crust-making abilities with a pizza stone.
Go Nuts
Eric Baldus and Janna Schneider swear by the deliciousness of nuts on pizza—walnuts, in particular. He loves them with prosciutto and blue cheese, and her favorite combines them with spinach, sausage, and mushrooms.
Less Is More
Lay off the toppings and the cheese, and go quality minimalist instead. Think in terms of carefully curated bites.
---
By Berit Thorkelson
Photos by Erica Loeks
Food styling by Lara Miklaseviks
Landscape Design: Terravista Landscape & Design