Any house approaching its centennial has multiple stories to tell, though few have had as many of them published as Susan Calmenson and Vince Leo's 1923 south Minneapolis cottage. But then few boast a site as striking as this bluff top overlooking Minnehaha Creek.
The original owner, an architectural writer, lavished praise on its compact rooms and bucolic setting in Better Homes and Gardens and The Small Home magazine in the 1920s and '30s. When Todd Hansen and Christine Albertsson, the husband-and-wife team behind Albertsson Hansen Architecture, owned the house in the 2000s, they added a creek-side tower that holds a kitchen, master suite, and lower-level studio. The 1,000-square-foot addition garnered both local and national press—including, yet again, Better Homes and Gardens.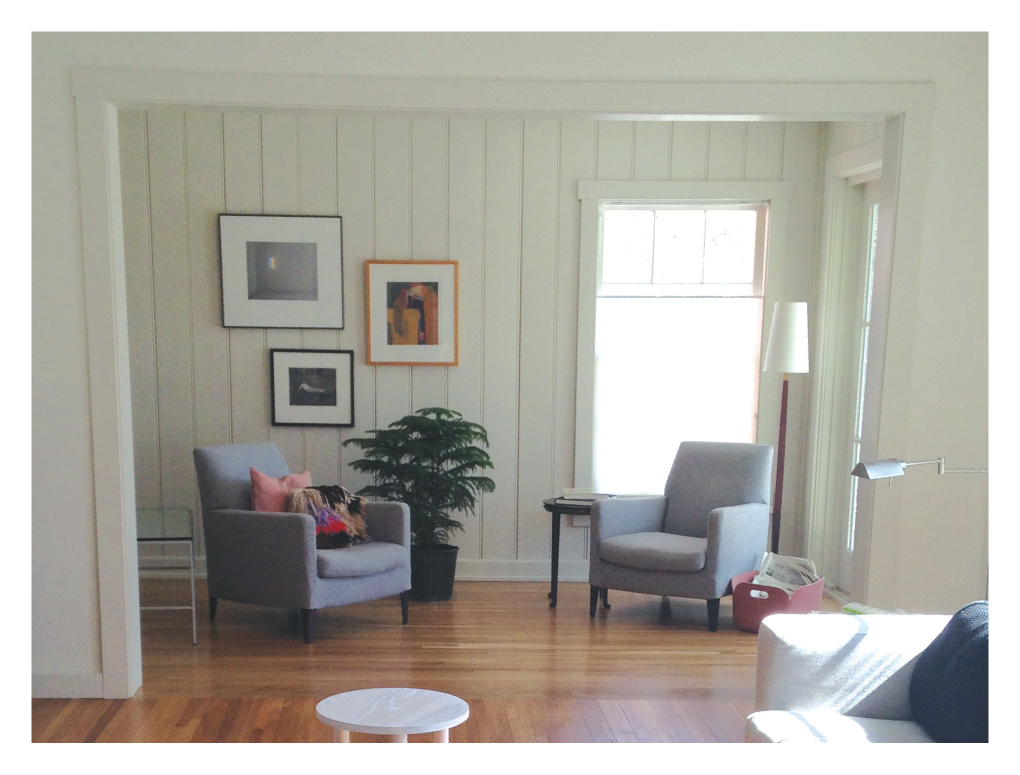 Library before redesign
Now, with the help of interior designer Brooke Voss, the new owners are transforming the interior to fit their style. Calmenson, former VP of student affairs at Minneapolis College of Art and Design, and Leo, a photographer and professor at the school, wanted their home to be spare and simple, but they needed space to store books and display pottery, photos, and assorted family treasures. The window-surrounded end of the living room (a porch in the original house and the Albertsson-Hansen family's music room) is the first redecorated space completed. "We were starting to envision this, but we just couldn't get ourselves there," says Calmenson.
Voss tuned in to the couple's aesthetic, creating a coolly serene library that is both functional and chic. She used Benjamin Moore's Decorators White in Satin Impervo on the bead-board walls and the same color in matte on the ceiling and continued the wood floor of the rest of the main level into the space. She recruited Doug Steven of Steven Cabinets to create the five-tiered shelving that wraps the room, even running along the top of the window—a custom detail she envisioned.
The latest owners will continue putting their own stamp on the house while appreciating the work of those who preceded them. "So many serious, thoughtful people have worked on this house," observes Calmenson. "Brooke brought in craftsmen and makers who take pride in the work they do. That felt just right for us."
Interested in learning more about the past history of this house? Read The Small Home.
By Chris Lee
Photos by Corey Gaffer
Interior Design: Brooke Voss Design
Builder: Doug Steven, Steven Cabinets