Minny & Paul's "Pamper Box," available at this weekend's Rummage pop-up market
by Jahna Peloquin (image courtesy Minny & Paul)

Fall Nicollet Makers Market:
The organizers of the St. Paul Craftstravaganza and the Minneapolis Downtown Improvement District are behind this semi-annual event, which features handmade goods from more than a dozen top local makers. Shop Christopher Straub's children's books and plush animals, Idlewilde's natural soy wax candles, Bodylish bath bombs and lotion bars, Mademoiselle Miel chocolates, Elixery's vegan lipstick, and more. The event coincides with 2 | 4 Tuesdays, a happy hour featuring street performances, fitness workshops, and drinks, with deals at Brit's, Brasa, the Local, and other bars in the area. Tuesday, Sept. 25 from noon-6 p.m. (happy hour is 4 to 6 p.m.) @ Nicollet Mall between 8th and 10th Streets, Minneapolis, facebook.com/MinneapolisDID
ASID MN Sample Sale:
Save 50 to 80 percent off luxury furnishings, designer furniture, and one-of-a-kind home décor during ASID MN's annual sample sale. The popular event features high-end lighting, rugs, fine original art, designer furniture, and a variety of home décor sourced from Twin Cities area design showrooms and galleries. Free admission and parking; credit cards only. Friday, Sept. 29 from 9 a.m.-6 p.m. & Saturday, Sept. 30 from 10 a.m.-2 p.m. @ International Market Square, 275 Market St., Ste. 160, Minneapolis, mn.asid.org
Rummage 2017:
Returning for its second annual edition, Rummage features a handcrafted goods market from more than 100 local and national makers, who will offer exclusive deals during the event, plus craft beer, family-friendly activities, live music, and fair-inspired food. Vendors include Fjällräven, Sanborn Canoe Co., Samantha Longley Clay, Minny & Paul, Larissa Loden Jewelry, Martha McQuade's ScarfShop, J.W. Hulme Co., and more. Get a preview of goods and special offers on the MNMO Style blog. Day passes can be purchased online at rummagemn.com for $8 in advance or for $10 at the door. Kids under 14 are admitted free. Friday, Sept. 29 from 4 p.m.-10 p.m. & Saturday, Sept. 30 from 10 a.m.-10 p.m. @ West End Market of the Minnesota State Fairgrounds, 1839 Dan Patch Ave., St. Paul.
North Loop Fall Boutique Crawl:
Join the shops of the North Loop for the fifth annual fall boutique crawl. Shop for the chance to win raffled prizes and enjoy special discounts from participating shops including MartinPatrick3, russell+hazel, Cooks of Crocus Hill, House of Talents, Wilson & Willy's, and more, plus enjoy food from food trucks. Afterward, head to an after party hosted by Hewing Hotel for Nordic-inspired hors d'oeuvres sponsored by 222 Hennepin Apartments, a "North Loop" specialty cocktail available for purchase, and raffle winner announcements (7-9 p.m. @ Hewing Hotel, 300 N. Washington Ave.). Visit the Facebook page for additional details. Saturday, Sept. 30 from 10 a.m.-7 p.m. @ North Loop in Minneapolis
Minnesota's Fall Antique Spectacular:
Shop vintage and antiques from more than 100 exhibitors during this semi-annual show, which has tane place in Minnesota for nearly 30 years. Goods include furniture, collectibles, pottery, china, rugs, glassware, clocks, toys, vinyl, signage, and advertisements. Admission ($7 general, $20 early buyer) is valid both days. Saturday, Sept. 30 from 8 a.m.-5 p.m. & Sunday, Oct. 1 from 10 a.m.-4 p.m. plus Friday, Sept. 29 from 8 a.m.-5 p.m. for early buyers @ Minnesota State Fairgrounds, 1265 Snelling Ave. N., St. Paul, mnantiqueshows.com
Minnesota Arboretum Fall Harvest Festival:
Enjoy a date of fall festivities on the Minnesota Arboretum grounds during its annual Fall Harvest Festival. The event includes family-friendly activities, an Instagram booth, apple tastings, live music, tastings with local breweries and City Girl Coffee, a corn roast, fall-inspired food, and a marketplace featuring more than 20 local crafters and artisans. This event is free with Arboretum admission ($15 for visitors 16 and up, free for kids). For a full list of makers and activities, visit arboretum.umn.edu. Saturday, Sept. 30 from 10 a.m.-5 p.m. Minnesota Landscape Arboretum, 3675 Arboretum Dr., Chaska, 952-443-1400
North Star Lily Society Bulb Sale:
Join the North Star Lily Society for its annual fall bulb sale. Shop a wide selection of the popular shade-tolerant martagons, Minnesota Heritage Asiatic Lilies, Orienpets, and the shorter "pot" lilies. Arrive early for the best selection. Saturday, Sept. 30 beginning at 10 a.m. @ Bachman's, 6010 Lyndale Ave. S., Minneapolis, 612-861-7311, bachmans.com
Bachman's Fall Container Design Workshop:
Learn how to create a planted container showcasing the latest trends and best seasonal products from Bachman's Eden Prairie location during this workshop. Get tips and guidance from a Bachman's expert designer, who will demonstrate how to design and plant a container featuring autumn's best hues. The ticket cost ($50 for one container, $100 for two) covers all materials used in your take-home creation. Register at bachmans.com. Saturday, Sept. 30 from 10 a.m.-noon @ Bachman's, 770 Prairie Center Dr., Eden Prairie, 952-941-7700
Goldfinch Trunk Show:
View and shop the new fall collection from Minnesota-based brand Goldfinch during this trunk show event hosted by Khazana Imported Arts and Textiles. Founded as a line of artisan-woven blankets, Goldfinch now sells a mix of home and fashion items including shawls, pillows, napkins, hand towels, scarves, neckerchiefs, and throw. Goldfinch designers, Debra Herdman and Caroline Vaaler, will be on hand to talk about their process, including the work they do with artisans in Mexico and Nepal. RSVP to khazana@khazana.com to attend. Sunday, Oct. 1 from noon-5 p.m. @ Khazana Imported Arts and Textiles, 2225 Lyndale Ave. S., Minneapolis, 612-339-4565, khazana.com or goldfinchblankets.com
Wüsthof Epicure Sale:
Stock up and save 20 percent off on Wüsthof Epicure cutlery during the brand's fall sale at Cooks of Crocus Hill. The line's blades are crafted in Germany, with handles by Duluth-based maker Epicurean. Ends Sept. 27 @ Cooks of Crocus Hill, 877 Grand Ave., St. Paul, 651-228-1333; 208 N. 1st St., Minneapolis, 612-223-8167; and 324 S. Main St., Stillwater, 651-351-1144, cooksofcrocushill.com
The Knoll Sale & More at Design Within Reach:
Now through September 30, the new Design Within Reach store at Galleria is offering a special introductory offer of 10 percent storewide, and the Knoll sale is running now through September 26, featuring 15 percent off all Knoll products and free shipping. Get a first look at the new store on the Home Dish blog. Now @ 69th St. and France Ave., Edina, 952-920-0225, dwr.com and galleriaedina.com and dwr.com
ROAM Interiors Showroom Sample Sale:
Save big on showroom samples at modern furniture retailer ROAM Interiors, including pieces from B&B Italia, Cassina, Montis, Kartell, Flos, Bensen, and Tom Dixon. Ends Saturday, Sept. 30 @ ROAM Interiors, 2914 Hennepin Ave., Minneapolis, 612-377-6465, roaminteriors.com
Fall 2017 Parade of Homes and Remodelers Showcase:
Search for and explore the best remodeled homes in Minnesota during the Parade of Homes. Presented by the Builders Association of the Twin Cities (BATC), the 69th annual event highlights 406 new home and remodels from across the state, showcasing the latest in home features, finishes, products, and colors. All the homes are free to tour, with the exception of four Artisan Dream Homes and one Special Dream Home ($5 at the door). Proceeds from the Dream Homes go to the BATC Foundation to help them build and remodel homes for area families in need. Ends Oct. 1. For locations, visit paradeofhomes.org, or pick up a free guide book at Holiday Stationstores.
Pharmacie's Loll Designs September Sale:
Save 15 percent off all outdoor furniture by Duluth-based brand, Loll Designs, during Pharmacie's annual Loll sale, plus receive free shipping. Ends Sept. 30 @ Pharmacie, 2743 Lyndale Ave. S., Minneapolis, 612-200-9633, pharmaciempls.com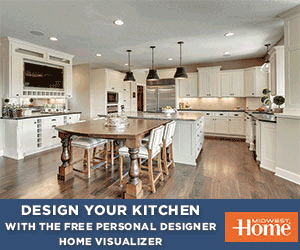 Facebook Comments