Local architectural preservationists aren't the only ones who lose battles with developers. Those hoping to keep intact The Four Seasons Restaurant, the New York landmark designed by Philip Johnson 1959, were forced to surrender earlier this year. Furniture, tableware, and a variety of objects designed by the famous modernist expressly for the iconic space will be auctioned off by Wright, July 26.
The auction comes after considerable dispute between the Seagram Building owner and the restaurant's owners, much to the dismay of architecture critics, preservationists, and architect Phyllis Lambert, who first convinced her father Samuel Bronfman—the founder of Joseph E. Seagram & Sons—to hire Mies van der Rohe to design the building and Johnson the restaurant. Rooms such as these "are gesamtkunstwerk, an all-embracing art that includes every aspect of the interior and the exterior architecture," wrote Lambert to the building's owner. "My plea is to keep in place the furniture designed by Mies van der Rohe and Philip Johnson, and therefore to maintain the authenticity of two of the world's greatest rooms."
All to no avail. The restaurant closed in its current location July 16th and will reopen at nearby 280 Park Avenue next year. A new upscale eatery will open in its former home.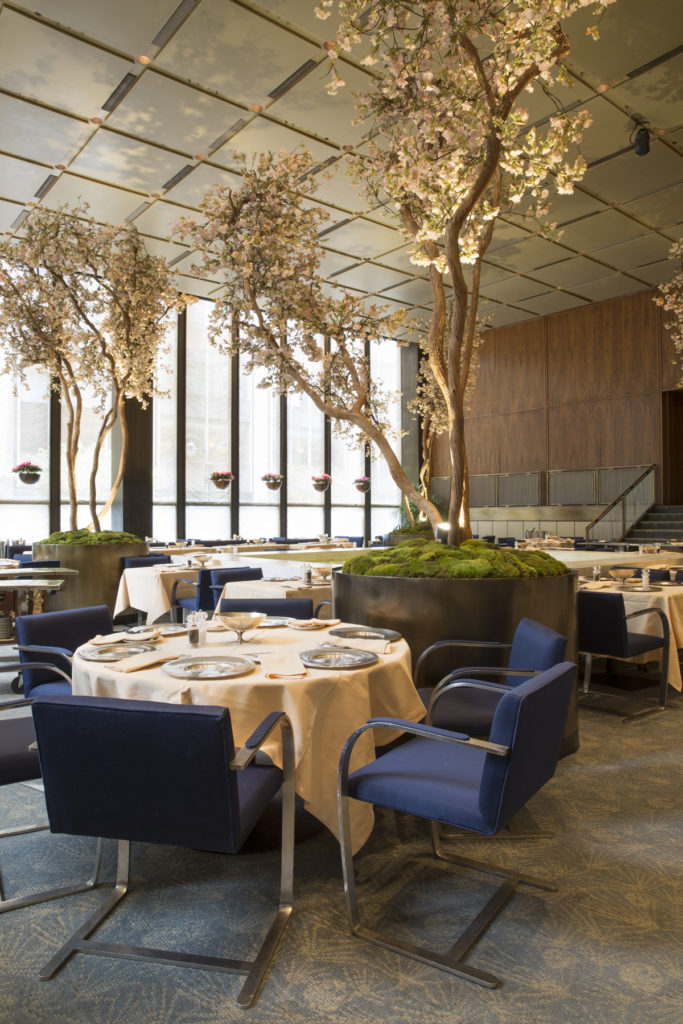 In the meantime, the grand old space will host the auction next week. All told, more than 900 lots will be offered for sale, including the Grill Room's famed banquettes, the original suite of Barcelona seating from the travertine lobby, custom Tulip tables with polished bronze tops, groups of custom Brno chairs, tableware, objects such as custom wine coolers, planters, serving carts, the bespoke pots and pans made for the restaurant, and even the illuminated sign over the entrance awning.
You don't have to attend in person to bid on a piece of a modernist history. You can register to bid by phone, online, or via the Wright Auction app.
By Chris Lee
Photos Courtesy of Wright
Pool photo by Jennifer Calais Smith