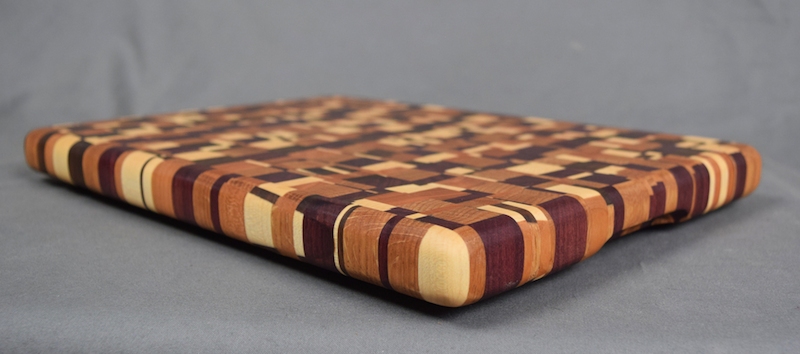 RFW Co.'s "Chaos" large end grain cutting board
Image courtesy RFW Co.
The maker movement is alive and well—and its Twin Cities epicenter might be the Hack Factory, a D.I.Y.-oriented, cooperative workshop in the Seward neighborhood of Minneapolis. It also happens to be where local woodworker Reed Wilkerson crafts his line of artisanal goods under the brand RFW Co. (short for Reed Franklin Wilkerson). This past weekend, the self-taught craftsman launched a website for the brand and debuted a handful of new products on invite-only online marketplace Amazon Handmade, Amazon's answer to Etsy.
Late last year, Wilkerson—who has been selling handmade goods on Etsy since 2014—received an email from Amazon inviting him to join its maker-oriented e-commerce site, which launched last October. He couldn't pass up the opportunity. Makers have a lot to benefit from selling on Amazon, he says—not only does it expose their goods to Amazon's pool of 244 million active users, they also handle shipping, returns, and customer service, and house inventory—which is a big deal for one-man shows like Wilkerson. Plus, Amazon Prime members can take advantage of Prime's free, two-day shipping.
Like many makers, he started his business accidentally—and by necessity—two years ago. "I needed a guitar stand that could hold multiple guitars but didn't have the money to buy one," says Wilkerson, who's also a local musician. (Those who follow the local music scene may remember him as the long-haired, tattooed, and oft-shirtless former frontman for the Japhies and Black Church Service.) He took what little he remembered from high school workshop class and made a crude version of the stand out of a wood pallet, which he posted on social media. The next thing he knew, his musician friends were placing orders. "I obsessively read everything I could, watched every YouTube video available, and asked questions to anyone who seemed to know what they're doing," he says. "I learned the craft by simply doing, making, and relishing every mistake as a learning tool."
Jahna Peloquin
Wilkerson at work at the Hack Factory
Since then, he's been tapped to construct custom furnishings and pour-over stands for Five Watt Coffee (which will be available for sale exclusively at the coffee shop by next week), tables for Fulton Brewery's taproom, and a collapsible stage for the Aster Cafe. His "Chaos" cutting board, which debuted in January, is his first entry into the luxury home goods market. The intricate boards are painstakingly crafted over the course of 40 to 50 hours with at least five different species of hardwoods, seamlessly pieced together in an abstract pattern—no two are alike. Because of the lengthy, elaborate process and high-quality materials, the boards are not cheap—a small board goes for $135 and a large is $190—though he recently added a more traditional butcher's block at the relatively accessible price point of $80.
Why go through such a time-demanding process? I ask.
"Because I'm crazy," he jokes. More seriously, he explains, as only a musician could: "To put it in terms of music, cutting boards are like your three-chord songs—it's kind of like your basic woodworking piece. And so I'm taking that ten steps further into a piece of artwork that's also useful. It bridges form and function, fine art and blue collar. It's no longer just something you cut your meat on."
Shop RFW Co. products on rfw-co.com and Amazon Handmade.
Courtesy RFW Co.
RFW Co. "Chaos" End Grain Cutting Board (Small)
Courtesy RFW Co.
RFW Co. Walnut & Maple Butcher Block
Courtesy RFW Co.
More behind-the-scenes with Wilkerson at the Hack Factory as he works on his "Chaos" boards:
Jahna Peloquin
Jahna Peloquin
"Chaos" boards in their infancy:
Courtesy RFW Co.
Courtesy RFW Co.
By Jahna Peloquin