MidModMen + friends is a different sort of classic furniture shop. And you know it as soon as you walk into the University Avenue storefront: Not only are the offerings selected and immaculately restored with a discerning eye, all is arranged in pleasing vignettes (no tripping over random end tables or giant sofas here). Another sure tip-off: There's no fusty l'odeur de antiques.
"We're running more of a curated experience," says owner Neal Kielar. As one of the MidModMen (his life and business partner Jon Mehus is the other), he's very particular about the condition of the wares. Every piece of furniture the store sells is refinished (if necessary), restored as nearly as possible to its original finish, or rejuvenated with a thorough cleaning and oiling. Upholstered pieces also get custom rework, with fine textiles selected by Kielar or customers themselves.
MidModMen evolved from a hobby to a second career for both partners. "I refer to it as an accidental business," says Kielar. "I was working for a TV production company, always in New York or LA. When my partner and I moved from a townhouse in Minneapolis to a modern house in Golden Valley, we had all this furniture that was perfectly nice furniture, but just didn't fit the place."
They started looking for classic modern pieces for their own home and selling additional finds—after Jon refinished them—out of their home. "We found we were quite good at it," Kielar says. Soon they decided, along with a couple of friends, to open a pop-up shop in their current location. They'd "see" how it went.
That was September 2012. Since then, MidModMen + friends has evolved from a weekend venture to a shop open four days a week. Thursday through Sunday, you'll find Kielar's merchandising savvy on display: He rearranges the pristine classic pieces weekly, adding new case goods, chairs, sofas, rugs, lighting, and artwork—putting all in context so it's easy to see the possibilities. He wants you to fall in love before you buy something—no settling, as he says. "We'll get more in next week! I want you to get a coffee table that you're like, 'I'm going to write a poem about that coffee table!' That's the one I want you to get."
His enthusiasm extends to the provenance of many of the pieces he sells—like the pair of distinctive Foster-McDavid chairs currently on the floor. These took a circuitous route from Florida to Milwaukee to Minneapolis via a friend of the shop. Now completely restored, re-caned, and reupholstered in a textured, lime weave, the pair is currently for sale in the shop.
Kielar's latest venture at MidModMen is a series of showcases, "Future Heirlooms," each featuring the work of an established or emerging artisan or artist. "When people think of heirlooms, they imagine objects from the past that have been passed down to them," Kielar explains. "Our intent is to introduce finely made goods and art being created right now that's worthy of passing along to subsequent generations."
The inaugural showcase opens August 12. "Future Heirlooms: A Rhythmic Dance of Threads" features Madeline Larson, a young weaver Kielar discovered at the American Craft Council show in April, where he designed a room vignette. Larson, a recent graduate of the University of Wisconsin-River Falls, uses hand-dyed wool to create colorful and complex rugs and wall hangings; each piece is one of a kind. All works in the showcase are available for purchase.
Larson will be in the store August 12 and 13 to meet customers and talk about her inspiration and process, and also to offer insights into individual pieces. Her work will be on display through September at MidModMen+friends, 2401 University Ave., St. Paul, during store hours, Thursday through Sunday, 11 a.m. to 5 p.m.
By Chris Lee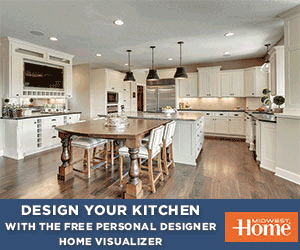 Facebook Comments