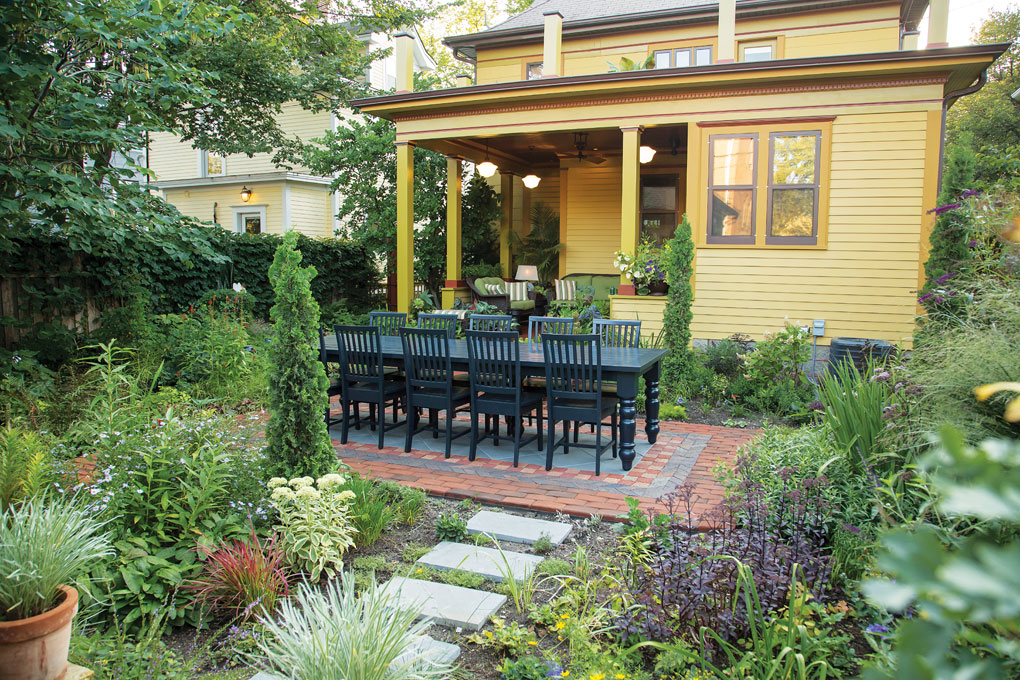 Fitzgerald and partner John Evans often entertain at the custom table in the outdoor dining room, which is neatly defined by its brick "carpet."
If you didn't know that Frank Fitzgerald is a landscape architect, you'd probably guess it from the gardens that surround the Minneapolis home he shares with his partner John Evans. Everywhere you look, from the front yard to the back, spaces are artfully connected visually and physically. Plant choices subtly connect the beds, as do the repetition of stones and pavers and the colors of the house, which appear on the front steps and side-garden entry columns and fence.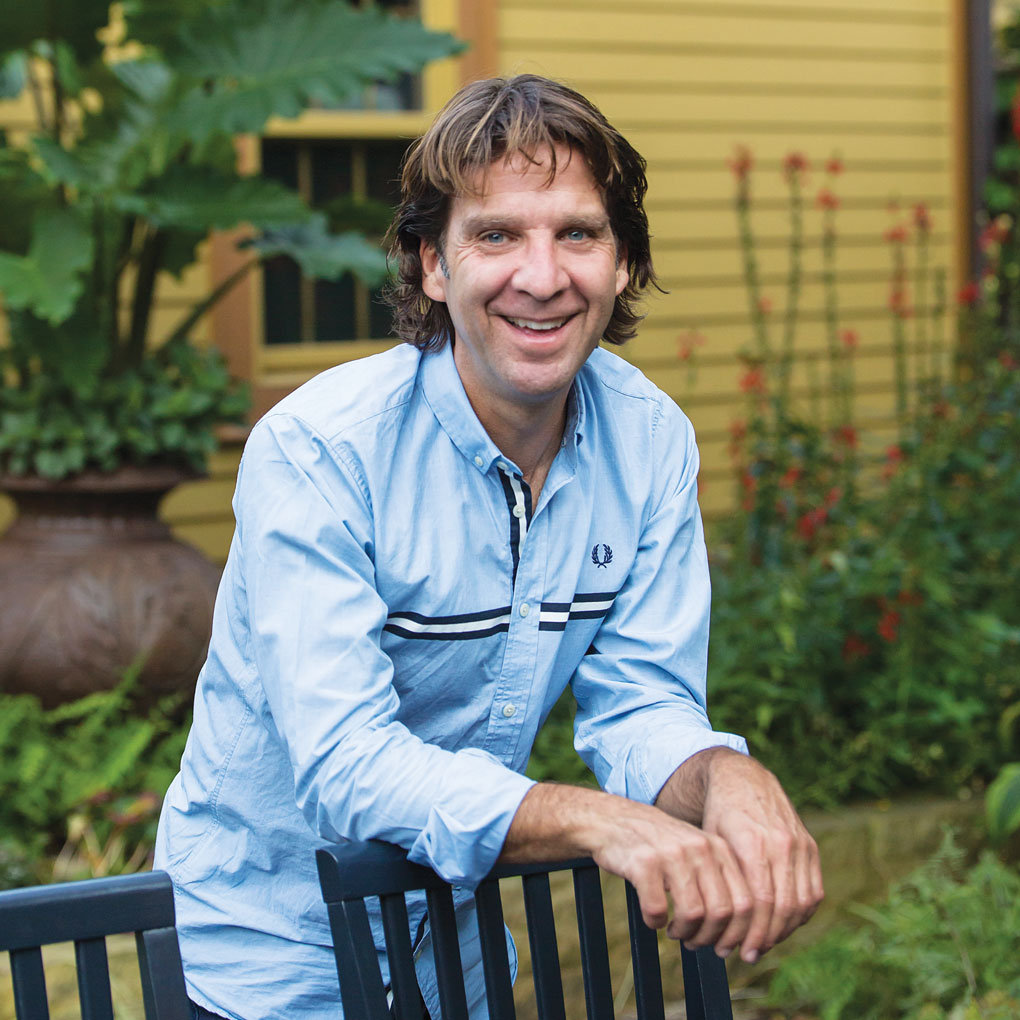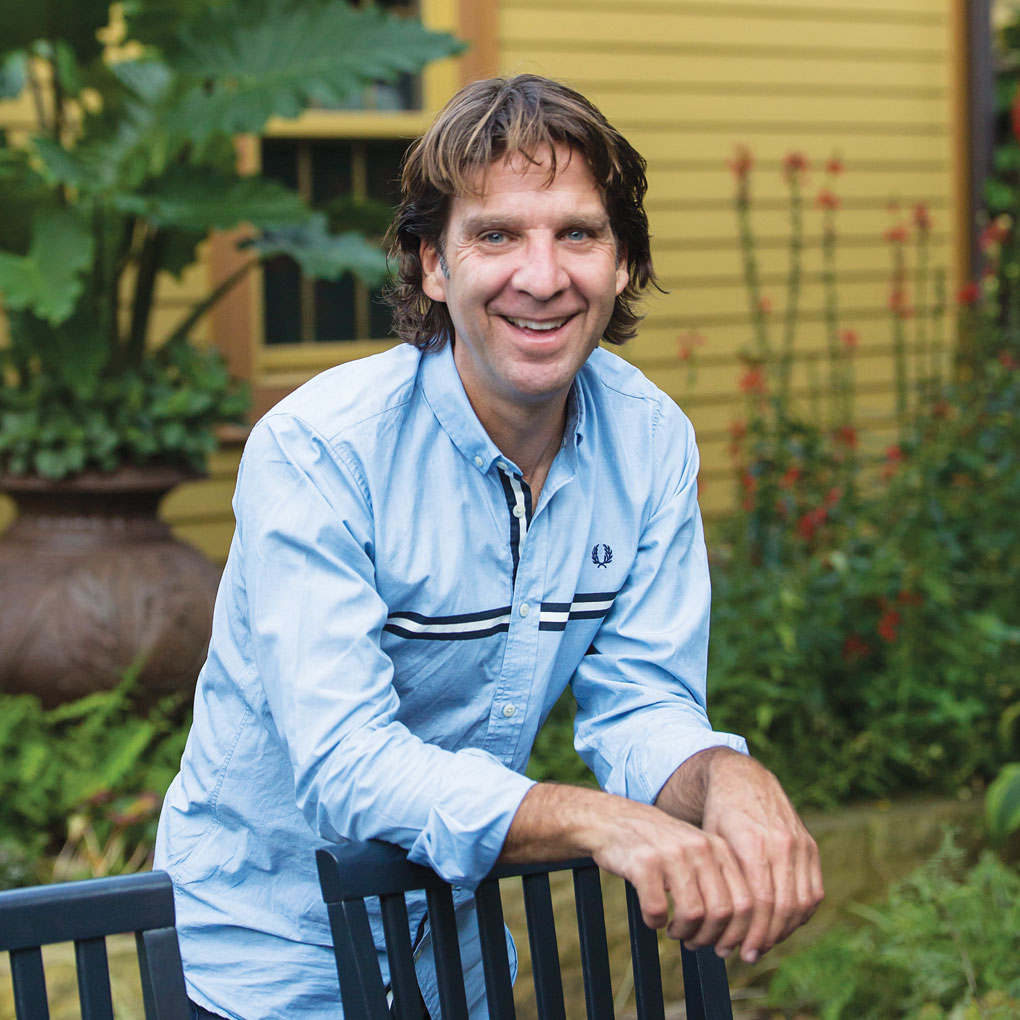 Frank Fitzgerald is a landscape architect and plant collector.
While acknowledging that the idea of creating outdoor "rooms" gets talked about a lot, Fitzgerald believes it is a good thing to keep in mind when designing garden spaces. At his own house, this is most evident in the backyard where a newly finished back porch opens up to a small patio patterned to create a kind of brick carpet beneath a custom-made table, where they often eat with friends. "We wanted to have a big table, and I ordered the legs from the same company that made the legs for our dining room table, so there is a relationship between inside and out," he says. "As a landscape architect, I really do look at the garden as an extension of the house." His goal, Fitzgerald explains, is always to create garden spaces that can stand alone while also making sense as a whole.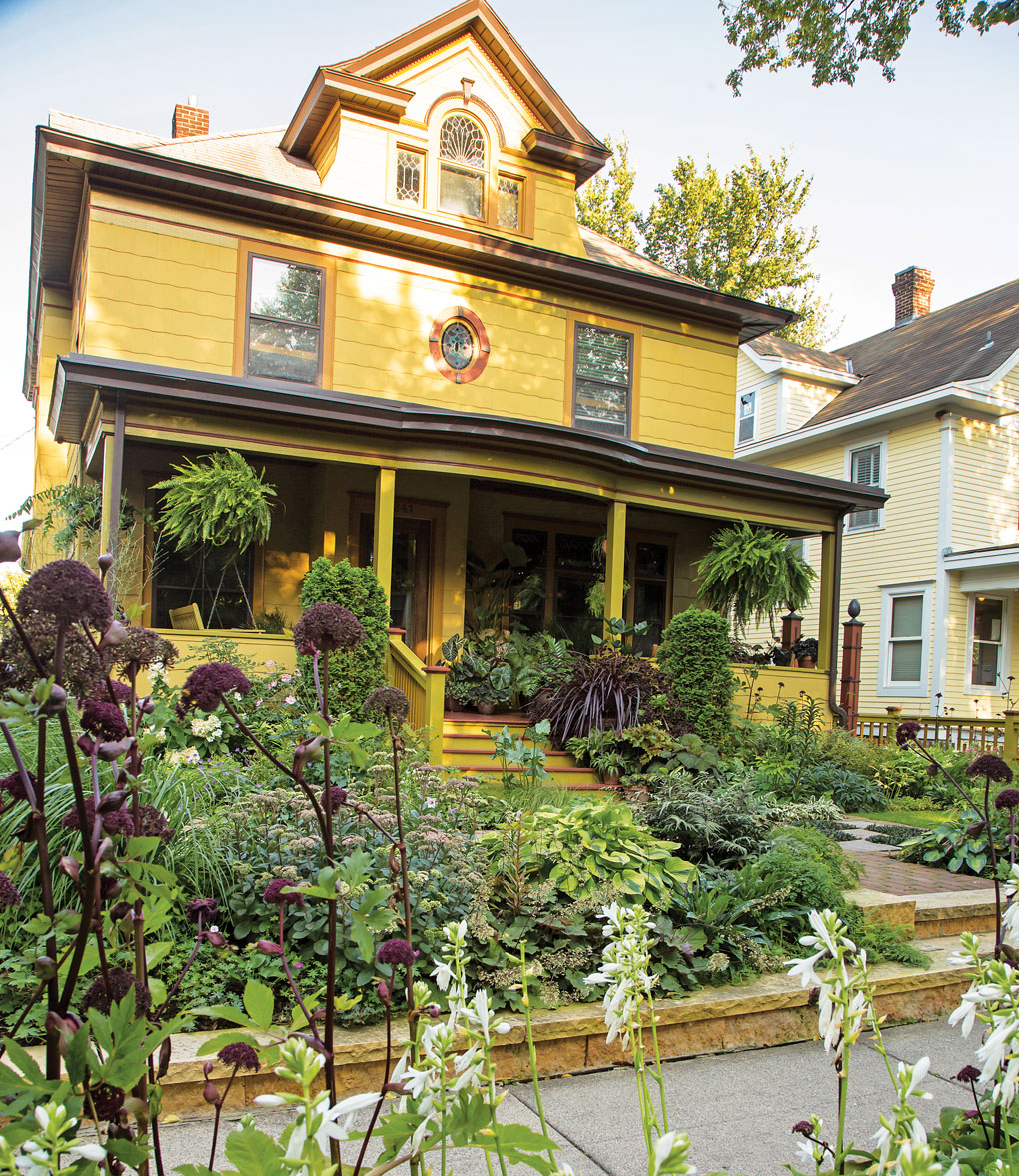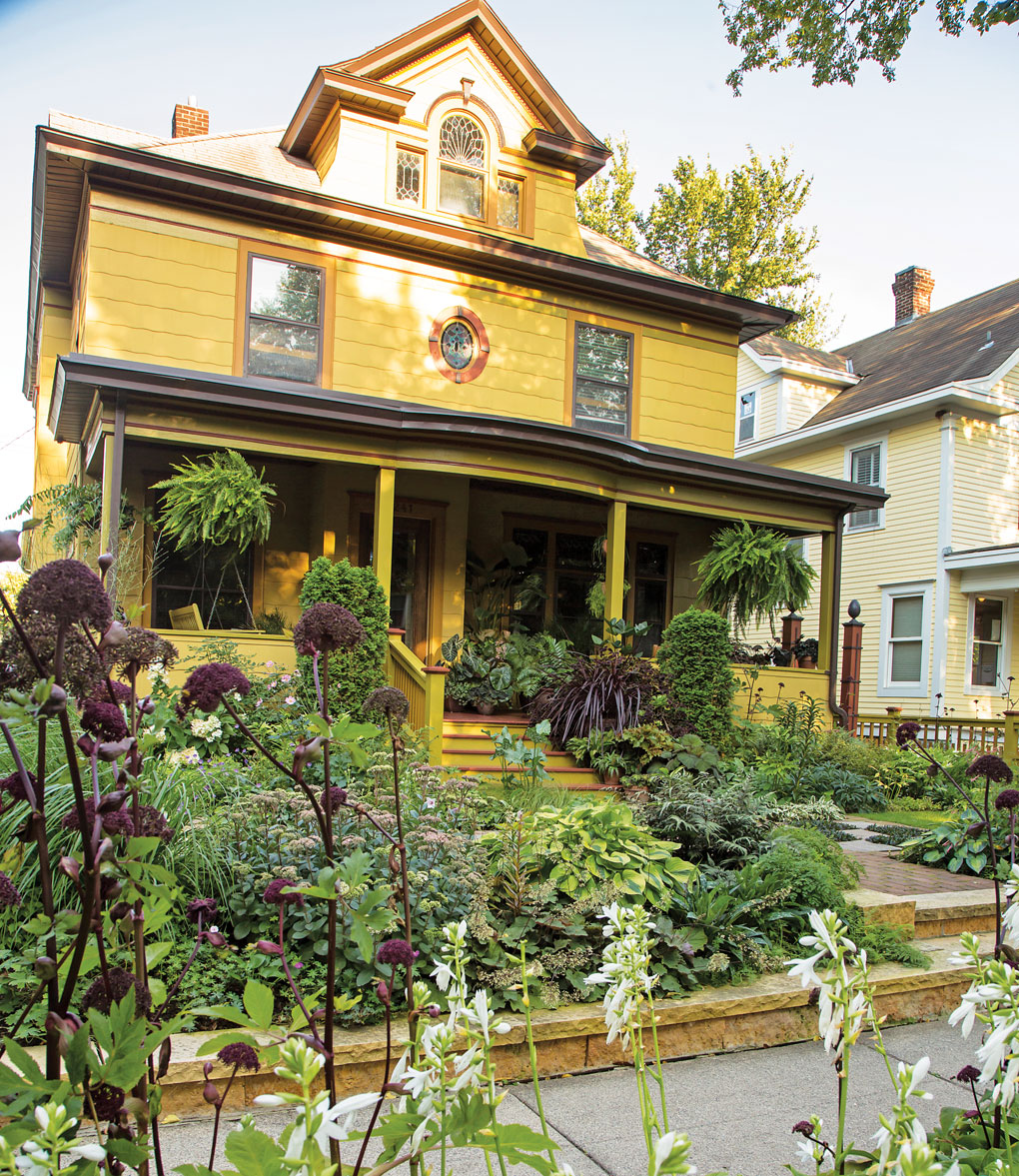 The boulevard's hosta 'Royal Standard' and Agelica gigas lead to the free-flowing front yard, planted with hosta 'Luna Moth', sedum 'Maestro', Cordyline Festival grass, and more.
To pull this off, there's just one thing Fitzgerald needs to keep in check: his love of plants. "I am a plant collector," he admits, laughing. "And that could really be a problem in a small yard like this where things could look chaotic quickly." So though he enjoys plant shopping, Fitzgerald is thoughtful about the way he designs garden spaces. Free-flowing areas like the garden bed next to the front porch contrast well with the simple, geometric layout of the nearby walkway that features alternating squares of stone and ajuga 'Chocolate Chip', a lush groundcover that blooms in late spring.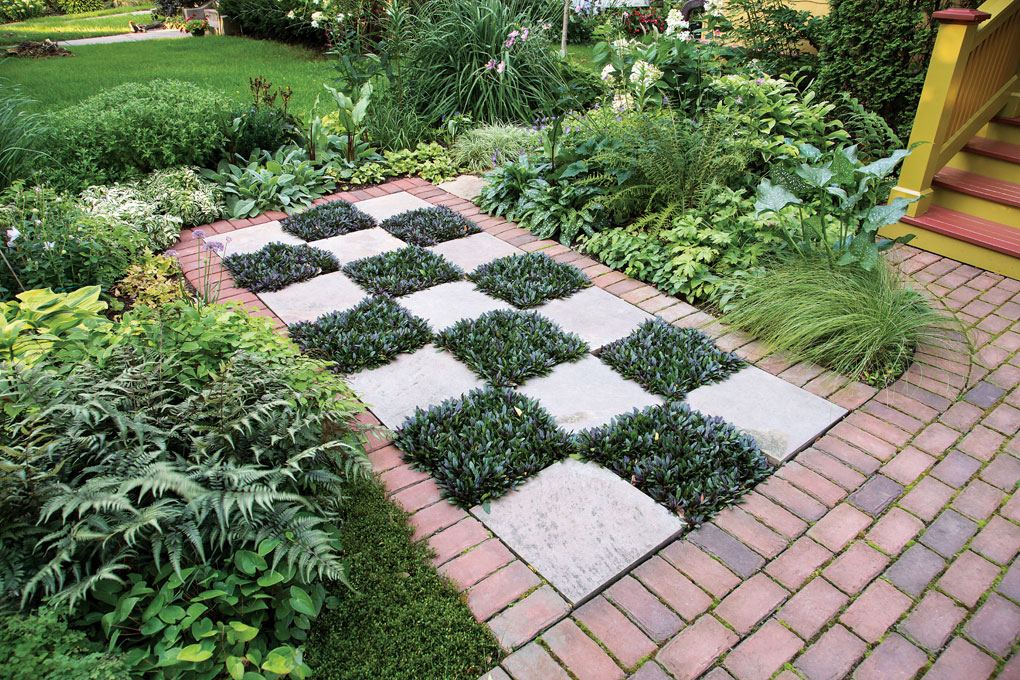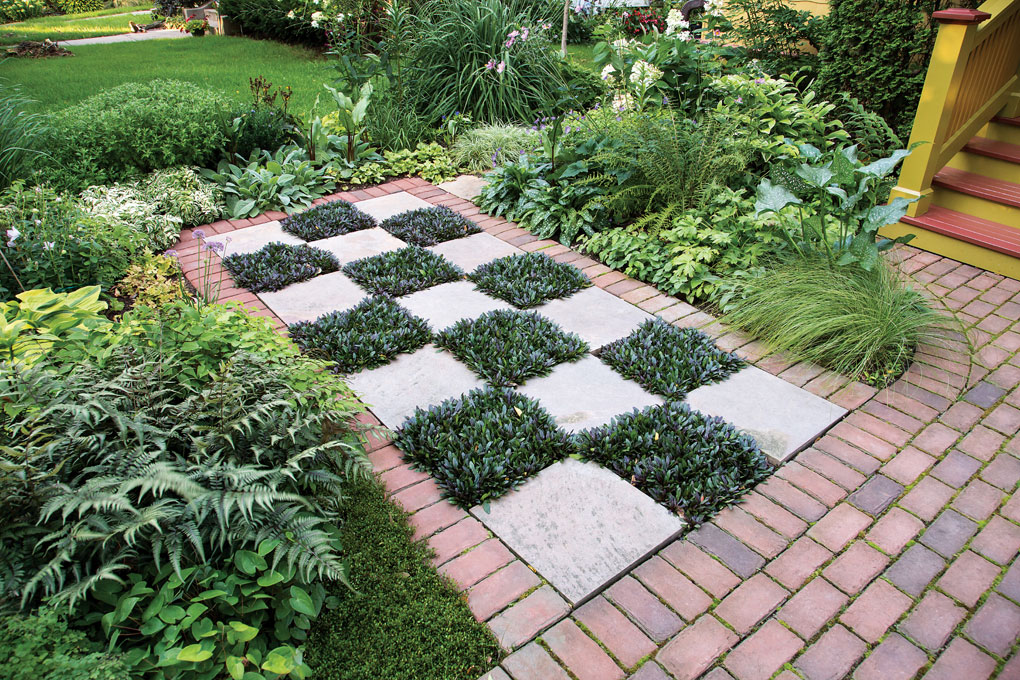 The geometric layout of the walkway features stone and ajuga 'Chocolate Chip'. 
Because flowers are fleeting, Fitzgerald often uses blooming perennials as accents while relying on combinations of plants with interesting foliage to be the focal point most of the time. In the shady garden that runs along the side of the house, for example, he brightens things up by combining plants with chartreuse foliage with those that have dark, almost-black foliage.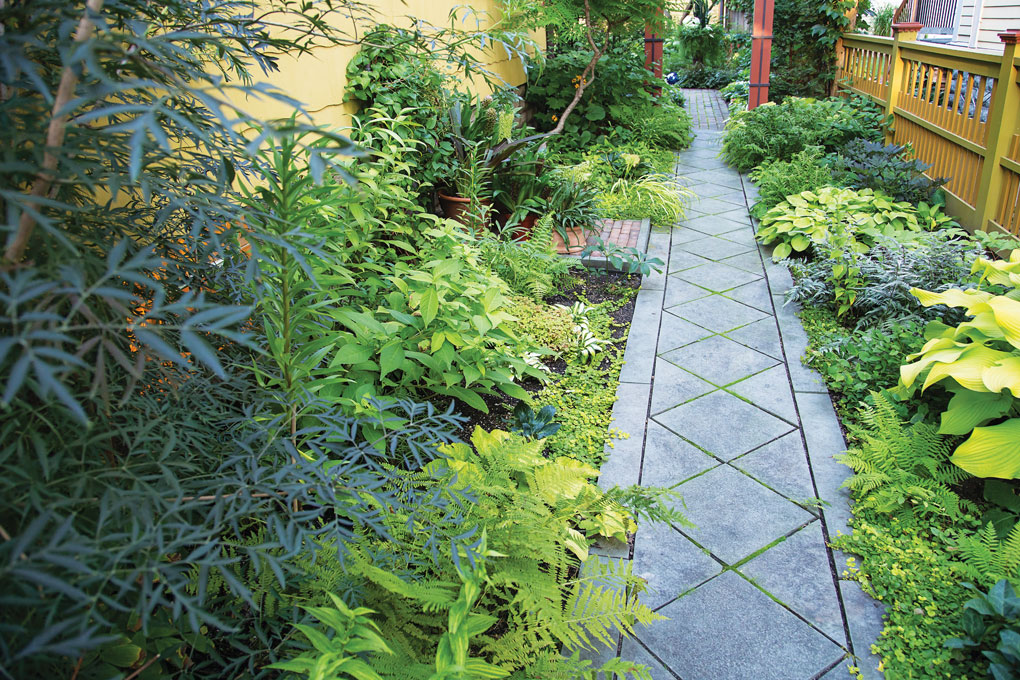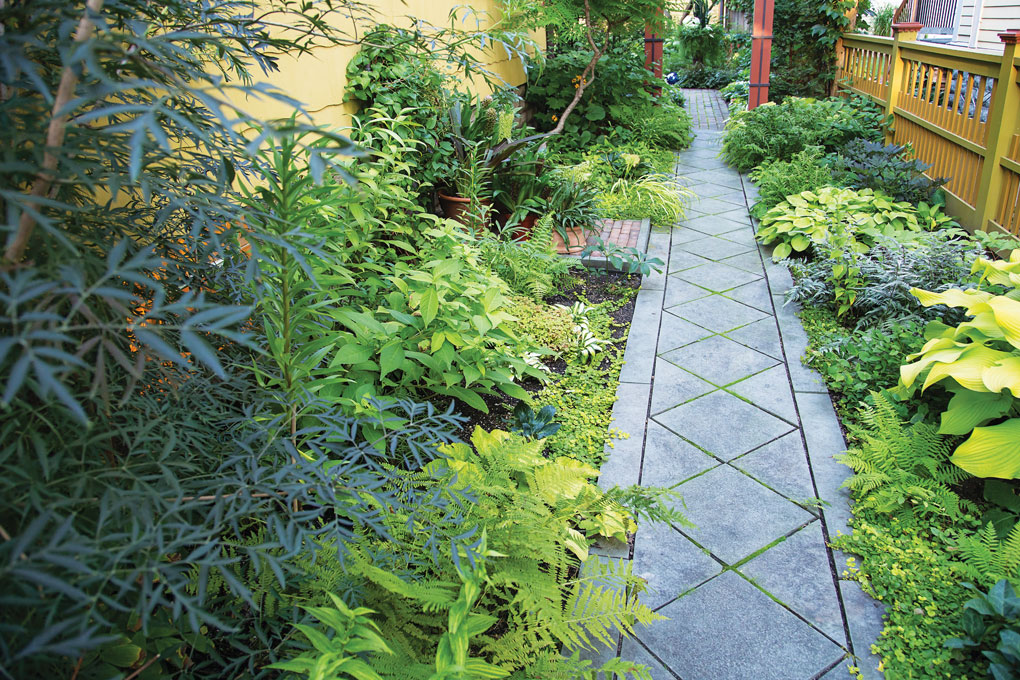 Foliage lining the walkway to the backyard ranges from chartreuse to emerald.
Particularly noteworthy are the pairings of hostas 'Sun Power' and 'Fire Island', as well as Japanese Forest Grass (Hakonechloa macra 'Aureola') with the dark purple-black leaves of Ligularia 'Britt-Marie Crawford' and the shrub Black Lace Elderberry. Bright green airy ferns like Athyrium filix-femina 'Encourage' and Dryopteris filix-mas 'Parsley' provide a texture contrast, while Martagon lilies, which will bloom in the shade, offer a splash of orange when they bloom in mid-June.   
While Fitzgerald's talent for combining plants gives his gardens an almost painterly feel, perhaps more striking is the number of plants that leave even experienced gardeners scratching their heads thinking, "What is that? I want it." Epimediums, with their delicate flowers of varying colors and heart-shaped leaves, are an obvious favorite and can be found in several different beds. "I like them because the blossoms are charming and the foliage looks good all season," he says, adding that some of the epimediums are hybrids he selected over time from seedlings gathered from his own gardens.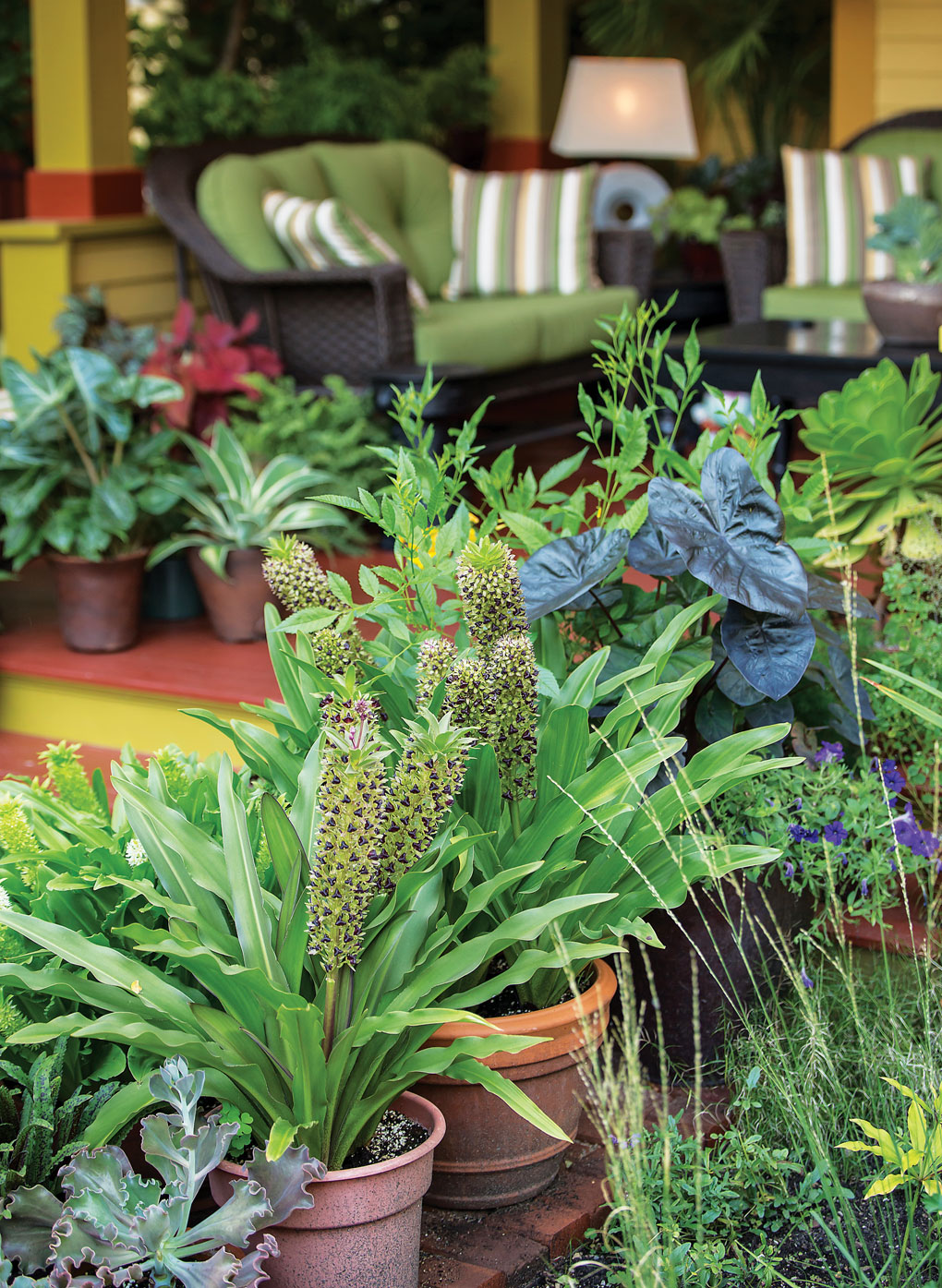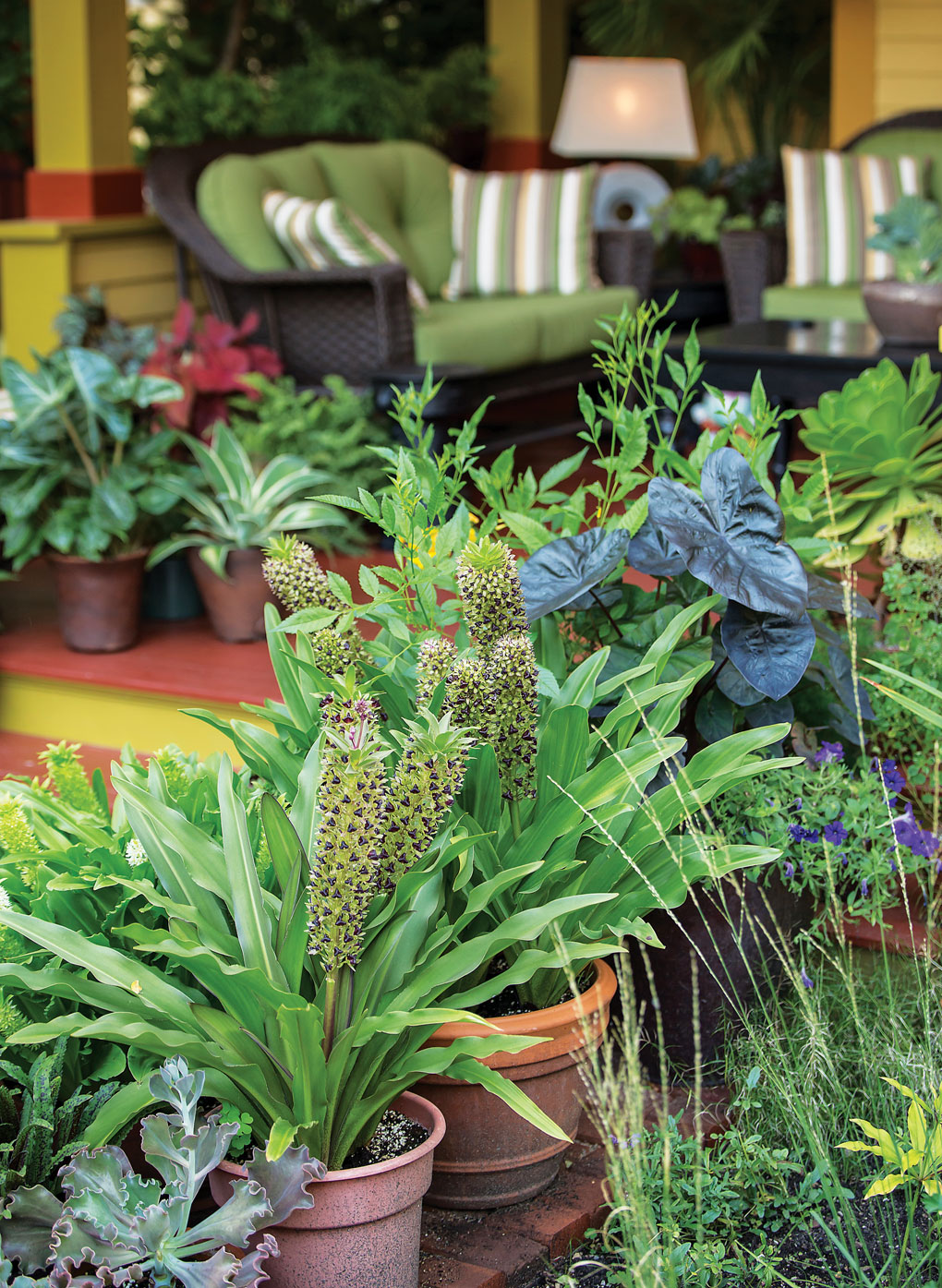 Planters along the front porch steps hold various cultivars of pineapple lilies and a deep purple  Colocasia 'Kona Coffee'.
Ferns, which Fitzgerald calls an "obsessive love," are also in abundance, particularly his favorite, Athyrium 'Branford Beauty', a hybrid of Japanese painted fern and lady fern with silver/gray foliage. Other standouts are: Athyrium filix-femina 'Victoriae', Athyrium filix-femina 'Dre's Dagger' and Japanese painted ferns 'Burgundy Lace' and 'Regal Red'.
Those who think there are only a couple of varieties of Solomon's seal will find Fitzgerald's gardens eye-opening. Beloved for their durability and foliage, which looks great all season, most of his favorites he has purchased online. Numerous varieties of solid green Solomon's seal, which Fitzgerald considers "delightful workhorses" in the garden, can be found in several spots. But he is partial to newer variegated varieties such as 'Angel Wings', 'Doublewide' and 'Double Stuff', which have much more white in their leaves than typically available variegated Solomon's seal.
Like all gardeners, Fitzgerald is constantly looking at and tweaking things in his gardens. To help make way for new plants, he hosts a plant sale every spring. Friends, neighbors, and savvy gardeners line up early on the third Saturday of May (mhmag.com/mayevents). As you might imagine, plants go fast.
---
Plants by Mail
Looking for new or unusual plants? Local nurseries are a great place to start, but you may need to shop online to find a breadth of varieties to choose from. Some of Frank Fitzgerald's favorite mail-order nurseries:
Far Reaches Farm: farreachesfarm.com
Garden Vision Epimediums: epimediums.com
Plant Delights: plantdelights.com
Edelweiss Perennials: edelweissperennials.com
Soules Garden: soulesgarden.com
Lazy S'S Farm Nursery: lazyssfarm.com/storefront.htm
Klehm's Song Sparrow Farm and Nursery: songsparrow.com
Fraser's Thimble Farms: thimblefarms.com
Forest Farm: forestfarm.com
By Meleah Maynard. Photos by Tracy Walsh