The Minnesota State Fair provides endless amounts of food on a stick and entertainment—also inspiration and products to improve your home and garden.
Eco-Experience
This huge exhibit, sponsored by the Minnesota Pollution Control Agency, includes information (and samples!), hands-on activities, demonstrations, and resources.
Discover energy-efficient home improvements. Find out how insulation and air sealing can make your home safer, more comfortable, cheaper to run, and kinder to the environment.
Learn about strategies for planting a more resilient yard. Native plants, turf alternatives, and rain gardens are just a few ideas that Blue Thumb can help you pursue.
Find the Eco Experience in the Progress Center, Randall Ave. and Cosgrove St.
Products and Services
Bever & Sons Landscaping offers landscape design and installation services in the Twin Cities. The company specializes in planting, retaining walls, and water features. Grandstand, upper level, east section
Carlota Gardens, based in Seymour, Indiana, sells Mexican artwork decorated in bright colors and patterns such as flowers, celestial figures, and animals. You'll find Talavera ceramic wall hangings and pots as well as garden pottery and decor and clay statues.West End Market, northeast section
Curb Creations creates custom concrete landscaping borders. Home Improvement Building, south center aisle
Golden Hammocks sells handmade Brazilian hammocks and hammock chairs that create the perfect way to lounge. Grandstand, lower level, northwest section.
Hanging Garden offers a wide variety of handcrafted terrariums, cacti,  succulents, and accessories such as stands, rocks, and seashells. International Bazaar, north wall.
Events
Educational Display: Pepper Passion. The Minnesota State Horticultural Society is providing an educational display located in the Agriculture/ Horticulture Building, led by Steve "The Pepper Guy", who will be discussing tips for gardeners of all skill levels.
MSHS Potted Plant Show. This event showcases unique combinations and plant collections, including common herbs, houseplants, hanging plants, and even some terrariums. August 24 and 25 in the Agriculture/ Horticulture Building.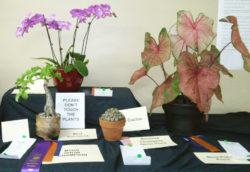 MSHS State Fair Gardens. The MSHS Adopt-A-Garden features perennials and annuals that provide color during the fall. The flowers are enhanced by a waterfall and bubbler fountain. To see the garden, come to the Agriculture/ Horticulture building.
Save
Save
Save
Save
Save
by Catherine Guden