Top row: Architecture by John Dwyer, photos by Chad Holder
Bottom row: Architecture by Michael Roehr of RoehrSchmitt Architecture, photos by Gilbertson Photography
Do we detect a trend? Yet another Scandinavian influence? In the past year, two modern homes by Twin Cities architects piqued our interest with their "flipped" or upside-down floor plans. Rather than programming the kitchen and living areas on the ground level—per tradition—these architects and their clients opted to put those heavily used gathering spaces on the upper level, in the treetops.
A quick Internet search revealed that the upside-down house is the norm in Scandinavia, in part because living the wrong way up can solve a host of problems. Elevating the living areas provides greater privacy (while increasing the amount of sunlight available through expansive windows), maximizes views (trees, lakes, woods) through those windows, and can even provide an urban loft-like feel to the home. Upper-level living spaces can also be conjoined with outdoor spaces to enhance the experience.
John Dwyer recently won his first AIA Minnesota Honor Award for a sleek, modern two-story home in the St. Anthony Park neighborhood of St. Paul that puts living spaces with panoramic views of an oak grove on the second level. There's an outdoor living area as well. "Those elevated indoor/outdoor living spaces reside in the oak canopy to the west," says Dwyer, principal of the Minneapolis firm Dwyer Oglesbay, or D/O, and chair of the architecture program at the Dunwoody College of Technology.
Michael Roehr, winner of Midwest Home's 2015 Emerging Talent Award and cofounder of RoehrSchmitt Architecture, first tried out the flipped plan on his own home in St. Paul. He turned a 1926 bungalow into a modern home with living areas on the upper level and bedrooms below. He did the same for a family who built a new home near Cedar Lake. In addition to providing his clients with lots of natural light, views and privacy, the upside-down plan "gives the owners a sense of prospect and refuge," Roehr told Midwest Home. "They have visual command of the environment, as they can see out more than people can see in."
According to an article in The Daily Mail, the upside-down plan originated in Australia. Homeowners wanting views of the sea, sunsets and sunrises, forests and even the golf course are opting for the topsy-turvy floor plan, according the article: "Why, when your home has great views from the upstairs floors, would you want to have your main living space downstairs? Yes, we spend a great number of hours in bed, but for most of that time we're all tucked up with our eyes shut." Upside-down homes are also becoming popular in the United Kingdom, the article continues. Why not in the Twin Cities as well?
By Camille LeFerve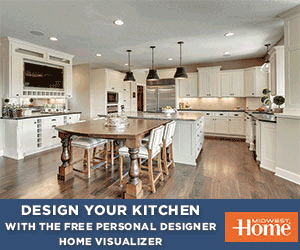 Facebook Comments