The dog days of summer are right around the corner (if not already here). Staying hydrated is critical to feeling your best and getting the most out of each day and drinking plenty of water is the best way to do it. Make it easy on yourself and your family by purchasing a good-looking beverage dispenser to fill with water, ice, lemon and cucumber slices, mint or other fresh flavors to set out on the counter each day as a reminder and enticement to have another glass.
There are plenty on the market in a range of prices and you can find a good basic dispenser for as little as $15, more stylish types for hundreds of dollars, and lots in between. Most are made from plastic or glass. Glass, though heavier and breakable, is superior to plastic in several important ways. Glass is cleaner. Its nonporous surface doesn't absorb food, germs and smells the way that plastic does and it can be safely washed at high temperatures. Plus, it just looks better—clear, sparkly and exuding good health. It's also important to get a dispenser with a good spout. The gold standard seems to be a metal spigot which is prized for its quality and durability, but can be tough to find at the lower price points. Some people switch out the plastic spigots that come with less expensive dispensers for stainless steel versions that are available for about $14 at Amazon. Having said that, some plastic spouts do get the job done. Make sure and read the reviews or ask for a demo to make sure it has a tight seal, doesn't leak, or have a finish that flakes off.  You also want to check that the mouth of the dispenser is big enough to get your hand in so you can give it a good scrub. Lastly, glass does sweat and the bottom can get a little slippery from condensation. This is easily solved by placing a towel or cork circle (like the kind you get at the garden center) under the dispenser.
Thrifty
This big, sturdy and just stylish enough glass dispenser holds enough for the daily recommended intake of water for nearly four people. No metal spigot but at $13.97, the price can't be beat. One and three-quarters gallons. At WebstaurantStore.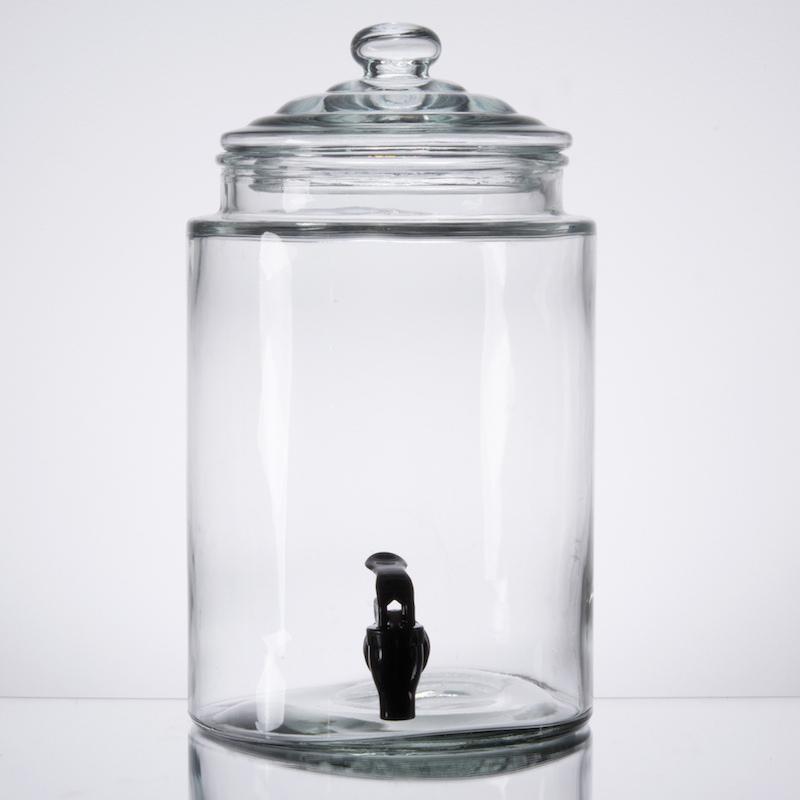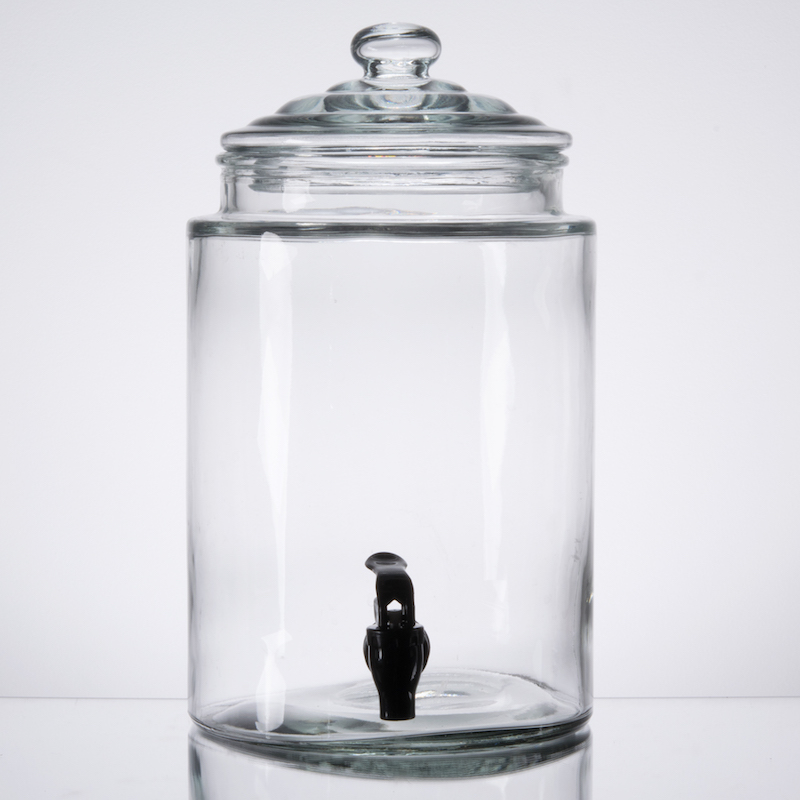 Moderate
A clamp lid makes this version more portable and the thick glass gives you confidence it won't break on the way to the picnic. This doesn't have a metal spout either but reviewers give it good marks for being drip-less. Two gallons. $36.99 From Amazon.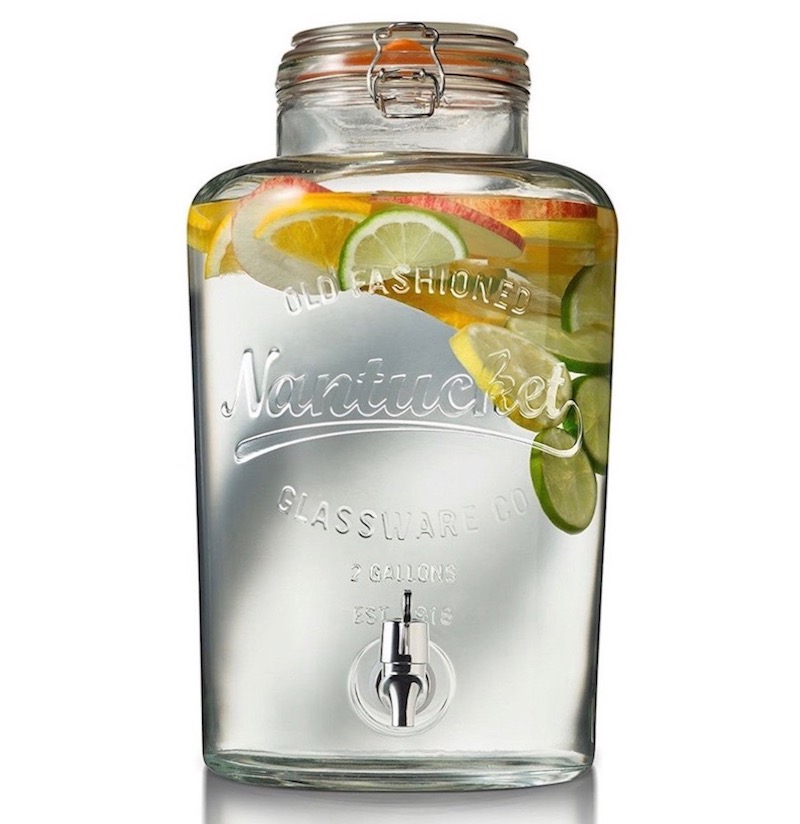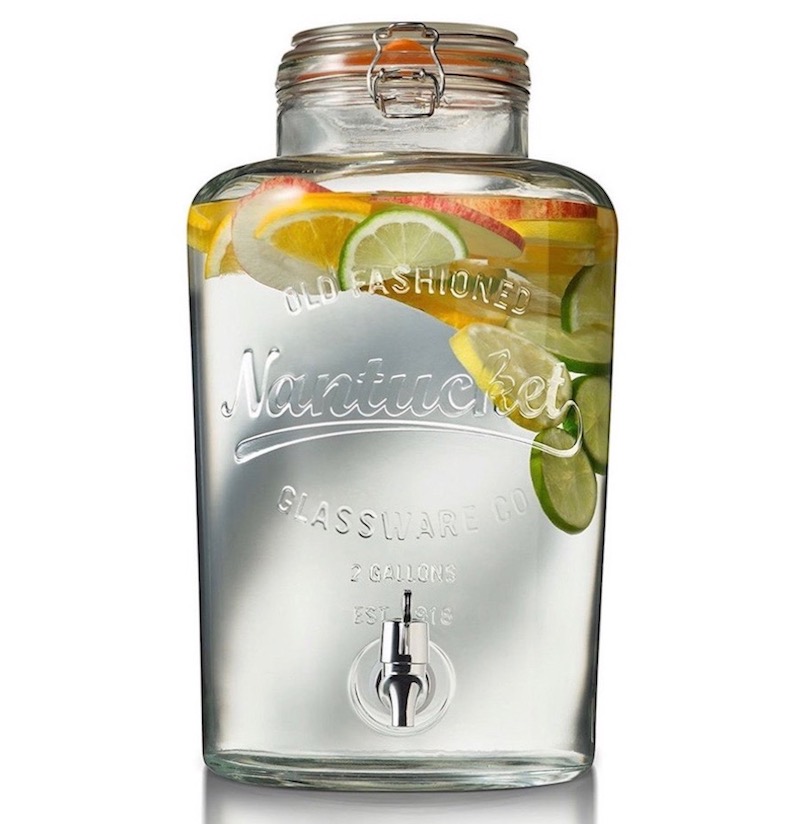 This vintage look dispenser has a snug fitting cork lid and the all-important yet somewhat elusive stainless steel spigot which makes it a great choice at a modest price. One gallon. $34.99 at Houzz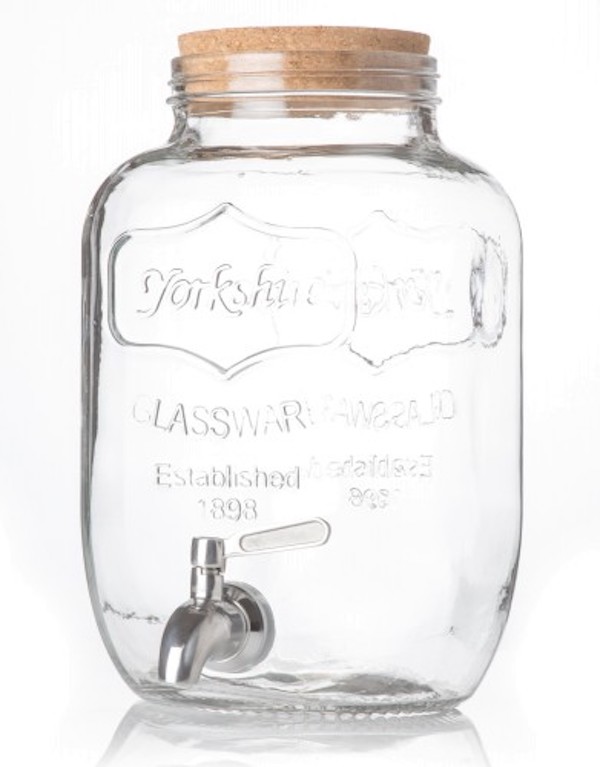 Splurge
A sleek profile, cylindrical shape and optional oak base make this dispenser modern and chic. Made from soda-lime glass (the same type of glass Pyrex is made out of), it holds about one and half gallons and has a metal spigot. $59.95 for dispenser, $119. 95 with base. From Crate and Barrel.
Brass, beechwood and glass make a sophisticated look in this model from Pottery Barn. The glass is a little more fragile than some other models so careful handling will be important but at least you won't have to worry about breaking the wooden lid. Holds about one and half gallons, has a stainless steel spigot and is definitely on the splurgy side at $149.
by Laurie Junker