One of St. Paul's most spectacular avenues is no longer punctuated by the dilapidated, condemned Clarence H. Johnston-designed home at 701 Summit Avenue. The 7,000-square-foot mansion has been fully restored by Spara Realty, via the company's Historic Hill Homes, LLC subsidiary, and will be open to the public for a special showing (staged with furnishings and accessories by Traditions Classic Home Furnishings) on Saturday, May 13th, from 12 p.m. to 4 p.m.  A suggested $5 per person donation at the door will go to Keys 4/4 Kids, a St. Paul nonprofit providing music and art programs for children.
For decades, the 1898 mansion, which Johnston designed for William Elsinger, co-owner of downtown St. Paul's Golden Rule (later Donaldson's department store), stood in disrepair. And yet, its architectural integrity, original floors, and woodwork were largely intact. "We thought it was beautiful and that it deserved someone to restore it to its original elegance," says Rob Glynn, vice president of sales and marketing of Spara Realty. Glynn also lives nearby.
For a year, Spara worked with local companies to restore the home's woodwork; refinish the hardwood floors; repair the windows and the clay-tiled roof; install new electrical, plumbing, lighting, and heating and air-conditioning; and pour a new driveway and sidewalks. The original servants' kitchen was expanded and fully equipped for the 21st century; the master bedroom was upgraded and a master bath added; and the exterior of the home tuckpointed and painted. We asked Glynn why he and Spara invested in restoring the six-bedroom, six-bath home.
What was so compelling about this house that you knew you had to save it? 
Without question, the architecture. This is clearly a special property, and the grandeur and details are amazing. Our real estate company, Spara Realty, is located in the same neighborhood, and my partners and I all live and work in the neighborhood, as well. We're passionate about preserving the beautiful architecture and history of St. Paul's heavy inventory of Victorian homes. We knew immediately that this home needed to be saved and the timing worked out for us to be able to step up and do it. So we did.
 What was the biggest challenge? And how did you overcome it? 
The biggest challenge was the sheer scope of the project. We've renovated homes before, but this property is in a league of its own. It's hard to anticipate the literally thousands of decisions you have to make in a restoration like this. I think the biggest surprise to us was the amount of work the door and window hardware required. The home has beautiful 9-foot-tall pocket doors throughout the main floor, and we literally rebuilt every one, cleaning and repairing all the original track hardware, pulls, and locksets. Every window was taken out and rebuilt, including new sash cord, new glass (in most cases) and restoring the original pulleys and weights. That was a massive undertaking, but it's something the next owners won't have to deal with for a long, long time. The home is also located in a historic preservation district of St. Paul, and there was a lot of collaboration on exterior improvements to ensure the home is in keeping with its original architectural design.
How many homes has Historic Hill Homes LLC done? Where are they located? 
Historic Hill Homes, LLC is a new venture created for this property. Our team is comprised of John Hanson, Stacey Johnson, and myself. We're all part of Spara Realty and have a background in property renovations. Stacey also brings a background in interior design. While most of the homes we worked on are in the St. Paul area, Stacey has renovated properties in the Caribbean as well. Our team also includes Centennial Builders.
Who will be living in this home?  
We're currently on the hunt for the next stewards of this beautiful property. It will definitely be someone who is swept up in its romance and rich detail, as we have been for the past year. But we've given the home a complete mechanical overhaul, and it's now ready for a modern family and won't be a drag on the next owner from a maintenance standpoint. The beautiful new kitchen and master suite are designed to provide the luxury and amenities the next owner deserves, while they are in keeping with the flow and finish level of the rest of the home.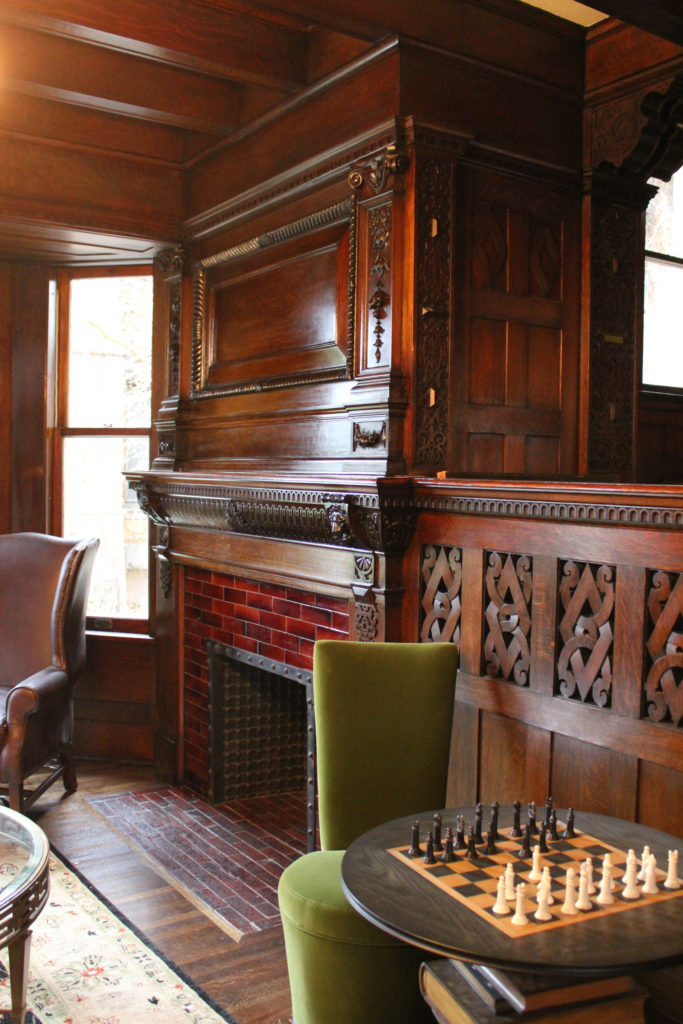 Save
by Camille LeFevre
photos courtesy Montana Scheff at Whittier