Brenda Westphal has discovered the secret to beautifully livable design: Tailor your home to your lifestyle. With second- and fourth-grade daughters, some more formal aspirations have taken a temporary backseat, but her 1936 Minneapolis Colonial still balances the aspirational with the approachable.
Take the rugs, for example: They're mostly the indestructible-yet-elegant Dash & Albert indoor/outdoor rugs. "I use my home almost like a design lab," she says. "Then I see how things wear and how they work." Her experience adds veracity to her recommendations  to clients of her International Market Square showrooms, Scherping Westphal, AJ Maison, and The Boutique. As does her professional pedigree. Before Minneapolis, she opened and ran showrooms in Chicago and Seattle.

Above: The brightly patterned umbrellas add whimsy in the dining room.
When she runs into a quandary—yes, she says, as immersed in the design world as she is, she sometimes gets indecisive about her own home—she polls her designer pals supper club, Andrew Flesher of Andrew Flesher Interiors, Lucy Penfield of Lucy Interior Design, and Mary Hickey of Mary Hickey Interiors. The last big question she posed: What white should she paint the living room? Definitively Cloud White, the brain trust replied. Cloud White it became.
Above: Natural elements are peppered throughout.
Most of her Tangletown home is done in an understated palette—save for an exclamation point of tangerine in the dining-room wallpaper—but carefully chosen and meaningful artwork, subtle patterns, and delightful details such as an umbrella stand filled with brightly-patterned umbrellas keep the tone fresh and fun.
Her design process is never hurried. "If you collect one or two quality pieces a year, in 10 years you really have a good collection in your home. I really believe that's the way to do things." And while she advocates for a high-low mix—her headboard is a Patricia Edwards look-alike from overstock.com—she does believe American-made, higher-end pieces have a much longer life span.
And if you tire of the pattern on that couch you collected years ago? She's got a guy for that, she says, lifting the edge of an expertly tailored slipcover to reveal a beloved chair's past life. The same goes for the lovingly coordinated gallery wall leading to the upstairs bedrooms. She leads, but she has no problem getting a little help from her friends.

Above: The front door of the center-hall Colonial sports a sunny yellow.
What's your favorite minneapolis eatery these days?
I am in love with St. Genevieve at 50th & Bryant. It's this perfect little Parisian–style bistro.
Where do you go to get inspired?
I love Zachary at IMS. I also love Pinterest and Jenni Kayne's blog, Rip + Tan.
Any experts you rely on?
I love SlipcoverMan—he can cover it all! And I use Tim at Hang-It to put together gallery walls and hang other art. It's the best deal.
Where do you snag your best deals?
I love the IMS Sample Sale! And the MCAD art sale. And, of course, One Kings Lane.
By Katie Dohman
Photos by Spacecrafting, Kirsten Mortensen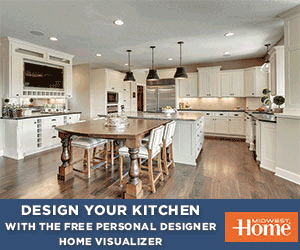 Facebook Comments