Communes were the rage in the 1960s and 70s. Dorms are a popular choice during our college years. Assisted living facilities are often the only option when we advance beyond our 70s and 80s. All of these influences can be detected in a new movement known as cohousing, described as "intentional, collaborative neighborhoods created with a little ingenuity," on the Cohousing Association of the United States' website.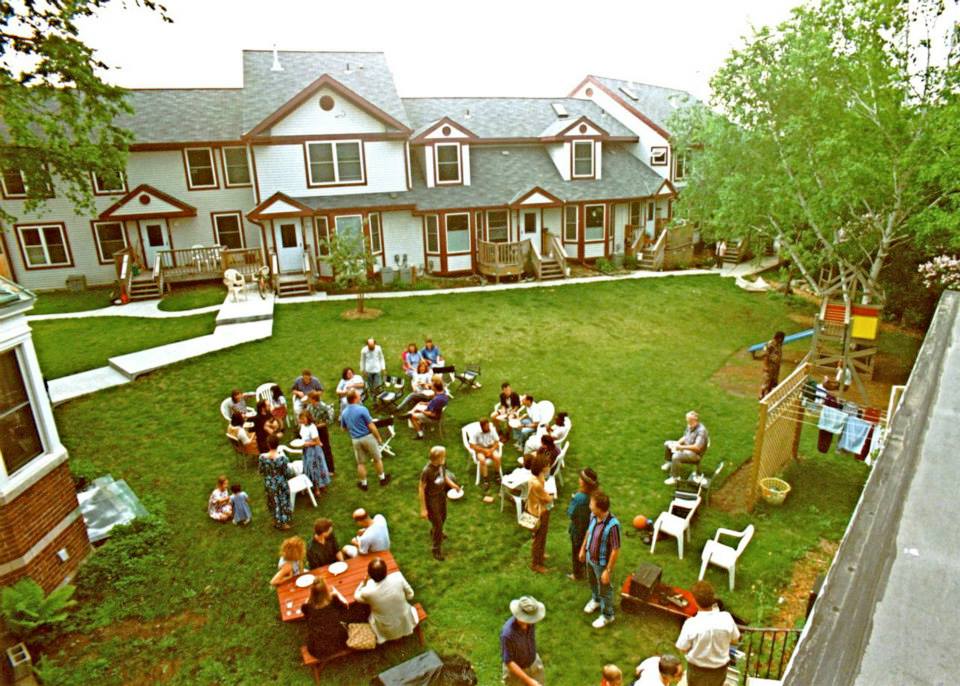 Cohousing "bring[s] together the value of private homes with the benefits of more sustainable living. That means residents actively participate in the design and operation of their neighborhoods, and share common facilities and good connections with neighbors. All in all, they stand as innovative and sustainable answers to today's environmental and social problems," the description continues.
Earlier this month, architect Chuck Durrett, co-founder of McCamant and Durrett Architects, spoke in Minneapolis as a guest of the Twin Cities Cohousing Network. Durrett and his wife Kathryn McCamant are credited with introducing the concept of cohousing to the United States in their 1994 book, Cohousing: A Contemporary Approach to Housing Ourselves. Since then, the tow have designed and developed cohousing communities across the country.
Several neighborhoods in the Twin Cities are exploring cohousing as an option for multigenerational and sustainable living. In St. Louis Park, the Monterey Cohousing Community is thriving. According to its Facebook page, Monterey is an "an inter-generational community" in which the "members are computer programmers, artists, teachers, therapists, caregivers, scientists and more. We follow diverse spiritual and secular paths. We help each other out in ways large and small."
The Monterey group lives in a 1924 Edwardian mansion with a new kitchen, three-season porch, several fireplaces, a community dining room, a community mail room, children's playroom, library, and an office.
According to a Pioneer Press article on senior housing, another alternative booming along with the senior population is housing co-ops. Minnesota "is now home to 79 of the nation's 103 senior-citizen housing co-ops, according to the Senior Cooperative Foundation of St. Paul. This year Minnesota is surging ahead, with new co-ops planned in Shoreview, Burnsville, Bloomington, and Champlin. The growth is driven by an aging population, federal policies, and Minnesota's unique love of cooperatives."
For single mothers looking to sharing housing, there's the national website CoAbode. According to the Minnesota Women's Press, CoAbode "brings together hundreds of single moms in the Twin Cities metro, and many more across the country, looking to stretch their housing resources by sharing a home. It is just one of a growing number of resources helping to fuel new trends in shared housing and community living."
Last week, Courtney Martin, writing in the New York Times, posited that "Working families in the United States have many struggles today: expensive child care, not enough time to cook healthy meals, disconnection from nature, a sense of social isolation — what the sociologist Robert Putnam famously called "bowling alone" — and more. Older Americans, a booming population, often end up segregated generationally and in dire need of care and companionship. What if there was a potential salve to all of these struggles? One that was introduced to Americans 25 years ago, but hasn't yet gone to scale?"
"That potential solution is cohousing, a form of shared living in which groups of families with their own private homes (usually about 15 to 40 households) also share common spaces — a kitchen and eating area, often a garden, tool shed, or laundry facilities, or all of them, and a set of principles and practices about living interdependently."
Cohousing or communal living is currently manifesting in many forms with a variety of monikers, including Dorms for Adults, Intergenerational Housing and the Millennial Commune. In Minnesota, according to the Pioneer Press, "Housing co-ops are booming in part because Minnesota is a hotbed for all kinds of co-ops. For example, Minnesota leads the nation with 1,016 business-related co-ops, according to a 2011 report by the think tank Minnesota 2020. Some say co-ops have sprouted here because of a Scandinavian-style suspicion of for-profit businesses and a love for grass-roots control."
By Camille LeFevre
Photo courtesy of Monterey Cohousing Community Facebook Page