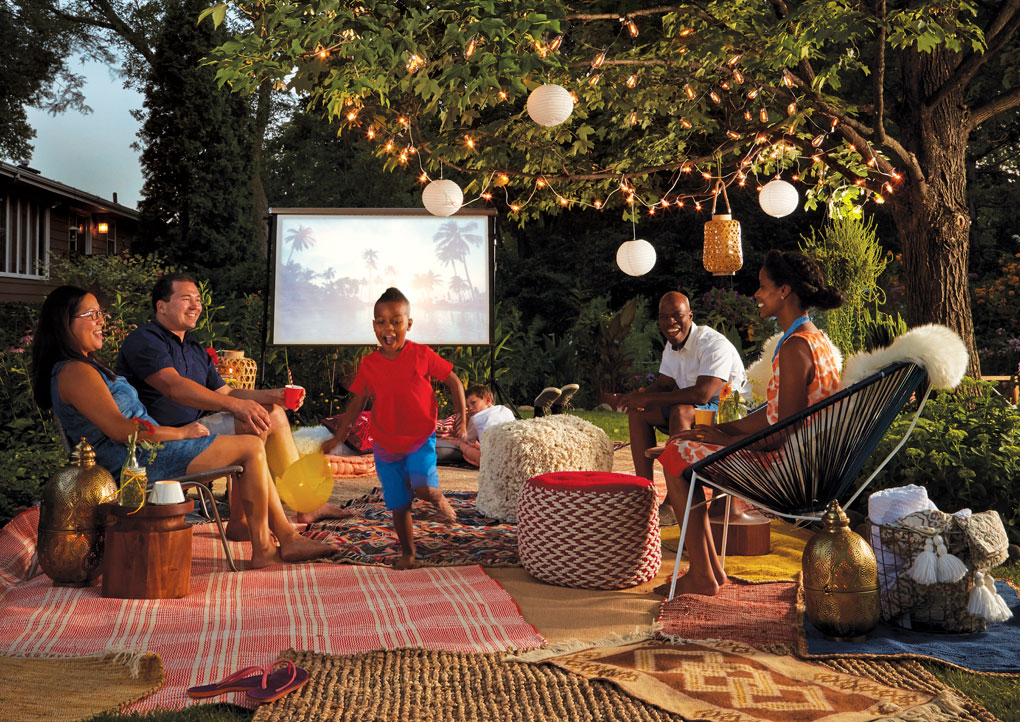 The long, sultry twilights of midsummer are perfect for outside get-togethers. To throw a party as entertaining to adults as kids, what could be better than an outdoor movie? Almost any backyard can become an impromptu theatre, with technology, décor, and a menu as simple or elaborate as you like. But a couple of items are indispensable:

All you need is a projector (or a TV or computer), a screen, and comfy seating.

Projector
We used an Epson PowerLite Home Cinema projector, easy to set up and run. We also set up a pull-down screen, but a sheet will do in a pinch. For more intimate gatherings, you can use a television or a computer. Then there's the movie, of course. One crowd pleaser for all ages—and magical when viewed under the stars—"Field of Dreams." Just pick a flick your guests will enjoy: "Casa Blanca," "Beauty and the Beast," or "The Fast and The Furious."

Serve-yourself popcorn and candy add to the fun—and keep the hosts free to enjoy the evening.
Menu
We kept it simple and traditional—candy, popcorn, soda pop, and adult beverages. Several herbed and spiced popcorns (see following recipes) added a savory element, while fruit provided a healthy option.
Cushions function as seats for the little ones.
Seating
Arrange enough chairs or chaises so adults have comfortable seating for the duration of the show. Most kids are happy lounging on pillows, especially if you build a fun, comfy pile of colorful cushions. Have a couple throws handy in case it grows chilly after dark.
Rugs
Define your seating area. It's a good idea to use indoor/outdoor rugs in case of damp grass and/or spills, but layered rugs, blankets, or spreads work too. Just be sure all are easy to clean.
Luminaries that double as non-toxic insect repellent are pretty and functional additions to any outdoor summer party.
Atmosphere
We created a Moroccan vibe with colorful Bakhtiari rugs, sheep-skin and chunky throws, colorful cushions, and lots of texture. Strings lights, paper globes, and pierced brass lanterns add soft lighting to the scene and reinforce the movie-theater glow.
Bugs
Don't forget those uninvited pests. Rugs help by covering the grass, as do nontoxic insect-repellent luminaries made with essential oils (see how to make them at MHmag.com/DIYluminaries). But you still may want to spray the area before your guests arrive. Another trick: A floor fan turned on high enough to create a gentle breeze helps keep mosquitoes away. In any case, supply plenty of insect repellent so everyone can enjoy the movie rather than swatting those flying bloodsuckers.
Recipes: Savory Popcorn
Curry Corn
2 Tbsp. peanut or coconut oil
½ c. popcorn kernels
4 Tbsp. unsalted butter
2 Tbsp.  yellow curry powder
1 tsp. kosher salt
1½ Tbsp. dark brown sugar
Pop the corn (see below). Melt the butter in a saucepan, and add the curry and salt, and dissolve the sugar into the butter. Pour the popcorn into a large bowl, and pour the warm curry sauce over the popcorn and shake/stir until well mixed.
A showtime easel adds a touch of whimsy
Boozy Bacon Butterscotch Popcorn
2 Tbsp. peanut oil
½ c. popcorn kernels
5 slices of bacon, crumbled
12 Tbsp. unsalted butter
1 c. white sugar
½ c. light corn syrup
2Tbsp. bourbon
1tsp. vanilla extract
½tsp. kosher salt
½tsp. baking soda
Preheat oven to 250°F. Line a roasting pan with parchment paper, or butter the bottom of the pan. Have a buttered or silicone spatula ready. Pop the corn (see below). In a deep saucepan bring the butter, sugar, and corn syrup to a boil over medium heat, stirring frequently. Remove from heat, and add bourbon, vanilla, salt, and baking soda. Once bubbling has simmered down, cover popcorn in bourbon syrup, and mix quickly and evenly, using the buttered spatula. Spread popcorn mixture as low and evenly as you can in the pan. Bake for 1 hour, mixing it every 15 minutes. Remove promptly, and spread popcorn on a Silpat baking mat or parchment to cool.
 Pizza Popcorn
2 Tbsp. peanut oil
½ c. popcorn kernels
Seasoning:
1tsp. dried basil
1tsp. dried oregano
1tsp. garlic salt
½tsp. kosher salt
½tsp. red pepper flakes
1½tsp. minced sundried tomatoes (oil-
packed, then drained and pat-dried)
Topping:
2Tbsp. unsalted butter, melted
3-4Tbsp. freshly grated Parmesan cheese
2Tbsp. fresh chopped basil
Preheat oven to 300°F. Use a Silpat baking mat or foil to line a sheet pan. Pop the corn (see below). In a small bowl, mix together the dried oregano, dried basil, garlic salt, kosher salt, red pepper flakes, and sundried tomatoes. Stir in the melted butter, whisking to mix it well. Pour seasoning mixture over popcorn, and mix until well coated. Spread the popcorn onto the lined sheet pan, and bake for 10 minutes. Place popcorn into serving bowl, and sprinkle with Parmesan cheese and fresh basil.
Tip: For all recipes, start with fresh popped popcorn. Heat the oil in a large pot, adding 3-4 kernels of popcorn, covering the pot.
Once they pop, add remaining kernels, and give the pot a good shake. Re-cover the pot, but leave the lid slightly cracked, so popcorn doesn't get soggy from the steam.
A luminary made from lemon, lime, rosemary and essential oils that doubles as a non-toxic insect repellent.
Insect-Repellent Luminaries
These pretty summer luminaries do double duty at outdoor gatherings: casting candlelight and acting as a non-toxic insect repellent. And they're easy to make.
Ingredients:
3 8 oz. Mason jars
1 lemon, thickly sliced
1 lime, thickly sliced
3 sprigs fresh rosemary
30 drops each of rosemary, thyme, eucalyptus, and/or lavender essential oils
3 floating tea light candles
Place a slice or two of lemon and lime in the bottom of each jar. Add a sprig of rosemary. Fill 3/4 full with water. Add 10 drops of each of the essential oils to each jar. Float another lemon or lime slice on top. Add more water if necessary. Top with a floating candle. From flavourandsavour.com
By Chris Lee. Photos by Dave Schmit. Style by Mickie Clark