With its red shingles and creamy stucco, the garden shed echoes the look of the house.
Vera Trent is a renowned St. Paul gardener, opera lover, and book addict. It took me years of arm-twisting to convince her that opening her garden to the reading public would be a fun project.
Vera is not comfortable showing her garden when it's not looking its best—and to her exacting eye it is rarely looking its best. To my eye it is stunning in every season, thanks to 30 years of devotion, imagination, and exquisite taste.
Vera draws inspiration from the arts—the theatre, beloved artists and their work admired in museum galleries, music, and beautiful descriptions of the natural world in books. "I work with what I have, and, of course, I get lots of help from nature," she explains. "Nature creates some of the most magical spaces; one just needs to observe."
Her garden offers a master class in how to blend home and landscape to create the sense that this place sprouted whole just as it is now, every planter, boulder, trellis, and bench in happy conversation with one or another of the plants—from the giant white pine that lords over the space to the tiniest wild tulip.
The house has the look and feel (inside, too) of something brought home in one of those oversized shipping containers from a rustic village in the English countryside. It is sheathed in vines and wears a red-shingled roof.
Vera found this hand-carved teak piece in an Asian import shop and knew it would be perfect above the shed windows.
A few steps from the back porch is a potting shed, built by Vera's husband James Nylund. The couple designed it to match the house as closely as possible, to look as if it was always a part of the garden and was built when the house was built. It has paned windows with bamboo branches for decoration and a steep red roof with shingles scalloped like the ones on the house. Even the garage has been reimagined to look like something out of a fairy tale.
Beside the garage, an artfully disheveled kitchen garden thrives in the only swatch of full sun. A purple clematis vine covers the tall wooden privacy fence between the Trent-Nylund garden and its neighbors to the east, and a row of Degroot arborvitaes stand sentinel along the alley.
Come summer, the brick oven and barbeque, both James's handiwork, get a workout.
Vera and James have given time and thought to each of their creations—walls, ponds, potting sheds, brick oven, trellises. "We think about proportions and our own concept of style," she says. "Each object is a handmade and designed structure, very personal, and in keeping with our sense of what fits into our space."
Yet the design constantly evolves. "Things always need adjusting," Vera observes. "Gardens need to be functional—they need to serve users' needs. Spaces sometimes need redoing because of changes in sun and shade and changes in plant shape and growth."
James built the garden gate to Vera's specifications, also a design that reflects the English Arts and Crafts style of the house.
Late summer is prime time for the square pool of granite pavers—designed by Vera and built by James—in the front garden. A center jet splashes a circular spray over flowering water lilies. The brick terrace surrounding the pool is ankle deep in coral bells, each one waving delicate wands of small pink blooms.
Red shrub roses line the walk to the street, and a row of pyramidal conifers echo the Degroots along the back alley. They are almost the same height as the handsome arbor James fashioned to cover the front gate.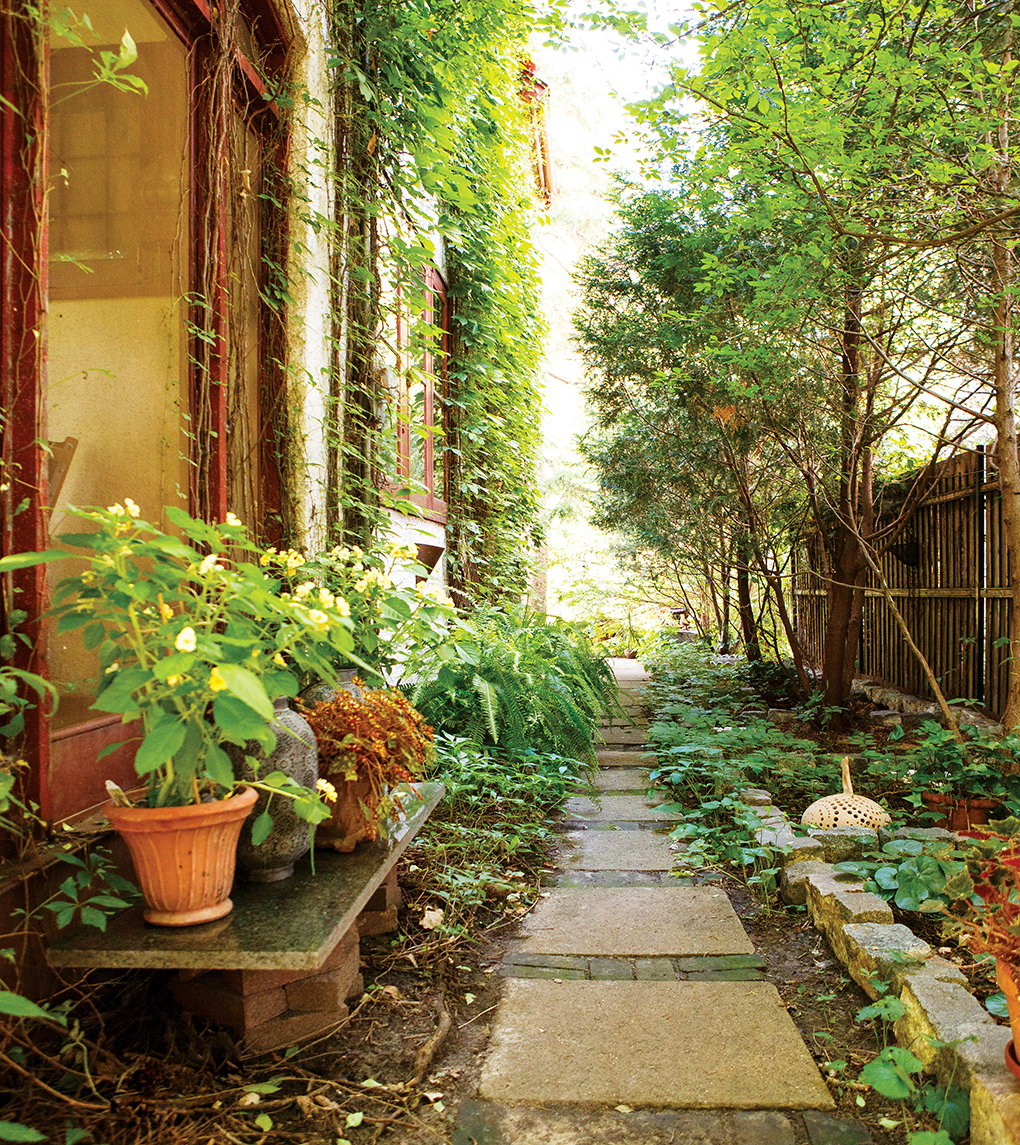 Pots and plants lining the walk will move inside for the winter.
A stone walk hugs the house's eastern wall. Vera says this is her favorite garden—but then whatever garden she is now working on is her favorite. This woodland garden is delicately populated with ephemerals in spring, but by autumn it's full to bursting. The Virginia creeper she holds in check in the summer months is given its head. The shed at the end of the walk is fully covered in layers of shimmering green leaves.
A row of Boston ferns lines one side of the walk. These will come into the house in just a few weeks, along with much else in the garden. Vera and James overwinter dozens of begonias and geraniums they've had for decades.
The large jar at the center of the backyard was a serendipitous discovery at garden center—as was its placement at the center of the backyard's simple circle of grass.
Every now and then one gets a new and bigger pot. But not often. Keeping plants root-bound keeps them manageable and transportable. "We're not getting any younger," Vera points out.
In the backyard, one of a pair of lions gazes over August Moon hosta.
Neither is the garden. And that is what makes it so special. Like anything else you pour love and effort into over many years, a garden reflects every bit of that love and effort, with dividends.
"Inspiration is an evolving process," notes Vera. "It takes time to be observant, to reflect on your personal ideas of beauty, your particular space, all the while incorporating the rules of proportion and balance. It has been fun, challenging, and lots and lots of work."
By Bonnie Blodgett. Photos by Barbara O'Brien