During our recent family vacation to Paris we were caught off guard by a few unseasonably cool and rainy days. The Weather Channel had failed us and we were forced to abandon our cute sundresses, rompers and sandals, pile on every piece of warm clothing we brought and give the umbrellas thoughtfully supplied in our VRBO a workout. Being August, many of the small Paris shops were closed including the chic home accessory boutiques that I love to check out when I'm there. I usually come home with completely impractical linen placements and napkins that we promptly drip vinaigrette on or leave rings of red wine all over, but everything is so lovely I can't resist. Thankfully the awesome BHV Marais was open, dry and warm, and wonderful. The BHV is a big department store across from the Hotel de Ville ("BHV" stands for "Bazaar Hotel de Ville") with everything from DIY projects and tools in the basement, furniture and fabrics on the top floor and clothing, shoes, appliances, and everything you could want for the kitchen in between.
After spending a fair amount of time in the shoe department (I have two teenage daughters), we headed to my bliss—kitchen and tabletop. What I noticed right away, aside from the 15 different choices of immersion blenders, was the color of the dish displays. Black. Matte black, glazed black and black patterned plates, bowls, teapots, finger bowls, etc. It was as though the tabletop has said enough white already and made a bold move off the color spectrum. I was thrown. Black dishes just seem, I don't know, wrong in the way that black sheets seem wrong. How do you know they're really clean? I'm sure you could pull off black dishes if you're a Kardashian or live in a chrome and leather filled midtown Manhattan apartment but what about in a traditional or even transitional setting here in the midwest?
I had my doubts, but the more I looked around, the more convinced I became that black merits a seat at the table no matter what your style. Here's why.
A black background makes food look great
Twenty years ago Ina Garten (the grand dame of all things tasteful) told us to use white plates because they make food look great and we obeyed. Well, with all due respect to Ina, a black backdrop makes food look even better than white. Colors pop and with our increasingly vegetable-centric cooking there's more color than ever on the plate. The exception may be dark sauces or stews but even then black can give even a homely bowl of chili dramatic flair.
Black plays well with a variety of materials
Black dishes play so well off other tabletop trends including natural wood-grained pieces and gold flatware as well as all kinds of fabrics and colors. Of course, black also looks terrific with white so you needn't put away all your basics.
Black is adaptable
Matte black can mix with wood and natural fabrics to create a rustic look, shiny white porcelain for an elegant Asian-inspired table or even white and a dusty blue or for a beachy vibe. Like black clothing, it kind of works with everything.
You can find it everywhere
You can find stylish black dishes in a range of prices at many retailers including Target, CB2, Cost Plus World Market and smaller shops such as Food52 which carry handcrafted lines.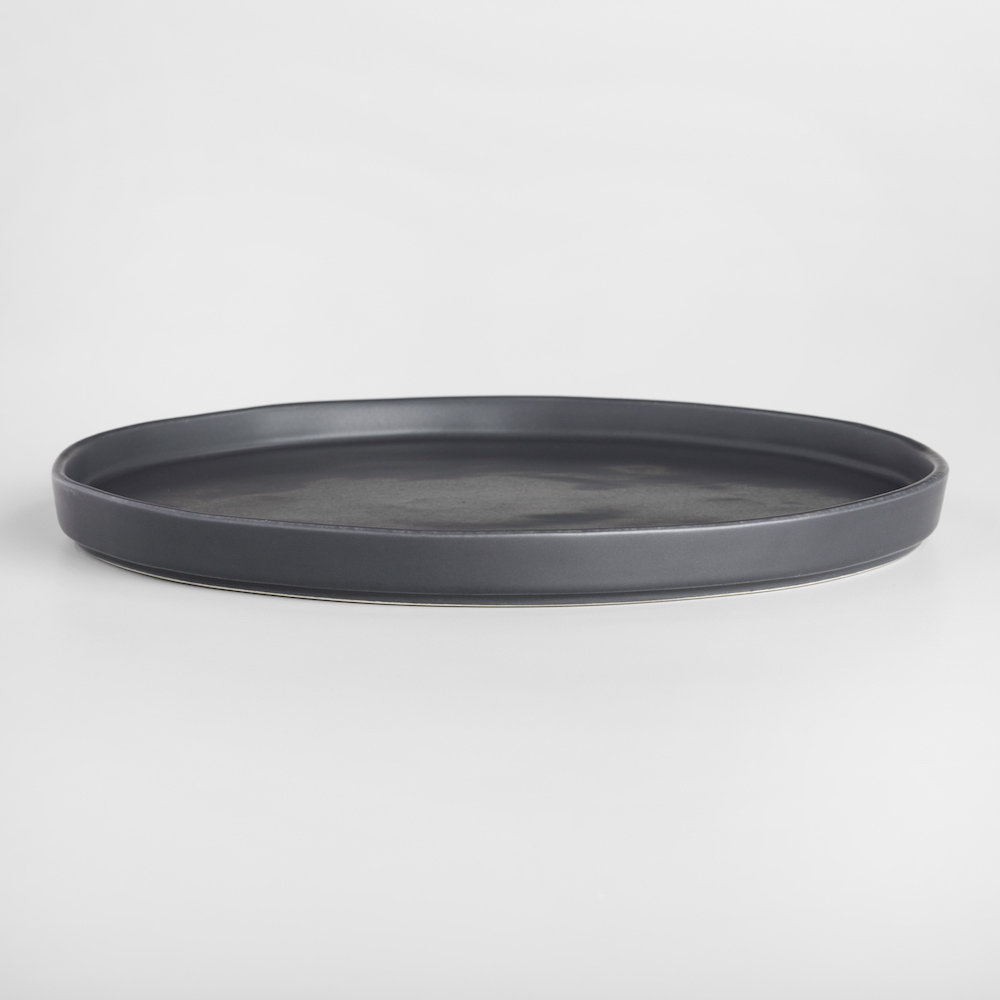 by Laurie Junker
Photos courtesy of Food52 and BHV.